There are restaurants in this lovely town of ours that we sometimes overlook.  It's not because we forget they're there, or that we don't care for them, it's simply tht sometimes, we get in our rut.  We are friends with the chef and Coq Au Vin make me giggle? We go to La Coop.  Brunch?  We go to Toast on Market.  I'm a creature of habit and am fortunate enough to date a man who usually leaves the restaurant choosings up to me.  However, that can lead to forgetting about the other 500 ridiculously good places to eat. This weekend, I remembered Proof on Main.
Proof was the first big-girl spot I ate after moving to Louisville 8 years ago.  It, as well as its attached art gallery/event space/hotel, 21c had just opened, and was making national headlines with its funky art, boundary-pushing exhibits, and two-way mirror behind the urinal in the men's room.  The food was ridiculous good, and the atmosphere made you feel as if you're somewhere bigger than Kentucky. The first meal I ever had there was a pan-seared sea bass with corn aioli, arugula, and couscous. Dessert was a Vanilla Rosemary gelato so good I wanted to cry. Is a restaurant that has, and always will have, a special place in my heart.
Saturday, the guy and I ventured down for a late-night date, beginning with a seat at the bar for pre-dinner drinks (Champagne cocktail for me, dark craft beer for him), and, once our table was ready, a seat in the dining room overlooking the kitchen.  I had the Parmesean Gnocci with Pork Bolognese and Fennel, and he ordered the Hog Chop- a cut of pork so wonderful it simply tasted like bacon.  An ENTIRE pork chop that tasted like bacon- stacked on tender bread and butter cabbage and topped with thinly shaved green apples.  We split meatballs and grits as well as a side of greens, and a bottle of whatever white wine our server recommended. It was a perfect meal to break us out of our dining monotony.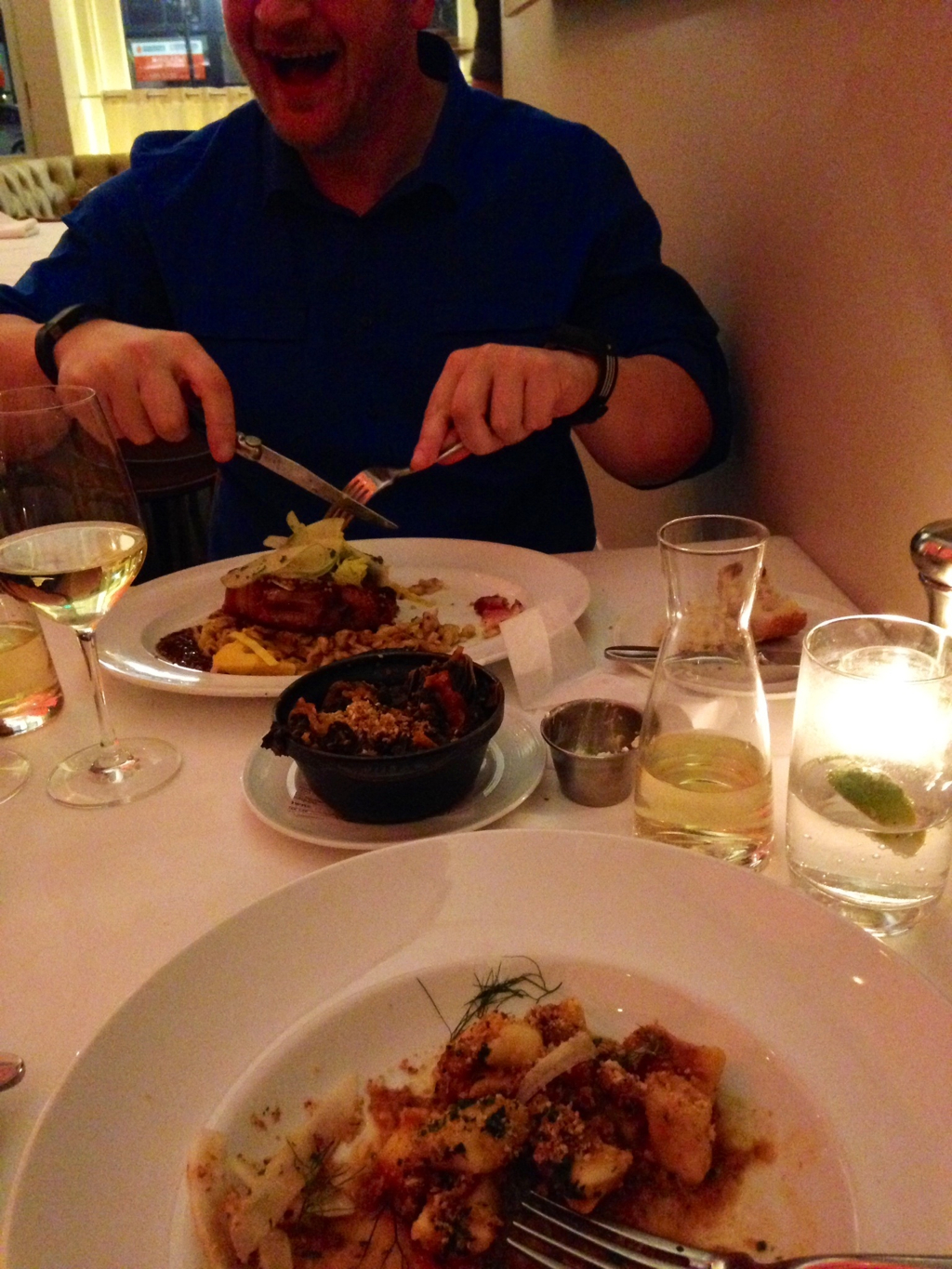 ** Bryan's tourist pose, Proof on Main **