One of the reasons I love, so much, our annual April trip to Chicago is that we vacation separately. This particular weekend each Spring is an annual gathering for Bryan and a few of his best friends- I usually just tag along for the ride. The guy stays in a hotel with his buddies, I either stay with friends or grab a hotel room of my own, and, if the timing works out, we all get together for dinner once or twice. Otherwise, I have alone time for five days in a city that I'm in love with. I love those moments- the Chicago wind in my hair, the bustle of the Mile, and this trip, tea for one at The Langham Hotel.
Now, I had never been to the Langham, as it had its grand opening since I had last been up, but through the wonder of social media, I stumbled across its interior photos on a design blog, and fell in love. I knew I had made the right decision in visiting when I spotted James Nares' Epigraph 1 in the ladies' room, and a gal who appeared to be a front desk manager was wearing a pink Chanel suit.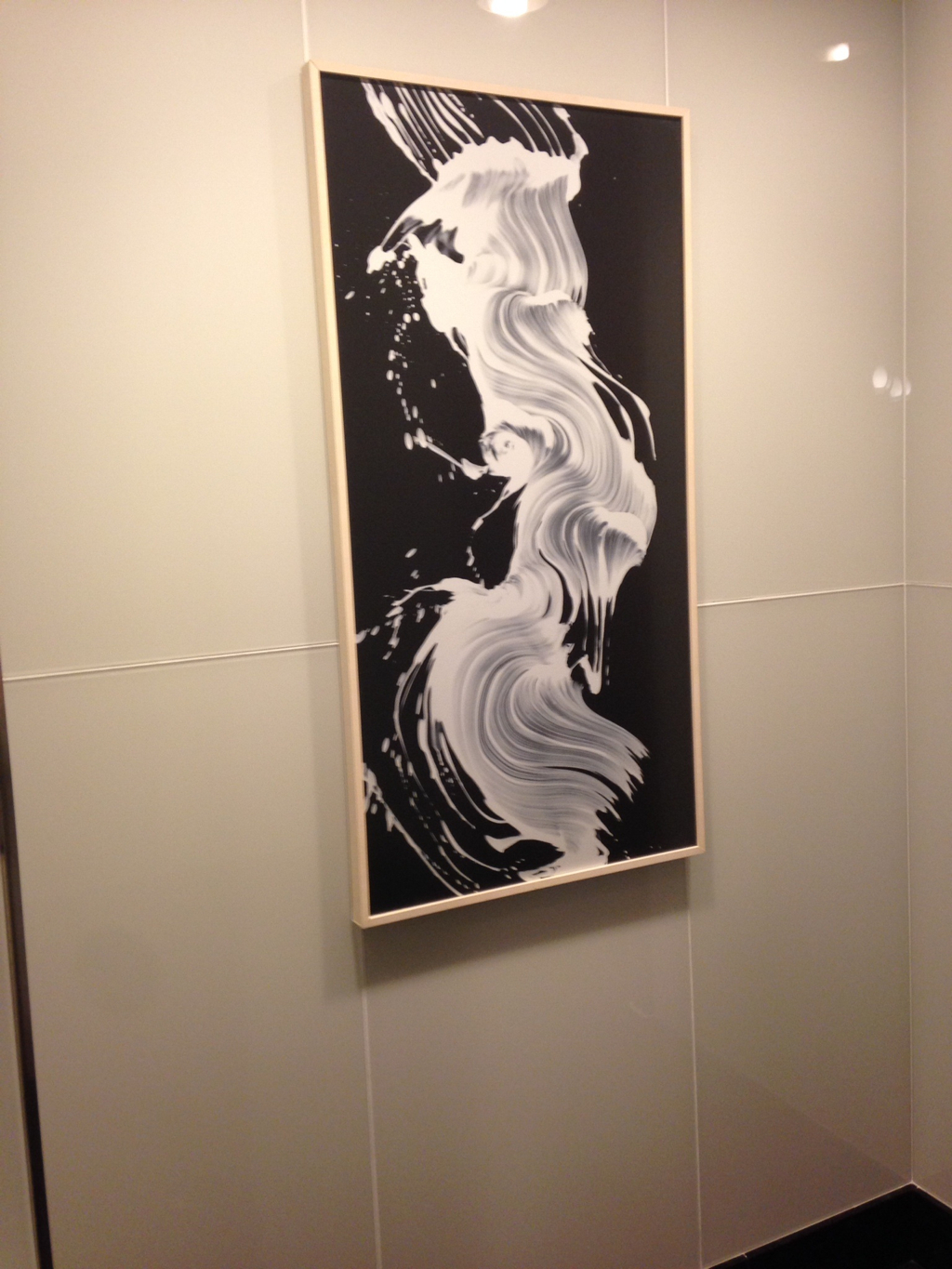 ** James Nares **
My table was lovely, overlooking the Chicago river, situated beneath the huge Lasvit art installations, and set with the most beautiful pinky-purple Wedgwood China.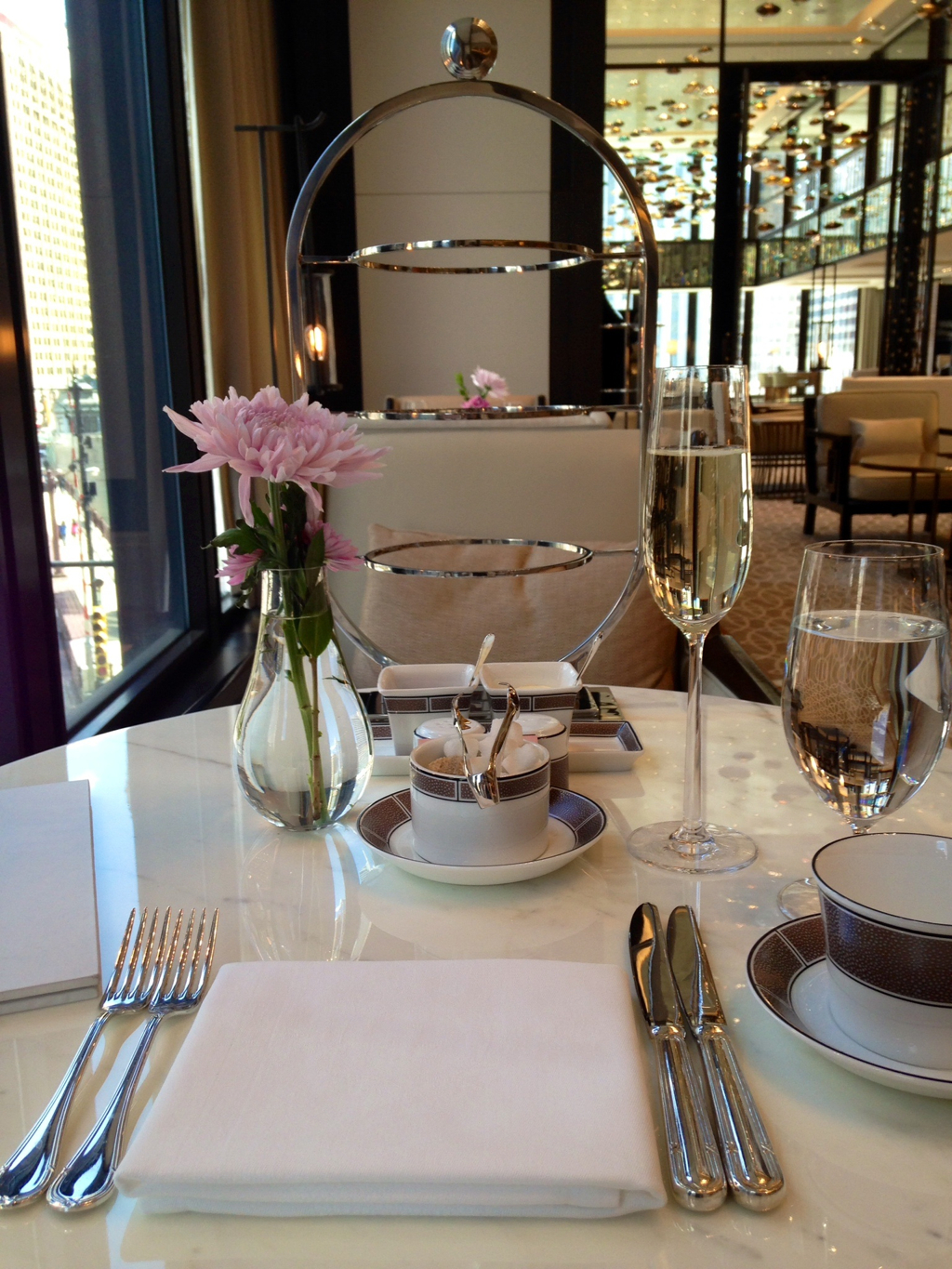 ** Tea, the Langham **
My afternoon menu was extensive- a first course of a deviled egg, prosciutto, and asparagus roll, rock shrimp rillette, chicken salad with almonds, and a sweet pea and zucchini mousseline was followed by a second course of two warm scones- one traditional and crumbly, the other filled with raisins that had been soaked in Jasmine tea. Both were served with the Langham's special blend of an English Breakfast tea.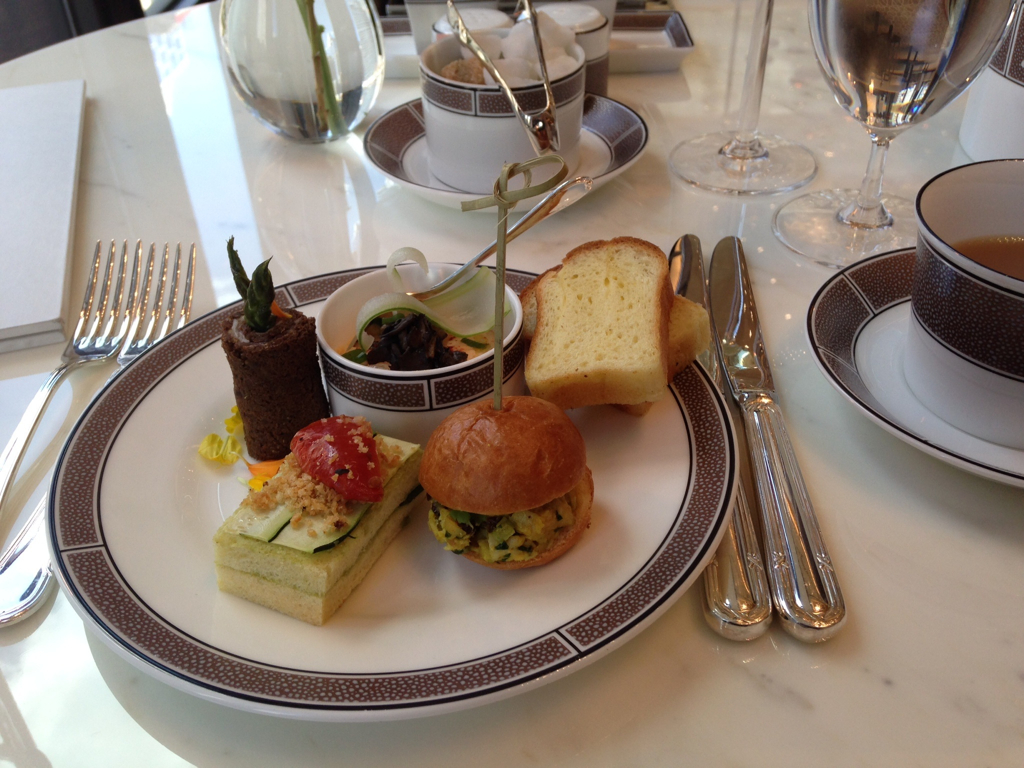 ** first course **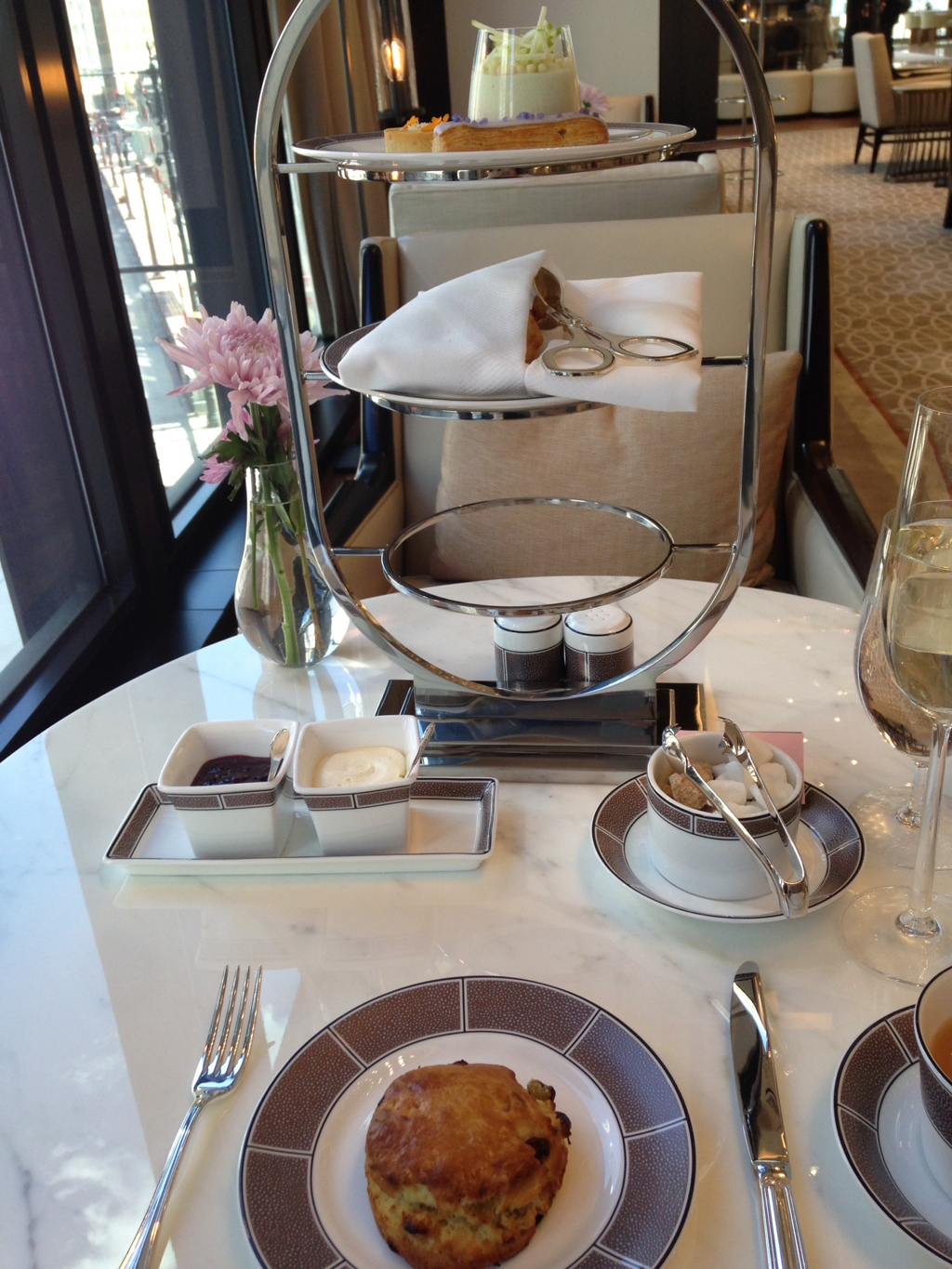 ** second course **
For the dessert course, as the pianist teased we diners with the first few bars of the Violent Femmes Blister in the Sun before launching into a slow rendition of the Scooby Doo theme, a plate of three mini sweets was presented- a Violet eclair, an orange blossom tart (possibly my favorite), and hibiscus green apple verrine- a hibiscus mousse layered with tart green apple mousse and topped with green apple bits. All were amazing, and I switched to an Elderflower tea with almond milk, at the suggestion of my server.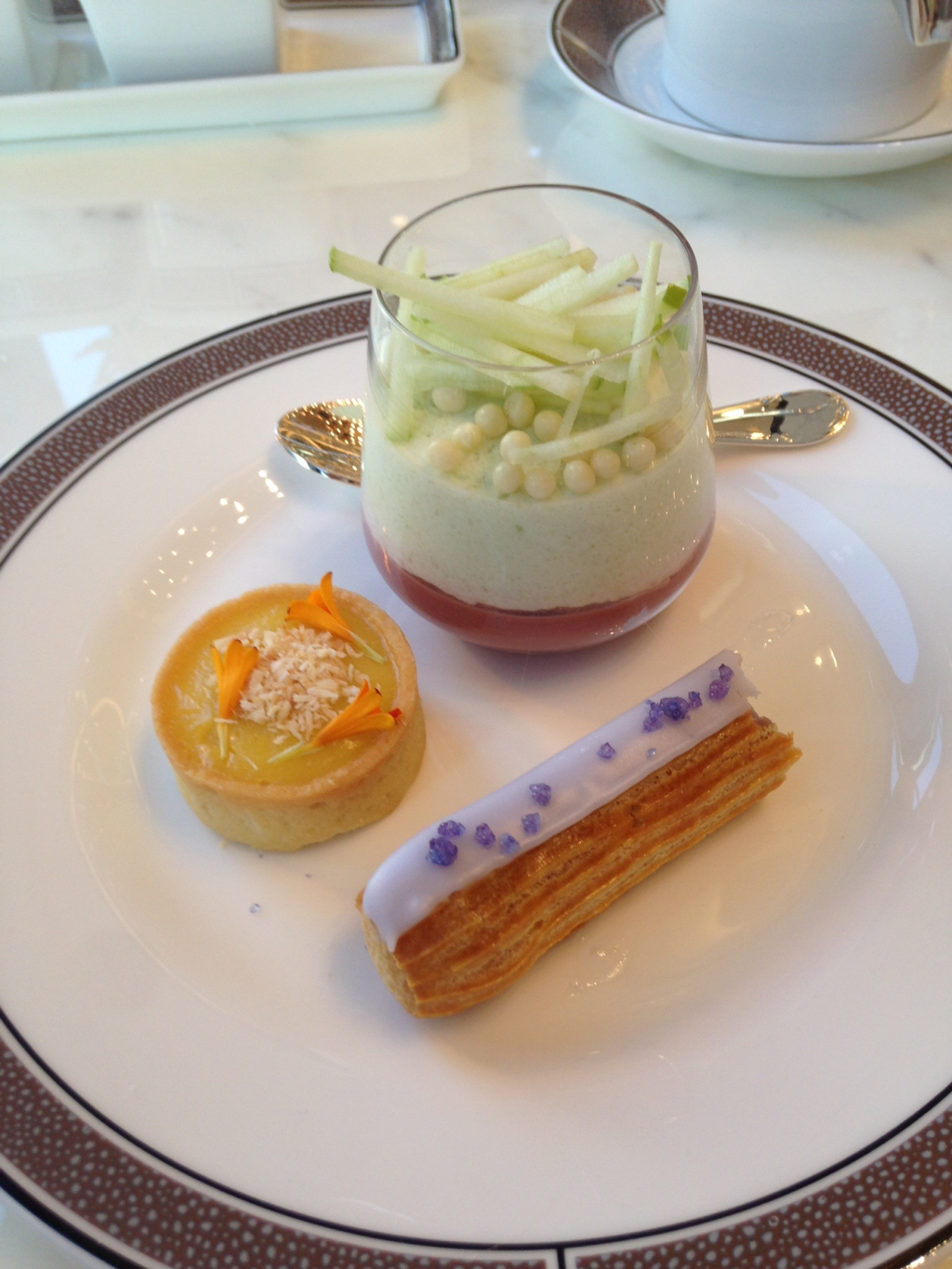 ** the desserts **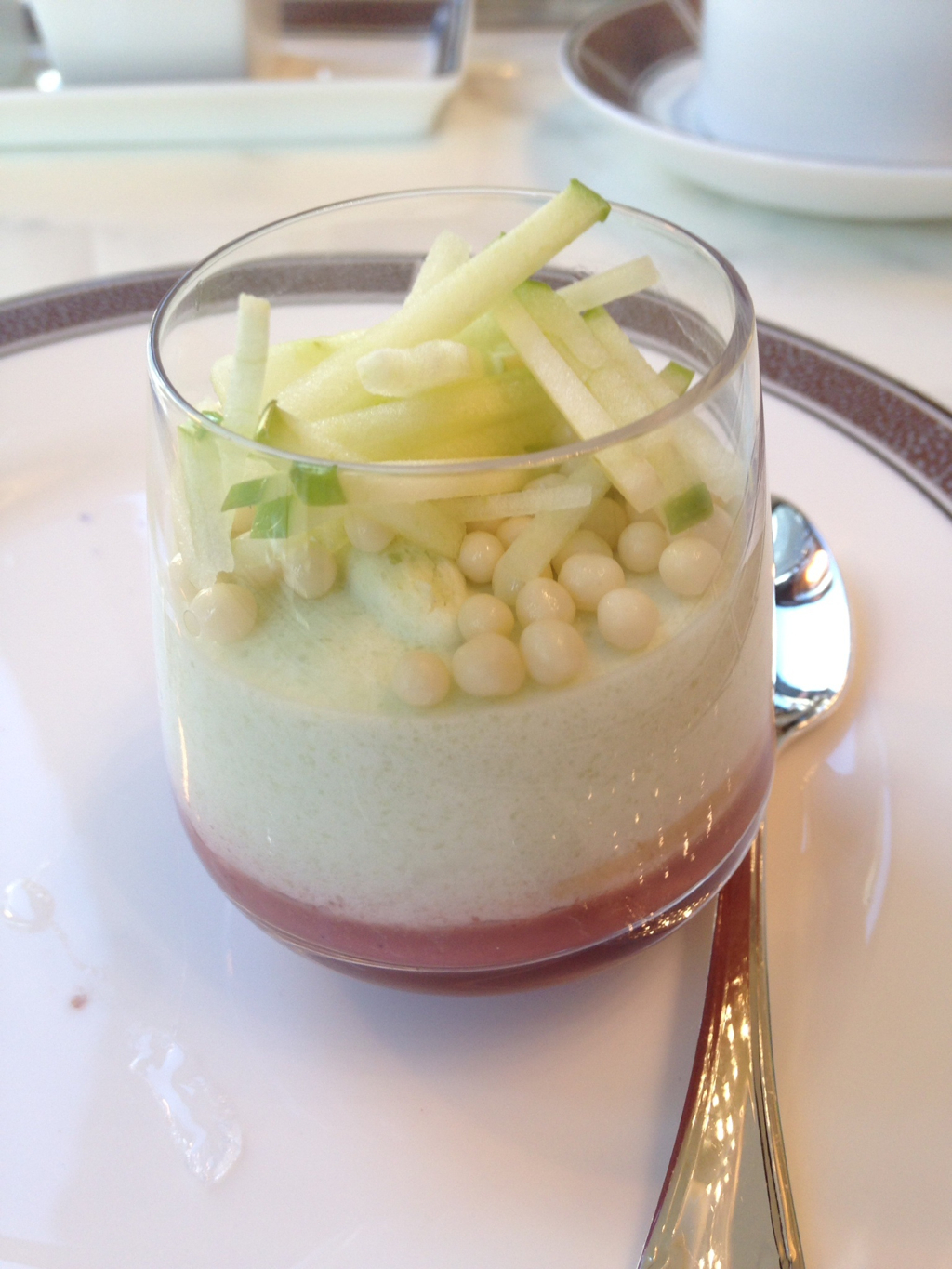 ** tart apple goodness **
My server was kind enough to offer up two additional scones, with cream and jam, for me to take with me for the weekend. They didn't make it past breakfast in bed the next morning, and were still just wonderful.
I honestly can't say whether I'll ever visit Chicago again without stopping in the Langham for tea. It was lovely to breathe for a bit, watch boats list past on the river, and dine alone- a secret pleasure of mine. If I'm needing a hotel, I can't see staying anywhere else- the service here was spectacular. I can't wait to go back for my birthday in July.