When I mentioned several months ago that we were downsizing, I wasn't kidding.  Our former home had a whopping 7,000 square feet above ground, as well as 2,500 in the basement and another 2,500 in the carriage house. While we never went into the basement (it was creepy), and hadn't yet done anything to the carriage house to finish it, the square footage above ground alone was just too much. It was too much for two people, it was too much for two people and two dogs.  Actually, had we had an additional 3 or 4 folks living with us, we would have never seen them.  It was just too big.  
The space we had there, however, allowed the guy and I to stretch our legs quite a bit. We had four guest rooms, which we rarely used, and each of us had our own office. His, with wood paneling, a TV and easy access to the kitchen was decked out in photos of us and his athletes.  Mine, on the second floor in the old servants' quarters, was pale blue, bright and sunny, and filled with fresh flowers.
Since moving into the new place, however, we've both been operating off of the coffee table or out of the dining room.  UNTIL TODAY!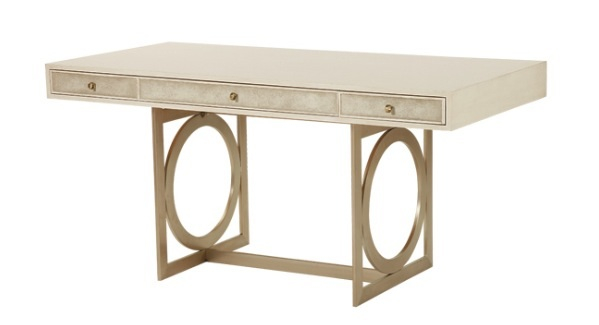 ** salon desk **
** salon armchair **
These beauties were delivered earlier today from the Lee W. Robinson Company and tucked into my corner of our room. Since we're down to two bedrooms (versus 7), the desk will double not only as my workspace, but as my vanity- a girl needs a place to both store her pretty perfume bottles and compose emails!
Both from Bernhardt, I wish I possessed the vocabulary to tell you how perfect they are in person… And how big! I honestly thought for a bit that a desk may not provide me enough room for both purposes, but I was wrong! I have the feeling it will take me a while to get these guys decorated in a way that not only looks pretty but is efficient.  According to Bernhardt's styling, it should look like this: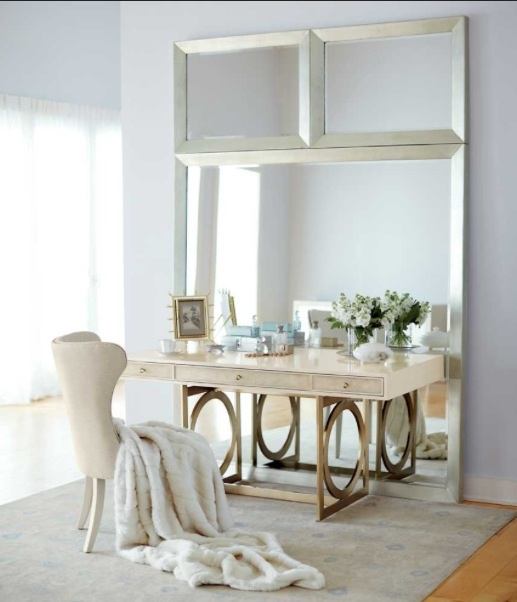 ** styling **
While I'm not sure I'll get my little office corner all jazzed up with an 8′ tall mirror or something as ostentatious as a fur throw (although….), I'm sure flowers, photo frames, and a mirror of some sort will happen.
Progress photos soon- I promise.