If any of you had asked, up until a couple of years ago, what my most prized possession was or what item I couldn't live without, I would have responded my Grandmother's wedding rings. After she died, there wasn't a day that I didn't wear them. Then, in the summer of 2011, while at a conference in Vegas, they went missing.
I've replayed that trip over and over in my mind- did I take them off while washing my hands in one of the malls and leave them there when a cleaning lady rushed me out before I could dry off? For the longest time, that's what I thought happened, and that's what I reported to the police during a panicked and tearful crime report. Thinking back now, I keep thinking of the gentleman I met who pulled his hand straight back after shaking mine, instead of dropping it to his side.
Endless searches on Craigslist and eBay turned up nothing. Weekly, then monthly calls to the Las Vegas police detective who "handled my case" showed the same. My rings were gone, and with them, a huge piece of me.
Mamaw was not a subtle person by any means, especially when it came to jewelry. Her wedding bands were no different. Purchased for their 25th anniversary in 1963, with an accompanying band stacked on for their 60th, her stack of diamonds was substantial. I grew so accustomed to seeing all of that sparkle on my right hand that even now, years later, I feel a little naked without them.
I recently began a search to replace her diamonds. I keep looking for something bright, large, that reminds me of her laugh, and of Sunday mornings- holding hands during prayer and always looking down at those stones that bonded she and my grandpa for almost 70 years.
My first hunt turned up a David Yurman piece- called a starburst, and reminding me of the fireworks I see every summer on my birthday. It was pretty, and immediately had my attention.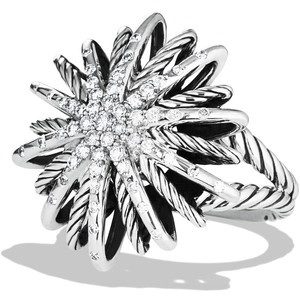 ** David Yurman **
I thought, too, of possibly getting a large, pretty pink stone. Her favorite color in something large and feminine would definitely remind me of her every time I glanced down at it.
** pretty in pink **
The more I think about it, though, the more I think a vintage cluster, mimicking the massive stack of diamonds on her finger would be my best bet. Something with a history of love and life behind it, that can be passed on long after I'm gone.  The style alone of a 50+ years old ring would remind me of her every day, and really, that's what I'm looking for.
I think I've found the one, at a local jewelry store here in Louisville. It's always caught my eye, and belonged to the owner's mother for years before she passed. I think it's just what I'm looking for. I know nothing can truly replace what I've lost, nothing can replace the history of Mamaw's jewelry collection or the memories of her hands, wearing those rings as she rolled out dumplings, or emptied the drawers of her dresser full of necklaces and tennis bracelets to play with them all on the bedspread, telling the history behind each piece. But, I think to have something of my own- a beautiful piece of someone's history, someone's life- comes as close as I can get to filling the void that Vegas vacation left, both in my life and on my finger.