It's rare that a meal solicits a vocal and emotional response from the man. Usually, he eats, carries on conversation with me about one thing or the other, and finishes his dinner. Last week, however, was the first time that food made his eyes open wide, made him have to pause for a minute to take in the flavors. Last Monday, we dined at the Pump Room.
A ledgenday restaurant in its own right, Pump Room went under the same massive overhaul as PUBLIC hotel did in 2011, but has maintained a feeling of comfortable exclusivity. There were still framed photos of past diners and regulars, from Jayne Mansfield, Humphrey Bogart, to David Bowie and Ike and Tina. I felt the want to get gussied up for dinner, yet saw folks dining in jeans, day dresses…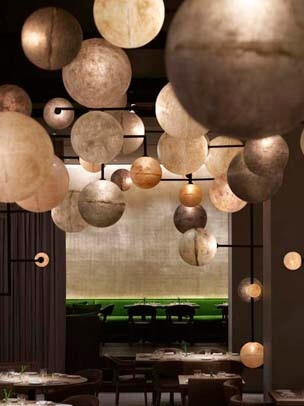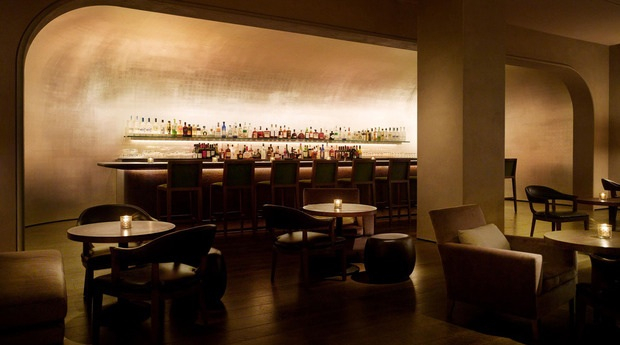 ** the dining room, the bar **
My heart has done flip-flops for years each time I saw photos of the new space (hotel included, but we'll get to that later), and I'm sure it will continue to do so for years to come. A massive constellation of glowing planet-like orbs lit the dining room, and extended low into the sunken main dining room. The bar was tucked into a long alcove, and was painted in what looked to be gold leafing. And the food… The food!
Our server, Jeff, was hilarious and informative, and steered us towards the asparagus and bacon flatbread and the pea guacamole as starters. Personally, I'm not a lover of guac (gasp!) but this stuff was amazing! I found Chef Jean-Georges' recipe, and plan on making a bowl along some fajitas for dinner this week.
The flatbread was in a class all by itself. Ricotta and Parmesan cheeses, atop a sauceless crust, topped with massive hunks of bacon, and thin shaved strips of asparagus… It too, is a dish I'd like to recreate, perhaps for brunch, topped with a poached egg.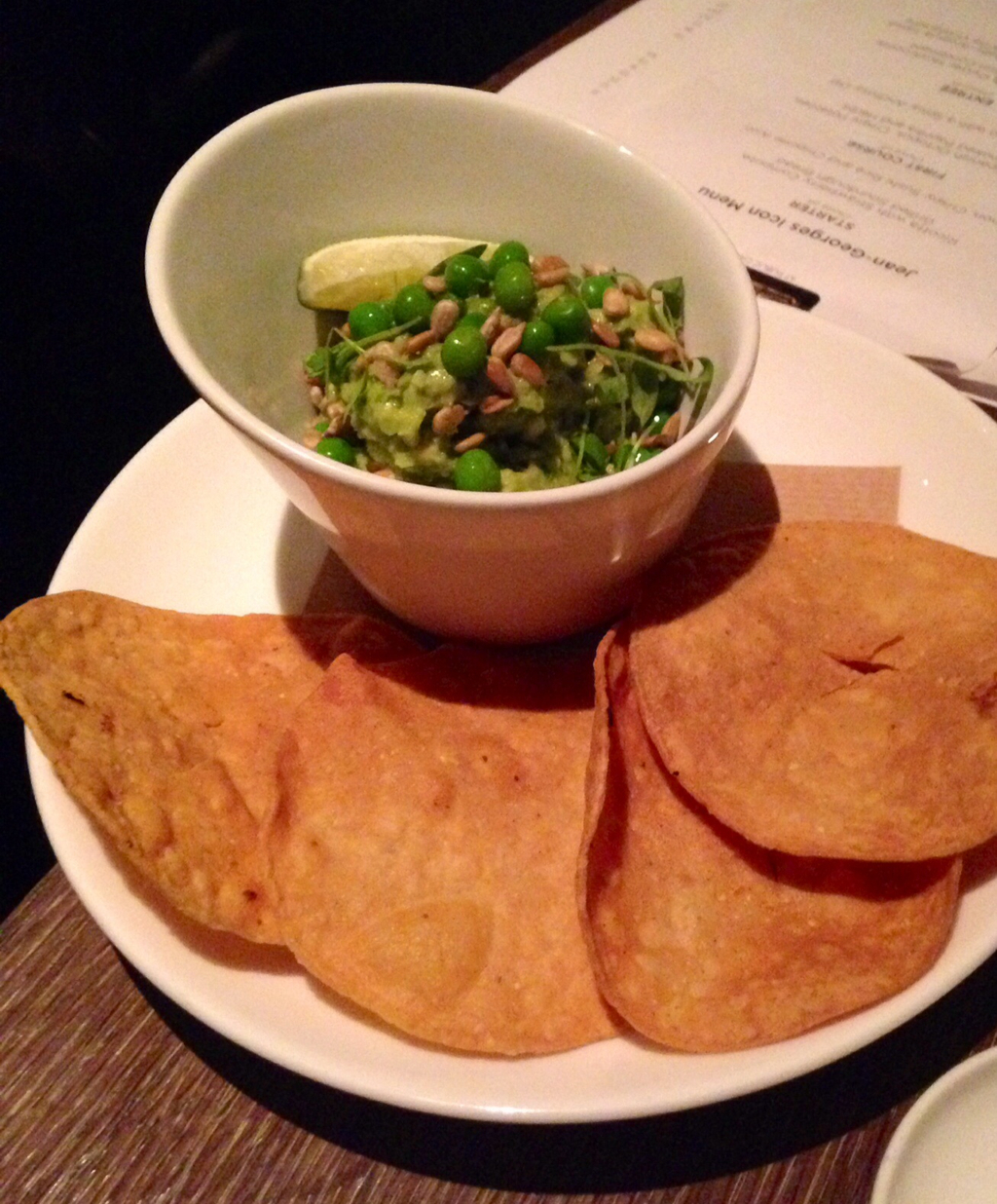 ** pea guacamole **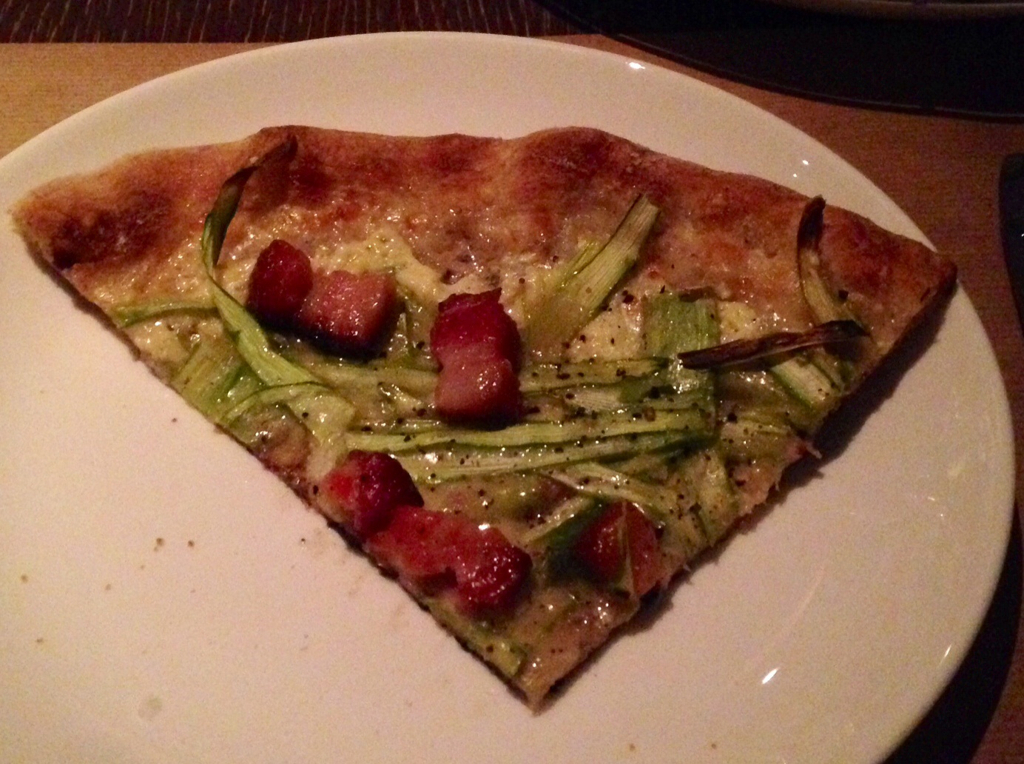 ** asparagus flatbread **
As soon as we sat down, we discovered it was National Fried Chicken Day. Who knew there was such a thing? Never being one to pass on a food challenge, Bryan ordered the half chicken. It arrived, completely deboned, still in one piece, fried, atop an incredibly buttery pile of greens. With it came a habanero butter sauce.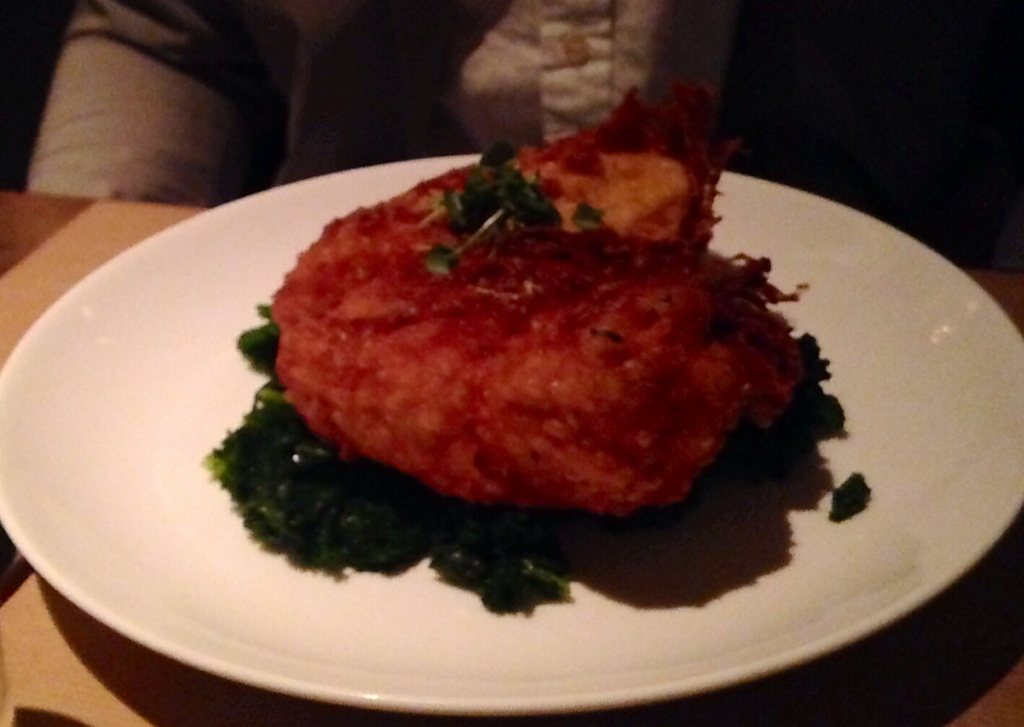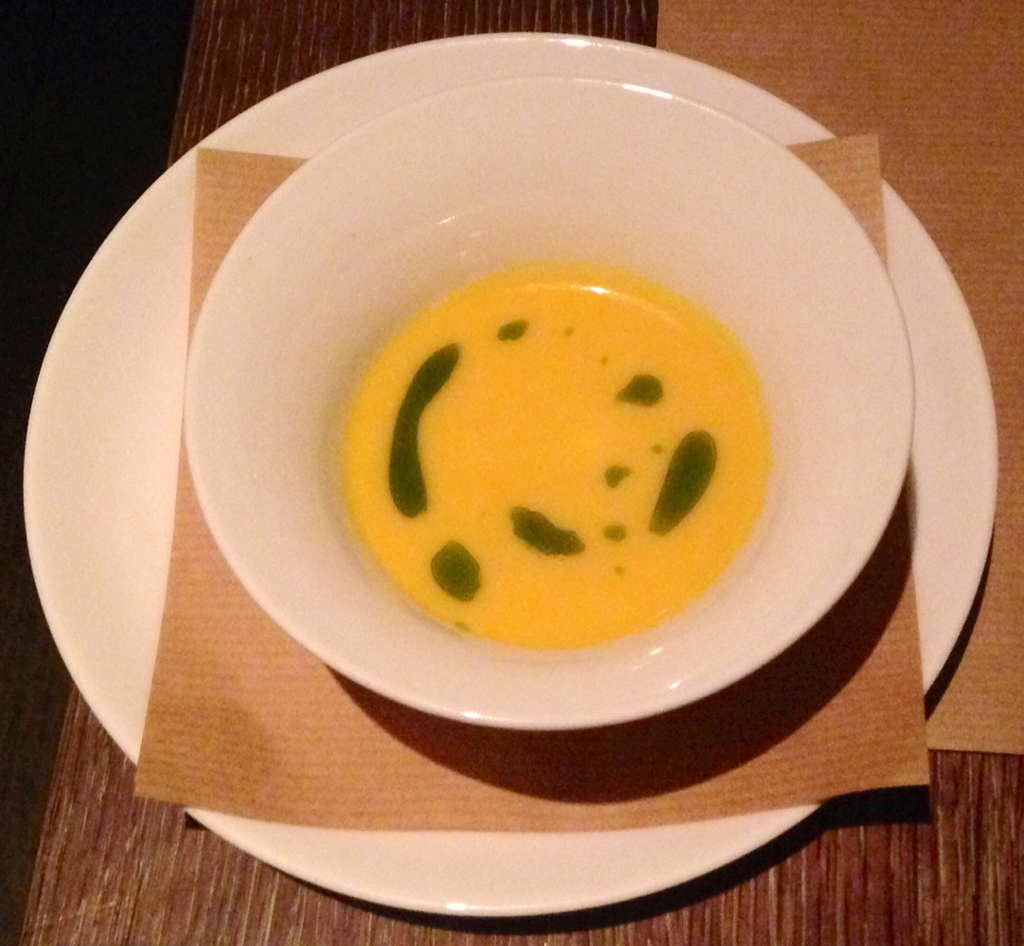 ** fried chicken, habanero butter **
I had a craving for something a little savory and meaty, so I chose the glazed short ribs. So tender they could have been eaten with a spoon, plated on top of potato purée, and served with fresh greens and crunchy cheddar chips, it absolutely hit the spot, and I'm somewhat ashamed to say I practically licked the plate clean.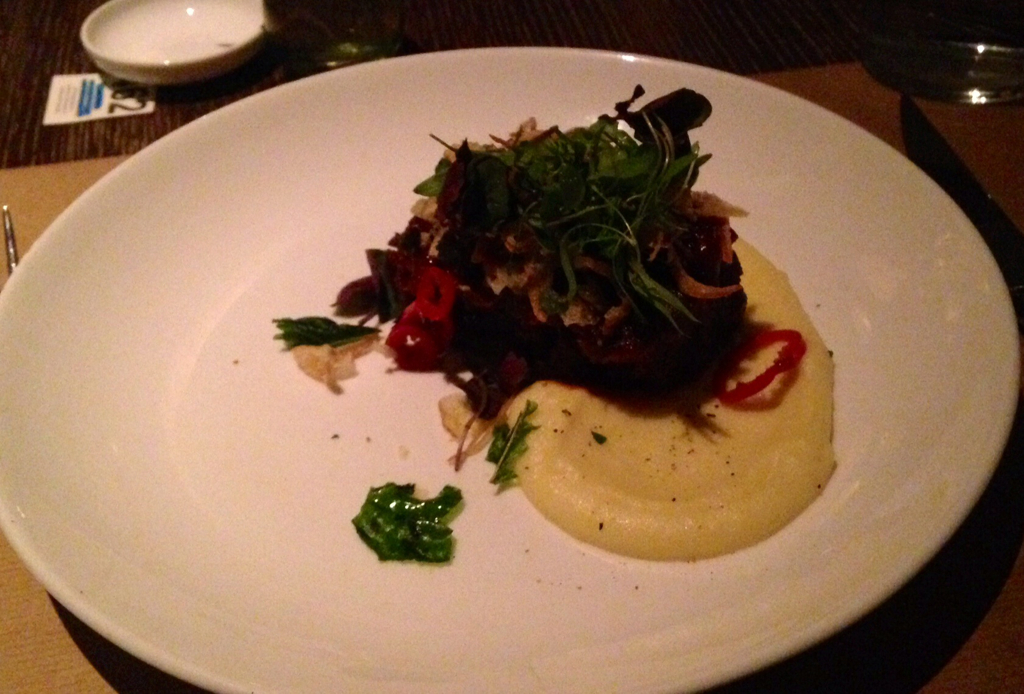 ** glazed short rib **
Neither of us, not surprisingly, had room for dessert, but we did have room for cocktails. It was easy to skip back across the hotel lobby to the Library, where Bryan discovered a Brooklyn, and I had Lucille's Ball- a pink concoction topped with bubbly and a strawberry, and as perfect as it's name suggests.
Friends, if you're in Chicago, venture a little farther north to State and Goethe and try it all- the flatbreads, the cocktails, any entree on the list. You will not be disappointed!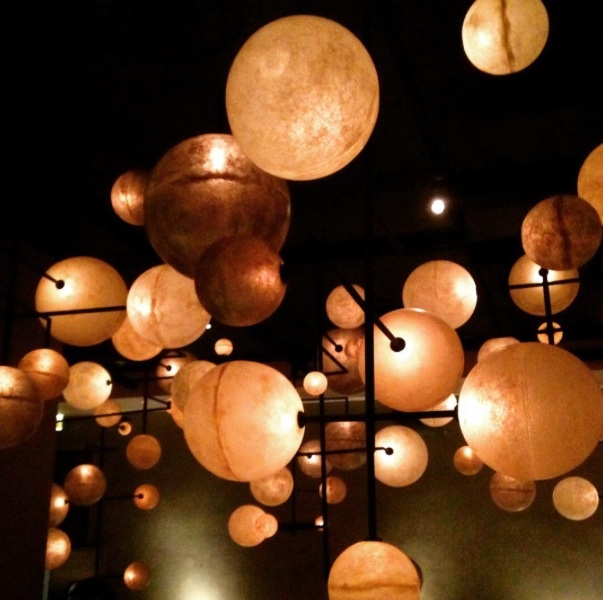 ** my view all night, via my Instagram **