The Knockoff
Lucy Sykes, Jo Piazza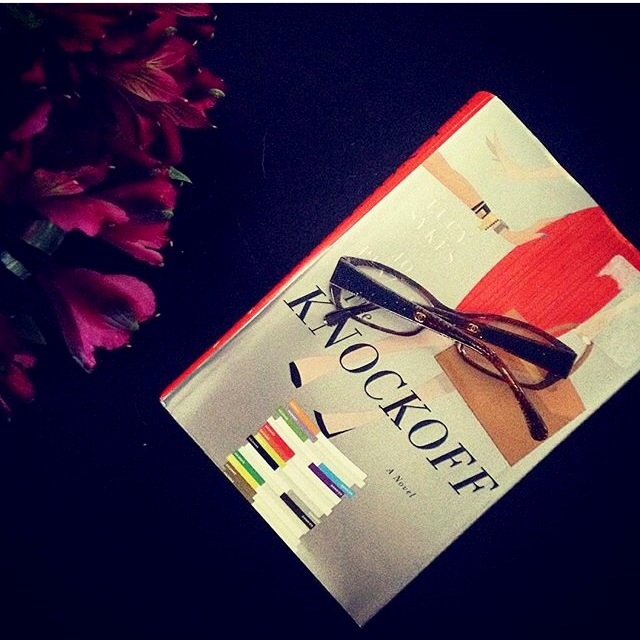 ** via my Instagram **
I have to admit, it's rare that I buy a book solely based on the cover and who's been posting about it on social media. Before long, though, this gorgeous orange spine began popping up all over Instagram, I got a closer look at the Kentucky Blue stiletto manicure on the back cover, and Simon Doonan himself was posting about the humor within. I had to think that any book with a cover and an audience that fun had to be wrapping a story that would hold my attention.
A Sunday afternoon book-buying trip brought a copy home, and I settled in expecting something along the lines of The Devil Wears Prada. What I received was SO much better!
Our story opens with high-rise, high-power fashion magazine editor Imogen returning to work after a six-month medical hiatus. Somehow, in the time she's been gone, a technology wave has swept through her office, birthing an app of the magazine, a needed social media presence, and the addition of several young employees she's never met.
We see Imogen struggle with change, learn to move forward, and stick to her guns as a professional. We're also introduced to the only character in literature I can truly say I have a hatred for- I've never been so angry at a fictional person in my life!
I had to think about the challenges that one can face in industries where technology makes such a large impact. In real estate, for instance, apps like Zillow, Trulia and Redfin provide Buyers and Sellers access to listings that may not even be in their price range! Often inaccurate stats like Zestimates can turn into obstacles we as Realtors must overcome, but that's the point- we overcome! And that's the underlying lesson in The Knockoff. Not to sound cliche, but what doesn't kill you (or your career), is often a challenge that can help us to grow. Authors Sykes and Piazza make that point in a more beautifully poignant and funny manner than I ever could.
My attention was definitely held, and I devoured the entire book in just a couple of evenings. It's a fun novel, though one- if you're like me- you may become a little emotionally invested in (there were multiple instances I was tempted to scream aloud at my most hated player!!).
Friends, if you're local, and want to borrow, then chat over coffee (or something a little more potent), feel free to reach out!