Merchant of Sonoma: Chuck Williams, Pioneer of the American Kitchen
William Warren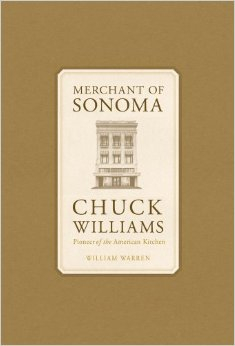 If you've been reading for any while at all, or have ever stolen a look at my Instagram, or have sat at my kitchen table while I cooked you a meal, you know that I'm obsessed- Obsessed!- with Williams-Sonoma. Our local store knows me as a regular, and will often call if there's a new flatware line, or a sale on espresso machines. I'm often present at in-store cooking demos, and love when Fresh Chef Experience takes over their kitchen to hold a class on a seasonal dish. Sue, my usual saleslady, loves when I bring in photos of dishes I've tried, recent table settings, and taste-testing samples.
It's always been the quality of WS products, the diversity of tools, cookware and decor that keep me coming back. I've brought home more of the giant, canvas shopping bags than I care to admit to, and my kitchen always smells of the Meyer Lemon diffuser. I knew that there had to be a reason that this store, more than any other, held my attention. It was during my reading of Merchant of Sonoma that I realized why.
Part biography of Williams-Sonoma founder, Chuck Williams, and part insightful client service manual, Merchant of Sonoma introduces us to Mr. Williams at the very beginning of his life (100 years ago, this month). We follow his upbringing from Florida to California during the Great Depression, somewhat juggled between parents and friends as so many children were at the time. Instilled with an incredible work ethic from a young age, he spent after-school hours working on the date farm his guardians owned.
After time in the Army, be bought a hardware store, which slowly began morphing into a cookware store, each piece carefully hand selected by Mr. Williams himself. While he added incredible value to the date farm in his past (most notably by introducing a mail-order service), it was during his hardware store transition that his ideas on genuine customer service blossomed.
As a Realtor, I often consider myself in the customer service industry, though there is no product that I can sell- I can only be a steady, guiding hand in a life transition. While Mr. Williams built a life on selling products, his thoughtfulness in running his stores, expanding, and taking great care of those that relied on him to offer the perfect copper pot or holiday recipe, it's his beautiful business manner- one of kindness, education, and generosity- that struck me, and motivated me more than any other business or management manual I've ever picked up.
Friends, if you're in any sort of industry that deals with a client or customer directly, this is a must-read. As always, if you're local, contact me to borrow, or to discuss over coffee or cocktails.