Yesterday, I had the pleasure of helping a long-distance client close on their new home- a two-story townhome, backing up to a fountain-filled lake in a secluded Louisville neighborhood full of geese and deer.  It really is a dreamy space, and- lucky for me!- really dreamy clients who have provided me with a Pinterest mood-board and *almost* given me free reign to decorate for them!  A commision check AND a project! Who could ask for more!?
Their new home has a very cool layout; the large foyer has a staircase to the second floor wrapping around the left and rear walls.  The hallway to the right opens on one side to a bright kitchen and on the other, to a large dining room with tray ceiling and an INSANE amount of woodwork.
Its this room that has had the most of my attention, since my clients bought the Modern X-Base table from Wisteria.  L and D, as we will call my Buyers, seem to have a very updated French style about them- lots of navy, blue and white porcelean.  L is planning on turning a first floor bedroom (complete with private patio, overlooking fountain/lake) into a garden shed/office, for crying out loud!  These folks are fun, and have a massive amount of antiques.  How, then, do I make the new, funky X-base table work in what's supposed to be the most formal room in the house?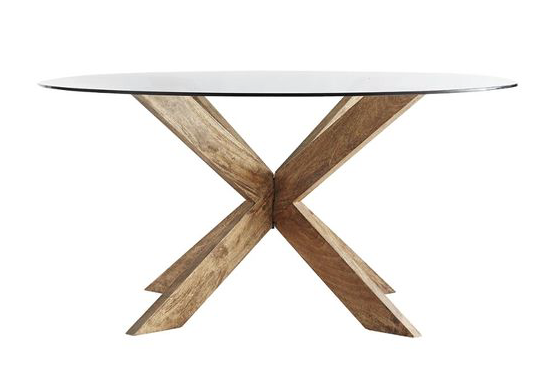 ** Wisteria Modern X-Base Dining Table **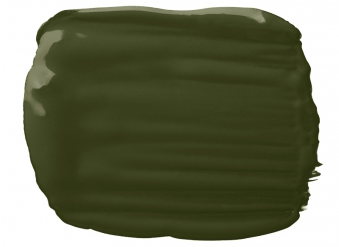 ** Ralph Lauren Paint in Felt Green **
L loves some navy blue and from the very beginning, she mentioned that she wanted to incorpirate the color into every room in the house.  For whatever reason, Ikept finding myself drawn to a gorgeous hunter green from Ralph Lauren called Felt Green, and I keep thinking that just maybe, coating the dining walls (from wainscoating upward) in this rich green and bringing navy in through the dining chairs and her porcelean would look incredible.  Inspiration? These cozy, jewel-toned areas: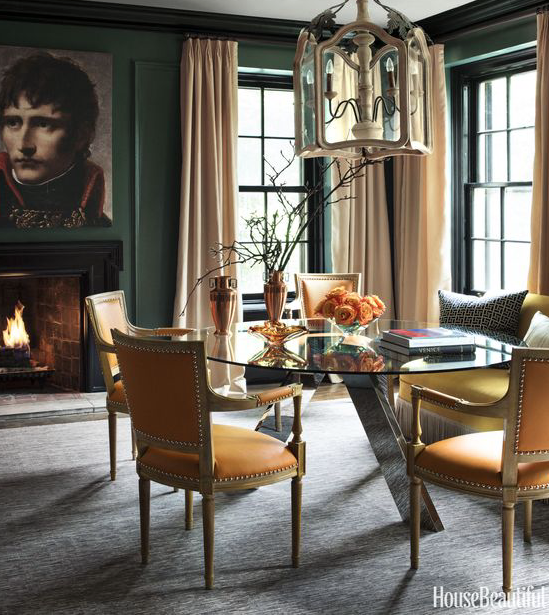 ** via House Beautiful **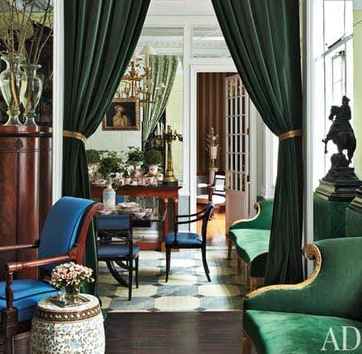 ** via Archetectural Digest **
My thought is to bring in blue upholstered dining chairs as well as a large, ivory bookcase that L and D had in their former home.  The bookcase would be placed on the left wall, and then be filled with their books, yes, but also beautiful dishes as well as their blue and white porcelean pieces.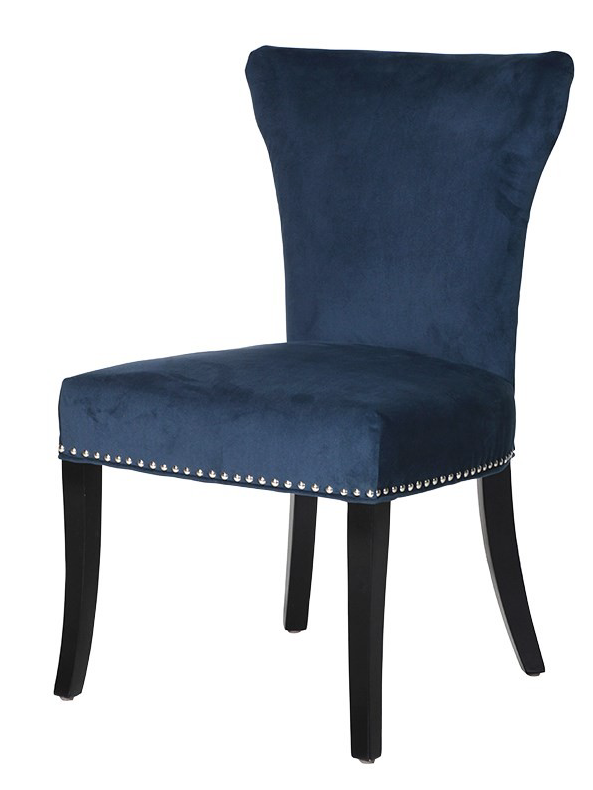 ** source unknown **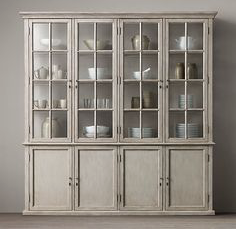 ** source unknown **
Blue and white dishes from their former bedroom would surround a very Kentucky-esque equestrian painting, also from their former home (and still available at Pottery Barn) on the right wall.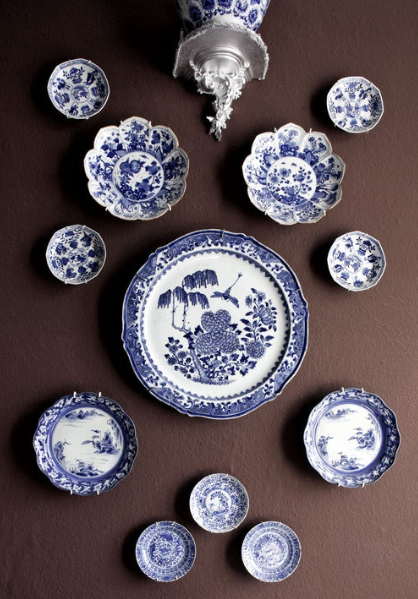 ** via Pinterest, original source unknown **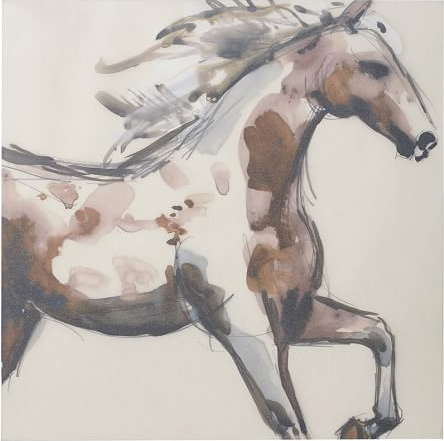 ** via Pottery Barn **
Centered, straight ahead as one walks in, I'd hang an oversized mirror, possibly black (to couple the dining chairs), but a bit distressed, like the one below, in an almost-ornate sort of frame, to reflect the light of a simple iron lantern.  Between the lighting, the mirror, and whitewashing the now-cream-colored woodwork, I see a bright, beautiful dining room that can reflect my clients' personalities, as well as blend their love of traditional elements and a want for something a little funky.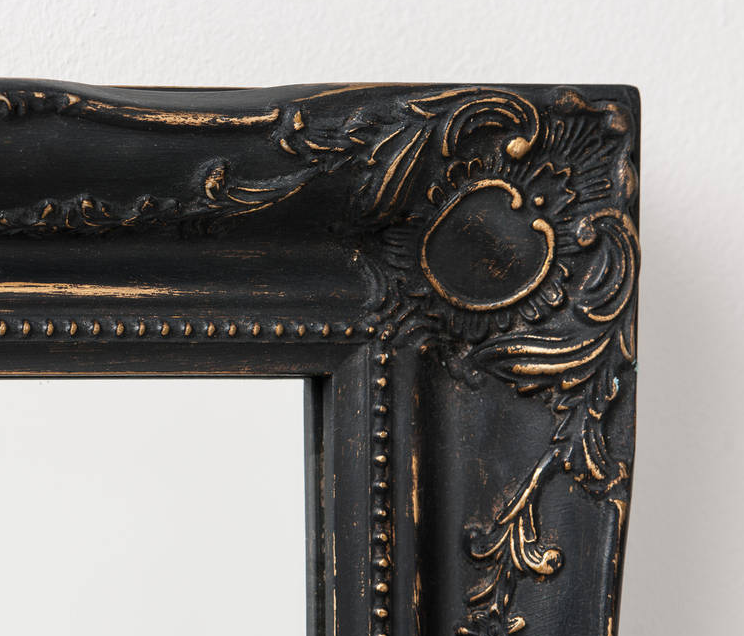 ** source unknown **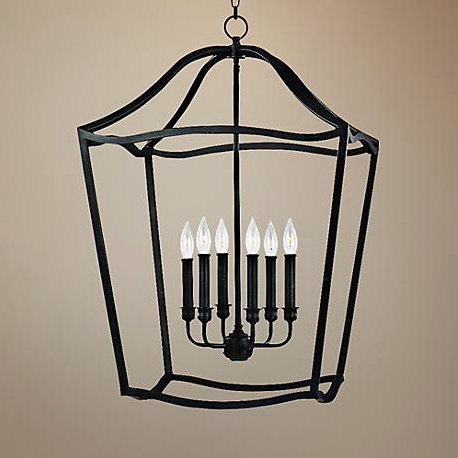 ** via Lamps Plus **
There you have it, my dear readers- a jewell-box of a dining space for my clients' new Old Kentucky Home.