Here in Louisville, we're fortunate to have an abundance of home styles. From 8,000 square foot Victorian mansions, funky downtown high-rises, cheerfully colored row homes, and sprawling Indian Hills ranch-style, we really do have it all. I'm lucky enough to work in an industry that allows me not only to swoon over the exteriors of these, but to tour inside as well.
Lately, though, I've been obsessing over three tiny homes; One, painted olive green and with two massive dogwood trees in the front yard sits across from one of my favorite eateries, and I find myself wanting to stand and stare everytime I go for crepes. Another, brick and covered in ivy sits off of a downtown thoroughfare. Each time we'd pass, I'd mention aloud how "cute that little house is" until the boyfriend finally started beating me to it… "Hey! There's that house you like!" The third, white, with columns out front and a black door, sits across the railroad tracks from a buzzing eatery-filled area. I've only ever gotten to see it from this sideways angle of driving by, but it looks so charming, with huge trees in the back yard.
All of them have one thing in common: They're small, shotgun style homes.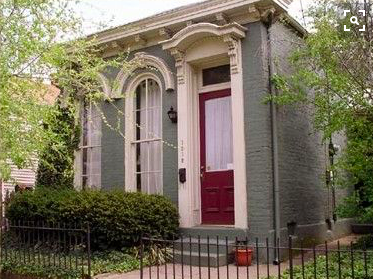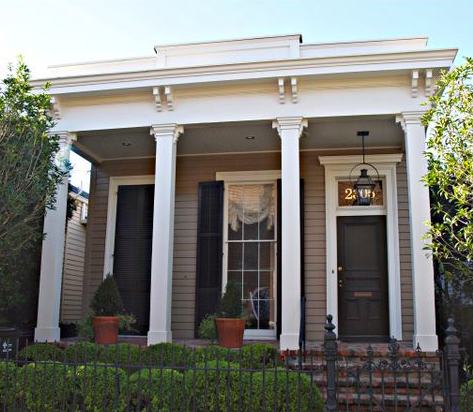 ** both via pinterest **
As far as we know, Shotgun style homes started in America in New Orleans, as a cheap style structure for the richer business owners to house their workers. Traditionally only three rooms- the living room, into the sleeping room, then into the kitchen, off of which a bathroom may have been located- the original shotguns were only 12′-15′ wide. Most had very little yard, especially in front, where the steps and porch often began at the city sidewalk.
Originally, these cute homes were called "shotgun" because a shotgun could be fired through the front door and go right out the back door without witting a wall. Now, though, we're seeing (in Louisville, at least) a resurgence of love for these little houses, with camelback additions being built, altered floorplans, expansions.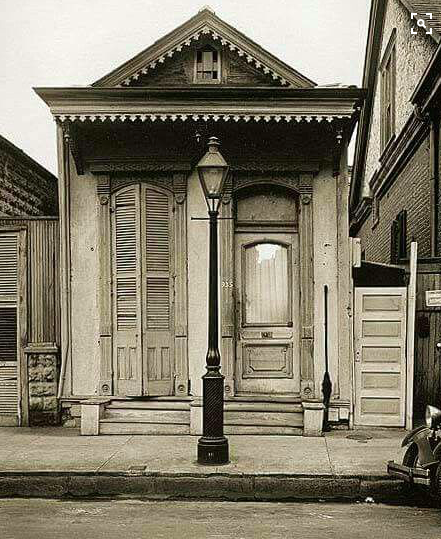 ** a 1930's shot, and a sweet maintained version, both in New Orleans, via Pinterest **
Personally, though, I'm a sucker for the 3 room original. To me, nothing says guest house, or sweet weekend crash pad like a small home with bright windows and tall ceilings like the one above. Perfect.