You may remember, late last year, my lamenting over not having a completely finished bedroom due to the lack of a headboard or bed.  Well, friends, that has all changed!
Meet our bedroom.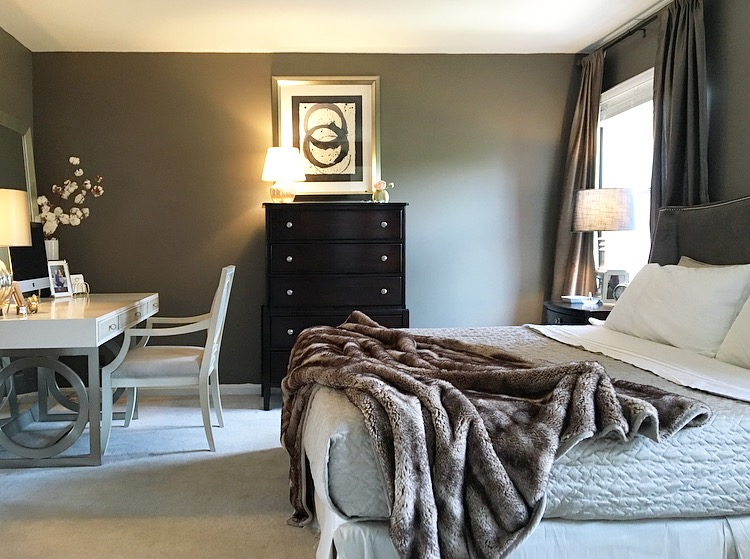 Cool, shades of brown and greige, functional, and just a little bit pretty, our bedroom is easliy my favorite room in the house.
The dark dresser and nighstands came with us from the old house, as did the mattress and bedframe.  Everything else was bought for this room ( though the desk was fantasized about for sooooooo long).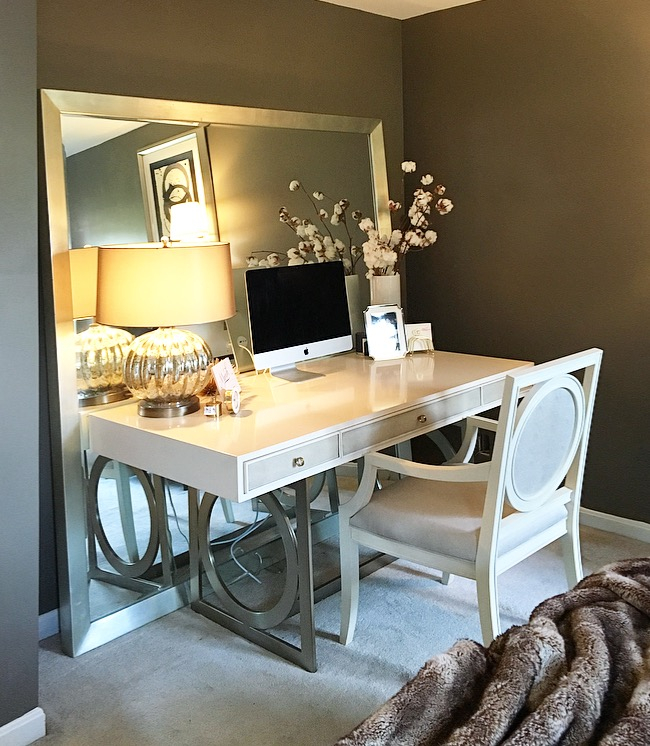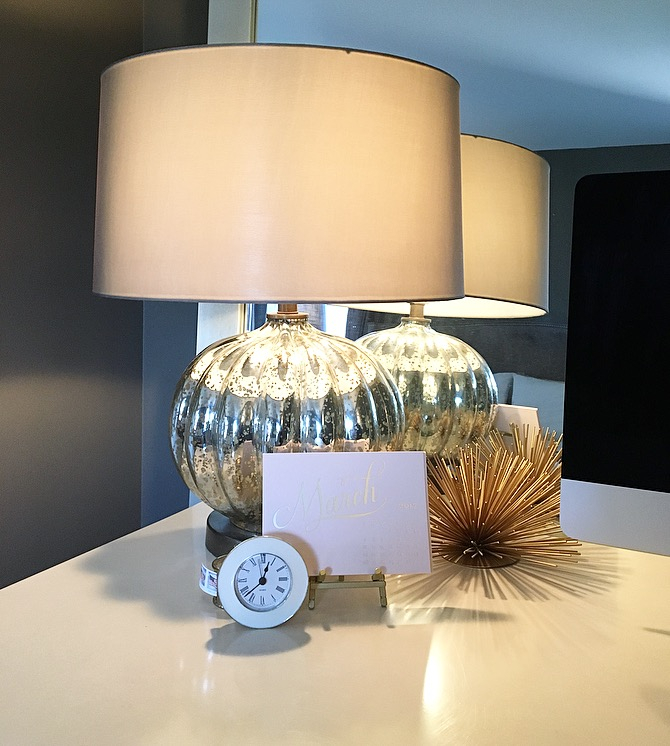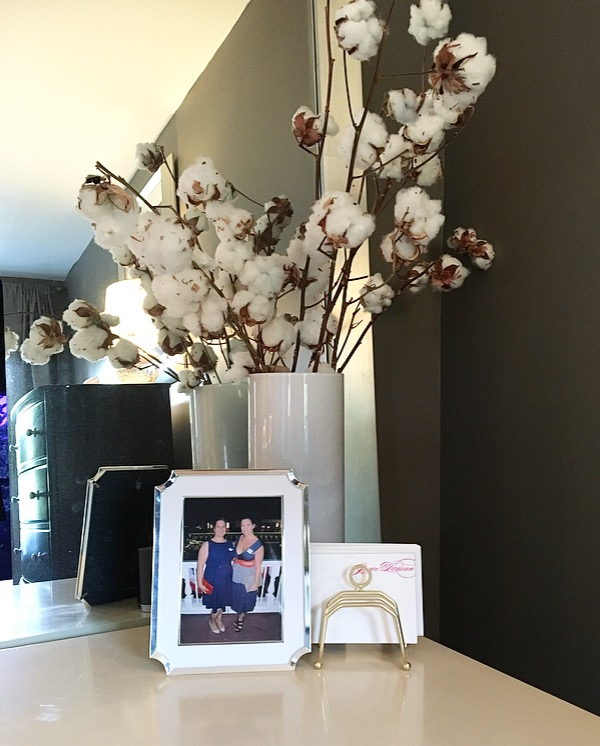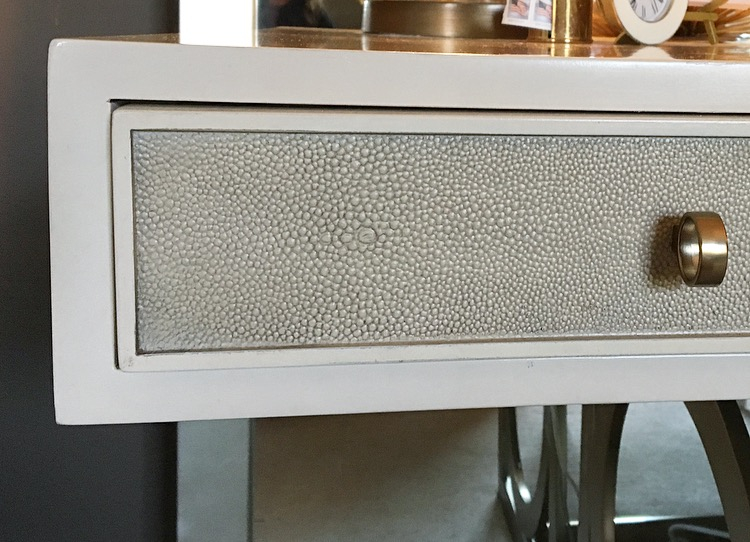 Most of our home has a masculine feel- dark walls, dark wood, hard surfaces like granite and marble, sharp edges.  I wanted my office nook to be as decidedly girly as possible wihtout looking like it didn't match the rest of the bedroom.
The giant mirror behind my desk (remember the great mirror debacle of 2015?) allows this space to douple as a vanity, while a bright lamp, letter holder, my clock, calendar and Mac make this an incredibly functional work area. A photo of my best girl and I at Churchill Downs sits with my personal stationery and a vase of cotton, while a candle from Pickwick sits behind, and smells like my Bryan's soap… which makes me goofy and happy during the day. (Tell me you don't smell your boyfriend/husband's soap and cologne-filled clothes as you toss them in the wash.  Imagine a candle that smells like that.  Gah!!)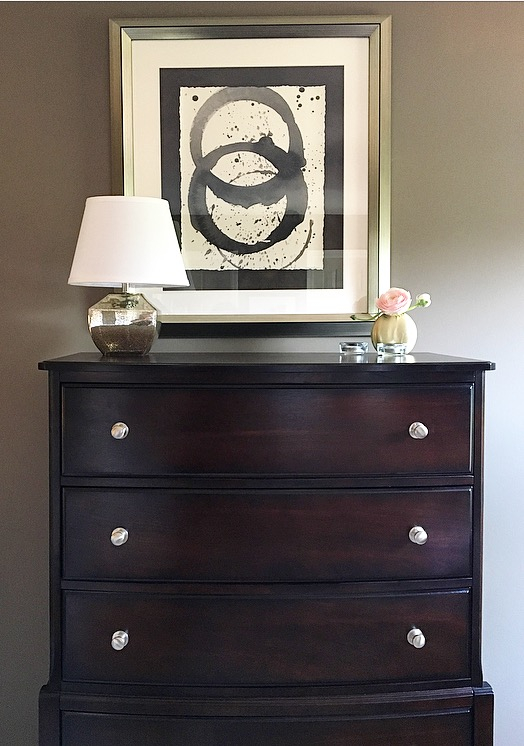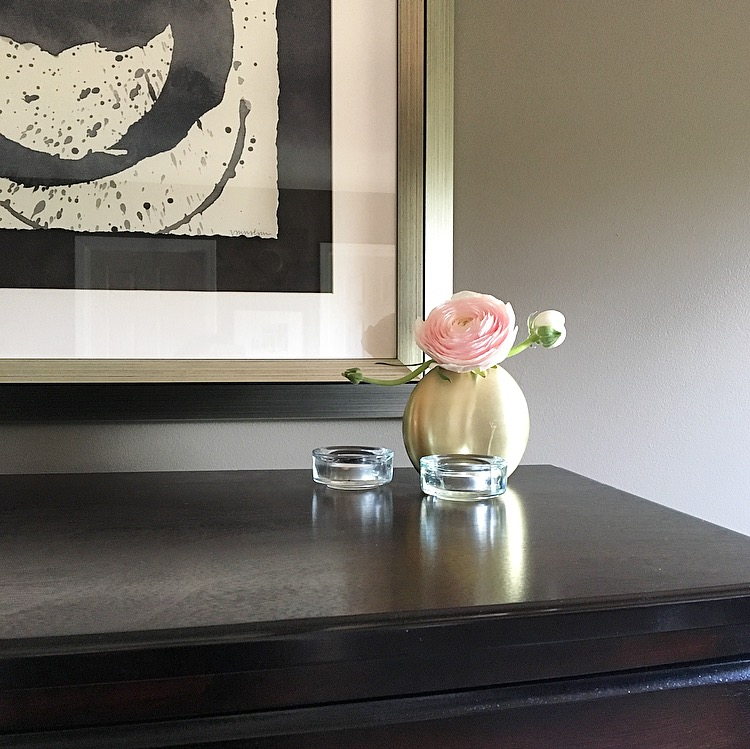 Above our dresser, a coffee-stain print that I store-stalked for months before finally purchasing guards over the room.  A mercury-glass lamp and tealights provide enought light to be bright or cozy- user's choice.  The squat little gold vase is one of my favorite pieces in the house, and I'm lucky to have both a boyfriend and a florist who keeps it filled with blooms.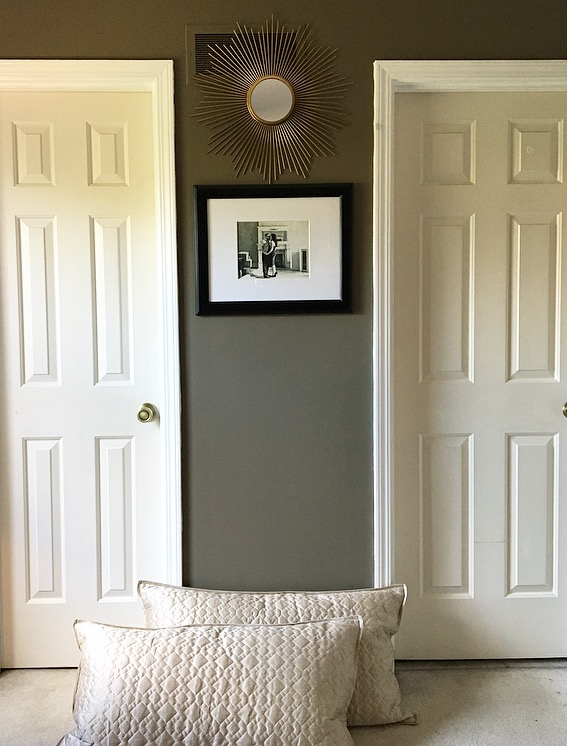 Between the doors to my closet and the bathroom, and above where our shams are tossed each night, a photo of B and I from 2009 is framed below a starburst mirror.
Everything in this room is almost the same color- something I find soothing and comfortable.  The walls are painted in Valspar's Safari Beige, which is happily the same color as the headboard's velvet and the silk/poly of the curtains.  Each texture plays off of each other so that the elements blur together…  almost like you're in a dream.  Appropriate for a bedroom.
It took three years, but we've built a space here that's comfortable, beautiful and functional, and finally- finally!- complete.  Now, if you'll excuse me, Zzzzzzz…..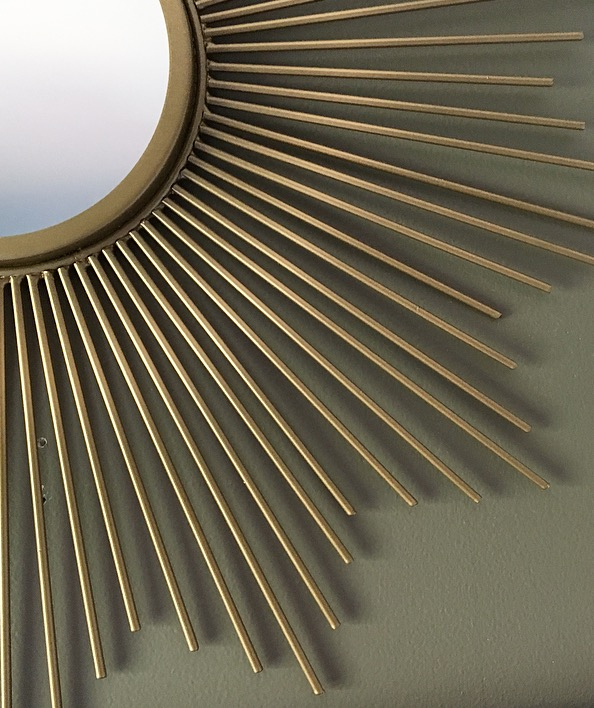 Sources:
Desk, Mirror, Chair : Bernhardt Furniture
Dresser, Nightstands : Ashley Furniture
Mattress : Tempurpedic
Headboard : Mitchell Gold Bob Williams
Sheets : Target
Shams, Quilt : Hotel Collection 
Fur Throw : Pottery Barn
Curtains : Lowe's
Art, Round Lamp : Scout on Market
Urchins, Small Lamp, Tea Lights, White Vase, Black Lampshades, White Frames : Target
Calendar, Stamp Holder, Letter Holder: Sugar Paper
White Clock : Z Gallerie
End Lamps : At Home
Black Frame, Starburst Mirror : Hobby Lobby
Cotton : Mahonia
Stationery : Missive Press