I'm fortunate enough to have a cool birthday- the song "Born on the 4th of July" always had meaning in my house, and the holiday birthday has built in me a serious love of fireworks. Over and over I heard that the entire country celebrates with me. More often than not, I'd have those checking my ID or asking my birthdate comment on such a celebrated date. It's been fun, but not without its downfalls. For instance, I was a summer baby- in grade school, I never had the opportunity to get free cake from the lunch ladies on my special day. My parents could never help my class throw me a party. Perhaps worst of all, I could never choose my party theme. What if I wanted Cinderella or Little Mermaid decorations? No dice. It was star spangled everything, whether I wanted it or not.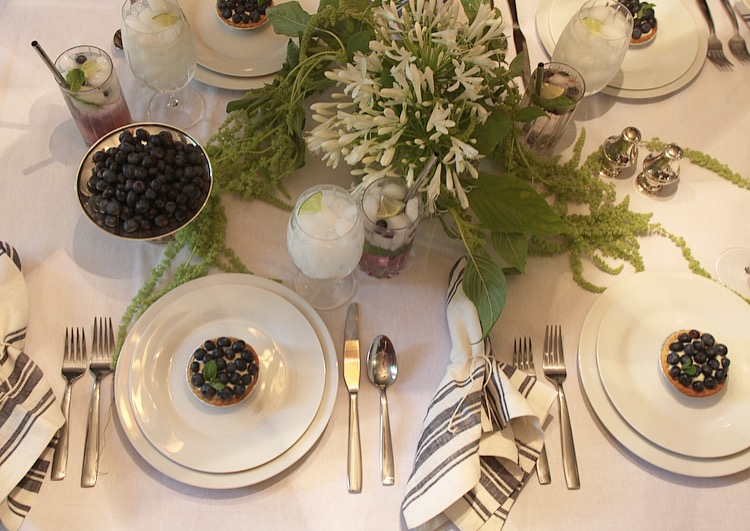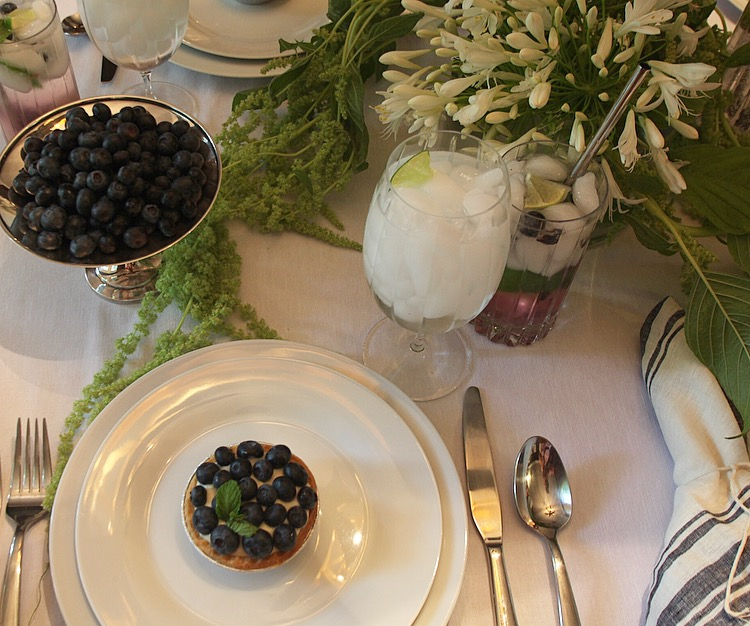 Since I've gotten older, I've been lucky to have the freedom to set the table for myself, if you will. Being one who loves to host, I usually find any excuse I can to plan a party, set the scene. My idea for a 4th of July tablescape? Keep it simple, keep it fresh, and minimize at least one of the red, white, and blue.
In our home, I've laid out a white cloth, and all white dishes alongside blue and white striped linen napkins tied with kitchen twine. A centerpiece of draping green Amaranthus keep the table from looking too plain, and the white blooms of Agapanthus lend a look of a just-burst firework!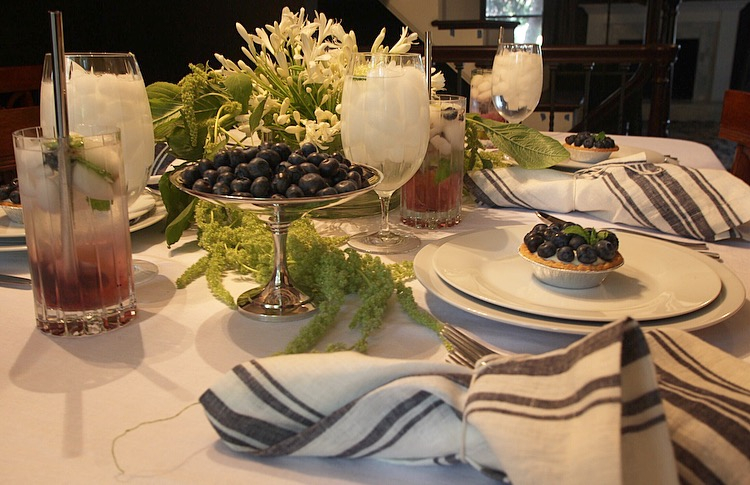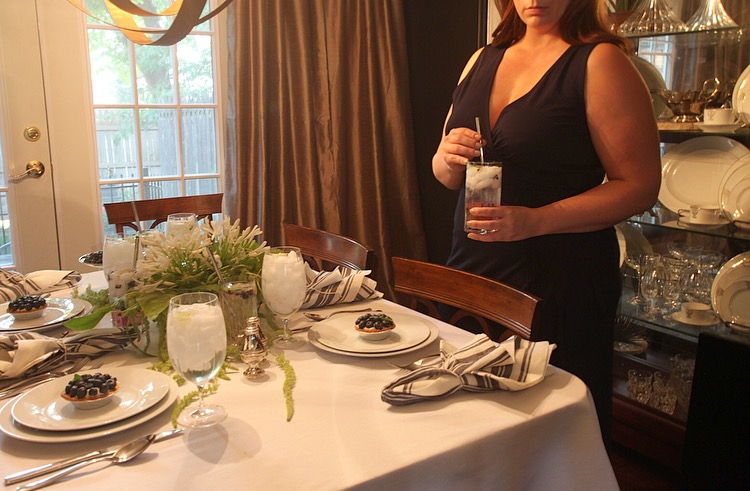 Desserts are simple- individual blueberry-topped cheesecake pies- while a summery blueberry mojito offers a glimpse of pinky-red, thanks to the processed berries.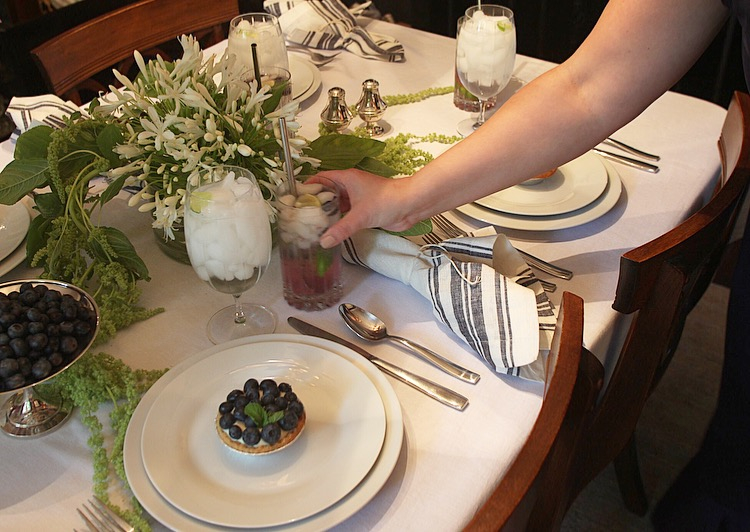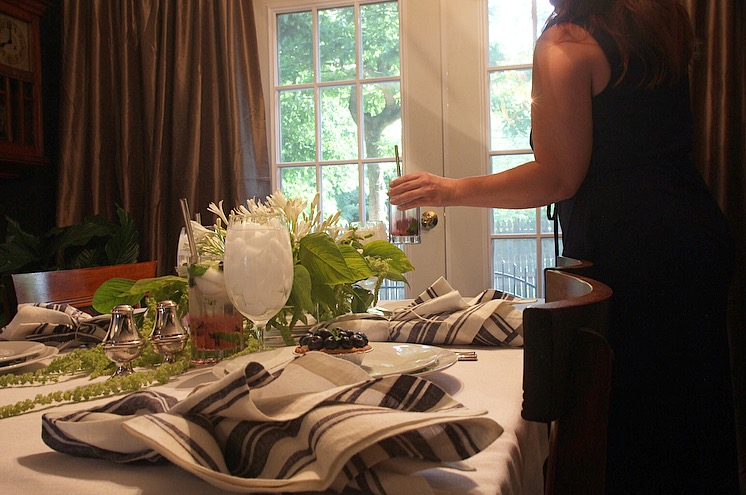 Happy 4th of July, friends! May your holiday weekend be beautiful!
Blueberry Mojito
Blend several blueberries in a food processor or Vitamix (estimate 4 berries per serving), and divide among collins glasses. In each glass, add a wedge of lime, and muddle. Top with 2 ounces light rum, and 3/4 ounce simple syrup and stir. Fill glass with ice, 4 more blueberries, and 5 fresh mint sprigs. top with soda water and enjoy!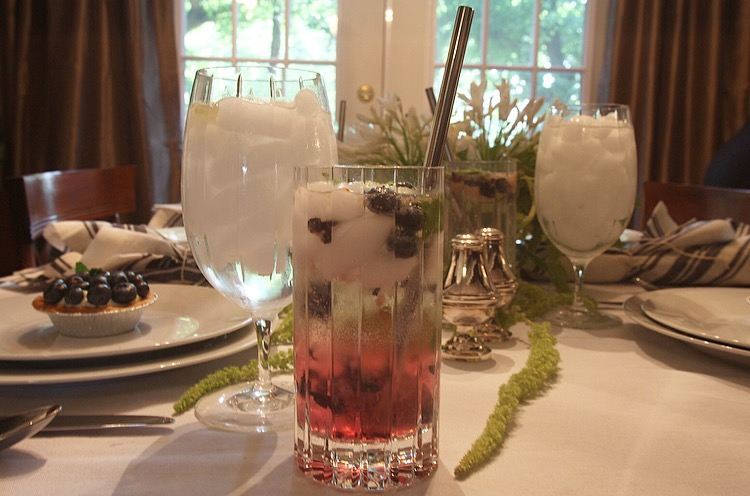 ** photos by Kyle Lueken **