As you well know, I love my little neighborhood in Chicago. I've stayed at The Ambassador East (formerly Public Chicago- more on that later) on more occasions than I care to admit. The atmosphere of the tiny bubble which comprises Chicago's Gold Coast neighborhood is comfortable. Trees line the street, Division separates the hood from the bustle of the Rush Street bar district, the lake twinkles just a few blocks away, and couples walk hand-in-hand to 11pm dinner at places like gorgeous steakhouse Maple and Ash, and it's sister spot, Eight Bar.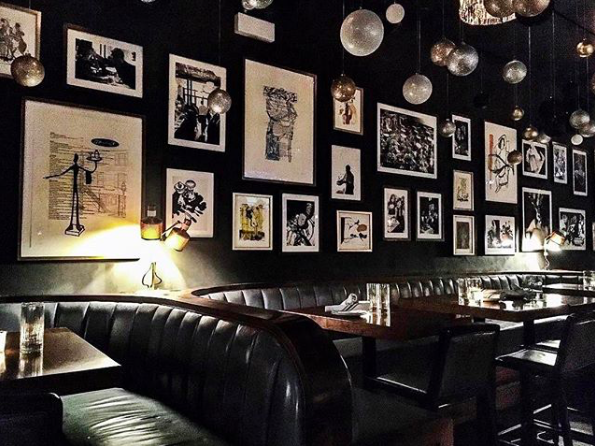 Saturday night, the man and I wandered down for a late dinner, and were pleased to see that tables outside were still full and the bar still had several patrons sipping on fun cocktails. We settled into a cushy booth facing both the Cubs game and the Indians game playing over the bar, and pondered the menu.
I'd been craving a good martini for quite a while, so decided on the 8 Martini, and our server was happy to replace my olive with a lemon twist. B leaned towards the Ward 8ish- a combination of Bourbon, vanilla OJ, and Mezcal Grenadine. My matini was perfect- the herb vermouth lended something extra to the flavor, and I had to tap out after two refills… They were just that good.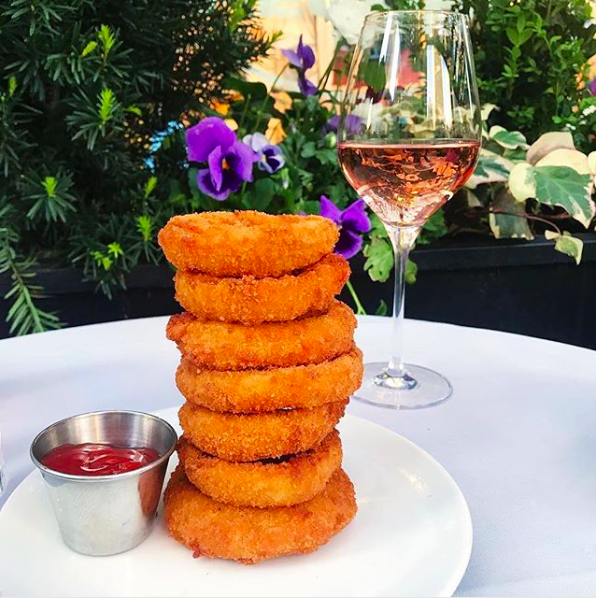 We split onion rings as an appetizer, but leaned hard towards the crispy artichokes. Someone in our house always has to try the steak frites (medium rare), and he said that this version was as good as any. Piled high on his plate was a mountain of fries, and the steak- pre-cut- came along with bordelaise and garlic confit. Two people could have easily shared.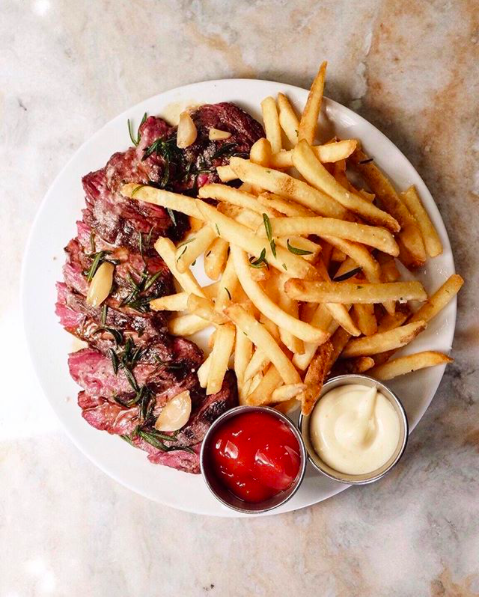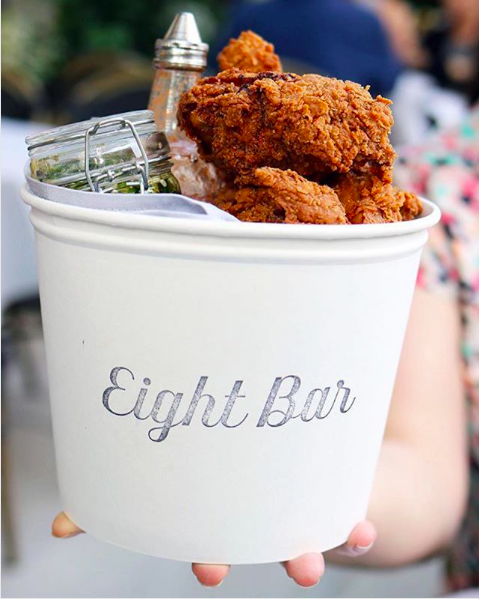 Speaking of sharing, I ordered the fried chicken, which our server politely informed me would arrive in a bucket. I thought he was joking… he was not! My bucket of chicken had a bottle of housemade hot sauce as well as a jar of pepper honey inside. The chicken was SUPER crispy, and reminded me of the fried chicken my grandma used to make where she would crush up saltines to use in the breading. The man wasn't a fan- said that the honey was necessary to enjoy the flavor. I disagree. The crunchy skin combined with a super juicy meat was incredible. The honey was a nice addidtion, and they weren't stingy on serving size- half a chicken cut into 4 pieces went home in my belly that night.
Friends, if you're in the Chicago area, I encourage you to try Eight Bar. The patio was breezy and fun, while the bar inside was dimly lit and romantic. There are still a few items I'd like to try, but I'll happily return again for that chicken any time.
** this post is not sponsored in any way **
** all photos taken from Eight Bar's Instagram **