1993.
I was 10 years old the last time I really, truly looked in the mirror and saw my own hair color. It was in the South where the 80's had just ended, and I remember seeing a huge, spiral curled head of hair in one of the beauty magazines laying around the parlor my grandma visited every Friday. I went home and begged- begged!- to be allowed this beauty indulgence. I never took into account that my collar-touching bowl cut would shrink up to the size of nothing, or that the chemicals used in a perm would lighten my locks. It was these oversights (despite coke-bottle glasses) that stuck me with the nickname "the poodle" for the rest of my 5th grade year.
When I found out I was changing schools and school systems the following summer, I decided to let my hair dictate who I was going to be. The terrible perm was growing out, but provided me with two-tone hair that I decided to correct with Sun-In, which resulted in a chemical green tinge when I started spending so much time in a pool. I tried to get my hair back to its natural shade by buying a box of brown hair color which took my drug store bleached hair past brown to black, at which point I was referred to as Wednesday Addams. It was not a good look for me, but it was one I was stuck with until the sun came out in spring, and I again reached for the Sun-In.
I went without a haircut until I was 13, and the bottled lightener took me to a shade of icky blonde that reeked of 1970's television, when my middle school crush began referring to me as Marcia Brady, something that- looking back- may have been meant as a compliment.
At this point, I realized that new looks weren't always all bad, and my hair began to fluctuate from a tiny, bleach blonde pixie cut to a fire engine red shag (prom, junior year…). By the time my freshman year of college rolled around, I was happily sporting an overly highlighted and hairsprayed soccer-mom 'do that was just as horrible as it sounds. In 2005, after a pretty signifigant shift in my life, I decided, finally, to start letting my hair- and that terrible color- grow out.
When my grandma passed in 2007, I needed a change more than anything and took the Wednesday Addams risk once again and went jet black…. it wasn't as bad this time, and was a hair color that stuck with me for almost all of the past 10 years, save for a couple quick weekends as a redhead.
June of 2015, I decided it was time to try and return to my roots. My stylist (patient and loving) and I spent 8 hours or so bleaching, lightening, color matching, and highlighting to try and get me back to what seemed like a natural, highlighted blonde (for evidence, click here). It wasn't a bad look, and aside from the highlight, felt natural, but it was too much change too quickly, and too much of a dramatic turn from the black hair that I had become accustomed to. I panicked. It lasted three days before I returned to JK and asked for the black color again. This time, though, we reached for a semi-permanant color, determined to get me back to my natural- whatever it was- once and for all.
It's been almost 2 years, and finally I see the color that seems familiar to me. A little brown, a lot gold, a little red… and surprisingly to me, a little gray.
I didn't realize the sheer amount of damage I had done to my locks with bleaching, sun-in, razor cuts, and dollar-store products, and it wasn't until I saw a disgusting video showing the buildup that can be caused by cheaper haircare produts that I began to wonder if there could be a better way to care for my newfound natural hair.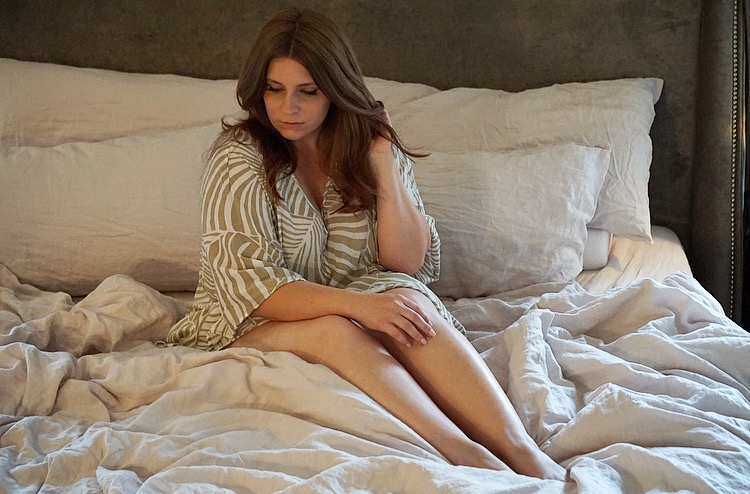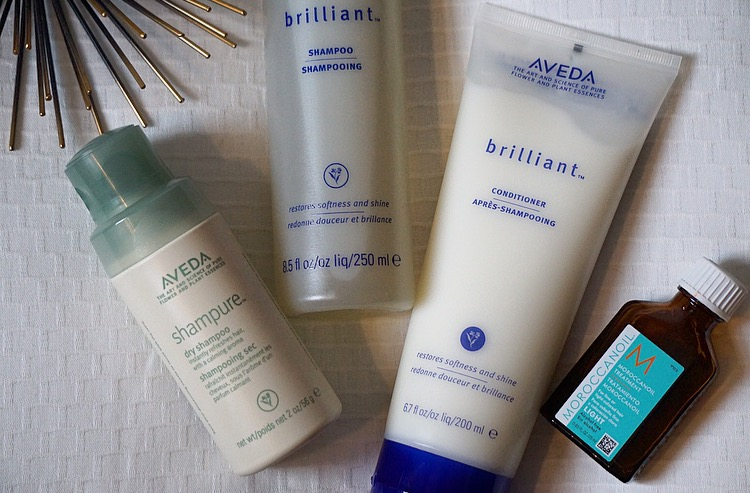 After trying multiple formulas, morning routines and finally agreeing to have my trusty stylist, JK cut in some major layers, I've found what is working best, gives my hair a ton of life, and keeps my ends silky soft and hydrated.
I've completely fallen for Aveda's Brilliant shampoo and conditioner. I focus on massaging my scalp with the shampoo. The lower-bubbling formula took a while to get used to, and after the first real wash, my hair seemed to be twice as volumnous as normal. I concentrate the conditioner only on the lower half of my hair, squeezing it through my ends. After morning blow-drys and styling, I massage a teeny bit of Moroccan Oil light into my ends to separate and define, and slide a bit along the strands by my face to tame flyaways.
I only wash my hair every other day, so on days off, if I look or feel a little oily, I LOVE Aveda's Shampure dry shampoo. The application is very different than any other dry shampoo I've used- instead of an aerosol type spray, this one puffs out using your hand's gentle squeeze. After landing on my roots and sitting for a few minutes, my oil is absorbed, and I'm right back to being ready for a new day, gray hair and all.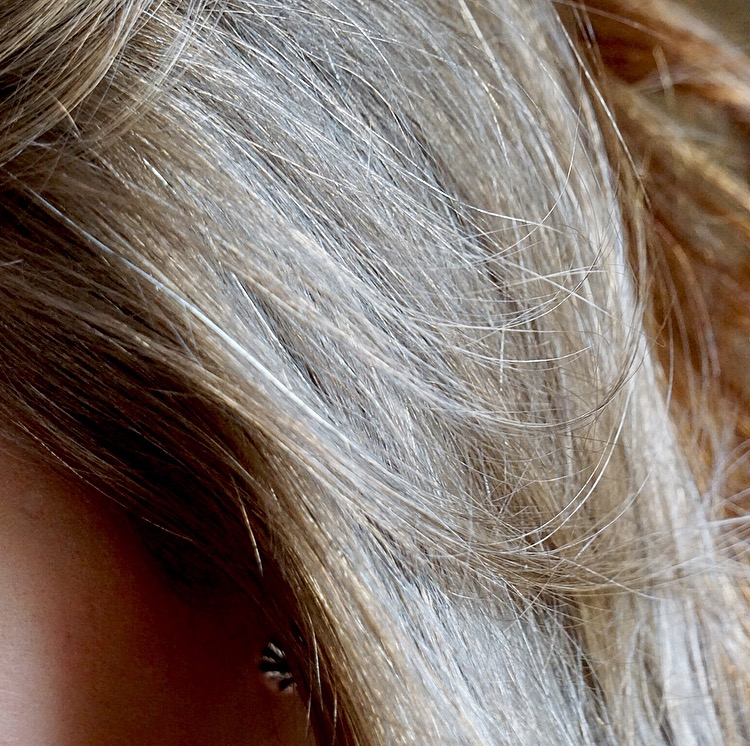 ** photos by Kyle Lueken **
** this post is not sponsored in any way **