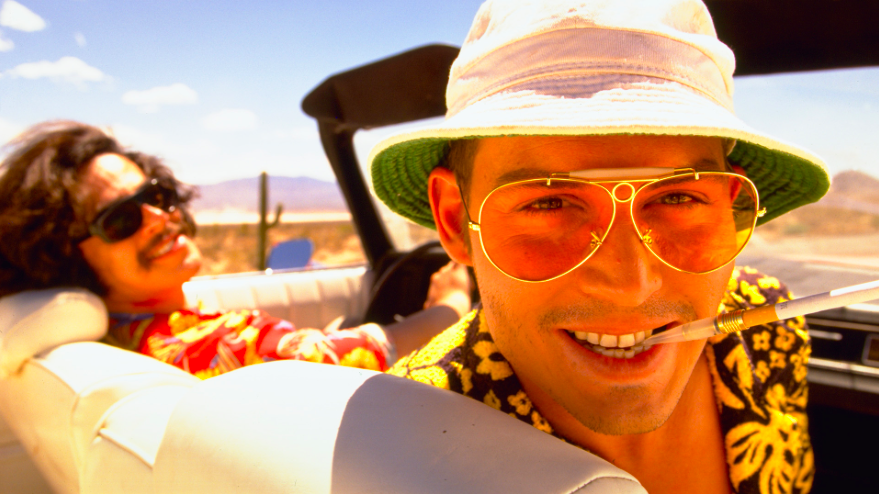 ** Fear and Loathing in Las Vegas **
Our visits to Las Vegas never remotely turn out like the trippy trips depicted in Fear and Loathing or the Hangover. We don't even get dressed up to attend games at high rollers tables or attempt a heist at the Bellagio like Ocean's 11. I admit that I'm pleased to never had a Vegas vaction ending in an unmemorable wedding to a stripper, or an arrest for trying to rip off a high-powered casino boss. Rather, after several visits to sin city, the man and I have settled into happy habits that have made our trips as relaxing as vacations should be.
The first two times I visited- in 2008 and 2011- were for week-long conferences that took place at Paris Las Vegas. The customer service that we had there over these long periods was wonderful, and despite the existence of more fashionable hotels like Aria and Cosmopolitan popping up, we've always been happy to stay at Paris.
Paris's room service menu- especially for breakfast- was pretty long (crepes a l'orange! Bowls of Stawberries and creme!), and food arrives on a white-tablecloth covered cart within a short amount of time, even when the hotel is packed. The pool is surrounded on two sides by the hotel's high walls, while the Eiffel Tower and tall trees and planters allow guests to seek out some shade from the harsh desert sun. A poolside bar offers snacks like nachos and sandwiches, along with a massive selection of frozen drinks. I'm partial to the Miami Vice- a half-and-half with Pina Colada and Strawberry Daquri.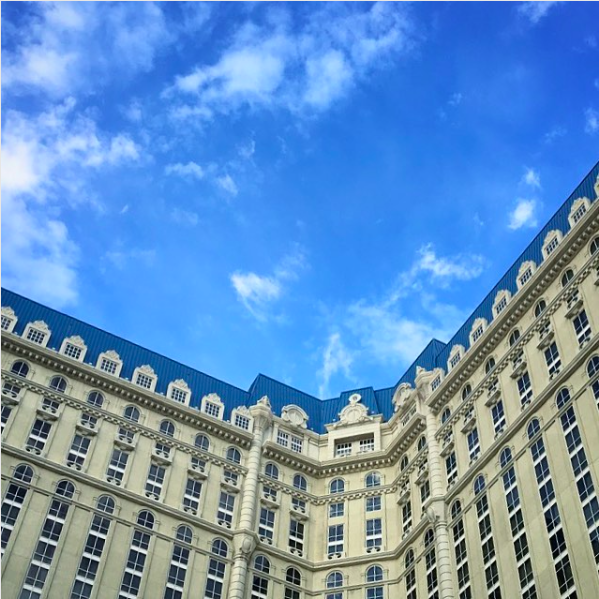 ** Paris Las Vegas, as viewed from the pool **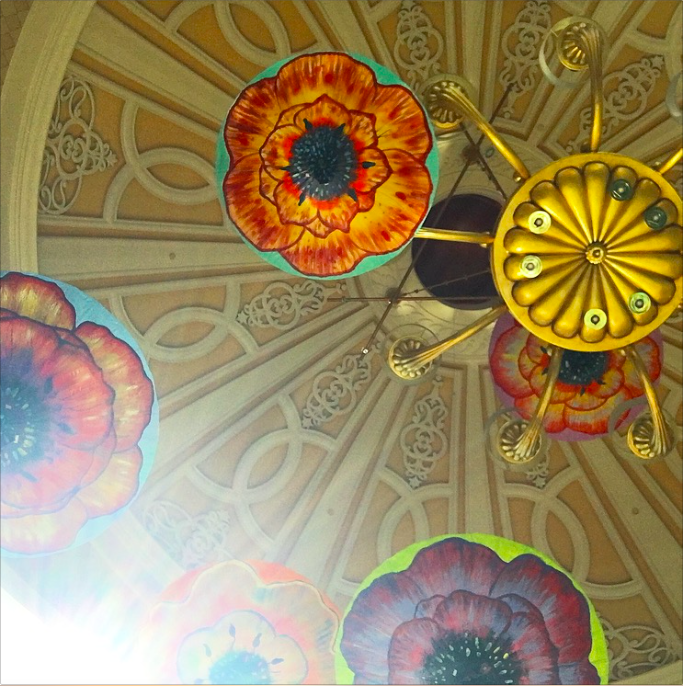 ** the ceiling in the Shops at the Bellagio **
Shopping options in the city are ridiculous! The Forum at Caesar's Palace has high-end options like Gucci and Mulberry as well as smaller, less-expensive stores like H&M and The Gap. Resturants and fountains are dotted throughout, and at one end, a huge indoor aquarium mesmerizes. I'm partial to the shops at Bellagio, which curve around the famed fountains, and make one want to hit it big, with Tiffany and Co., Valentino, and Louis Vuitton. Along the strip stretch souvenier shops and attractions like the M&M store stretch for what feels like miles.
Downtown, along Freemont Street, dollar buffets and the famed Golden Nugget make for some incredible people watching, while the zipline running underneath Freemont's brightly lit ceiling fills the area with screams and laughter each time someone zips by.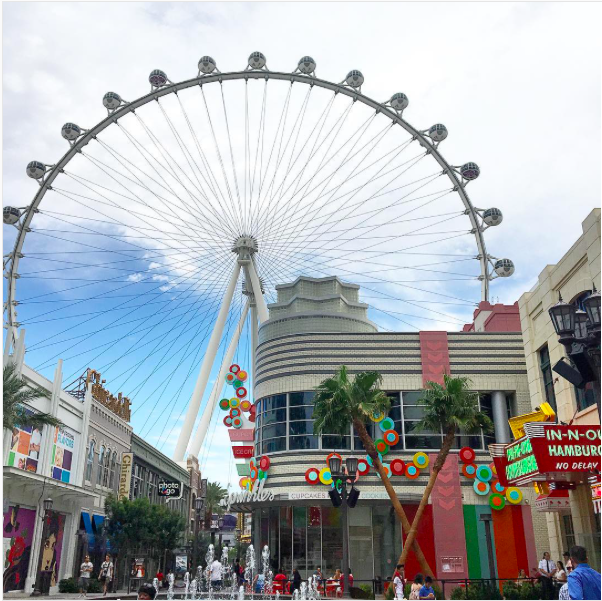 ** The Linq Promenade **
In Ocean's 13, while overlooking Bellagio's fountains, Rusty says to Danny that the town's changed. I've never witnessed a place that changes so much. The long moving walkway that was in front of Bally's has been removed to make way for an outoor mall, where- if one was so inclined- one could grab a slice of Giordano's Chicago pizza. The Linq hotel has sprouted next to The Flamingo, and in between the two, a walkable street called the Linq Promenade appeared. Here, we found In-N-Out Burger as well as Sprinkles Cupcakes. I treated myself to a double-double and a strawberry cupcake, and had zero regrets.
Vegas is a city that can either hypnotize you into betting your car, or keep you calm and relaxed enough to order one more cocktail from the sweet poolside waitresses. It really is a paradise in the middle of the Nevada desert, beckoning all who walk into the wall of heat waiting outside McCarran airport, and it keeps calling us back.