Bright. Clean. Labelled. Airy. Smelly-good. Organized.
None of these terms describe my current storage situation. Yes, my home is lovely, and yes, this blog makes it look like my things are constantly put together, but the truth is that almost every cupboard and closet in this house are like a cartoon; Open the doors, and an avalanche of stuff will knock you over.
Drawers in the kitchen and in living room end tables are disorganized, shoved full of so much crap. We constantly fish for lightbulbs and rolls of toilet paper, never knowing if we have any. Potatoes sprout vines in our pantry and somewhere in our kitchen, I know we have a George Forman grill…. I'm just not sure where.
I'm consistently inspired by the incredible work by The Home Edit, and posts like this one from The Makerista showing her impeccably organized fridge, but in my own house, I've let clean cupboards and organized closets go the wayside.
My mission (goal? resolution?) in 2018 is to get organized. I know I'm buying multiples of gloves, batteries, too many heads of garlic because I have no idea where anything is- and this is a small house!! Finally, last weekend, I said enough, and decided to begin in the kitchen.
I emptied all of our food-storing cabinets, tossing more expired spices and sprouted onions than I knew could exist, and took an inventory of what was left- cereal, different types of rice, bread flour and all-purpose, nuts of all kinds, a few cans of leSueur peas, spices- and sat down with the laptop to search The Container Store for storage solutions. Going a step further, I found Etsy dealer Vinyl Edge Designs and set to work creating labels for all.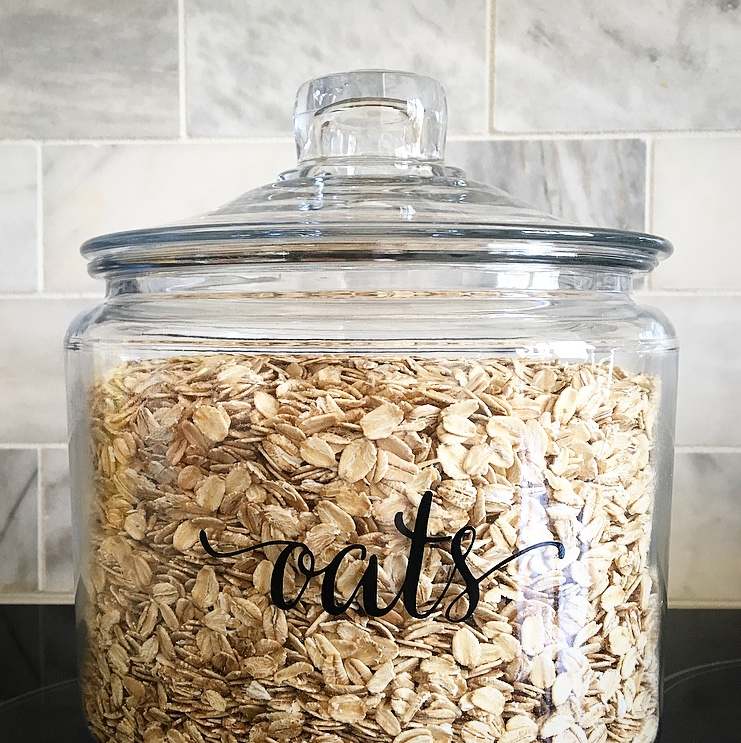 So far, only my labels and two storage jars have arrived, but I have the feeling the UPS man will be stopping by the house several times over the next few days. Our kitchen, the entry closet, and cleaning closet in the powder room are first priorities, as they're the spaces that are seen the most by visitors. Next, I'm hoping to tackle our clothes closets upstairs and our vanities, and then, the dreaded basement.
I'm sure this is a project that will go on all year, but I'm hopeful that an organized home will cut down on the junk we don't need, the food we won't eat, and the junk drawer that will finally, fully open. Stay tuned.