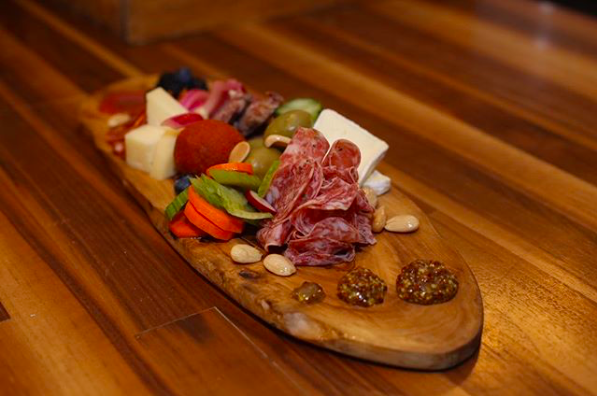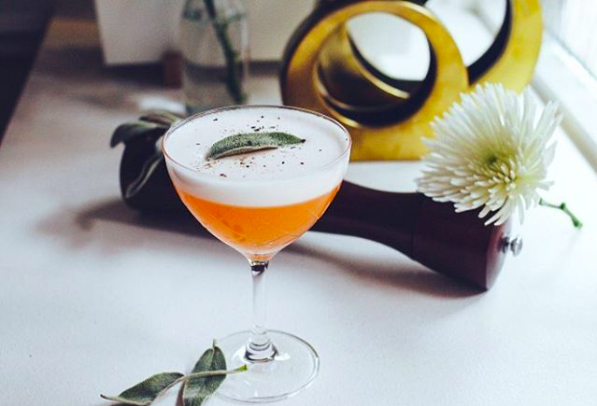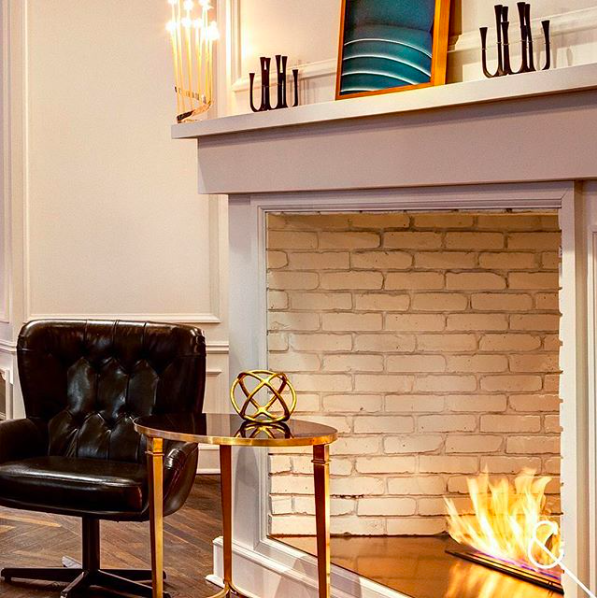 ** pictured above: the cheese board, Sage Advice, and a cozy corner at Spoke & Steele **
After 30 days of treating my body the way it always needed to be treated, losing a whopping 15.3 pounds in a month, and developing the best eating plan for myself, I decided it was time for a weekend allowance of a few foods I'd been craving, namely: shrimp cocktail and a sizzling steak from St. Elmo in Indianapolis.
The man and I took off Friday evening to head North and pulled into the Omni Severein in downtown Indy right at 8:45pm. The last thing I'd had to eat was a superfood bowl at The Weekly Juicery at 3-ish, and his stomach was grumbling from a long day at the gym. Not wanting to pull our car back up from the valet and sprint off to our usual burger spot in Broad Ripple (we're fans of the poutine at 317 Burger), we turned to social media to find something a little hip and a lot walkable, and were led just a block away to Spoke & Steele, tucked inside le Meridian hotel.
Handsome- with peacock-colored leather booths, white-washed brick, and roaring streamlined fireplaces, Spoke & Steele looks like how I want my next home to look, and felt warm and inviting. As we settled in at the bar, with sweet bartenders Mary, and a gentleman whose name I didn't catch, but will be forever known to me as Bourbon Buddy, I couldn't help but take in the vintage-styled light fixtures, the woodgrain on the walls, and the candlelight that was coming from everywhere (seriously, almost the entire restaurant was candle-lit). This place is stunning.
For cocktails, I settled on Sage Advice, a gin concoction of grapefruit juice, lavender bitters and egg white, foamy and beautiful, that arrived in a cut-glass coupe. B- ever the Scotch enthusiast- was a little hesitant to pollute the whiskey, but ordered Mary's namesake beverage, There's Something About Mary; Scotch, orange shrub, a rosemary simple syrup, and a little saltwater. While it was a sweeter beverage than he was expecting, he seemed to enjoy it.
For dinner, we began with a leek and potato soup, which was a lot more textured than the version I'm used to at home, packed with carrots, and topped with fried bites of potato and chives- delicious! I opted for the salmon as a main, trying to stay as conscious of my intake as possible (I won't lie- the beef and noodles looked like a fabulous choice), and was bowled over- crispy salmon, atop mashed potatoes laced with roasted red pepper, topped with browned butter, peas, and pecans. I couldn't finish the dish, but the boyfriend did, after finishing his own steak frites- his go-to at any establishment that has it on the menu. The steak looked perfectly rare in the middle, and may have been dry-rubbed, it was so flavorful. His fries were topped with blistered Serrano peppers- a surprise he was pleased with. We split a tiny chocolate pot du creme for dessert, and B ordered a sazerac, while I opted for an espresso cortado, which Bourbon Buddy zipped by and "accidentally" dumped a pour of whisky into! As 11pm rolled around, we wobbled back to our hotel. I am confident we'll be back to Spoke and Steele- I can't wait to try some other menu options!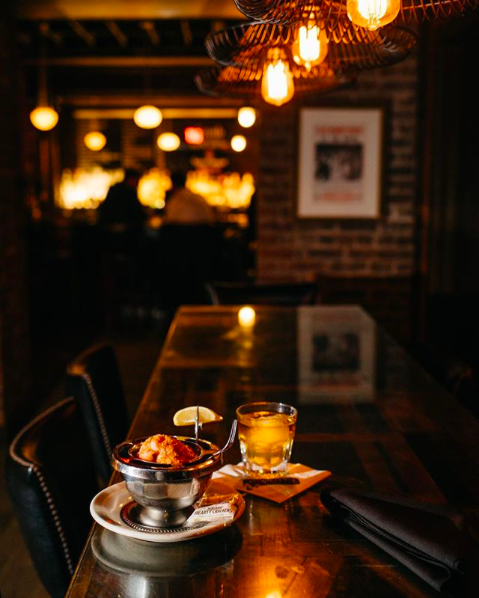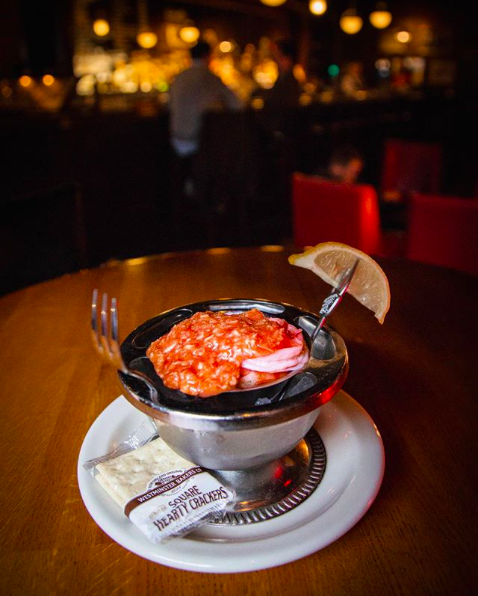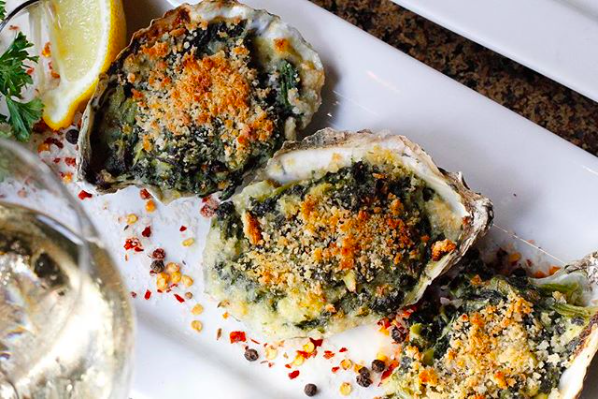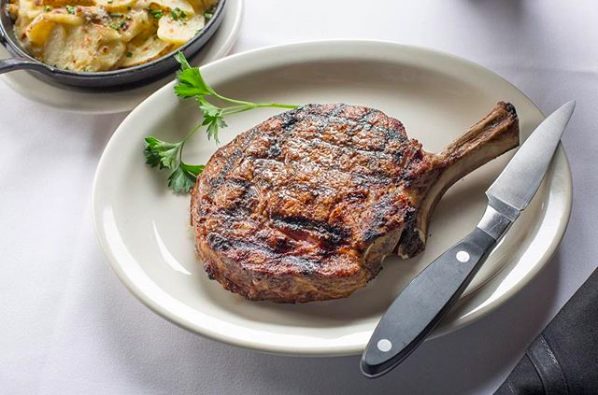 ** pictured above: the 1933 Lounge, the shrimp cocktail, oysters Rockefeller, and the cowboy ribeye at St. Elmo **
Saturday, after a day full of shopping and a leisurely drive past some of the city's most beautiful homes, we changed into dinner duds and walked to the famous (116-year old!) St. Elmo Steakhouse. Crowded, full of laughter, crisp, white tablecloths, and tuxedo-clad serve staff, St. Elmo immediately felt warm and inviting. We were ushered to a private dining room in the basement, where our server, Phillip presented us with menus, opinions on favorites, and closed the doors so we could have some privacy.
After several minutes of deliberation, I decided on my favorite pre-dinner cocktail, a French 75, while Bryan tested Pop's Old Fashioned: a version made with Rye rather than our usual Old Forrester. We both chose to start with the famous shrimp cocktail, which came with a warning from Phillip that it had a bite, and that you'd "feel it back in here" as he pointed to that tender spot beneath his ear…. He wasn't kidding!! Cocktail sauce as spicy and horseradish-y as I've ever tasted smothered four huge shrimp chilling in a beautiful silver serving dish. As much as my eyes watered (bye, bye, mascara) and my nose ran, I couldn't stop eating it! Absolutely incredible, and a great compliment to my cocktail, though next time, I may have it alongside a dirty martini.
For dinner's prelude, we had the option of navy bean soup or a glass of tomato juice, and decided to have one of each- funnily enough, after a month of veggie juice, I just wanted more!! After the shrimp, the cool tomato juice (topped with a squeeze of accompanying lemon wedge) was a welcome cool-down, though Bryan said the bean soup was tasty, and requested that we cook up a pot ourselves in the next couple of weeks.
We opted out of the traditional side choices, and instead requested the Brussels sprouts (with balsamic, honey, and bacon) and the crab macaroni and cheese. Both portions were huge, and the sprouts are coming with me to the office tomorrow to serve as lunch. I went with a 6 ounce filet, cooked to the rarer side of medium-rare, while Bryan went with his favorite cut, and the recommendation of Phillip, the cowboy ribeye, medium-rare. Both steaks were tender, flavorful, and as simple and game-y as I could have hoped for. Glasses of Malbec appeared on the table, and if I'd been wearing pants with a button, I'd have had to undo them….
For dessert, we went with Bryan's favorite: creme Brulee. He's mentioned so many times over the years that his favorite culinary thing is the first crack of a brulee's surface. He opted for a snifter of Grand Marnier alongside, while I needed an espresso to keep me awake after all that food!
St. Elmo has a reputation for being the place where coaches and players sit to discuss a game, businessmen and businesswomen come to close the deal, and where politicians come to plan, and I can see why. With a cozy bar area, friendly and personable servers like our Phillip, and the option of a small cocktail dinner (gimlet, a house wedge salad, and shrimp cocktail?), I could see this being someone's usual stop for an after-work moment of quiet socialization. You know that moment when you're in a bustling, busy, and crowded place, but feel at ease, calm, and relaxed? No? Then have dinner here, at Indy's most famous spot. You will.
** this post is not sponsored in any way. all thoughts and opinions are my own **
** photos via the Instagram accounts of Spoke & Steele and St. Elmo Steakhouse **