Last Spring, during a conference in Richmond, Virginia, I moseyed down to the very new, very pink, and very cozy Quirk Hotel for lunch.  Given my extremely short time in the city, I didn't have the time I wanted to explore, and, being a first-timer to this particular conference, I opted to stay just across the street from the convention center at a Marriott.  It wasn't a terrible experience by any means, but I promised myself that if I made it back this way, I'd give myself an extra day or two to wander through the Virginia Museum of Fine Arts as well as the Botanical Gardens, and- no matter what- I'd stay at the Quirk.
After my flight on Monday, I rolled into Richmond at 2pm or so, and despite the early hour, Eyad, the Guest Experience Lead, was able to check me in right away.  Just as it did last Spring, the lobby took my breath with its high ceilings, original columns, pink and gray furnishings, and stunning staircase.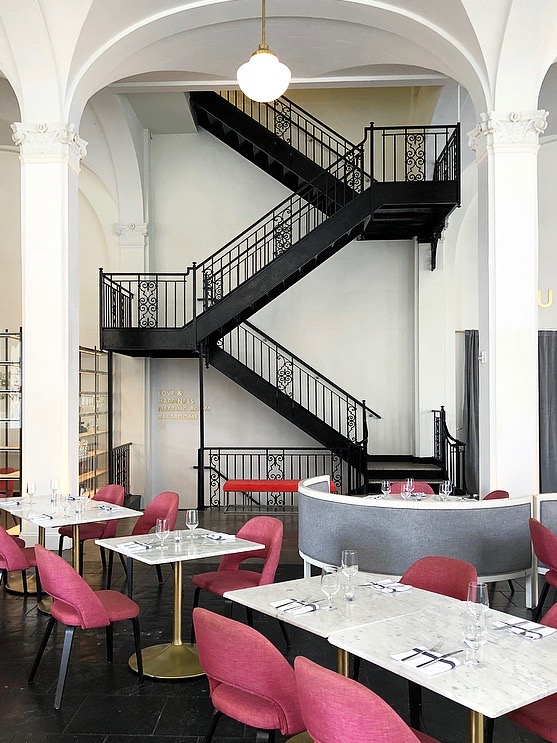 Inside my room, I was greeted by a rough wood wardrobe and breakfast bar, opening to one of the brightest and most cheerful spaces I've ever laid eyes on.  The soaring ceiling was exaggerated by a wall full of windows over built-in upholstered seating, and a king-sized bed was swathed in white bedding.  The clean and pretty workspace was accentuated by modern, wall-mounted light fixtures, while a white noise machine was a welcome touch during both working hours as well as sleeping.
In the bathroom, a funky-bottomed sink was topped with a marble basin, and a huge walk-in glass shower was outfitted with minimalist fixtures and pale blue tile.  In the bathroom, as well as the bedroom, on every wall, art.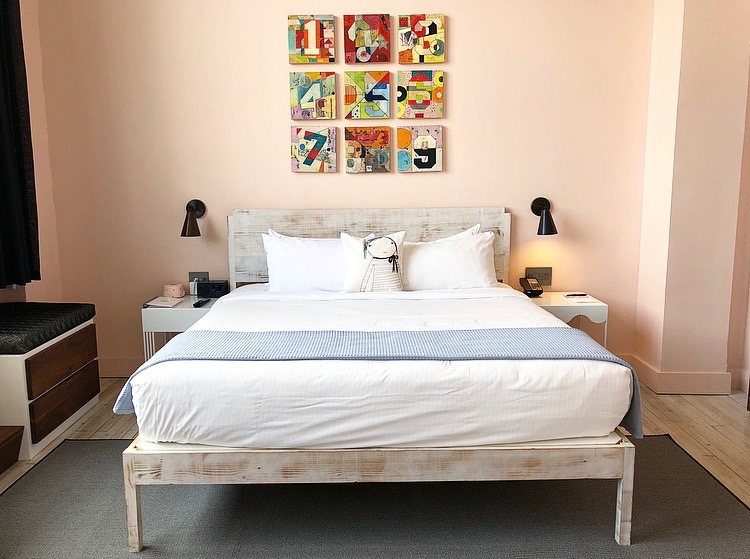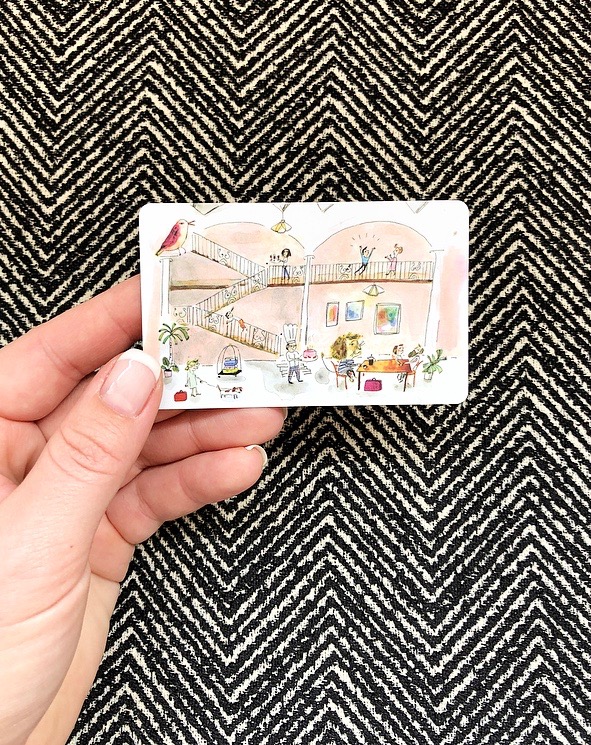 After my work for the week was over, Eyad and I got together for a wander through the hotel as well as the adjoining Quirk Gallery, and I got a very welcome full rundown of the property.  Owner Katie Ukrop was owner of Quirk Gallery just a few storefronts west on Broad Street when the opportunity arose for she and husband Ted to purchase the historic building where J.B. Mosby and Co. luxury menswear was housed.  Funnily enough, the idea for the hotel/gallery mashup came to the Ukrops after they visited Louisville's own 21C.
Inside, I'm told that the signature light pink and pale gray paint colors- Love and Happiness and Gray Owl, respectively- were custom mixed specifically for the hotel by the Ukrops.  Their hands were involved in every ounce of the design process, from reaching out to the artists whose work now adorns the walls (Paper mache cats by Sarah Hand and upcycled coffee lids by VCU Arts Professor Susan Gaunch) to each item offered for sale in the gallery store.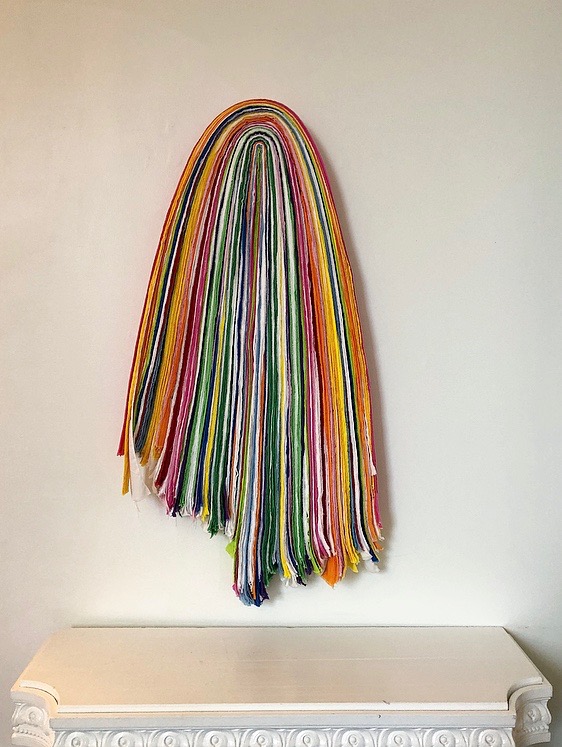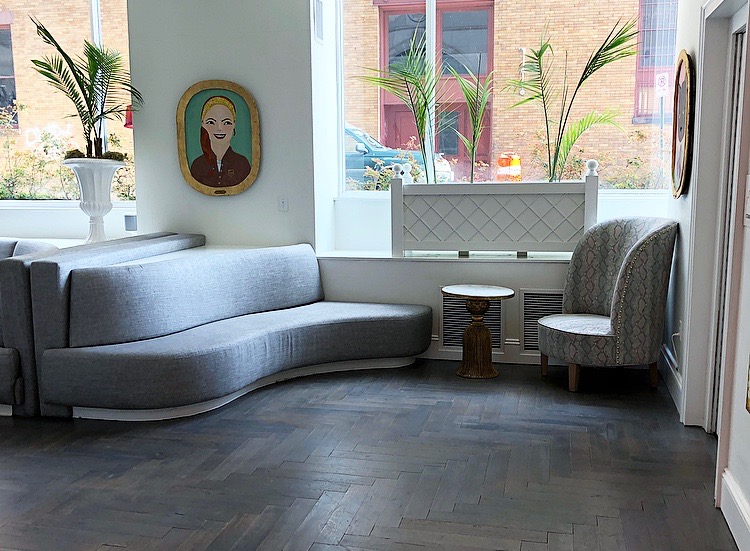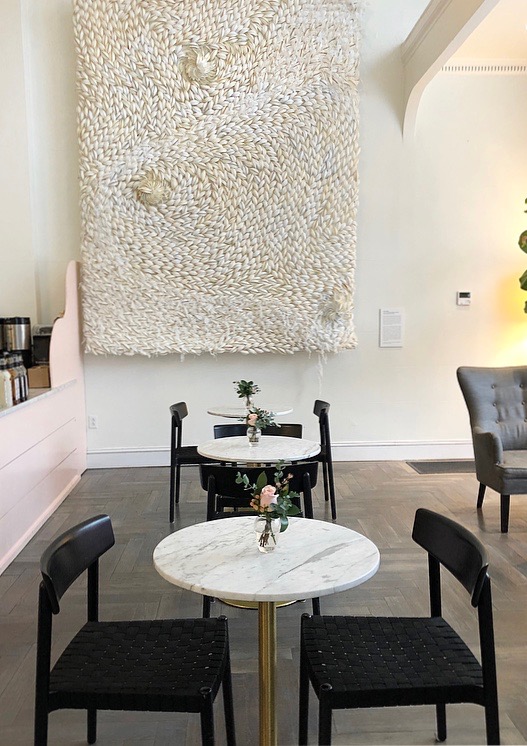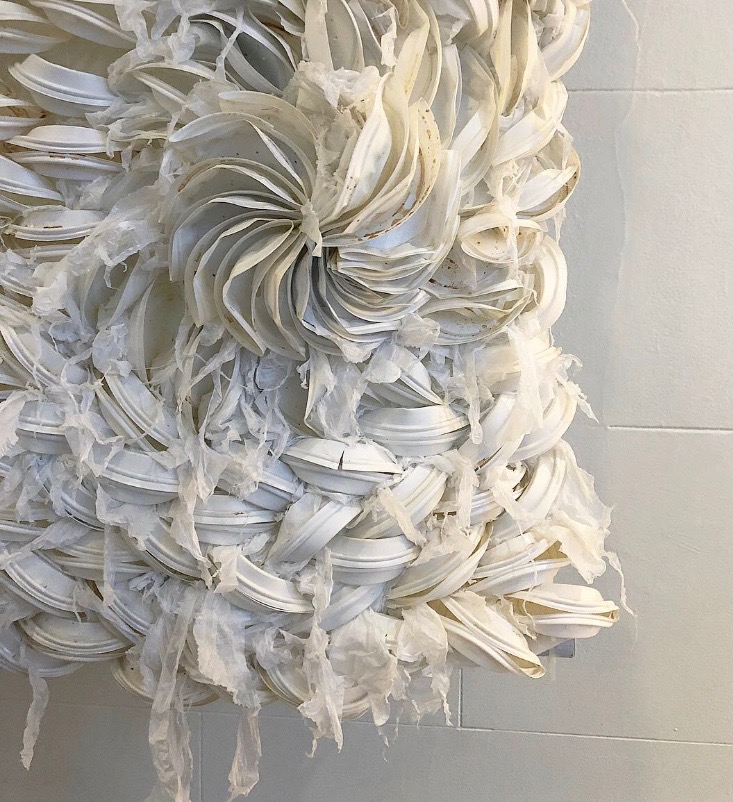 Preservation was at it's best when the owners took hold of this gorgeous building.  The original pendant lighting remains on the first floor, as does the incredible gothic arched ceiling.  Once hidden behind sheetrock, the jaw-dropping wrought iron staircase in the lobby is now the darling of almost every advertisement for the hotel, and every Instagram shot of the guests (yours, truly included). In a sweet nod to the building's original purpose, a lovely case of men's shirt collars from Ledbury shine behind the registration desk, and each of the guest beds are fashioned from the building's original whitewashed floor joists dating to 1916.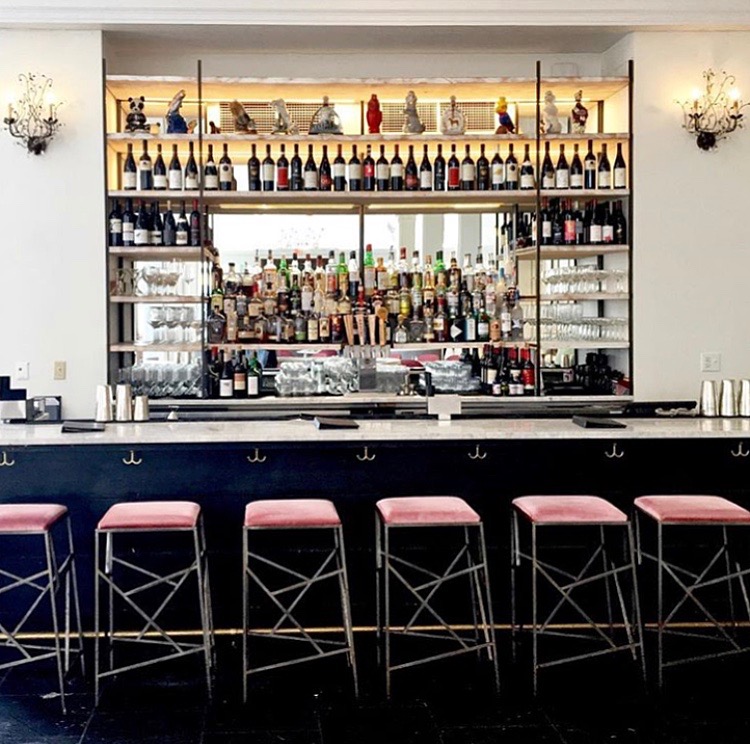 Eyad and I finished our chat while the new album from Alt-J played softly, and folks began to wander in for an early dinner or a cocktail at the delicious and serpentine-boothed Maple & Pine restaurant.  I helped myself to an order of my favorite Gruyere and Parmesan cheese puffs, and a cocktail called Current Affair- a frothy concoction of gin, currant simple syrup, and egg white, and snuggled into one of the curved booths with a book.  I realized that after two days of learning, hand-shaking, socializing, and working, my eyelids were getting heavy…  Though, perhaps, the food and drink had a little something to do with it as well.
Over my 5-day stay, everything about the Quirk made me feel comfortable and welcome.  From the handsome and stylishly dressed gentlemen at the front desk (who were always quick to open the door for guests), to the gals who brought up my breakfast each day, I felt like I was home.  Only at my beloved Ambassador in Chicago have I felt that same kind of warmth and hospitality.  I know I'll return when I'm in the area, and I have no doubt that the service, the feel, and the Love and Happiness will remain the same.
** this post was not sponsored in any way.  all thoughts and opinions are my own **