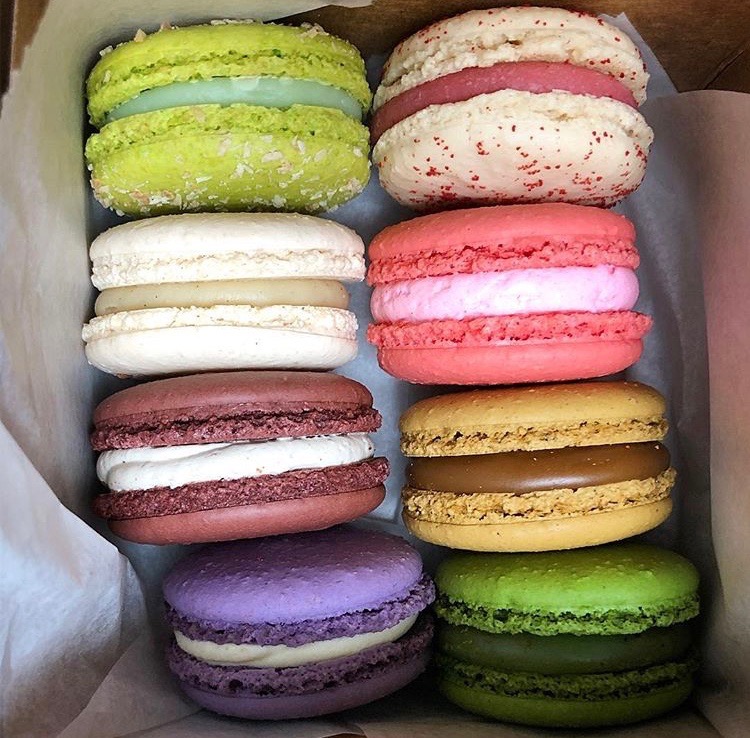 Every Spring, the man and I head North to Chicago for a long weekend of fun with friends, a little shopping, and a lot of food.  Last Wednesday, we left Louisville early afternoon, and pulled into Chicago just in time to greet a friend at Ambassador Hotel and head to dinner.
Our wanderings through the Windy City have their usual stops.  Always at the top of our list is Carmine's.  A cozy Italian restaurant tucked in next to Mariano Park where State and Rush Street collide, Carmine's feels like home.  From Momma's Meatball Salad (Bryan's favorite) to "Daniel's Dish," our waiters favorite (an off-menu item using square noodles, vodka sauce, sausage slices and spinach), there's always something on the menu that makes my mouth water.  Wednesday night, all I wanted was the rigatoni alla vodka and the spicy sausage and peppers. Bryan chose Daniel's Dish, and we went through a bottle of Franco Molino Barolo 2012 before ending the night with espresso and cannoli and walking home.
Thursday in Chicago was a frigid one, with a wind chill of 16 degrees (happy Spring Break, everyone!!).  We managed to sleep in a bit before heading to Sophie's at Saks for brunch, followed by shopping along Michigan Avenue and Oak Street.  I managed to fall deliriously in love with a floral Diane von Furstenberg dress that I wore to dinner that night, and at least twice since.  (Buy it here!)
As the remaining friends in our group pulled into town, we all made our way North to Lincoln Park to dine at one of my favorites, Gemini. The seven of us squeezed into a circular booth, began the meal with cocktails and a toast to all of us being together again (after flocking in from 4 different cities).  Empanadas, ceviche, crab legs and chilled shrimp, and warm Parker house rolls floated out from the kitchen, while we decided on short ribs, scallops, trout, and swordfish for dinner.  Sides of fries and Brussels sprouts were passed around.  Dessert was shared amongst us all and included the chocolate, ice creams, creme brûlée, and much coffee.  After dinner, several of us piled into an uber for the quick jaunt to Pops for Champagne, a bubbly bar in River North.  After staying up way too late and drinking way too much, we finally headed home.
Friday morning, B and I awoke early and walked the couple of blocks to Hashbrowns to have brunch before a quick appointment (with a friend who brought me macaroons from Alliance Patisserie- yum!). After the egg sandwich, low-carb omelette, and a shared stack of blueberry pancakes, I was almost ready to head back to bed!  Still, I rallied, and while Bryan headed out to meet his friends, I managed to do a little furniture browsing in Room & Board and Bloomingdale's Home before heading to Hampton Social Club to have a light lunch (salmon Caesar salad) and a cocktail, as well as take the opportunity to grab a photo of their iconic "Rose' all Day" wall!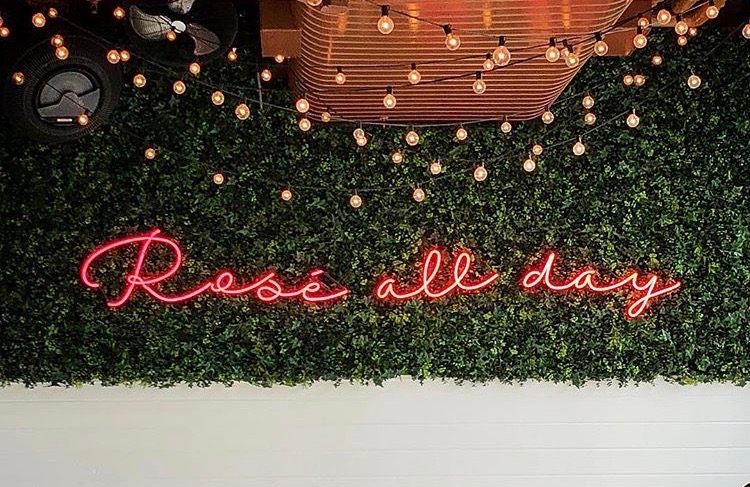 That night, I was surprised by our guys with tickets for the Blackhawks' last home game of the season, and met up with a few of our group at the United Center.  Dinner was stadium hot dogs and soda, and the Hawks lost, but afterwards, we drove to Tortoise Supper club for brioche rolls with peach butter, slices of cherry pie and whiskey sours before wandering a few blocks to plop down in a corner at The Berkshire Room for final nightcaps.
Saturday morning, I was obsessed with the idea of French Toast, and knew exactly where to head; Siena Tavern always knocks sweet brunch out of the park.  With options like almond pancakes, monkeybread and tiramisu French toast, one really can't choose wrong! Stuffed full of French Toast and coffee, I made my way to the Field Museum to check out their mummy exhibit, and- surprisingly- found myself spending hours in their Hall of Birds!  Now, I'm terrified of birds.  With sharp talons and beaks, beady eyes that follow you everywhere…  They aren't my favorite creature.  However, there's no denying that they're beautiful, and the collection of specimens on deck at the Field was astounding.  From Shoebill Cranes, Birds of Paradise, Prairie Chickens, and Hummingbirds of all colors, I was completely stunned, and managed to work up an appetite.
After popping outside and letting my eyes adjust to the light, I made my way to the Allis at SoHo House to meet up with Bryan for lunch.  I love the Allis. Chandelier-bedecked, cozy, with squashy chairs and sink-into-able sofas, during the week, it serves those in the creative industries (does real estate count?) as a workspace, a home away from home, and a place to sit and relax when traveling.  For the rest of us non-members? We have the option of dining in, opting for a leisurely afternoon tea- my choice- or something a little beefier, like their burger- Bryan's choice.  While a pot of tea, a coffee beverage, or a cocktail is always an option, so is the possibility of slowing down for a bit, making one's way through smoked salmon sandwiches, fresh scones.
We decided to wander back to the hotel for a bit to recharge before taking a leisurely walk and meeting the rest of our crew at a place called Kuma's Corner for dinner.  The boys branched off for an evening with Henry Rollings, while I decided I needed to kick off my shoes and read for a bit.
Sunday morning, as Bryan's buddies pulled out of town and headed back to Cleveland, we met up with a friend at the newly opened Wildberry Cafe by the MCA, whose wait was so long we hiked the few blocks to Stan's Donuts for an old fashioned and a pre-coffee coffee.
I really feel like we ate our way through town this visit, but we knocked out so many items on our Chicago to-do list as well.  Snow, late Ubers, and frigid temps aside, I'm so happy to have returned.  Counting the days until we're back!