July 4th always finds us in Chicago to celebrate my birthday, spend some time on the beach, and try to turn off the phones for a few days.  I try to take as many photos as possible, eat as much as I can manage, and get in a little birthday shopping.  This month's trip was a success on all accounts, but I realize that I never shared with you, sweet readers, exactly what it is that we did.
*Wednesday*
We left Louisville Wednesday morning to make the quick drive North on 65, and pulled up to the Ambassador Hotel in the early afternoon.  The staff at the Ambassador (now more like family than I care to admit) made sure to start our trip off the right way, and we found a chilled bottle of bubbly and a welcome note in our suite.
Champagne-fuelled, we immediately dropped our bags (read: I unpacked everything, made sure to hang it, and double checked that none of my cosmetics burst open) and headed to North Avenue beach for the one food I had been craving: a hot dog.  Seated on the concrete chess tables, we ate our lunch, sipped on cans of soda, and watched as folks started to pile onto the waterfront in anticipation of that night's fireworks.  The sky was an incredible pre-storm blue, and there were so many sailboats out on the lake.   Hot dog-fueled, we took a long walk along the shore before heading home to change.
Part of the reason we visit Chicago so much is that it's the residence of the man's cousin, Jeff, whom I share a 4th of July birthday with, and who is also one of our closest friends.  With his parents and sister in town to celebrate that night, we planned on watching the fireworks from the roof of his building.  B and I decided to pop into Pizano's for some deep-dish dinner before walking to Jeff's house.  Stuffed full once again, and heading in his direction, we stopped at Mercadito in River North to meet up with Jeff and his lady friend for a couple of cucumber margaritas and a flaming cocktail called Big Nose Goes to Mexico before wandering back to his house for the fireworks.  Not three seconds past the fireworks finale, the sky broke open and the storm came.  We stood on the roof with our family and laughed, celebrating with red velvet birthday cake long into the night.
*Thursday*
After a light room-service breakfast of coffee and croissant, B and I both got a little work done before heading out for the day.  Some light shopping (Diptyque in Wicker Park, the giant Banana Republic, Tory Burch) made my stomach start to growl, and I recommended to B that we head to The Hampton Social for a somewhat healthy lunch.  We ended up with the same server I had in April, and I was surprised that he remembered my face!  We began a long, leisurely lunch with the crab and avocado stack and glasses of frose' before I chose the salmon Caesar salad, and Bryan, two lobster rolls, both Manhattan-syle, all buttery and simple.  Yes, friends, he ate two lobster rolls for lunch. We split a side of their delicious Brussels sprouts with bacon.
Later, after way too much more shopping, we decided on something a little classic for dinner, and found ourselves in the Drake Hotel for dinner at the bar at Coq D'or.  I started with a cup of bookbinder soup- a sort of whitefish chili, so good- before going a little light with jumbo prawns and a pour of Old Forrester.  Bryan munched on chicken wings and sipped an Old Fashioned before ordering his third lobster roll of the day!! Yes, you read that right.  The man ate his weight in lobster.  I'm so proud.
We sat at the bar with our bartender, Polo, sweet and low-voiced, keeping our glasses full while the pianist provided his own vocal accompaniment.  Coq D'or is one of those old, classic places, where Chicagoans of a certain age feel comfortable just sitting for a bit.  It's dark and cozy, the wood bar is beautiful, and the feel is soothing.  It'll be a favorite of mine.
*Friday*
Oh, man, Friday.
We had the best idea to use Friday as an active day.  The 4th of July tourists had retreated back to the suburbs, so the beaches were fairly vacant, so we threw on our tennis shoes and gym gear, popped into La Colombe for coffee (have you tried their new Black and Tan with the oat milk latte? OMG, yum), and made our way under Lake Shore Drive, popping out on North Avenue Beach for a quick breather before walking toward Lincoln Park.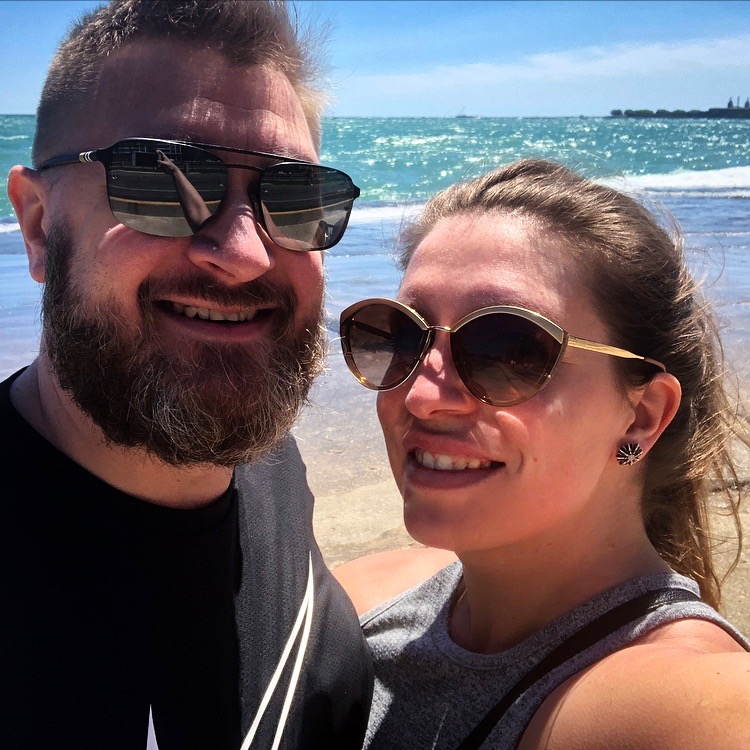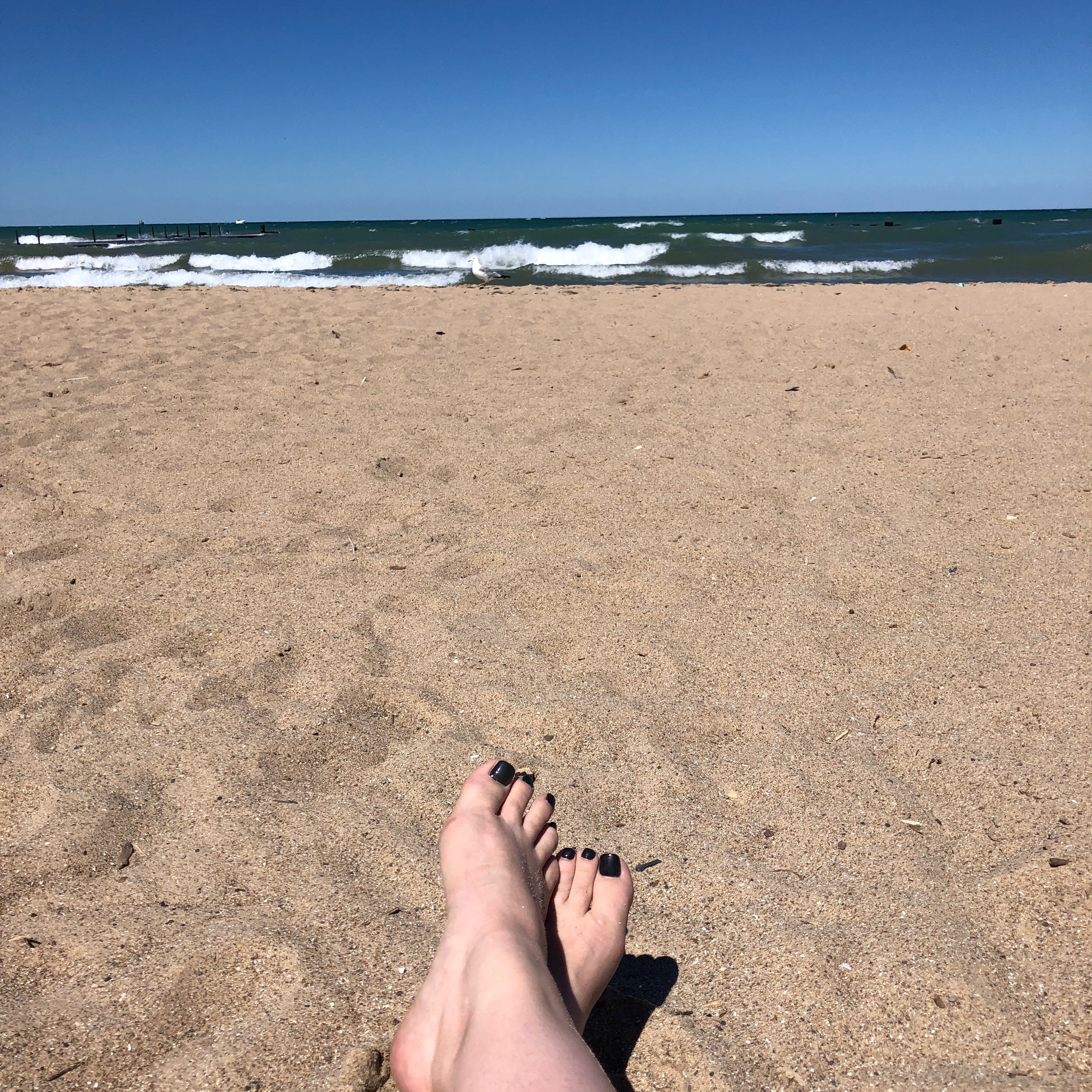 B loves the zoo, and we trekked the mile and a half North along the lake, with the sun on our shoulders before spending a few hours wandering amongst the gorillas and the zebra.  I love the farm and the huge south pond, so on our way home, we moseyed past the sweet cattle and around the pond until we were back on the lake.  A quick change at the hotel into swimwear, and we went right back to the beach for some sand and sun before changing for dinner at Carmine's.  Bryan broke out his little bunny stick pin for the occasion, and I changed into my favorite DVF dress.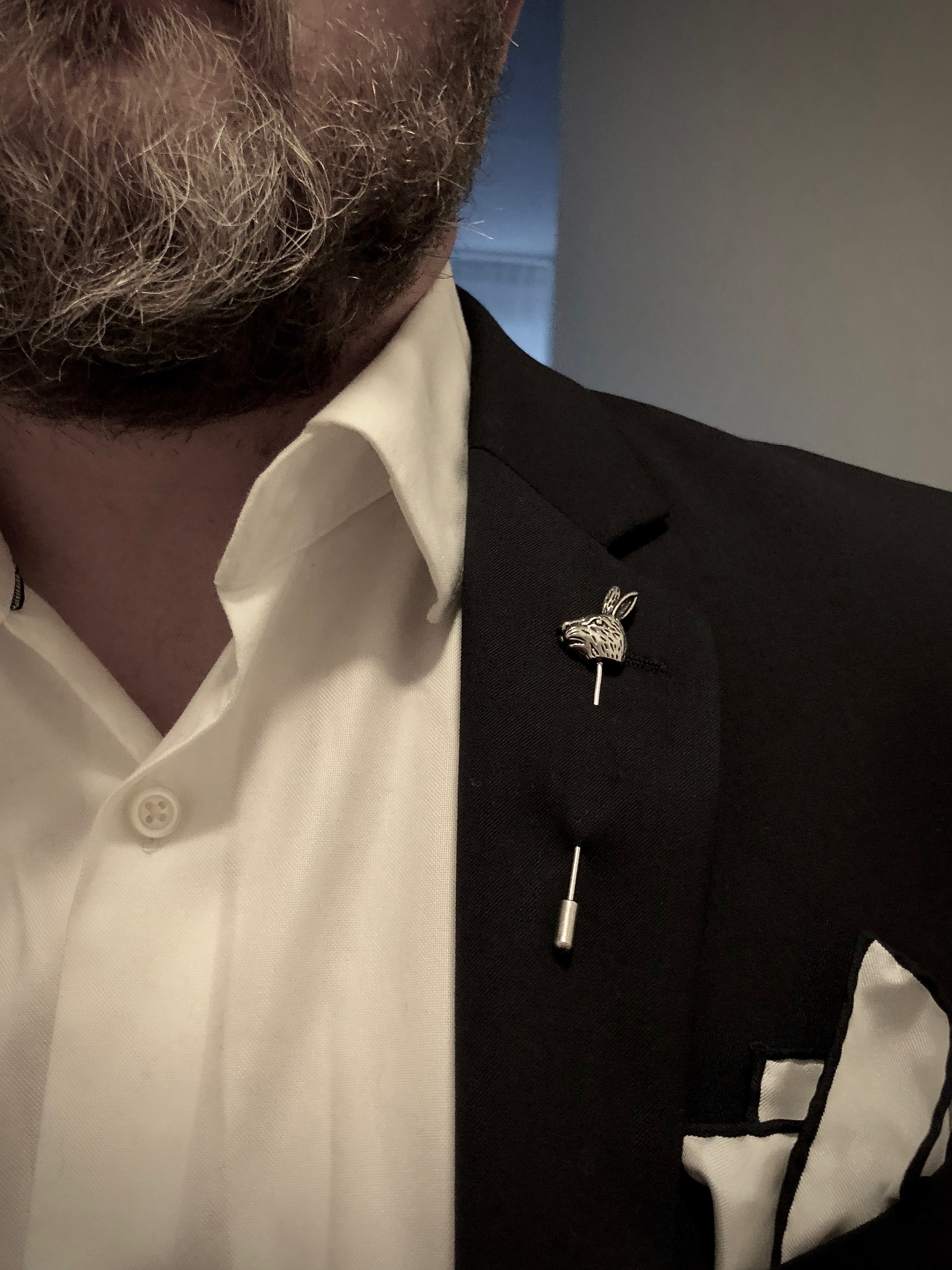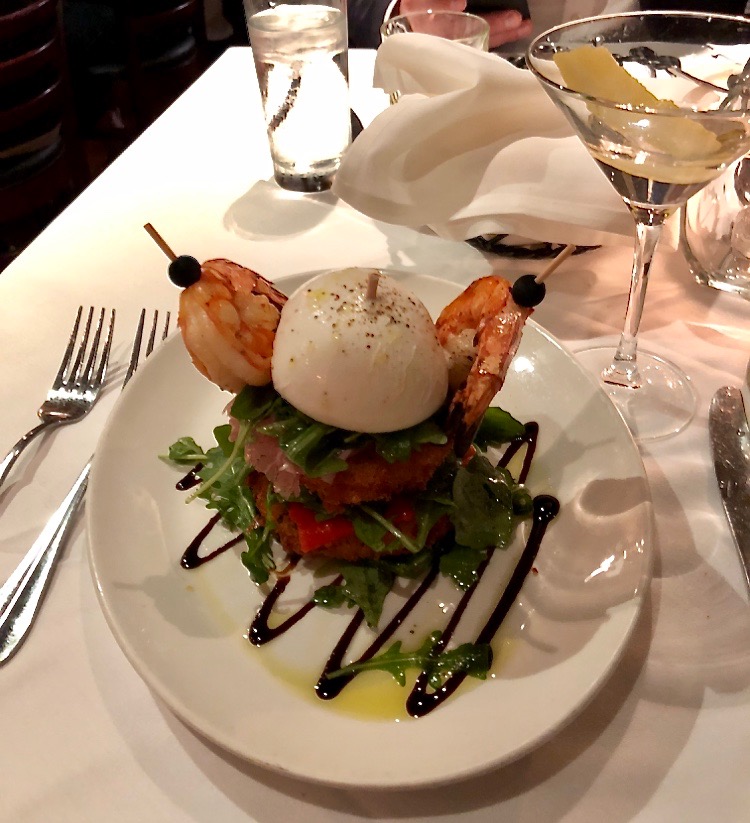 Carmine's– as I'm sure you've heard me say before- is my favorite stop in Chicago.  Perfect pasta, that gorgeous patio, and the close proximity to home and the little gelato stand in Mariano Park, Carmine's really does offer it all.  Our server and friend, Danny, knew we were coming, and fixed us with a couple fingers of Scotch (for Bryan) and a Hendrick's martini (for me), before we started in on the special appetizer- a stack of Fried tomatoes, arugula, roasted peppers, mozzarella and skewered shrimp dribbled with olive oil and balsamic.  So good!  A bottle of vintage Borolo made its way onto our table, as did square noodles with vodka sauce and the suuuuuper cheesy cavatelli al forno.  We were almost too stuffed for the mile-high chocolate cake.  Almost.
*Saturday*
After nursing the sunburn from Friday all night (we tried the shaving cream method.  It doesn't work), Saturday was a day we were going to attempt to take it easy.  Grabbing coffee before a short (covered and sun-screened) walk, we met Danny at Somerset at the new Viceroy hotel for brunch.  The three of us split an assortment of donuts before going in on breakfast sandwiches and plates of egg and toast.  Mimosas went around, as did coffee and plenty of water.  As Danny made his way to work, we followed Gabe, the operations manager, to Devereaux, the Viceroy's chic rooftop bar and pool.  What views!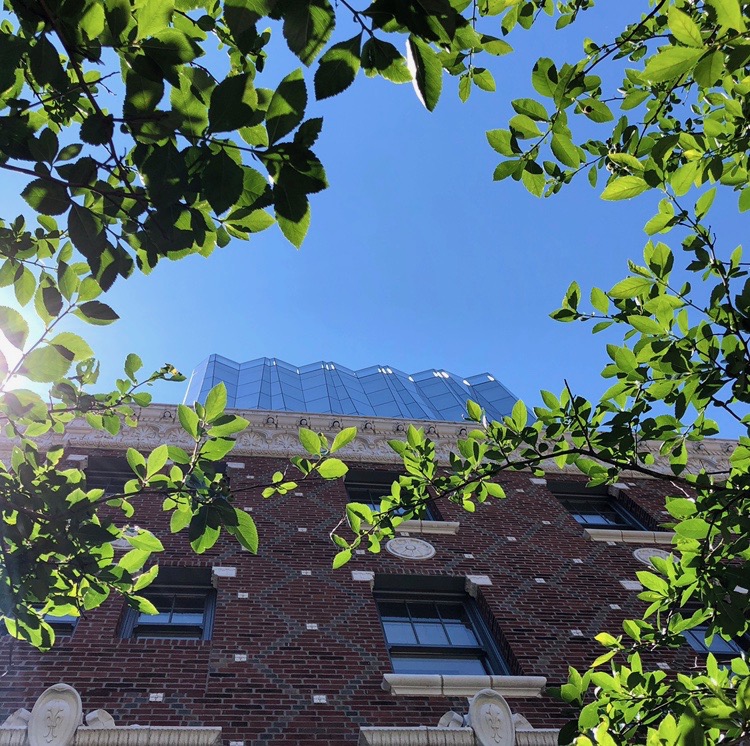 Needing a nap after that meal, we headed back home for a quick rest before deciding to take at least a quick jaunt along Michigan Avenue.
That night, we decided steak was in order, and thought there was no better place to find it than Gibson's steakhouse.  Seated on the patio, amidst the buzz of Rush Street, while a July Chicago breeze blew through was perfect.   We began with shrimp cocktail- almost as horseradish-y and perfect as that at St. Elmo in Indy.  My nose ran.- and fancy cocktails.  At the suggestion of our waiter, I went with one of the local favorites, a marinated skirt steak.  I was not expecting as much flavor as I received, but medium-rare, with a bowl of giardiniera, it was absolutely wonderful!  I loved the bite of the pickled veggies.  Bryan chose the 22 ounce Chicago cut, and we happily munched away while the sun set.
Afterwards, we walked across the street to Carmine's once again.  Later in the evening, the patio was emptying, and we plopped on the same side of a table in Danny's section, watching people walk by.  Tiramisu, limoncello, and espresso made for a nice end to the night.  I almost couldn't walk home.
*Sunday*
Sunday morning, we woke up early and walked down to River North for brunch at one of our favorites, Siena Tavern.  The almond pancakes there remain my go-to, with almond butter, cardamom. cream, and berries.  Bryan chose the waffle, with Nutella and macerated berries, and we split a side of bacon.  Coffee fueled, we were ready to walk back to the hotel, load our bags, and head home.  (Sidenote: if you're ever in Chicago and need something for lunch, I highly recommend the meatball at Siena Tavern.  Order one alongside a couple of chopped salads, and you're set.)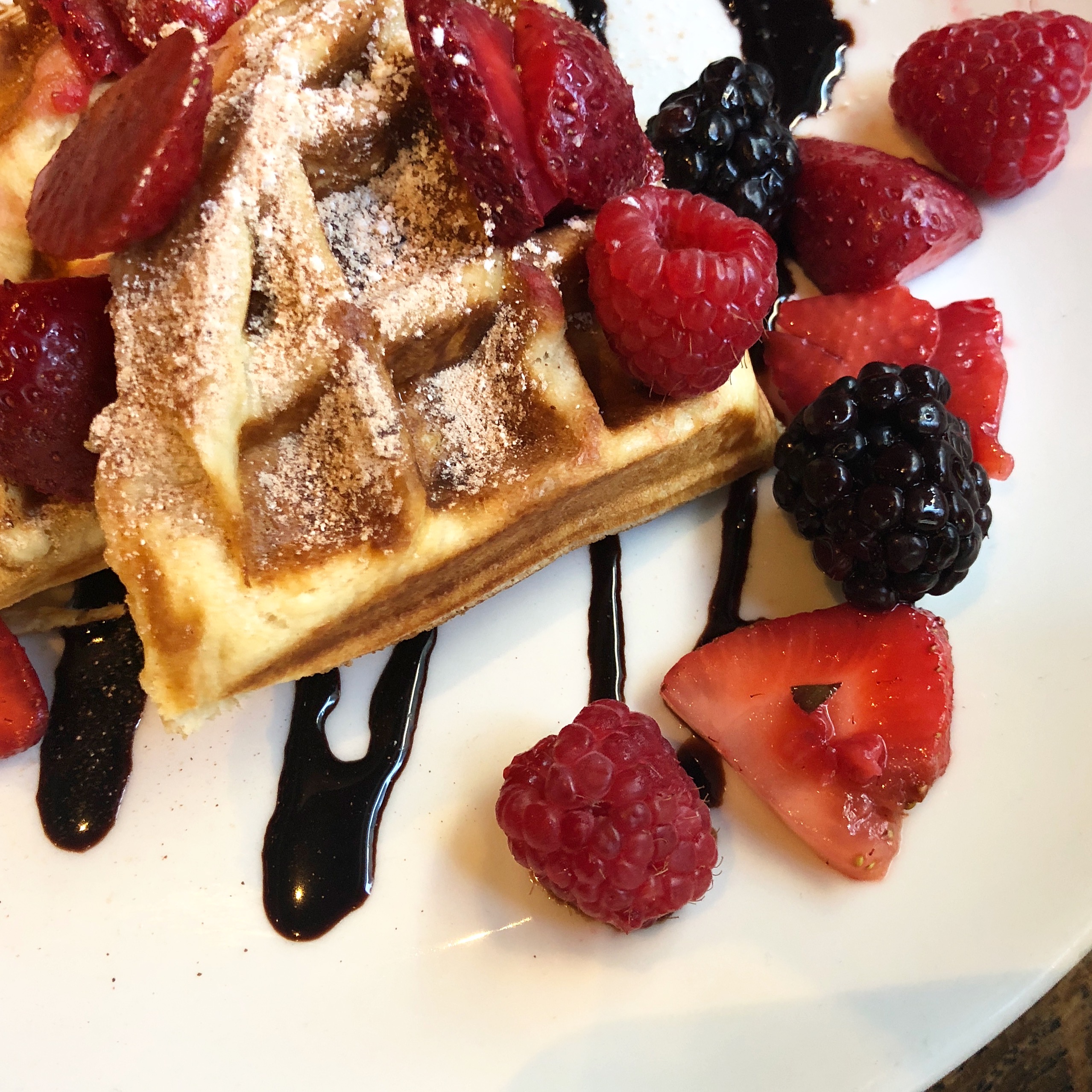 Friends, you know we don't stay put for too long, so we hit the road Monday for a quick adventure out west.  Stay tuned for some desert adventures, and, in the meantime, a wonderful weekend to you!
SaveSave
SaveSave
SaveSave