Friends, I'm writing to you today with tears in my eyes, as I sit at the Palm Springs International Airport (aka: the cutest and friendliest airport in the world!), waiting on our flight home.
Bryan and I travel a lot.  4-5 times a year to Chicago, Vegas weekends, holiday jaunts to visit family in Cleveland. Weddings in Cincinnati, stops with the Speed museum in Pittsburgh, Nashville.  Every time we leave the house, we're strapped to the phone, laptops in hand, ready to answer questions from a client, assist with any issues back home.  We've come to view Chicago as a second home, working away over room service breakfast at the Ambassador.  We've followed his clients across the country to watch them perform.  When we travel, we work.  There's a saying in real estate that if you want to sell a home, you should leave town for a few days.  I've written contracts from the west coast, Facetime-d from New York.  There's never been a break.
When we realized that over the almost-13 years of our relationship we had never experienced a real vacation, we decided to seek a stop.  To me, there was no place better than sunny and perfect Palm Springs, California.  The lazy palm trees, the happy, 60's style mod architecture… Every photo I saw made me think of bright dresses, boozy cocktails, hammocks in the wind.
Over the last several days, we made it a point to seek out a few restaurants and attractions that we knew we wanted to see.  Our day-by-day trip is outlined here:
Monday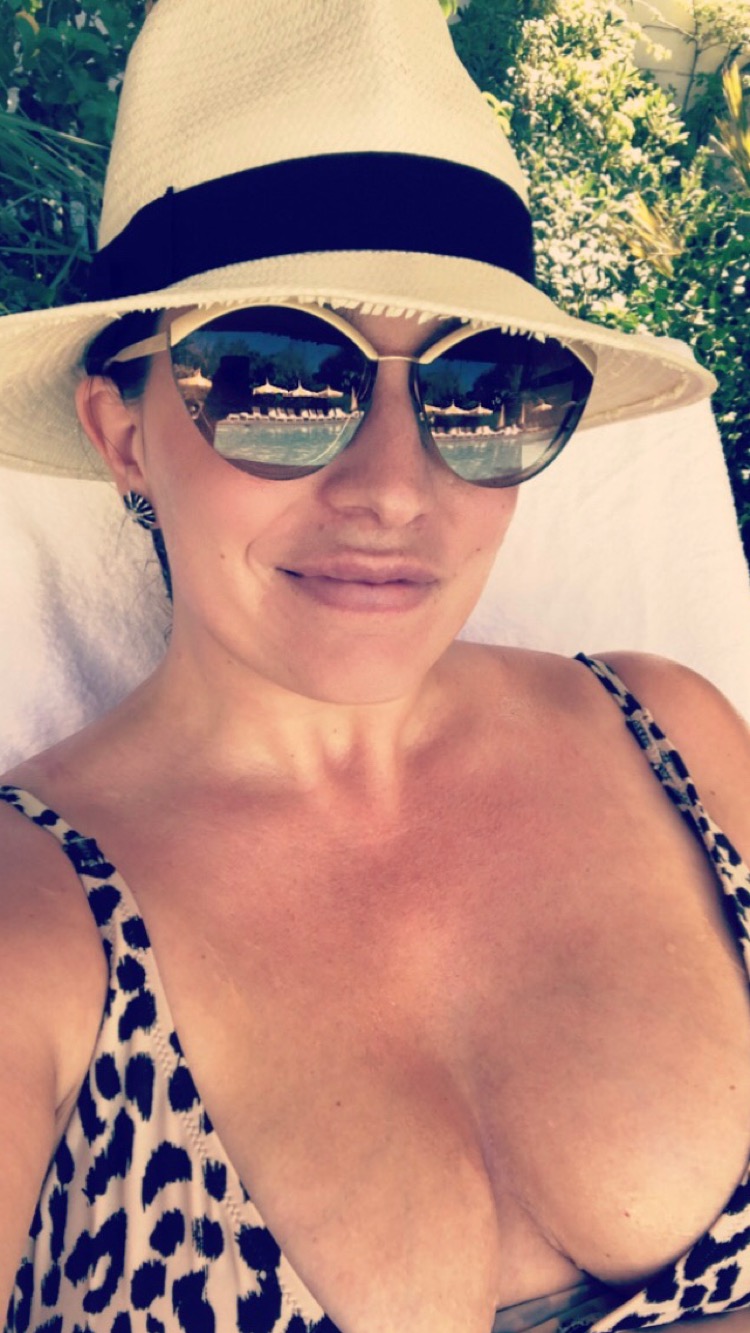 After a late lunch with friends in Sierra Madre, the drive to Palm Springs, and checking in at the Parker (more on that dreamy space soon), we zipped over to the rainbow-colored Saguaro Hotel for tacos and margaritas at el Jefe.  We started with the chorizo-filled queso fundito, then split orders of the short rib and fried fish tacos.  I love some short ribs, but the fish tacos blew me away.  Hot, crunchy fried fish alongside cool pico and slaw… Perfect.  The watermelon margarita had a half-sweet, half-salty rim, and our bartenders were chatty and sweet, recommending spots that we'll have to try on our next trip.  Full, we made our way back to the hotel, and after splashing around in the pool for a bit, we made our way to the Mini Bar for evening cocktails before turning in.
Tuesday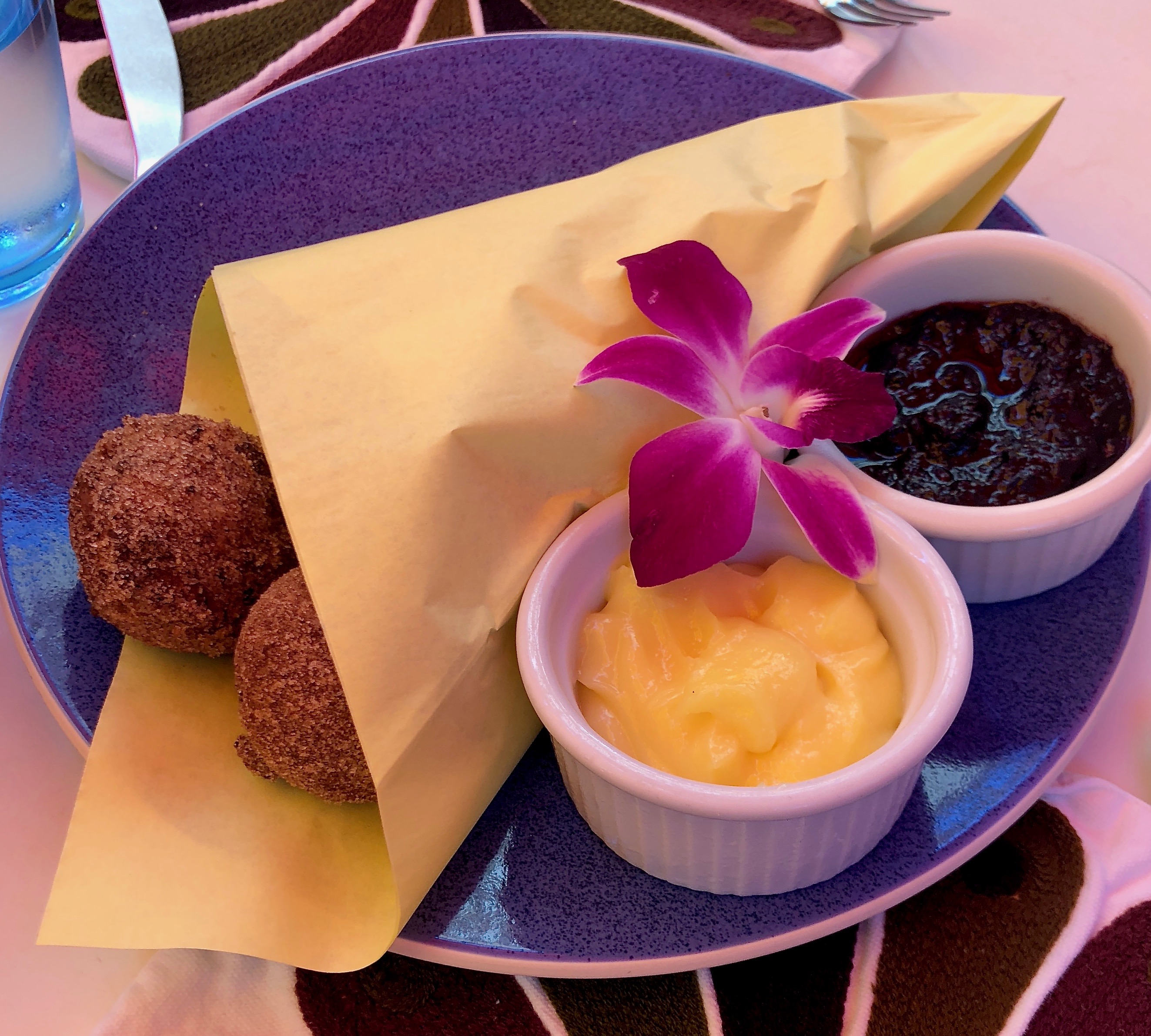 Our Tuesday began sleepily.  After reading on our patio, we washed and wandered to Norma's at the Parker for breakfast.  Bryan settled on a breakfast quesadilla while I had the turkey and sweet potato hash, a dish I'm definitely going to try and recreate at home.  Sweet potatoes, ground turkey, three colors of bell peppers and caramelized onions were cooked together and topped wth poached eggs and hollandaise.  So good!!  We split the donuts- cinnamon-sugar covered donut holes served with lemon curd and berry compote.  While we only finished half of them at the table, the remainder came back to the room for midnight snacks.
The rest of the day consisted of nothing but pool time and a slight sunburn before we cleaned up and made our way to Azucar at La Serena Villas for dinner.  Small, cozy, floral, and blue, the restaurant was situated poolside at the Villas, so- aside from staring happily at a dining-room wall full of Frida Khalo portraits- I could also watch the giant unicorn pool float list by outside.  The bartender, Eric, took incredible care of us.  From the pan-seared swordfish topped with pineapple-jalpeno slaw, the cauliflower risotto, Brussels sprout salad, and Bryan's giant scallops, dinner was amazing.  I tried a cocktail called the palm collins- a riff on a Tom Collins, made with strawberry-infused gin.  The drink literally tasted like strawberry water…  It'd get you messed up, if one didn't watch out!  For dessert, Eric recommended the peanut butter bar- a sort of millionaire's bar with shortbread, peanut butter creme and chocolate ganache.  I was told that the management has to keep them locked away from Eric, and I can see why!
Wednesday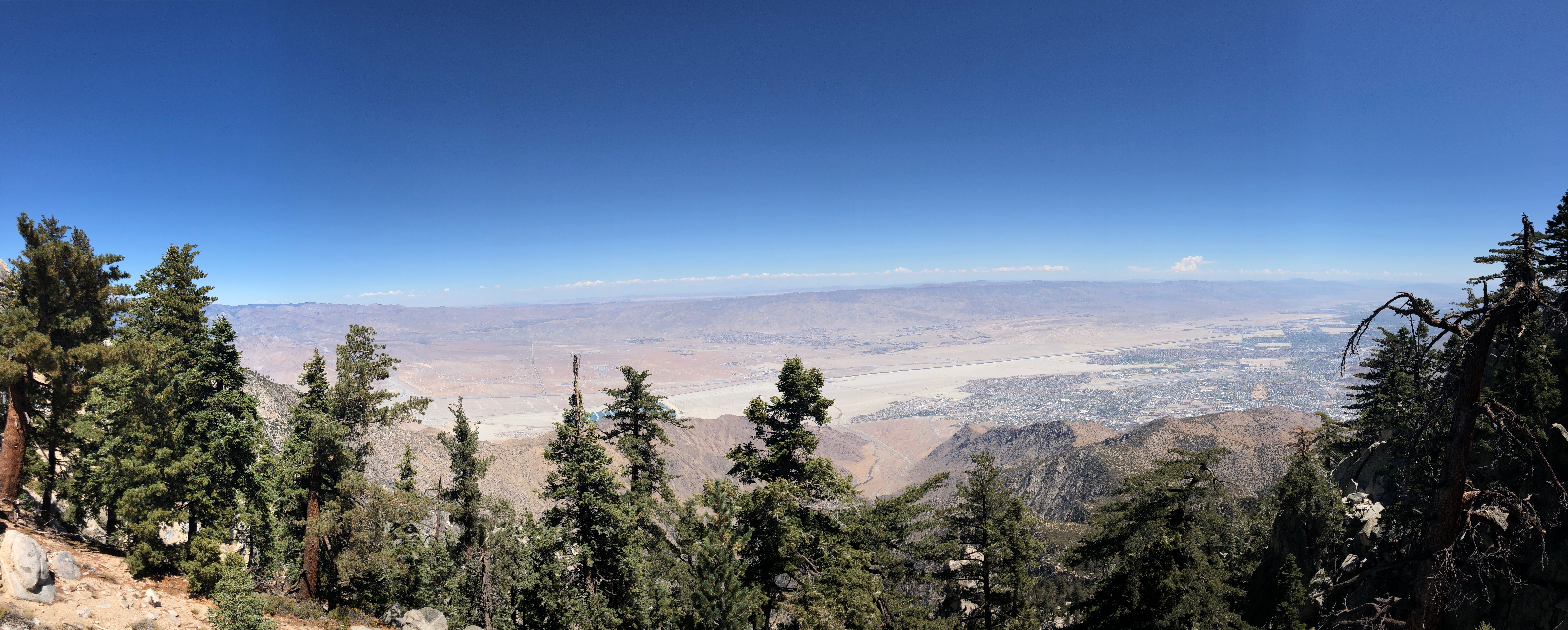 We had planned on popping into a brunch and lunch spot called Grand Central, but discovered they were closed until Thursday.  Instead, we walked across the street to a chain diner for a quick brunch before deciding to be a little touristy and try the Palm Springs Arial Tram.  Best. Decision. Ever! While the tram is easily the most tourist-y thing we've ever done, it was well worth an afternoon as well as the $30 tickets.  A rotating tram climbs over 6,000 feet in altitude and almost 2.5 miles up the side of the largest peak at Mount San Jacinto.  The views- of the foliage change, the millions-of-years-old rock, and of the desert cities below were incredible, and the tram operators were funny, friendly, and full of knowledge about the area.  The gentleman who drove us on the way down was just as excited to see the giant gecko I spotted at the base as I was (sidebar: the thing was HUGE!!).  While there were restaurants, a bar, and 50-some miles of hiking trails at the top, B and I chose to stand atop the peak, taking in the view from all directions, and walking along one of the loops through the trees.  The temperature dropped a good 30 degrees at the top of the mountain- a nice break from the sweltering 100+ temps below.  After a quick bite at Del Taco (we had to- so much better than Taco Bell), we went back to the room to take a quick nap before wandering to the pool for a dip.  After showering and changing, we took dinner at Mr. Parker's at the hotel.  Bryan said that walking through the heavy velvet curtains was like entering another world- the bright, white of the hotel lobby gave way to a dark, coiffered-ceilinged sexy lounge.  The dim lighting and plush interior were fabulous!  After making our way through the largest crab cake I've ever seen, Bryan chose to have the steak frites- his go-to- while I chose a massive bone-in pork chop.  The dinner was amazing, as was our server, Keith, but the show stealer (aside from a dessert of pistachio cheesecake covered in cherry sorbet and candied cherries) was the Propietary Red Blend from Paraduxx in Napa Valley.  This was the first Napa red I've ever had, and the nose was lite, smelled faintly of just grapes.  Loved it!
Thursday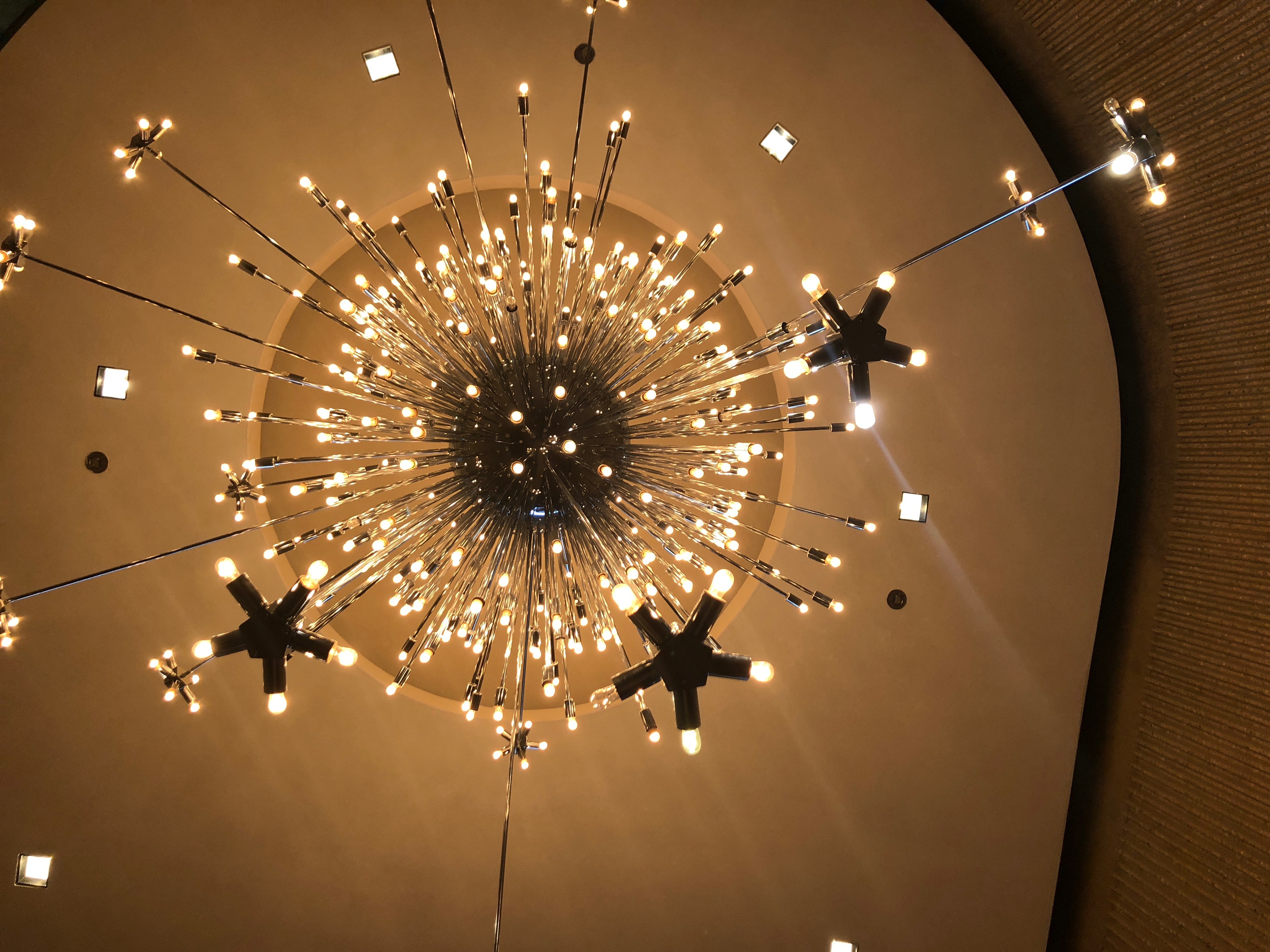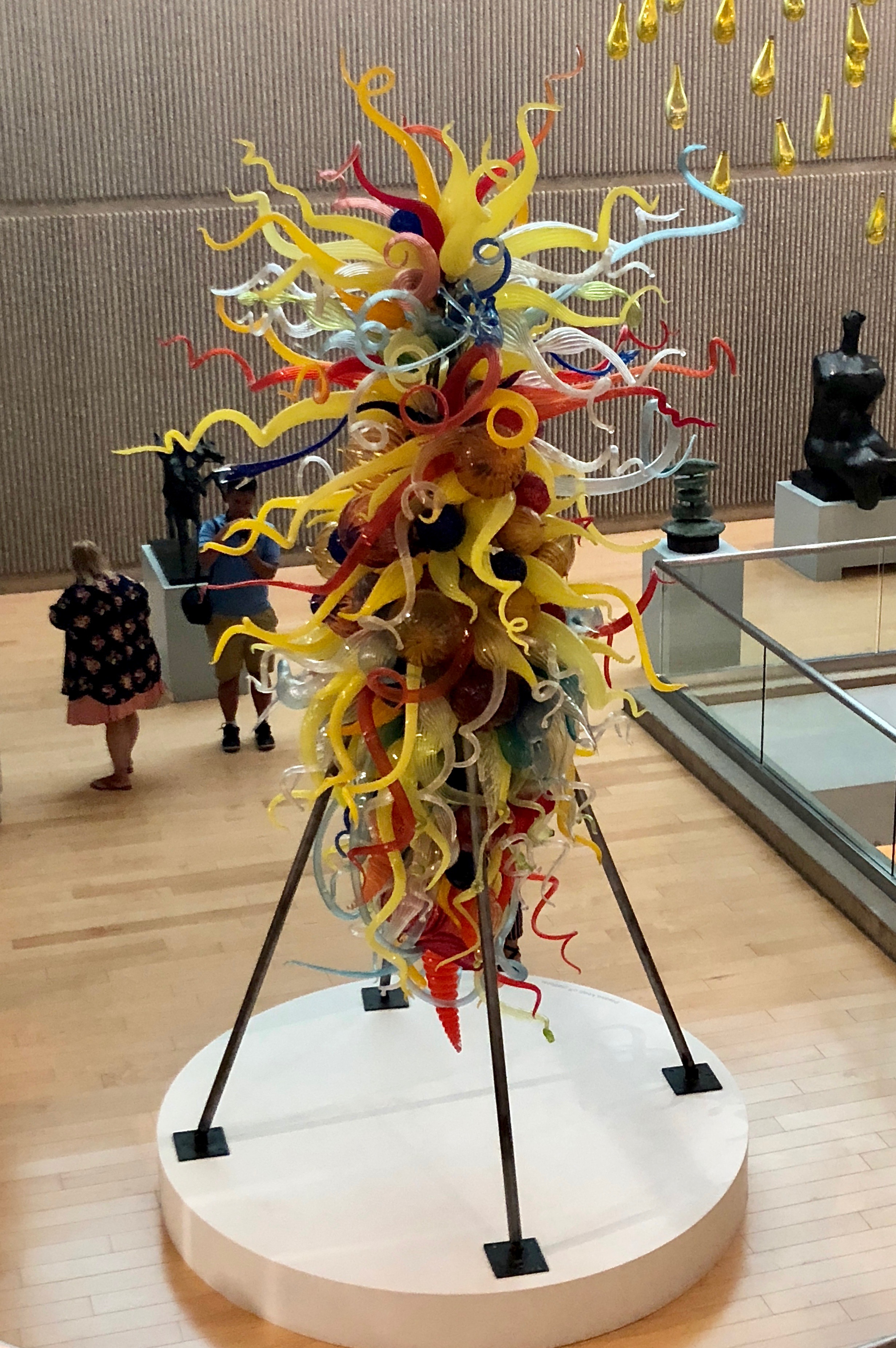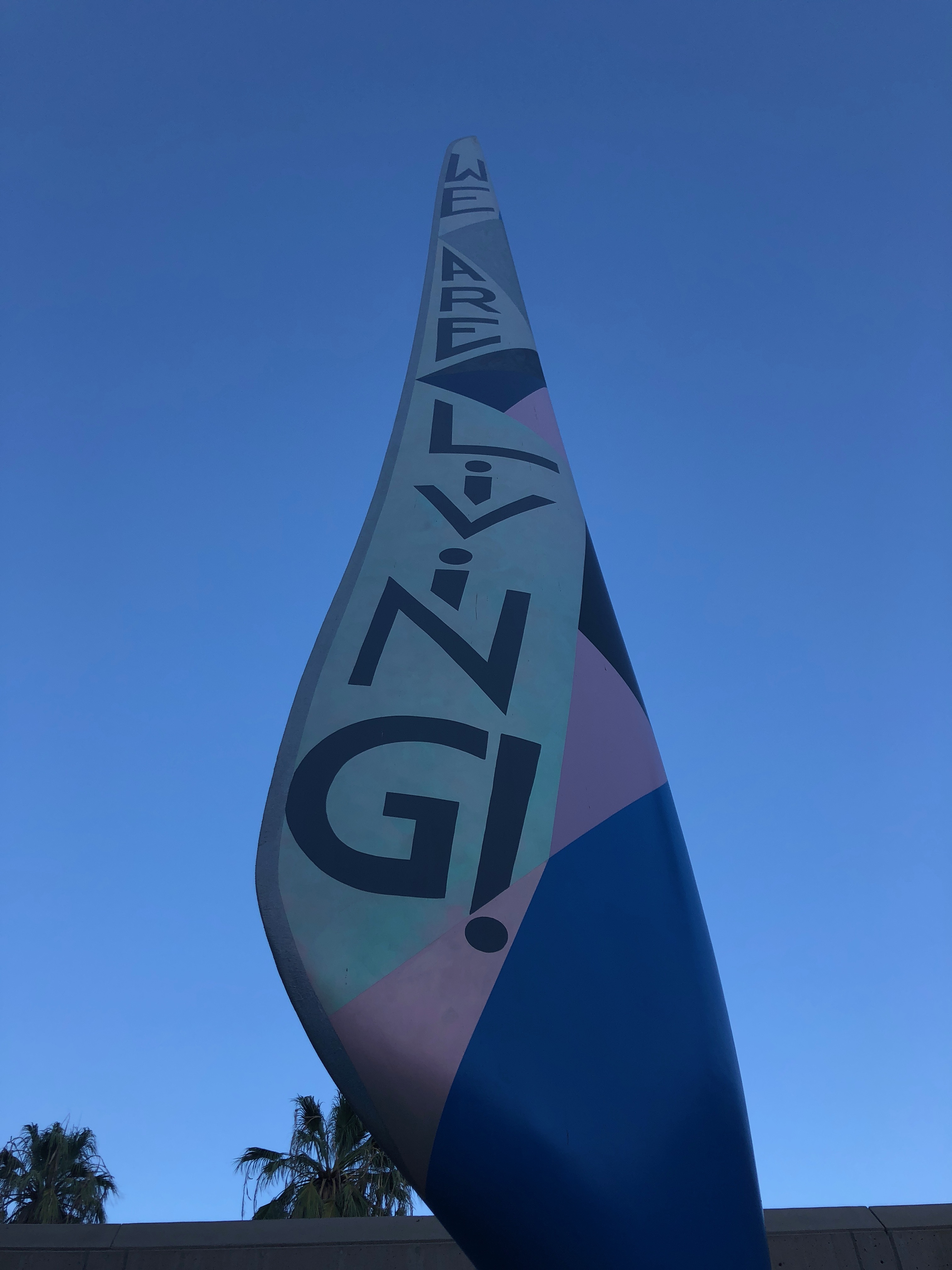 Thursday morning, we did, in fact, make it to Grand Central to have brunch, where we met Rita, one of the owners.  After joking that we had come the day before to find the doors closed, we got into a conversation about visiting the Tram, other restaurants in the area, the Palm Springs Art Museum, and more.  Rita was so kind, and so funny.  She- like almost everyone we met in Palm Springs – had this easy, attractive air about her.  Smiling and generous with her time, we assured her we'd be back at some point.  Her orange ricotta pancakes were to die for, and the beer list included my favorite Stiegl Radlers.  Breakfast beer!  Grand Central was housed in an old department store in downtown Palm Springs, and while the wide front windows and original floor tile remained, the rest of the place was renovated to perfection.  Our check arrived in a fanned, elaborately folded book, and B was thrilled that his coffee cup had the cardboard heat-blocker (what are those things called?) built right in.  We spent most of the light hours roasting in the sun with the help of books poolside and cocktail waiters, finally dipping inside to clean up and change before heading to the Palm Springs Art Museum for a little learning.  There, we came face-to-face with a giant Chihuly chandelier, wandered through the sculpture gardens, and saw pieces by Kehinde Wiley and Diane Arbus before chatting with the gift shop workers.  (Bonus: if you're a member at Louisville's Speed Art Museum receiving reciprocal memberships, Palm Springs Art Museum is yours to explore free of charge.)  It was recommended by our new gift shop friends to try a few places for dinner, and we settled on Birba, a hip, young Italian spot.  I will say that I was slightly off-put by the gals at the check in desk, who told us that there were no tables available, and that we needed a reservation…  There were plenty of tables that stayed empty during our visit.  However, we decided to plop down at the bar, and were happily surprised that the bartenders were just the opposite of the hostesses- funny, conversational, and honest.  We split an order of the meatball appetizer (they tasted almost exactly like those at Carmine's in Chicago), and we each had one of the pizzas.  I had the namesake Birba, with salty, wonderful, crispy prosciutto, honey, and a chili oil for a kick.  The sweet and salty was fabulous!  Bryan was up in the air between the Margherita and the Classic, and at the urging of our bartender, went with the Classic- mushrooms, onion, and Italian sausage.  Neither of us had leftovers, and happily, we ordered two deserts- the cheesecake and the Chocolate Nemesis, a flourless chocolate cake- and a couple shots of Fernet.  Our bartenders were fantastic, and the pizzas were a great little dinner bite.  After getting back to the hotel, we changed back into swimmys and went to the pool to cool down and work off some of the dessert.
Friday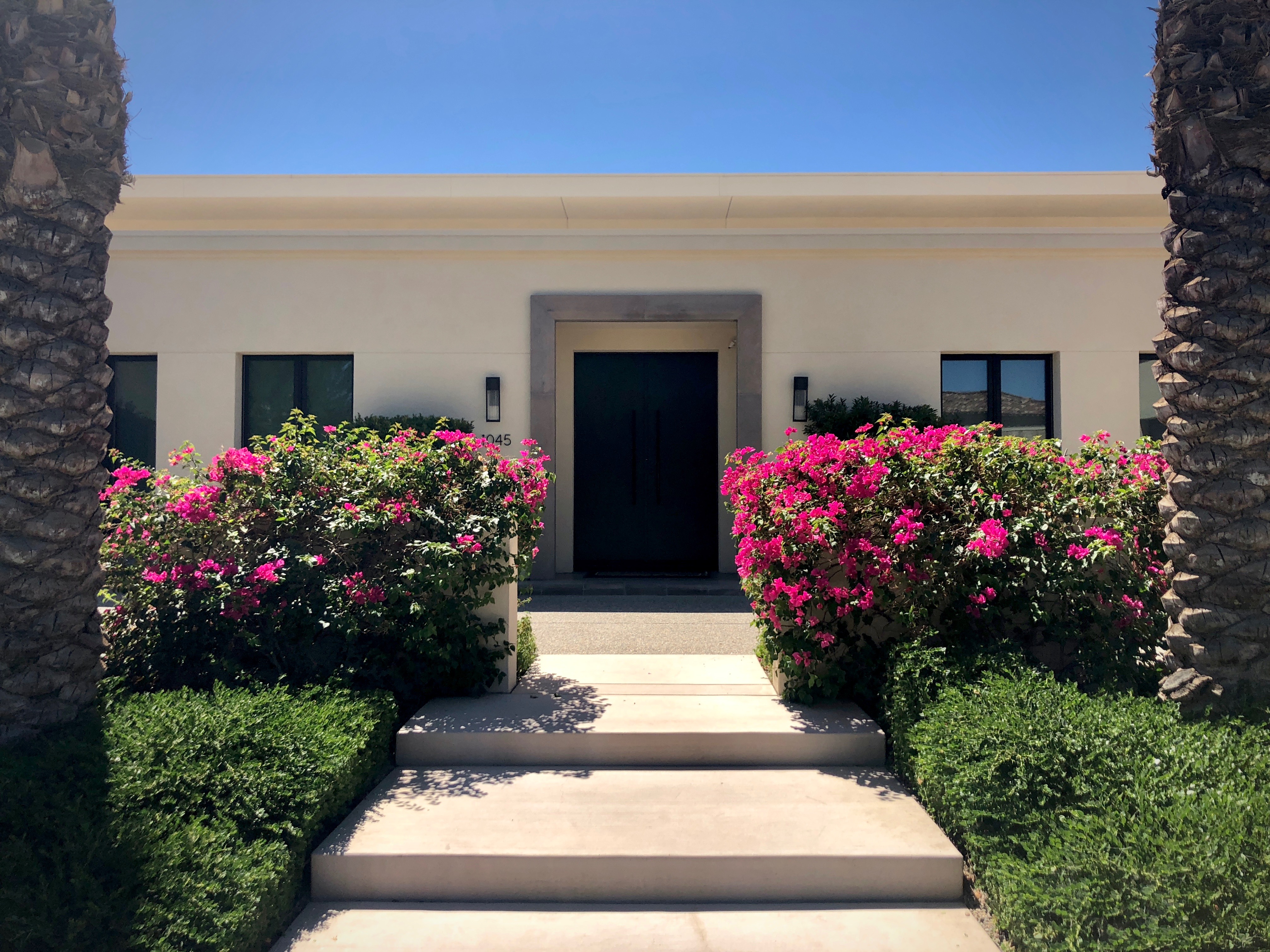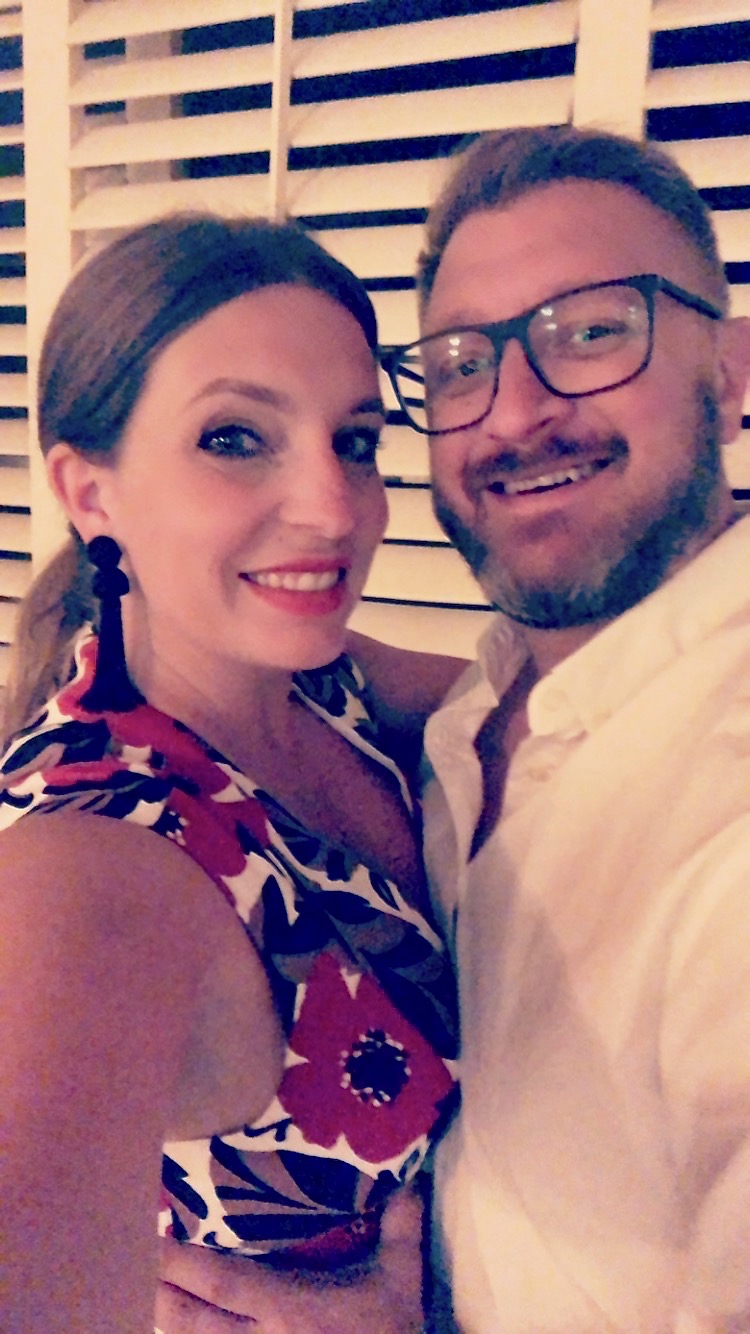 At the persistent urging of some of our Palm-Springs-frequenting friends, Friday morning, we headed to Cheeky's for brunch.  A hip little spot, with what looked like a ton of healthy options as well as fresh green juice, Cheeky's had a teeny little inside seating area and a huge, cooled patio.  We both went a little plain with our orders- bacon and eggs.  While yummy, I'm not sure that the breakfast was worth the crowd.  Wanting to stay out of the sun, because at this point, we were both very pink, we made a relatively quick trip around Palm Springs neighborhoods, stopping, of course, by the famed pink door as well as past a home I spotted on Redfin, that I'll happily buy when our lives afford us a $2M vacation home.  Afterwards, we headed out of town on I-10 to the luxury Cabizon outlets.  Gucci, Prada, Tom Ford, and Burberry mingled with Nike and Banana Republic.  At 115, it was sweltering outside, and after spending way too much money, we headed back to Palm Springs for an afternoon by the pool, in the shade, under an umbrella, and under my giant, floppy hat, slathered in SPF 30, and wrapped in a towel.  I finished the last of the 4 books I brought with me before we cleaned up for dinner at Spencer's.  Quiet, candlelit, with piano music and bougainvillea everywhere, Spencer's was just as lovely and old world as I could have wanted.  Aside from a sashed bachelorette party in the corner, the patio was full of hand-holding couples of all ages and tables full of friends.  The food was amazing- lobster bisque and bone-in ribeye before a chocolate pot du creme- but the wine list was phenomenal!  Offering the list to me to choose, I spotted and ordered a bottle we often partake at home, surprising the man.  The evening manager, Delphinia, came by the table to present the bottle and took time out of her night to chat about vacationing, about Palm Springs, the sommelier at Spencer's.  She was quite sweet, and seemed to want to be sure each of their clients was having a great night.  Bellys full, we went back to the hotel with the intention of stopping in Counter Reformation for a glass/bottle of bubbles, but with two wedding parties converging on the hotel grounds, we decided that a quieter night in- a bottle in the room with TV and blankets- was just as good.  I was asleep within a few minutes.
Saturday
Brunch was again at Norma's on the grounds at the Parker before heading to the airport.
Friends, I'm sure I could go on and on about Palm Springs for the rest of the day.  I really don't know that I've visited a place as genuinely friendly.  Everyone we met was so kind, so happy, so chill.  There seems to be another world in that little place in the desert… one without stress despite jobs, and one without care despite the hot weather.
*edit: it is now Sunday, and we are home* 
Getting on the plane yesterday was difficult enough, but last night, after a very rough landing in Cincinnati due to storms throughout the area, getting off of the plane was even harder.  While our house welcomed us home today with open arms, clean sheets, and the smell of a gardenia candle, I wasn't as happy to be back as I thought I'd be.  Perhaps it was best that we had never really vacationed, that we had never really been away from home for so long in a place that was so magical.  Or, perhaps, the several days away in such a wonderful state of mind was exactly what we both needed as motivation to push forward, to be a teeny bit more successful each year, knowing that rather than living to work, we work to travel, to take a break, to see the world, and to breathe…  preferably in the sunshine-y desert of Palm Springs.
SaveSave
SaveSave