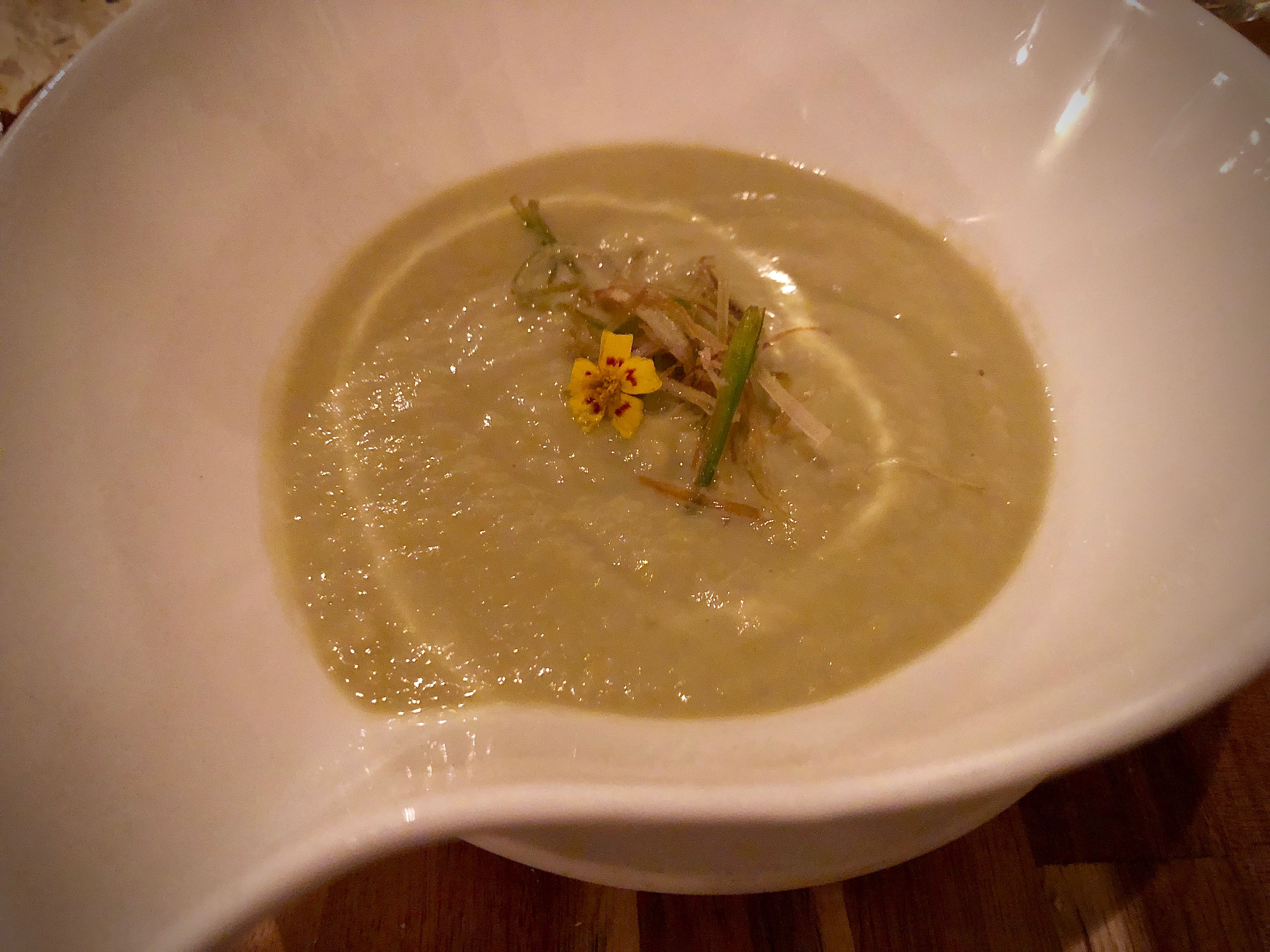 Over the Thanksgiving holiday, the man and I trekked north to Cleveland to spend a few days with his family.  His mom prepared a gorgeous feast as usual, and after a couple of days full of turkey and stuffing (and pie…  so much pie!!), I was craving something a little more… not turkey.
Saturday night, Bryan, his mom and I headed to Gordon Square to Spice Kitchen & Bar.  With a website touting a commitment to farm-to-table dining and an Instagram page full of goodies like pumpkin spice creme brûlée and rabbit risotto, I was ready to taste whatever our server felt the need to suggest.
We began with a couple of signature cocktails; The Tussin 2.0 for Bryan- Bourbon, Campari, Fernet Branca and Chartreuse, and the Hot Butternut Rum for me- essentially a hot toddy, but with roasted butternut squash-infused rum instead of whiskey.  To start, we shared a plate of cheese and accoutrements and several thick, warm slices of oat bread.  Both were served with a tomato jam, while the bread also came with a salted butter and pesto, and the cheese came out with lavash and pickled mustard seeds.  Both were so tasty!  We all tried a couple of soups as a first course- a traditional potato chowder as well as a cream of leek soup, pictured above.  I love leeks, and the fresh, green taste was perfect after the creamy, slightly heavy cheeses.
For mains, the three of us decided on the Roasted Squash Salad, which we saw float out from the kitchen to several other tables, as well as the Tea Hills Chicken leg- a barbecued chicken leg and thigh that fell off the bone next to bacon braised greens and a cheesy root veggie gratin- and the Ohio Beef Filet, which was incredibly tender and served with tiny purple potatoes, picked peppers, and mashed rutabaga.
Our server was hilarious and personable (Hi Monroe!!), and happily supplied us with Old Fashioneds along with dessert menus.  The pear and fig tart was gorgeous and looked more crumbly and perfect than any I'd ever seen.  Bryan's s'more was a perfect cube- a perfect cube- and was as gooey and wonderful as any s'more should be.  I had the honey and cornbread ice cream, which sounds a little… funky…  but was SO GOOD.  There was a gritty cornmeal texture, but the honey flavor was delicious, as was the sugared shortbread cookie that came alongside.
The feel of Spice- the look inside, the attitude of the servers, and the fresh, farm-happy menu- reminded me a lot of Decca and Rye here in Louisville.  The prices were comparable as well, as was the size of the menu.  If you're in Cleveland and have a craving for something local and fresh, I highly recommend stopping in- even if just for a well-designed cocktail and the cheese plate.
We tend to stay very homebound when we visit, either by gathering around Bryan's mom's kitchen table, or by camping out at a friend's house for a Bourbon tasting…  I'm ashamed to say we haven't ventured out very much to try local Cleveland eateries and bars.  After our visit last week, though, I think we're going to begin a tradition of finding a new, local spot each trip.  I'm looking forward to what may be next over Christmas.
** this post is not sponsored in any way.  all thoughts and opinions are my own **