It was as we were driving to Chicago for the Northwestern/Wisconsin game that an episode of The Splendid Table came on where host Francis Lam was discussing taking care… Author and activist Cecile Richards was a guest, and the two began a discussion about her love of pie baking and pie testing. There was a comment about comfort foods, and how some dishes really do comfort you, or remind you of home. Naturally, my mind began to wander as we drove.
It's funny how food has so many memories attached to it, and how those memories can spark so many others. I was taken back, as we looped around Indianapolis at how vividly I remembered my grandma's house. Friday nights there were filled with games of canasta. In the winter, the house was always too warm and smelled of the popcorn that the two of them had shared for a TV snack, and- inevitably- if company was expected at any time over the weekend, there would be a homemake spice cake sitting on the dining room table, the aroma drifting through the 70-something degree house.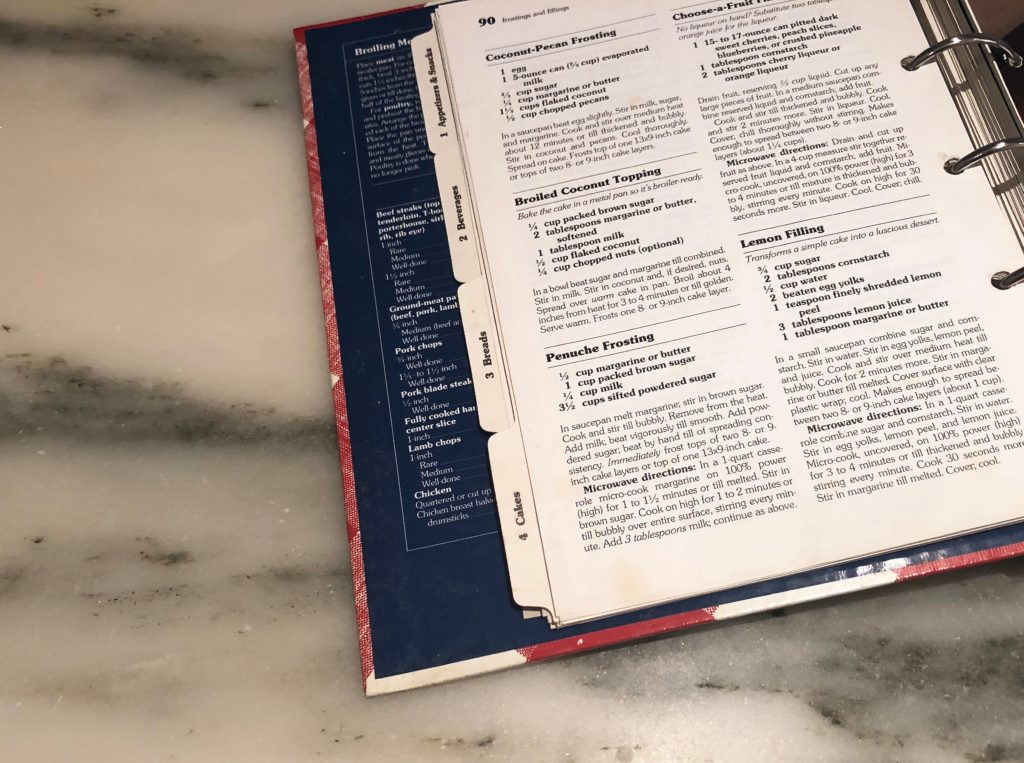 For years after my grandma died, I flipped through her handwritten recipes, pulling out the ones I loved (Italian creme cake, chess bars, salmon croquettes), and discarding the ones I didn't (jello molds with floating fruit…. ick), but never found the one for her cooked caramel frosting- the one that topped her spice cake, hardening to a beautiful cooked sugar shell around a fluffy, tasty cake.
Finally, I began flipping through her cookbooks. In her copy of the signature red and white Better Homes and Gardens version (still with pages stuck together in the candy section- evidence of too many batches of peanut brittle), I spotted it- Penuche frosting. This brown sugar fudge had been made into a cooked caramel frosting, and I knew it had to be the version she used.
While tasty, and smelling so, so good, I quickly learned that the frosting wasn't the easiest to handle, making the cake a little less than pretty. I finally stopped trying to spread it with a spatula, and gave into using my hands, squishing the caramel onto the fluffy cake layers, resulting in a squat yet delicious dessert.
It ain't pretty, but it tastes like home, and, if I close my eyes and remember just right, it smells like Friday night card games, popcorn during Jeopardy, and a slightly-too-warm living room.
Better Homes and Gardens Penuche Frosting:
1/2 cup margarine or butter
1 cup packed brown sugar
1/4 cup milk
3 1/2 cups powdered sugar
In saucepan melt margarine; stir in brown sugar. Cook and stir until bubbly. Remove from the heat. Add milk; beat vigorously until smooth. Add powdered sugar; beat by hand till of spreading consistency. Immediately frost tops of two 8- or 9- inch cake layers, or top of one 13×9 inch cake.