Over our Chicago holiday, Bryan and I popped into Claridge House hotel. Beautiful, local for us, and a fresh new face in the neighborhood, CH is also home to a cozy lobby restaurant, Juniper Spirits and Oyster Bar.
Just two blocks from our usually Chicago stay, our walk to dinner was a quick one, but we were able slow down a bit once we walked in. Inside the lobby doors, a sleek bar perched on the right, and seating options ranged from intimate tables tucked behind curtains, super sleek banquettes, communal dining tables, and cozy leather sofas.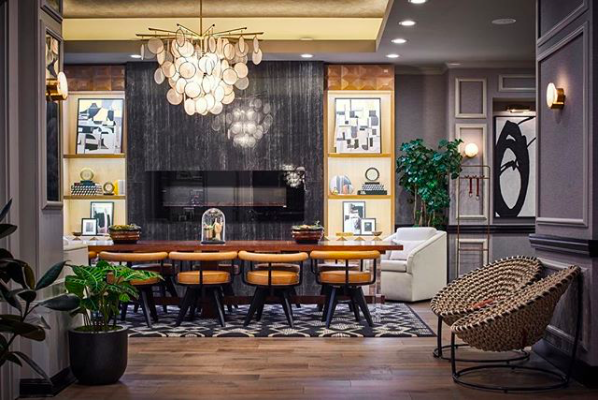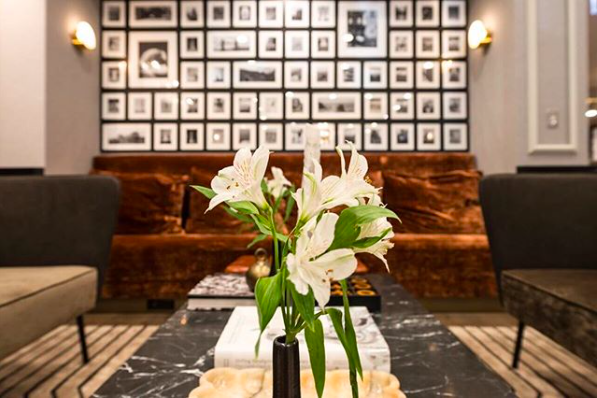 Bryan and I slid onto the banquette while our sweet waiter, Rene, suggested cheesy and perfect onion soup as a first course, and let us peruse a rather extensive drink list. Wines and champagnes were offered by the glass and the bottle, while Gin and Tonic is kept on tap. B stuck with a Manhattan, while I opted for the Bee's Knees- gin, honey, and lemon.
After devouring our onion soup (a great stand-in for what was the perfect bowl of onion soup at the now defunct Bistrot Zinc), we both decided on sandwiches. That sounds casual and silly, I'm sure, but the man ordered a cheeseburger that would rival several, topped with onion jam, arugula, and cheddar, while I opted for the filet sliders… Oh my.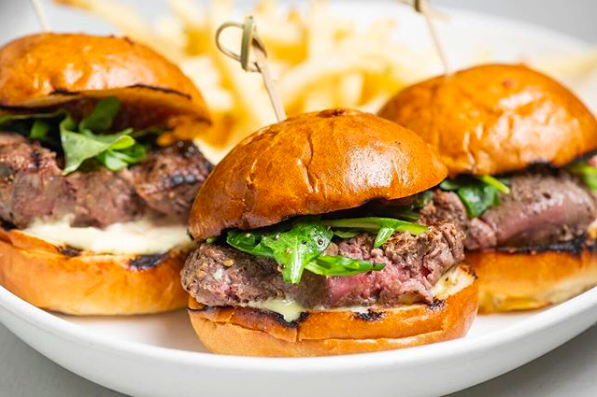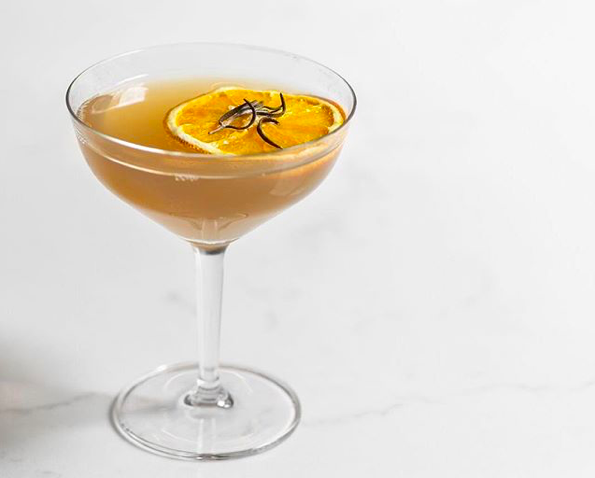 My sliders- three of them- were cooked to medium-rare, and snuggled into buttery toasted rolls, alongside horseradish aioli and orange marmalade, the latter of which was a sweet surprise. The steak was incredibly tender, and after evaluating our portions, I actually ended up with more food than B, but I was somewhat happy to share.
Both full, neither of us was starving for desert, so we split a singular affogatto, and I wasn't at all mad to take a look at the brunch menu, already thinking of our next visit (Lobster salad! Banana pancakes!).
Situated happily in the Gold Coast neighborhood, near the Chicago outpost of Restoration Hardware, and just a four block walk to the lake, Claridge House Hotel looks like a quiet respite from the crazy bustle of Michigan Avenue. While I don't see us severing our relationship with our friends at the Ambassador, the chic details, beautiful details, and pupper-friendly hotel certainly looks like a nice spot to call home for a weekend… And no matter what, we'll be all too thankful to stop in for another meal. Or two.
** this post is not sponsored in any way. all thoughts and opinions are my own **
** all photos via Juniper Spirits' Instagram **