It's been over a week now, and I can still taste the foie gras, feel myself snuggled into the red velvet armchairs…
On our second night in New York, it was decided that a fancy-schmancy dinner was in order (this was also due to the fact that neither a sleepy dinner at our hotel the night before, neither our immediately-upon-landing Reuben from Katz's Deli would be what one would call "fancy-schmancy"). After much hemming and hawing, and wondering whether or not I should break out the ever-favorite DVF floral number I love so much, we decided to pop into the NoMad Hotel for a sit-down in their Parlour.
It should be said also pushing us towards NoMad was the fact that one of B's athletes cooks in the kitchen…
We (Bryan, my dress, and I) were escorted through the stunning and maze-like dining room. Heavy draperies, rich woods, and dark velvets enveloped the place, while delicate pressed botanicals were hung on almost every visible slice of wall.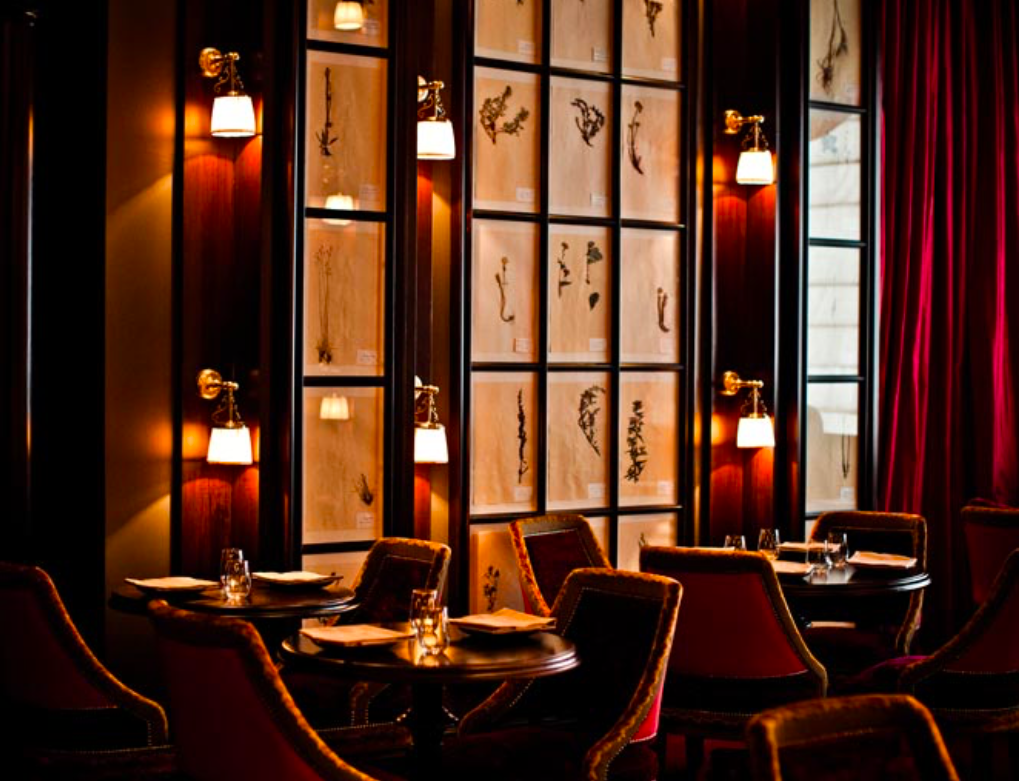 B began with a Manhattan from the bar, while I had something called Start Me Up: Bourbon and Rum with honey, ginger and orange bitters. For added fun, the bartended added an egg white. Delicious! Both of us making a song attempt to watch our diets (especially given the Reuben on Sunday), we started with the crudite', endive, carrots, and broccoli with a chive cream- the presentation was lovely… a silver, ice-packed bowl, with the veggies protruding in a flower shape around the server of cream. Also lovely was our cook friend, Gary, learning we were there and sending up an assortment of goodies pre-meal; carrot tartare with a quail egg was served alongside crunchy bread. A flatbread loaf stuffed full of garlic cloves smelled like Heaven, but the kicker for me was an incredible black truffle tart, crunchy-crusted, heaped with mascarpone cream and shaved truffles.
For dinner, our sweet server volunteered suggestions on the menu, mentioning that the roast chicken for two was the dish that they were known for. Bryan was sold, and thank goodness he was! While we sipped away at a bottle of Ronchi di Calla Ribolla Gialla, downstairs, chefs were easing shaved truffles and foie gras under the skin of a chicken, stuffing said bird full of lavender and herbs, and browning it's skin to a crisp perfection. We were "presented" with the little guy, trussed and sizzling, the smell turning the heads of each diner who hadn't ordered yet, before it was whisked back to the kitchen for round two of its preparation. The breast meat- skin and stuffing happily in tact- was presented alongside pureed potatoes on a main dinner plate for each of us. The dark meat was shredded and mixed with a cauliflower puree and the juice from the bird. The wings were then deboned, flash fried, and served atop a small mountain of greens. The entire production was fascinating, and- while I was watching cross-eyed after that bottle of wine- I was amazed at the efficiency of the presentation, as well as at the taste…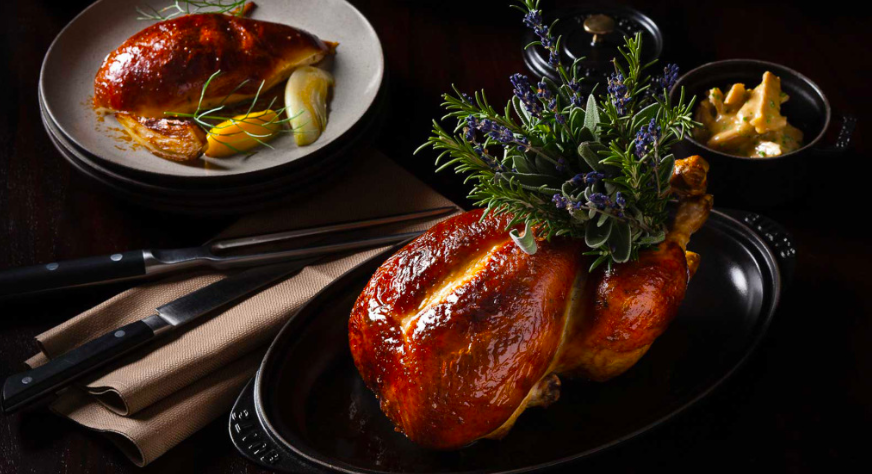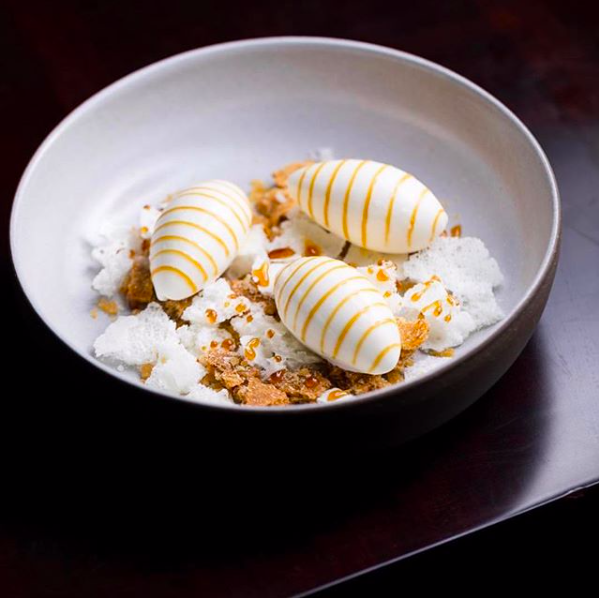 Stuffed *almost* until bursting, we decided that one dessert would be enough, and split the Milk and Honey- crisp, sweet shortbread, vanilla ice cream, and honey. I'm thrilled to say we cabbed back to Washington Square- there's no way I would have made it had we tried to walk!
I'm sure that dinner at NoMad was our favorite meal of the week (it's no wonder the chicken was named one of NYC's most iconic meals by Eater.com), and the impeccable service we received from all there (seriously- every single member of the staff was kind and gracious) makes me wonder what a stay in the hotel itself may be like, and how the summer sun would dance on the rooftop bar.
** this post is not sponsored in any way. all thoughts and opinions are my own **