It seems winter is finally making an appearance here in the Bluegrass. We were fortunate to have several 60-plus degree days sprinkled in throughout the holidays, and- to be honest- yesterday here in Louisville topped out at 63, yet we woke up this morning to sub-freezing temperatures. It's this sort of wishy-washy winter weather that has we Louisvillians looking for clothing that brings warmth along with comfort.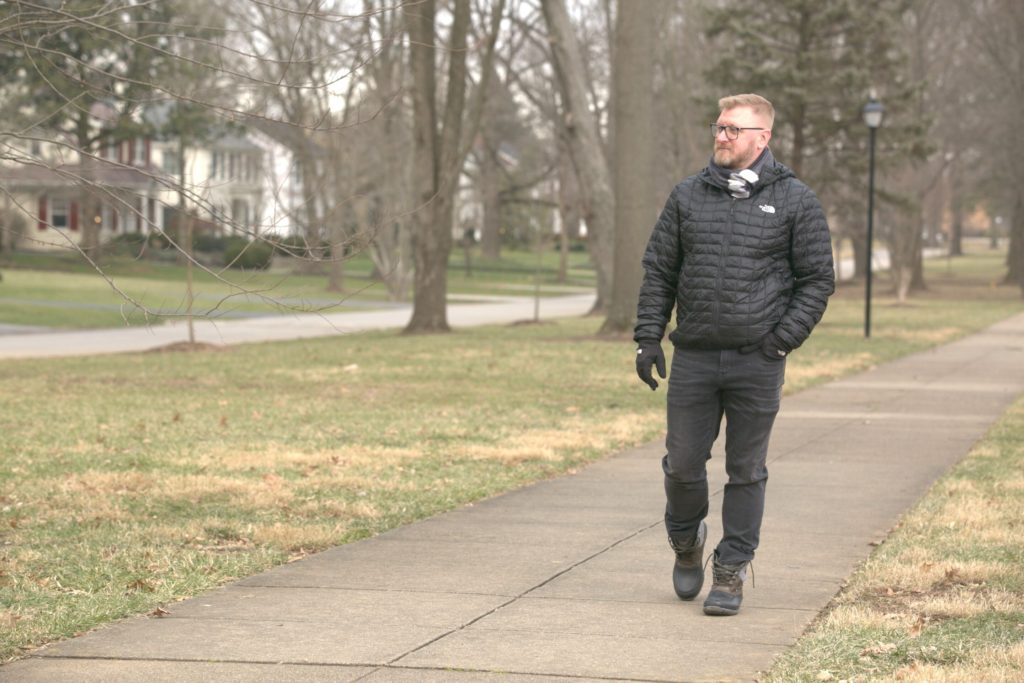 When the weather gets cooler, Bryan says he looks for pieces that layer well and aren't restrictive. "I hate having to bundle but then feeling trapped- like putting a dress shirt that's already fitted on my arms under a sweater. All of a sudden, it's as if I can't bend my elbows." What does he look for instead? Clothing with give in the fabric. "A little stretch. It doesn't have to be baggy to be comfortable, but I do want it to move with me."
He's loving Tommy John undershirts, lately.  He says they layer well and have a lot of stretch.  "They lay against my skin, they don't roll up, and they have a little extra length so they tuck in well.  No bunching under collared shirts."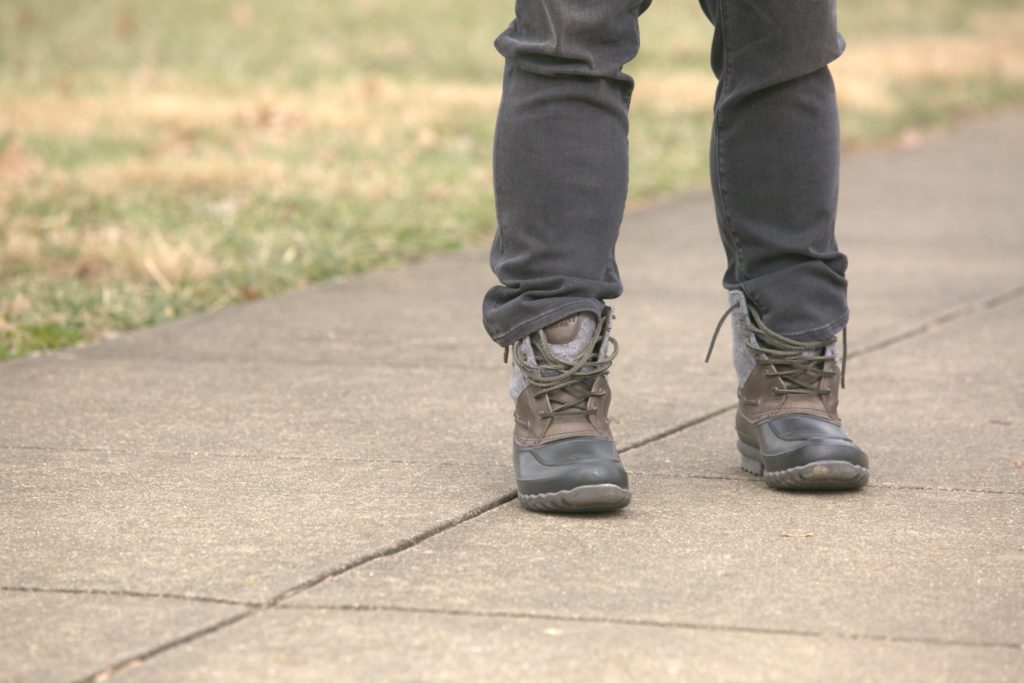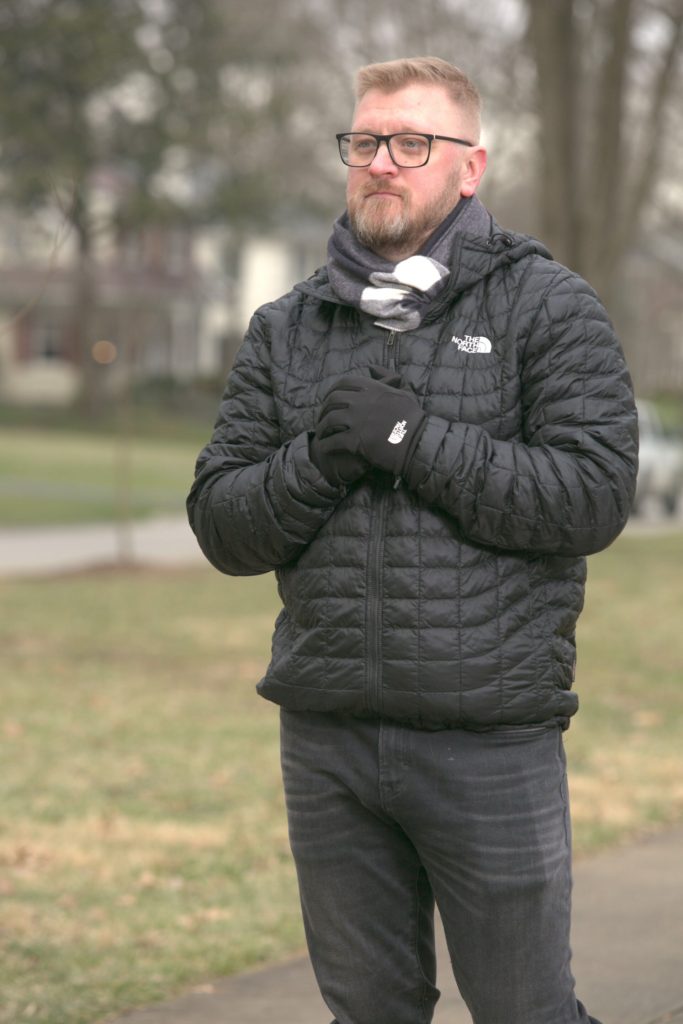 "My traveller jeans (from Banana Republic) are by far my favorite item that I own. They're super comfortable, they're not at all stiff. You could squat in those things. Because there's some stretch in them, I've layered long johns underneath for football games in the cold and still feel like I can move."
"I like smart gloves. I like having a couple different hats and scarves. I have a nice patterned scarf for dressing up, but also have plain fleece for when I just need warmth."
B often reaches for his Northface jacket- it's a lighter weight, and a shorter length, and easy to layer underneath for warmth, but cuts the cold wind. Paired with a hefty pair of Sperrys and one of his many Cleveland knit caps, he's comfortable and warm- a combo that's perfect no matter the winter weather.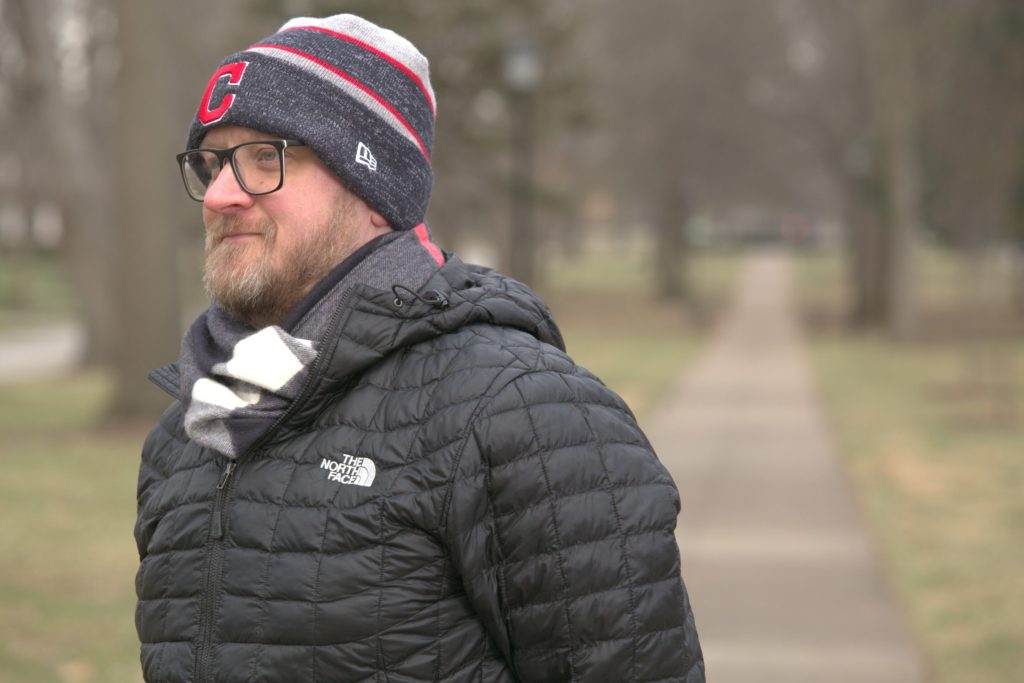 ** this post is not sponsored in any way. all thoughts and opinions are our own **
** photos by Don Lehman **
Shop his look: