A couple of years ago, while in Chicago in the Spring, we managed to get ourselves squeezed into Gemini in Lincoln Park for dinner at their grand reopening, and immediately fell in love. The service and atmosphere were amazing, but consistently outdone by the amazing food. When we got wind that the ownership had opened a sister restaurant just a few blocks south of us on State Street, we immediately made reservations for dinner.
We walked into a first floor lobby, cool and quiet, with laughter and the sounds of tinkling dishes drifting down a large staircase on our left. To our right sat Walton Street Lounge, a room no bigger than your average family room, decked out to look like your rich, eccentric uncle's library. The walls were lined in bookshelves stacked with vintage volumes and bottles of booze, while a fireplace, leather wingbacks, and art seemed as if they belonged no where else but here. Tucked into one bookcase was what appeared to be a secret service door for drink orders. This space is first on our list to visit when the weather turns cooler.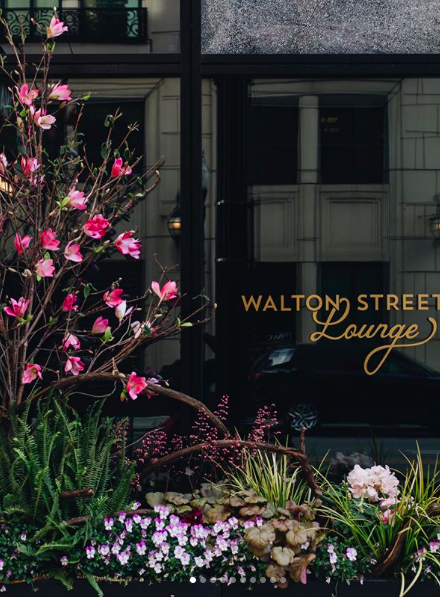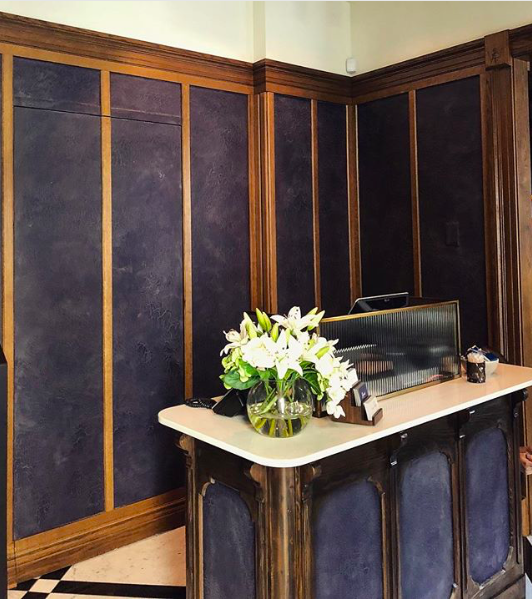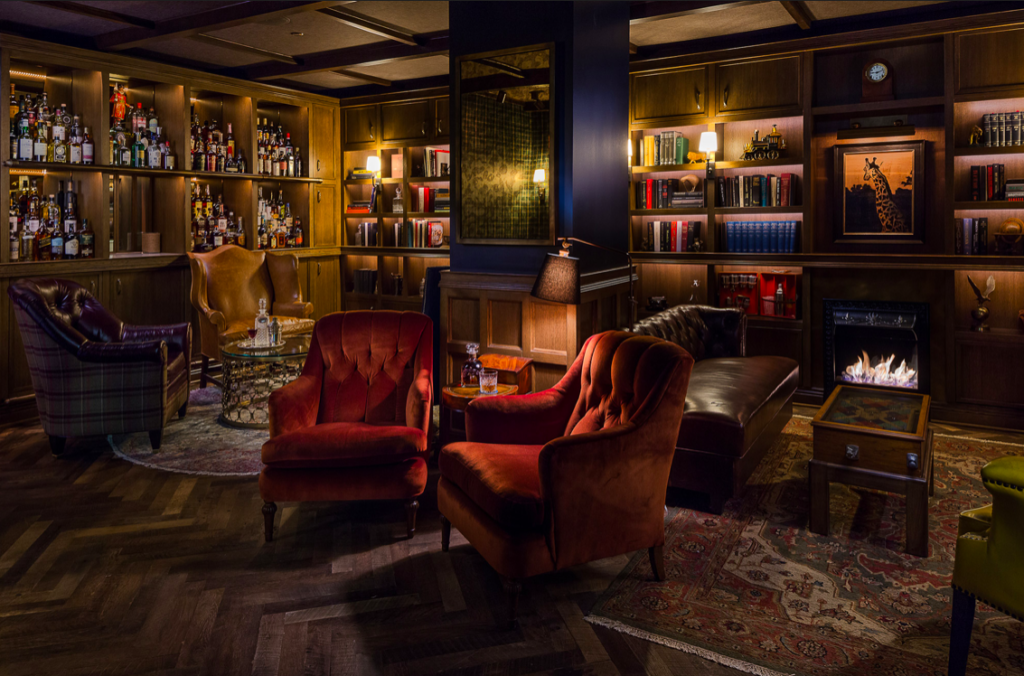 Upstairs, we were greeted by name at the host's stand, and were suggested a seat in front of the windows overlooking State Street. For July, the night was cool, and the breeze closing in was crisp and lovely. The open windows were wrapped in a decorative iron railing that looked as if it had been standing since the age of Gatsby.
Inside, leather armchairs surrounded small tables and curved booths hugged the interior walls. Near the top of the entrance steps, a large, square bar was surrounded by leather barstools, and the frosted glass bar storage and open glass shelves kept things from looking at all stuffy or plain.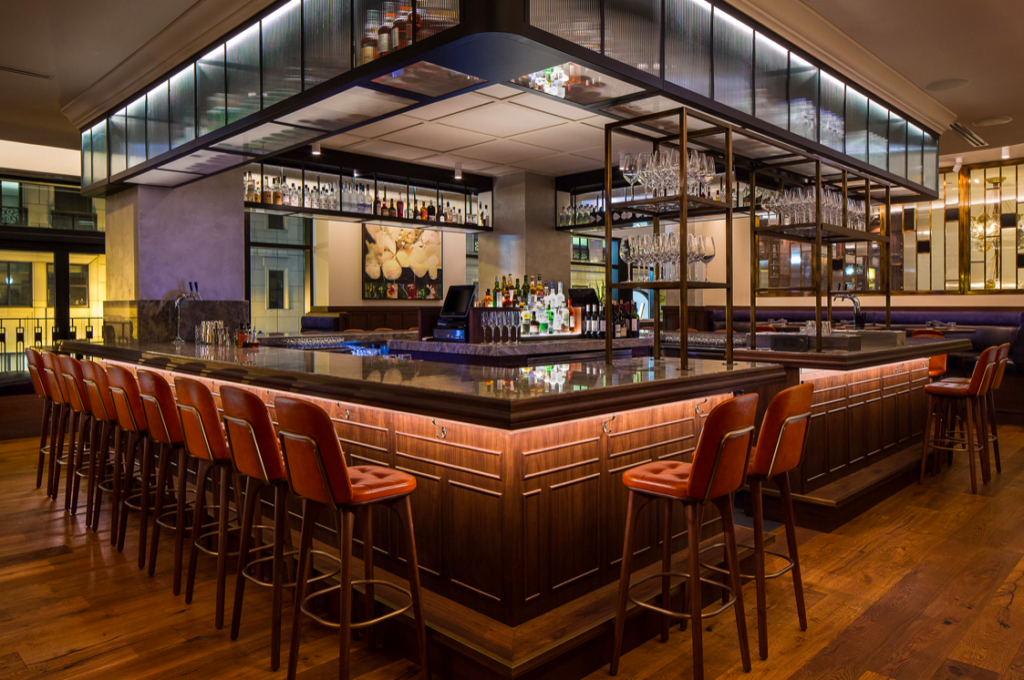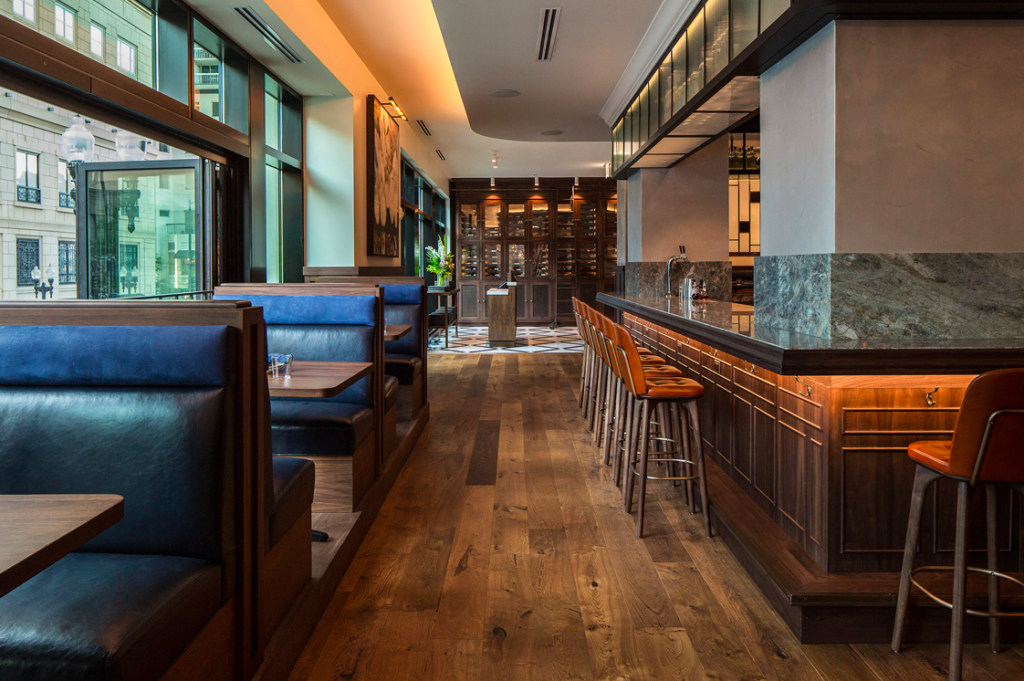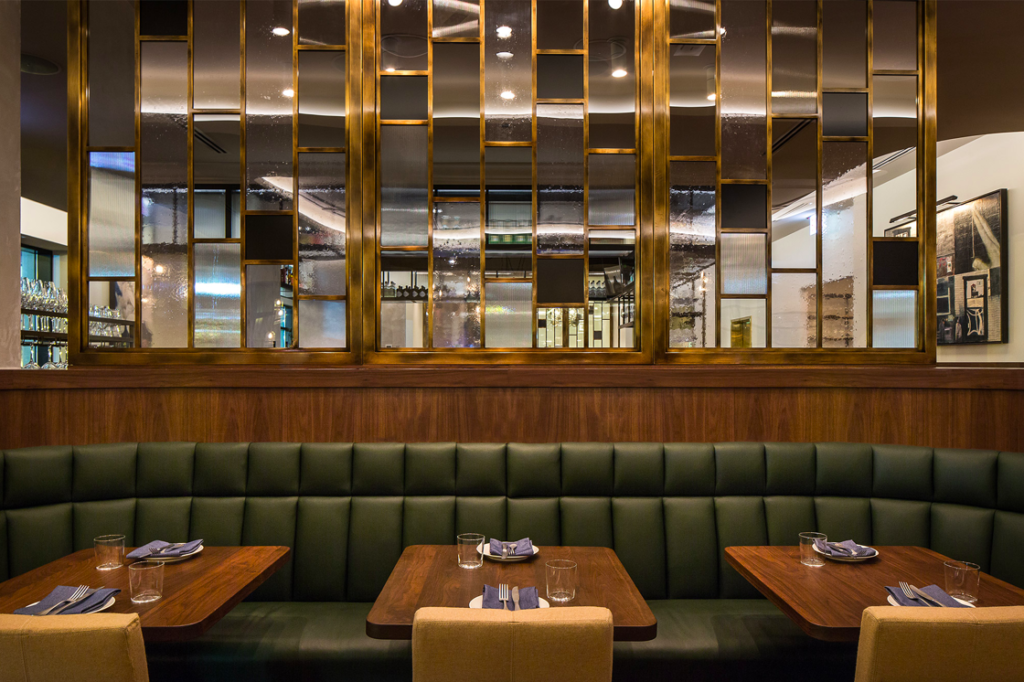 We settled in to our window-side table while our waitress, Courtney brought out menus and mentioned our birthday celebration (this, I'm not sure how she knew. Whether they pay attention to one's Open Table profile, or if they looked at the notes from our family birthday reservation from Gemini the night before. Either way, impressive).
The cocktail menu was so well put together, I had to fight to keep myself from slipping one under my shirt to take home. With a house cocktail list divided into categories like "spirit driven" and "bright," and a full page of martini options broken down into amount of olive juice or vermouth, onion versus lemon, gin versus vodka, this is one of the most comprehensive lists I've spotted in a long time. B and I both settled on their old fashioned, before biting into salads- Caesar with lots of anchovies for me, and an arugula salad with dates and feta for him.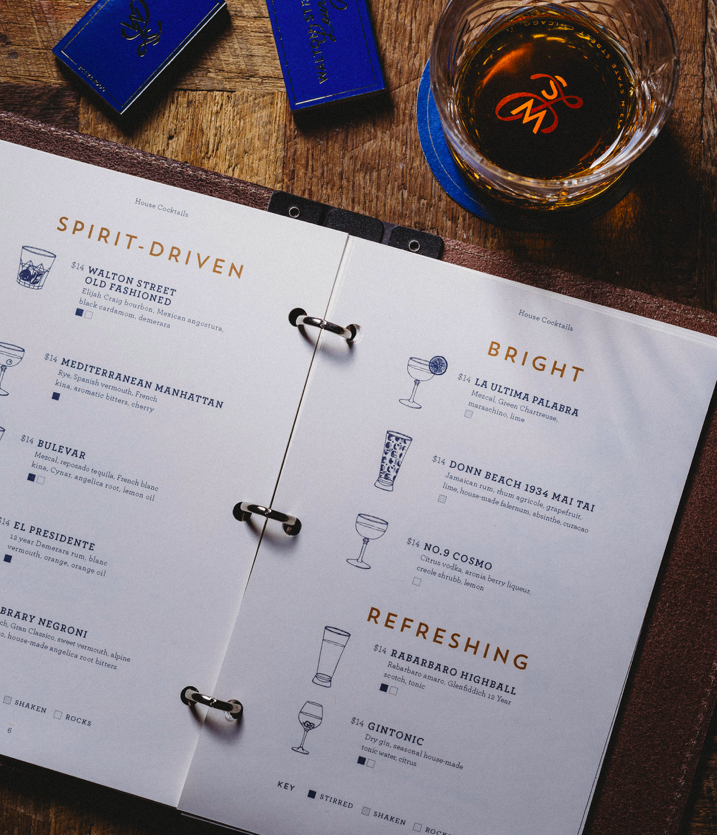 Dinner choices posed an issue, since everything looked great. We went back and forth between spaghetti (with caramelized onions and chicken sausage) and the burger (tomato jam, aioli, and bacon), salmon vesuvio (pearl onions and lemon) and the 12 ounce strip (chimmichurri and crunchy onions) before I settled on the filet au Poivre with fries, and Bryan jumped a the chance of the de-boned fried chicken, cole slaw and cheddar biscuit (it was National Fried Chicken Day, after all).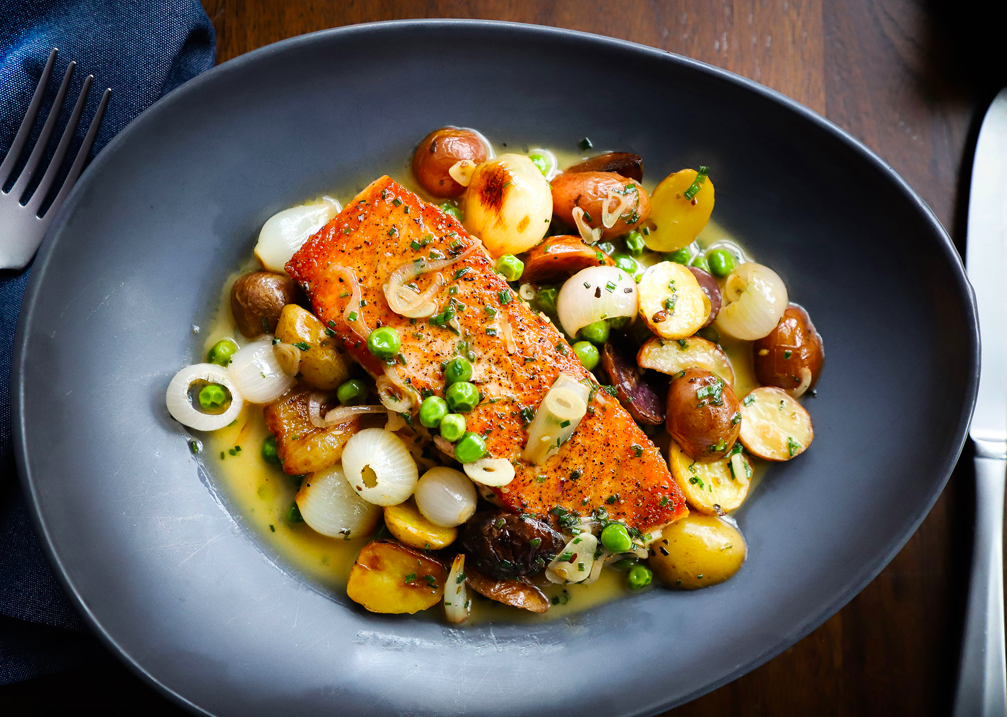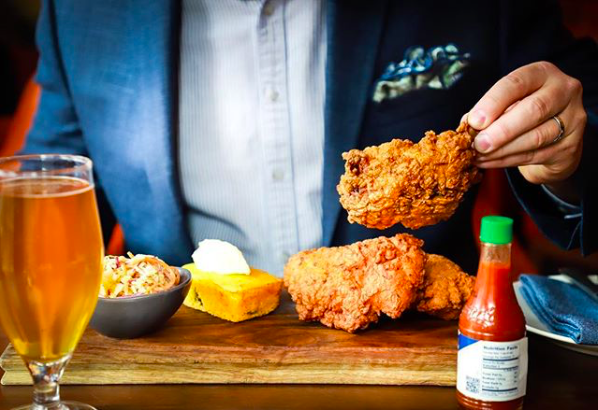 For dessert, we looked at Walton Street's chocolate cake, lighter than I was expecting, with a vanilla frosting and a fluffy chocolate filling reminiscent of the pot du creme at Gemini, it's one of the prettier desserts I've had in a while. Along side espresso for both of us, with the breeze turning cooler and the sun setting outside, I can think of no better way to have ended our night.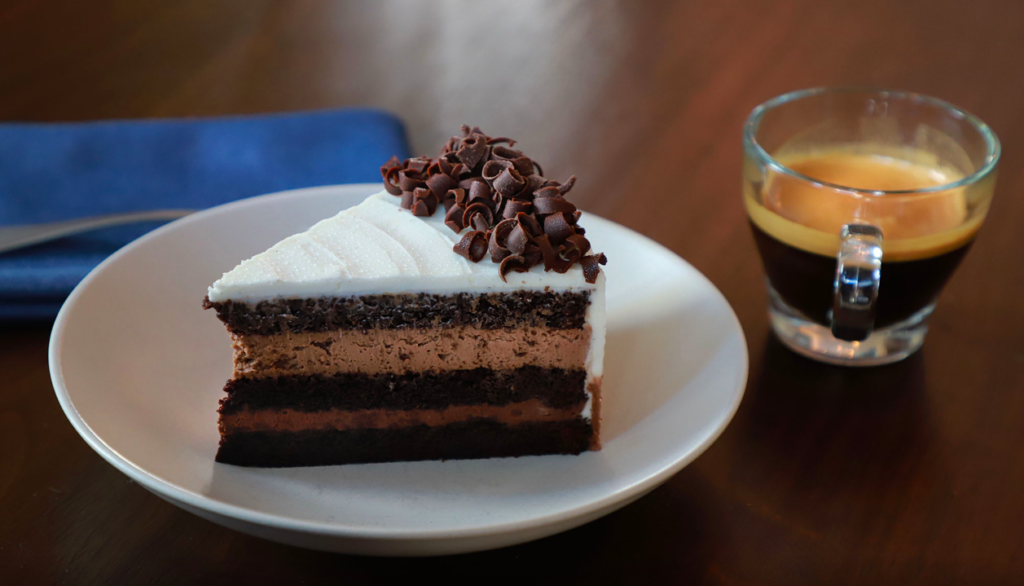 The convenience of Walton Street Kitchen + Bar being so close to our Chicago home is both a blessing and a curse. The idea of walking a few blocks for that fried chicken on Sunday is a tempting one, and I can think of no cooler spot to curl up in a fur scarf with a little whiskey once the weather turns cold. While Gemini and Walton Street have so many similarities, like the impeccable service and yummy food, they don't mirror each other, and each have their own personalities. It's not been hard to fall in love with both spots.
** this post was not sponsored in any way. all thoughts and opinions are my own **