Just a block above North Avenue in Chicago's Lincoln Park lies a neat and unassuming yellow brick building. Crisp, black trim circles the first floor facade, and minimal window dressing reads, "Willow Rm" in a slight gold script. This is Willow Room, a happy eatery I've been stalking on Instagram since seeing it in Chicago Magazine in early 2017.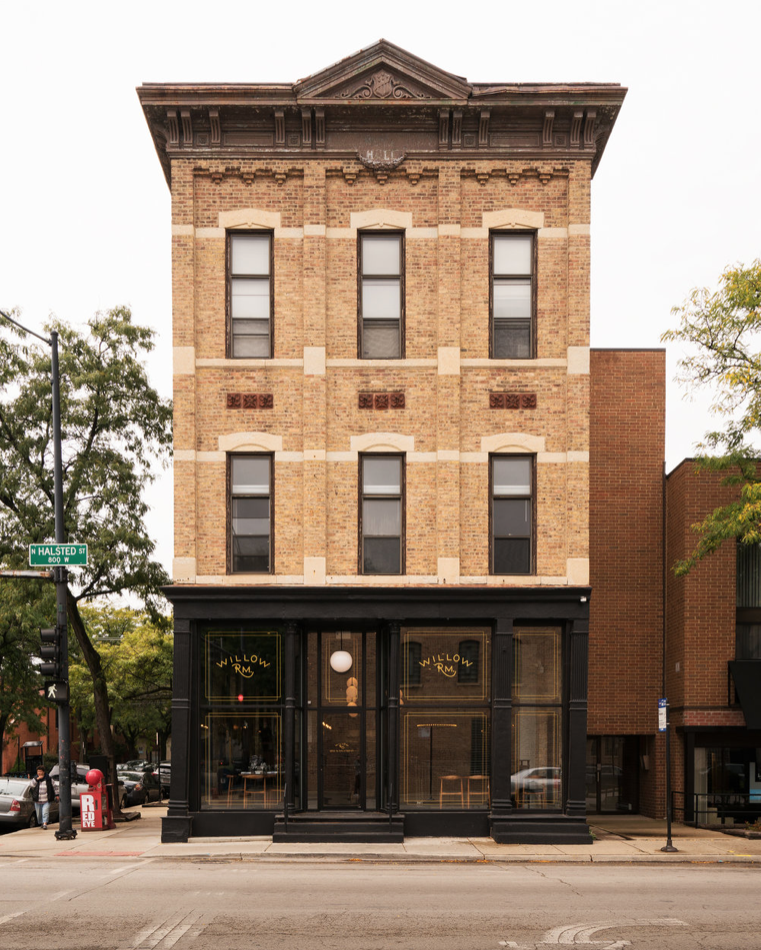 At only 25 feet-or-so wide, the dining room here isn't the smallest in the neighborhood by far, but it is slight in space. High ceilings, though, and gorgeous navy blue tufted velvet banquettes that run the length of the walls make the area inside seem much larger than it is. In one corner, a curved, salmon-colored velvet booth is topped by a large, circular chandelier, while the rest of the room is dotted with large, frosted glass orbs and tiny glass globe pendants along the bar. Along the kitchen window, large, vertical subway tile, floating glassware shelves, and brass accents keep the working corner pretty and interesting.
Bryan and I took a seat at the marble-topped bar, behind which stretched an impressive whiskey selection. The tall barstools were wrapped in the same pinky-peach color of the corner booth.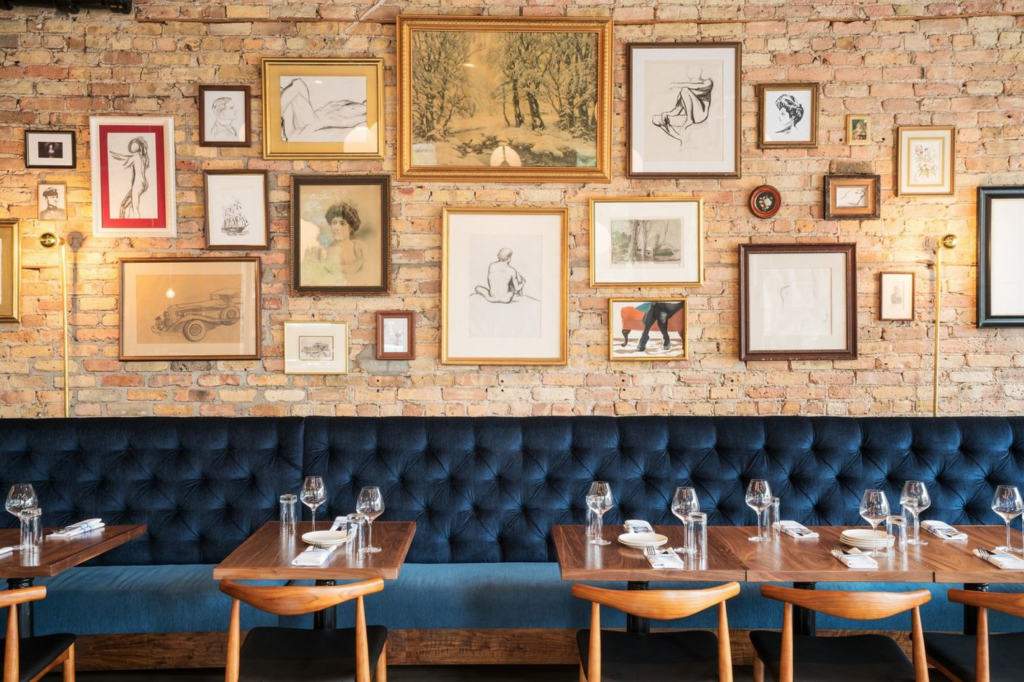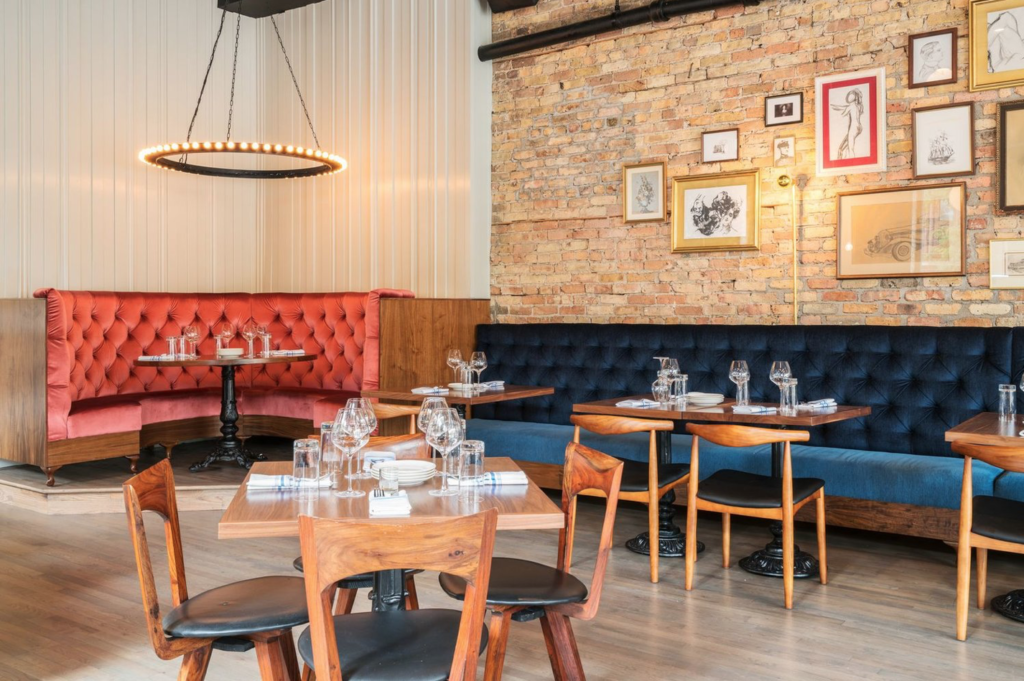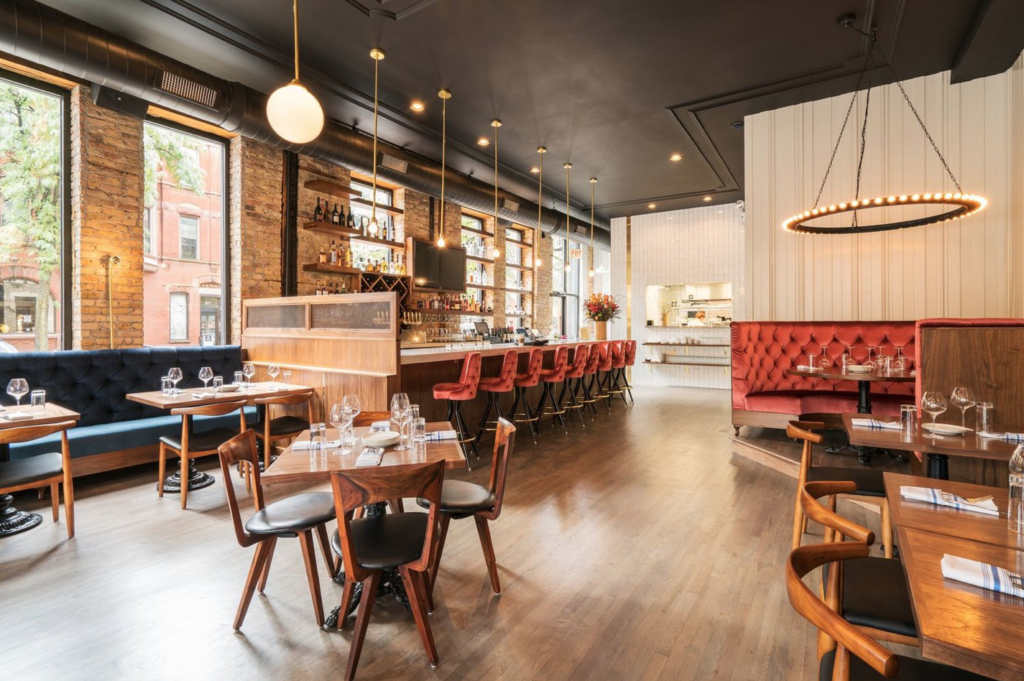 It took us several minutes to ponder the menu, finally settling on splitting the Willow Wedge salad (their spin on a wedge, with chopped egg, tomato, bacon, avocado, and a light drizzle of green goddess dressing) and cocktails before a lobster roll for the man and a steak sandwich for myself.
While I spun around to take in more of the interior decor (two tiny tables by the front window, and gallery walls of charcoal and pencil pieces above each of the navy banquettes), Bryan watched our bartender make his negroni and my old fashioned without the use of a jigger. Just eyeing up his pours served us well, and while my old fashioned was just a teeny bit sweeter than I usually prefer, it was on point.
B's lobster roll was super, super buttery, and came with Old Bay Seasoning-dusted fries. My steak sandwich was incredibly tasty. I could taste the smoke from the grill in the meat, and that, coupled with the arugula and cool tomato inside made it a perfect summer sandwich. My plain fries were perfectly ok, and both of us stated that the bread outnumbered the meat in our sandwiches, but we were both full and satisfied afterwards, which, in my opinion, is the perfect way to be before walking to the beach and flopping on the sand for a couple of hours.
As we ate, Coco Gauff advanced in the Wimbledon on tv in front of us, and we made conversation with our bartender and the restaurant host. I kept spying more food float out of the kitchen to my right, and we both spotted the burger- with American cheese and B&B pickles on a potato bun- drift by. It was at that moment that B declared we needed to come back, immediately. "We gotta live in Chicago so I can eat here," he said. "It'd just be burgers and Italian all the time. Italian and burgers."
I don't disagree. After Bull and Bear closed, taking with it our favorite burger in Chicago, we've been looking for a new place to grab the beefy sandwich when the mood strikes. I already imagine we'll be headed back to Willow Room when we're up next, for the burger, yes, and also for the orange ricotta donuts I saw on the dessert menu.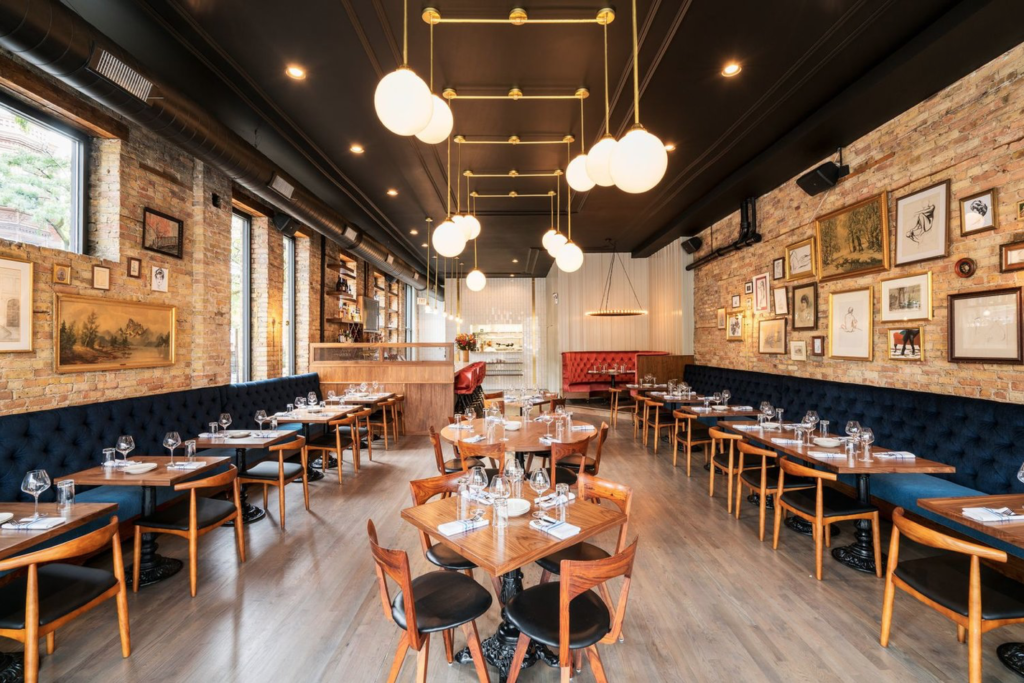 ** this post is not sponsored in any way. all thoughts and opinions are my own **
** photos from Willow Room's website **