When hosting friends for a sit-down dinner, I always go overboard. Whether it's place cards (obviously helpful) or an over-set table (obviously required), I try to make things as special as possible. When it comes to menu planning, alongside the pre-dinner munchies like a cheeseboard or spiced pecans, there's always a cocktail of the evening.
A few weeks ago, enjoying our Fall table, we dined on onion tarts and cheese, Chicken with 40 cloves of garlic, and crunchy green beans. With all the simple, earthy flavors, I brought in one more; ever-perfect Thyme.
Thyme has such an aromatic flavor and can waver between light and almost-there (like in our chicken or my favorite gold potatoes) to almost overwhelmingly herbal… being my favorite herb, I love to err on the side of almost overwhelming.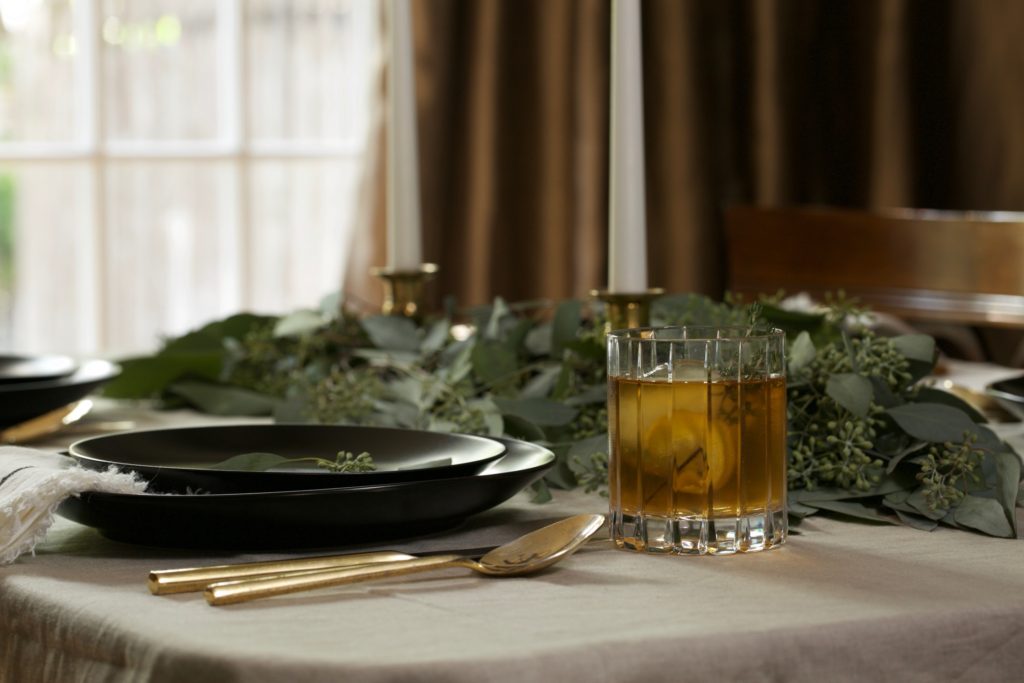 With my mind set on an Old Fashioned, and a hope for some sort of Thyme-y influence, I made a simple syrup with equal parts raw sugar and water, as well as a few Thyme sprigs, simmering on the stovetop for about 10 minutes. Once the sugar had dissolved and the syrup had cooled, I made our Old Fashioneds with 2 ounces of Old Forester, a half ounce of the syrup, and 3-4 dashes of angostura bitters. Over a huge ball ice cube (and a Darth Vader helmet ice cube later in the night), with a crisp peel of lemon, it was the perfect cocktail to accompany us through the evening.
** this post is not sponsored in any way. all thoughts and opinions are my own **
** photo by Don Lehman **