There's something happy about an easy meal. Whether you're one to soak beans and whip it into simple bean soup with a pan of sweet cornbread or you're just a fan of breakfast for dinner, you have to admit that the ease of pulling together a meal with minimal mess and minimal messy dishes is wonderful. If you can make that meal something savory and simple, including, say, pumpkin, sweet onions, and tart apples… Well, then, that sounds like a perfect Fall dinner to me.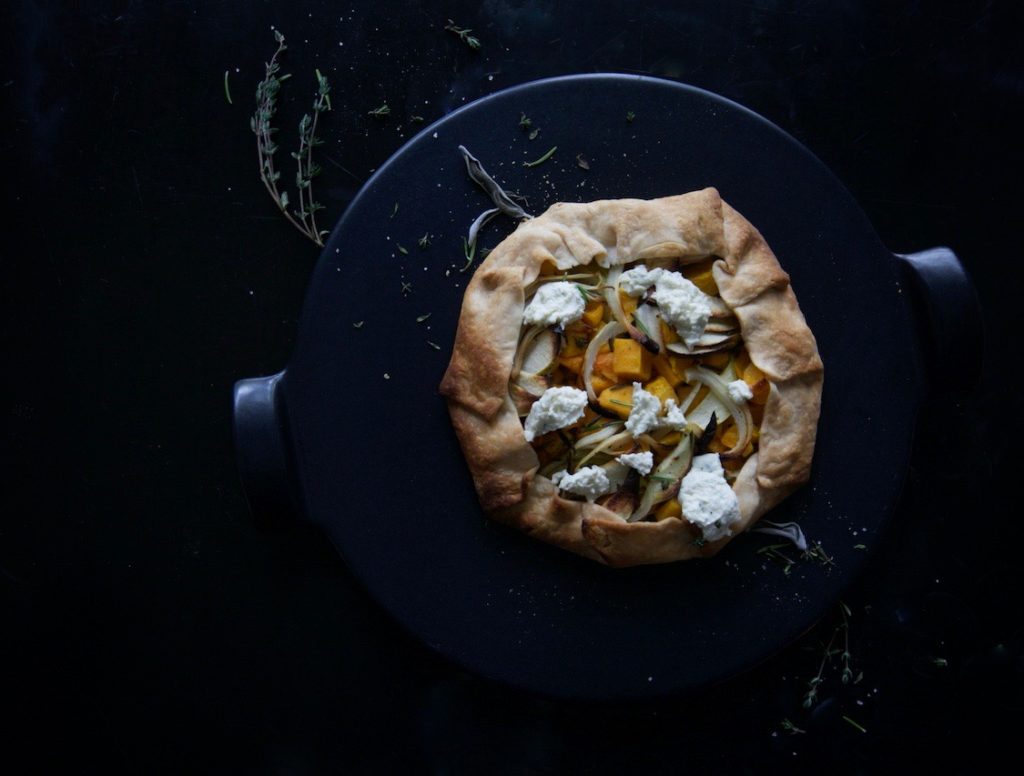 As is my usual almost-Halloween tradition, I had to put together something tasty and pumpkin-filled this year. Craving all the flavors of Autumn and Thanksgiving season, I threw together an easy pumpkin galette with a few ingredients I had in the house and an already-prepared store-bought pie crust.
I mixed together some pre-chopped pumpkin, sliced sweet yellow onion, and unpeeled tart apples, tossed them with a half stick of melted, salted butter, a little salt and fresh-cracked pepper, and chopped fresh thyme, sage, and rosemary.
Roll out a pie crust, brush with some of the melted butter, and pile your bowl full of goodness in the center. Brush the edges with butter, and pinch together so that it forms a loose packet around your filling. Pop in the oven at 400 for about an hour until the onions brown and the pumpkin is tender when pierced with a fork. While still warm, top with your favorite soft cheese. For me, it's Boursin. It makes a great side to a bowl of soup, or can stand in as a relatively light dinner or breakfast-for-dinner when topped with a poached egg and cream sauce.
Most importantly, the smell of sage and onion will permeate your house, and you'll start thinking of Thanksgiving get togethers, cozy blankets, and the crunch of fresh-fallen leaves.
** photo by Don Lehman **