This is my last wedding post, I promise, and I promise also that it will be a short one.
Bryan and I went back and forth on whether or not to have any sort of public celebration for ourselves. Getting away to Chicago for several days and having the quiet time there we had hoped for was perfect, but we knew we had friends and family that wanted to toast us. When we finally decided on having a reception, only a few places were options. One of them was Rye on Market.
I still remember the first meal I had at Rye- beet aglonotti during Louisville's Restaurant Week in 2014. We became regulars not long after, drifting in on Friday or Saturday nights to split the house Ribeye and fries. Apparently we became known as "the couple who always get the steak," because when we ran into the now manager, Scott at a Car Seat Headrest concert in 2017, he messaged our bartender, Kelsey, to ask if we were cool enough to hang out with, since he was attending solo. (Sidenote: Apparently, we were, as the three of us ended up going for midnight tacos after the concert and have been friends ever since.) Rye, in a lot of ways, feels like home, and the perfect place to celebrate.
We considered the private upstairs dining room to be a spot with just cake and bubbly, but as our guest list grew- as did our want for some real food- we made the decision to take over the entire restaurant one night late last month.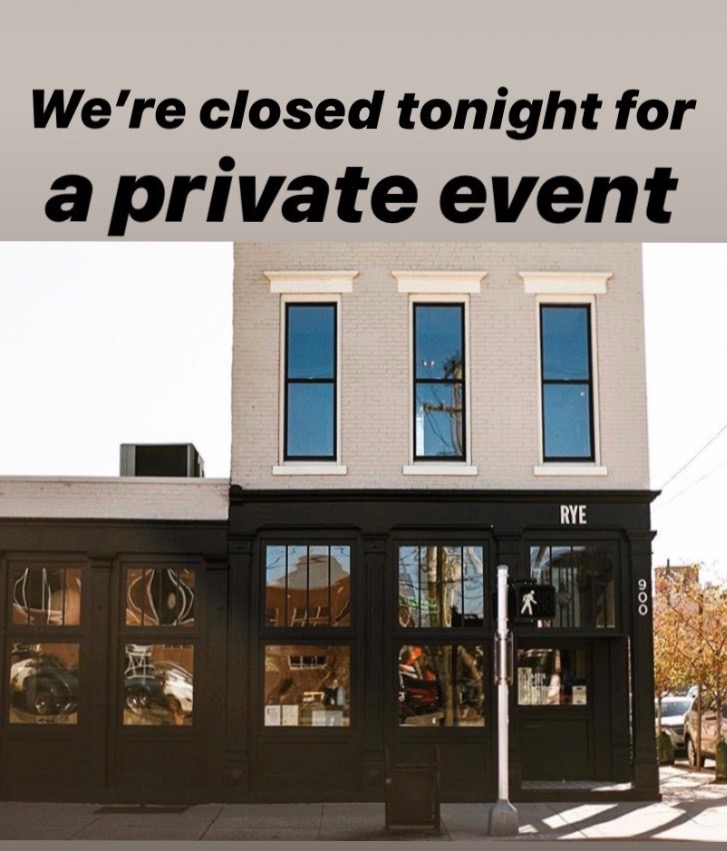 The folks in the kitchen had laid out a giant platter of shaved country ham, pimento cheese on toast, savory meatballs, and olive tapenade. For dessert, we had a cake for cutting, a huge butlers cake stuffed with almond buttercream, and Bryan's favorite Rye dessert- the Salt of the Earth, a schmear of dark chocolate, caramel, salt, and hazelnuts. Bubbles, bottles of High Life, red wine, Old Forester Old Fashioneds, and a giant punch bowl of something wonderful called "Let's Just Elope" kept folks full and happy.
I think Bryan, his mom, as well as the staff at Rye were all surprised at how many folks came out to party with us, and afterwards, we were exhausted as we headed home. I don't think there's a way we could have imagined a better party, and I'm still overwhelmed at the love we felt from both our guests and from everyone at the restaurant.
To our friends at Rye, we can't thank you enough for making our ideas for a fun night come to life. We're always in awe of your talent and your hospitality. Thank you!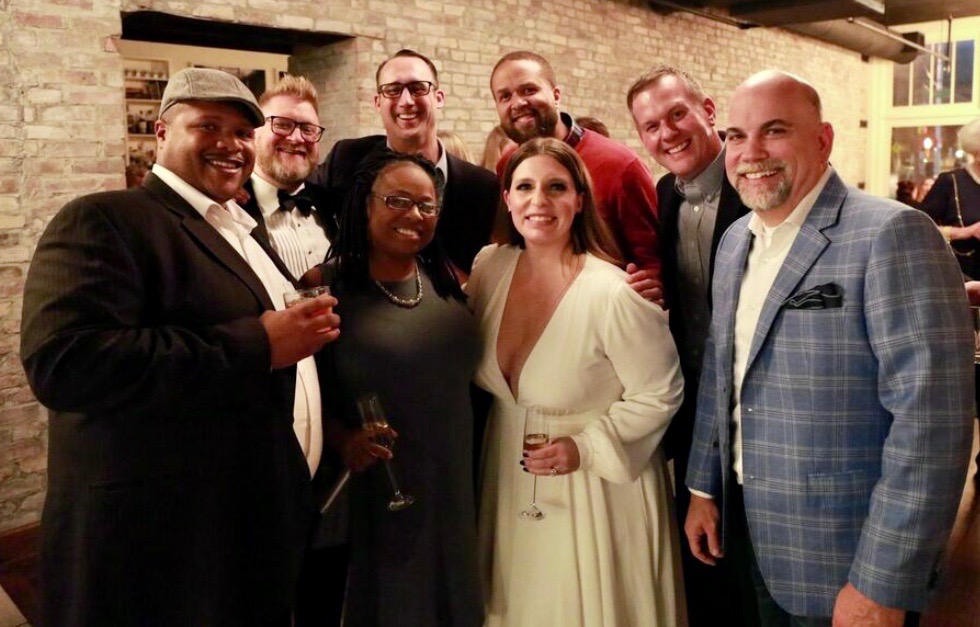 ** this post is not sponsored in any way. all thoughts and opinions are my own **
** photos via Rye's Instagram and Ryan Means **