I realize that some folks may think that spending money on paper is ridiculous, but I love good stationery. I write an average of 10 notes a week, always send birthday and anniversary cards, leave love notes for the Hubbo, and have personalized notecards for every day use. To me, the paper I use is one of the most important things I purchase. When Bryan and I began to brainstorm wedding stationery that reflected us, we knew to turn to our friend (and site sponsor) Lisa at Missive Press.
We approached Lisa with the idea of a simple, charcoal and white embossed square announcement, with a dark outer envelope. Through a few edits, we moved to black and white, all white envelopes, and a white on black embossed reception invitation. A sheet of vellum on the announcement and our return addresses embossed on the envelope made things feel a bit more formal and fancy.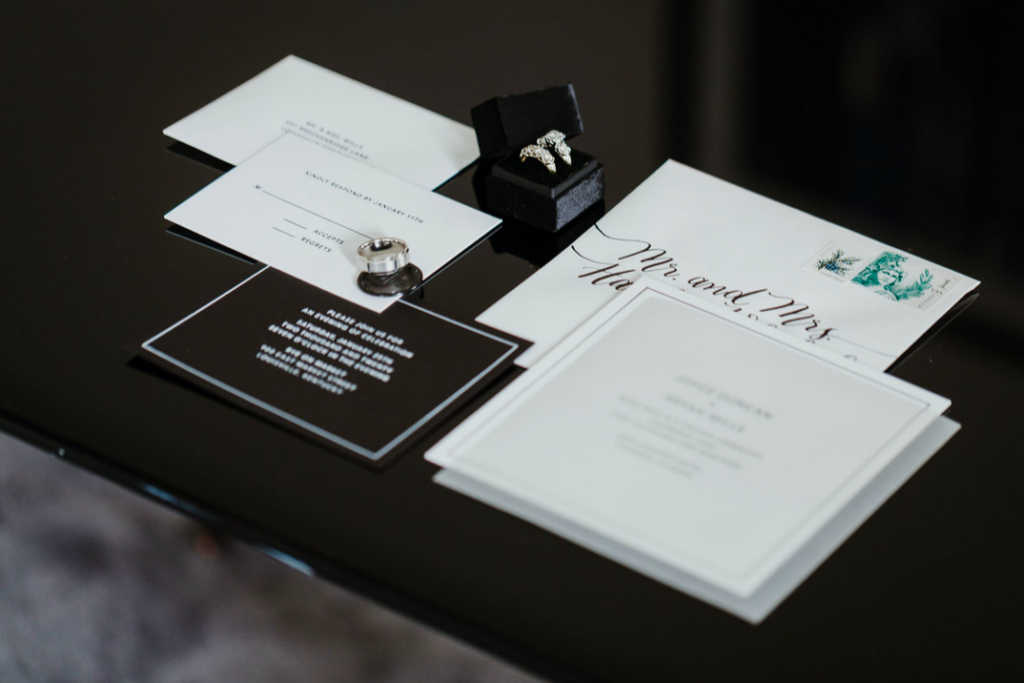 While I love the idea of a curated, vintage collection of postage, we kept things a little cleaner; a $1 Statue of Freedom stamp was a lovely winter olive green shade, and we added the Winter Berries Forever stamps for some contrast, visual interest, and color (my favorite combo included the dusty blue juniper berry, seen here).
To seal, Lisa pointed us in the direction of Artisaire. They carry a lovely selection of wax stamps and wax colors, but I discovered a line of wax seals, pre-stamped, with a peel-and-stick backing. We went with the Cleo monogram seal in black.
I had an image in my head of a graceful, scripted address, so hooked up with local calligrapher Jennifer Gillespie to make my addressing dreams come true. She was so easy to work with, even on a time-crunched schedule near the holidays, and the calligraphy was just an incredible touch that really brought everything together.
I'm so pleased with the way these turned out, and when laying together with Bryan's wedding band and mine (in a lovely box from The Mrs. Box), I immediately think of rooftops, Chicago snowfall, and Vince Guaraldi playing in the background.
** photos by Mark Trela Photography **
** this post is in partnership with Missive Press. all thoughts and opinions are my own **