After six years- SIX. YEARS.- of staring at the creepy cherub wallpaper, living with gross yellow fake marble, wishing the over-mirror lighting weren't so harsh and that I could actually have a little light in the shower, we finally have a master bathroom that seems like it fits the house.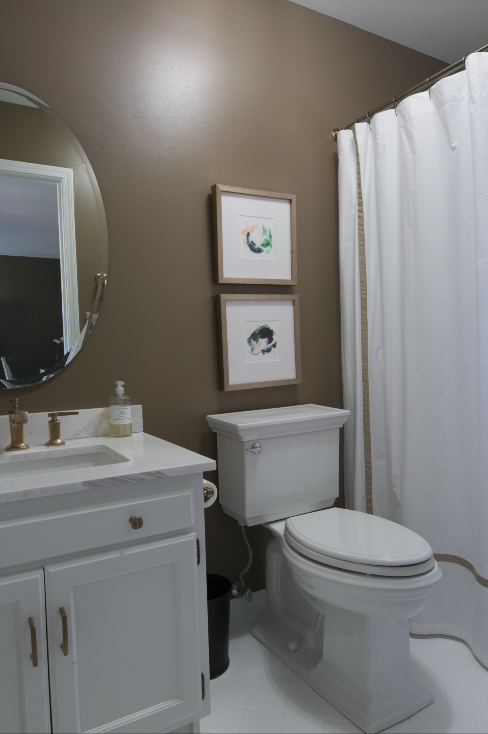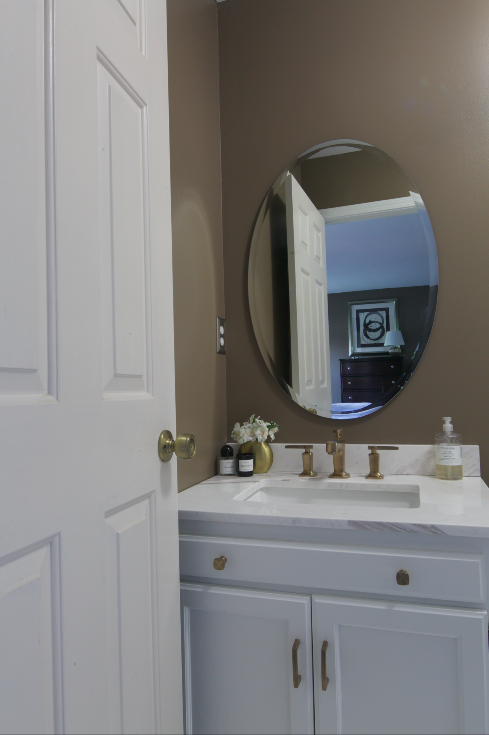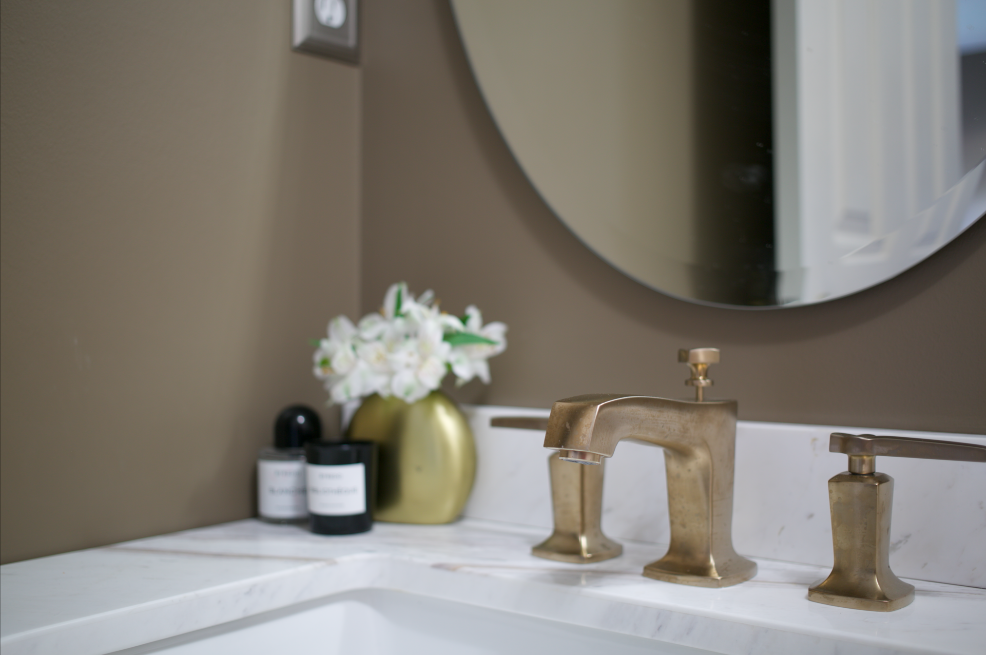 Our walls were color matched via Sherwin Williams to the Safari Beige paint from Valspar that's in our bedroom. It's a lovely nougat-y greige that goes warm and cool at the same time. It's a soft backdrop for the bright white floor, tub surround, and cabinet paint (which is Sherwin Williams Extra White).
Our fixtures are the Margaux collection from Kohler in Brushed Bronze. The widespread faucet was the launching point for the whole space, leading to a new marble countertop from Lowes. The finish looks just incredible on the cabinets pulls and the double towel bar, which holds the Pearl embroidered collection from Pottery Barn. They were monogrammed locally through Bedded Bliss.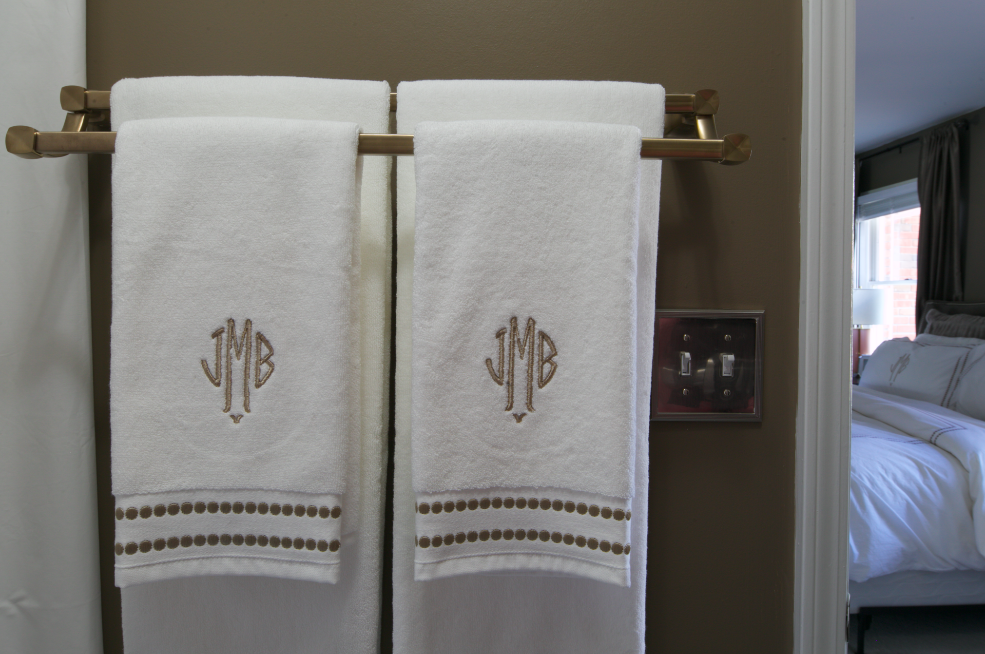 The shower curtain is the Morgan from Pottery Barn, and the toilet is the Memoirs from Kohler (in my opinion, the perfect toilet… it's going everywhere in the house). Switchplate covers are the Cosgrove from Allen and Roth.
The light fixture, which we can't see in the photos, is the Conley from Willa Arlo Interiors. It's stunning. We removed the over-mirror light and centered the old electrical box for the vent, and hung the light in the center of the room. My mirror isn't as bright now, but in such a small space, it works.
I tracked down a brushed bronze cut-to-size shower curtain rod and rings from Signature Hardware. The mirror was a bargain from Home Depot. The art above the toilet is from Minted, framed locally.
This wasn't a huge project by any means. Our old cabinet stayed, the floorplan remained the same. The tub, floor, and tub surround were refinished by Miracle Method- a great solution if re-tiling or re-flooring an area isn't possible budget- or time-wise. In our case, the guest bath is the one that needs a bigger renovation sooner. A few plumbing issues and a terrible floorplan (a toilet blocking the closet, and seen as soon as someone opens the door) mean that a big overhaul of that bathroom is coming soon. We know we're replacing that shower with a large soaking tub, and my hope is that the tub in the master becomes a large walk-in shower (I plan on breaking through the wall that separates the shower space from an unused hall closet). But I don't want to be without a tub, so, for now, this little makeover is a temporary solution.
In five years or so, this may become a big overhaul of a project as well, but in the meantime, we finally have a bathroom that fits our home, and looks perfect from our master bedroom. Instead of keeping the door closed as I've always done, it's propped open, and while working from my desk in the corner of our bedroom, I find that the view is just lovely…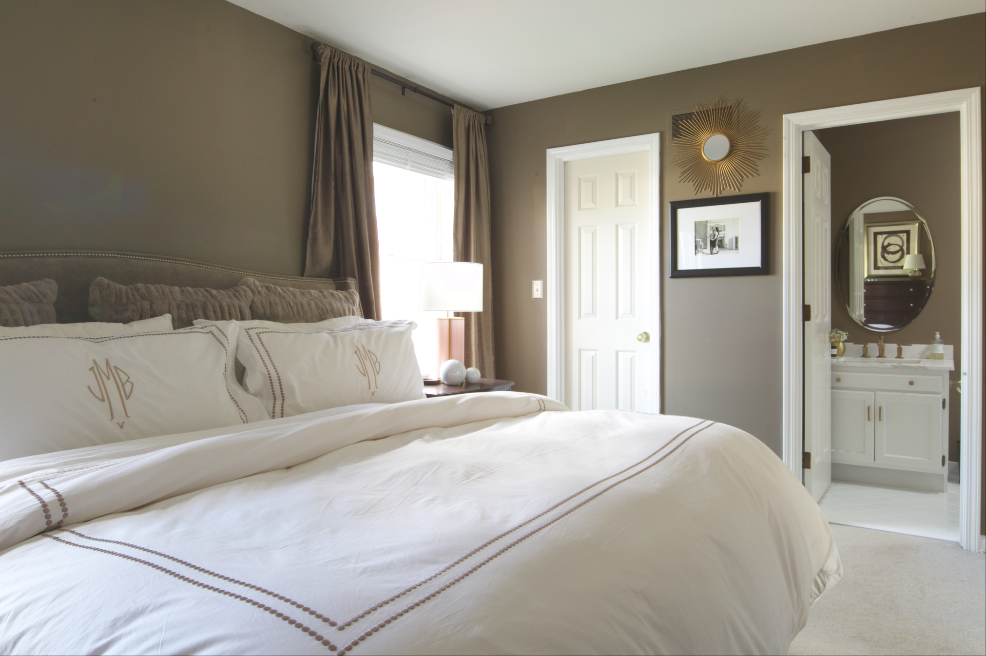 ** this post is sponsored in part by Miracle Method Louisville. All thoughts and opinions are my own **
** photos by Don Lehman **