All, just as at Thanksgiving, we're still up to our armpits in construction here at the new house. We're camping out on the second floor, living apartment-like in two bedrooms, and while I wish there were room for a tree and wreaths, ribbon and our brass deer, there's just not. We do have Bobo, the Christmas Cow, with us in our faux living room, but for the rest of our holiday decorations, I have to turn to my favorite Christmas decking so far, from 2018. Enjoy!
Oh friends… I've eaten so much turkey the last couple of weeks its ridiculous.  I've almost finished my Goodreads reading challenge for the year.  It's getting cold.  I've started craving whiskey sours and Bourbon balls.  Vince Guaraldi is playing pretty much constantly.  It only means one thing: The holidays are here.
I once again pulled out pieces from Pottery Barn's black and white buffalo check collection. Our home just seemed so cozy last December- so warm and inviting- that I wanted to copy it again this season, without having the exact same look as last year.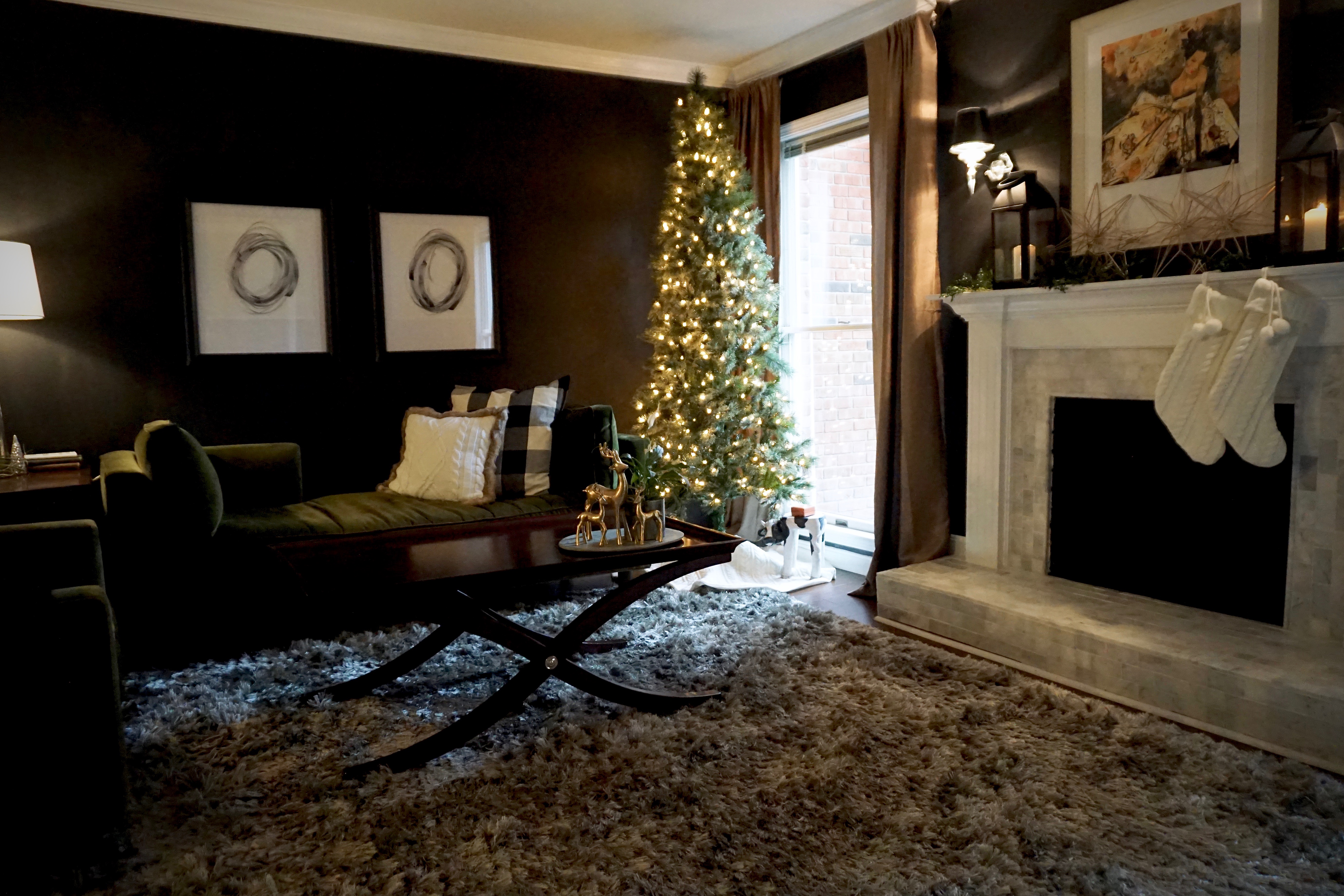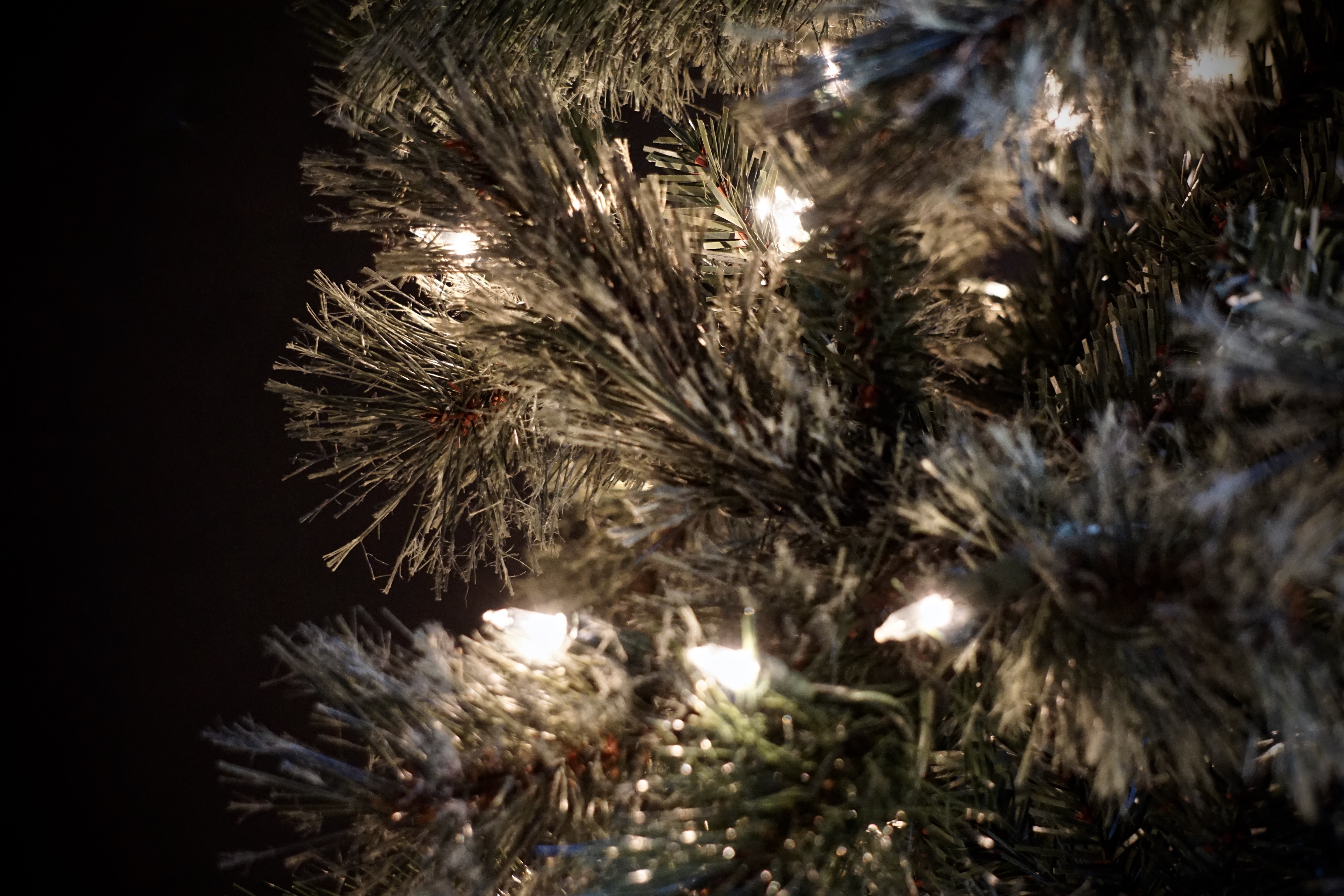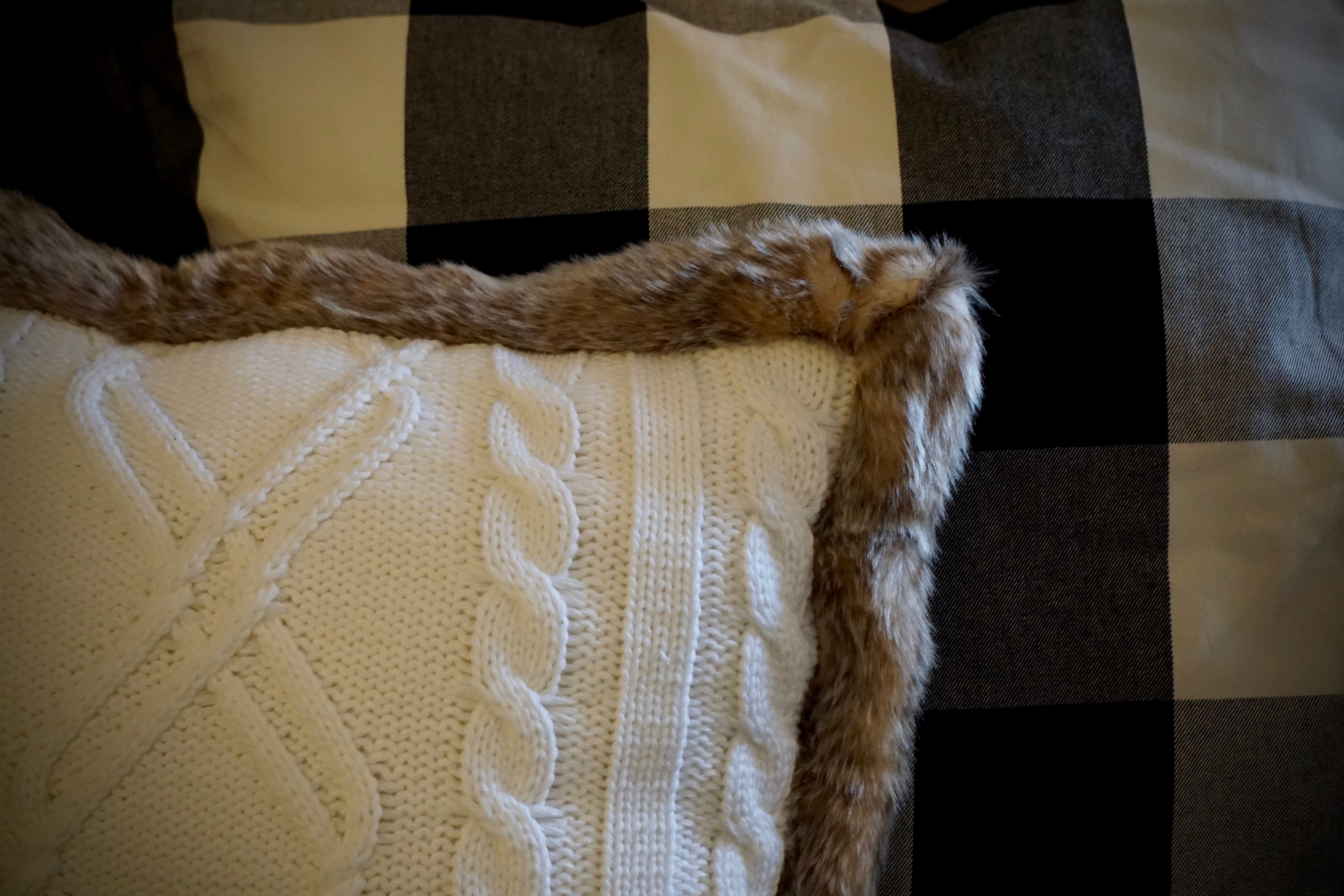 Just before Thanksgiving, we bought a new tree to fill the spot by the window a bit better. Over a foot taller than our old tree, and with all the lights operational, I find that it keeps our living room super warm. This is the 7.5′ slim Virginia pine from the Wondershop at Target. Many of the branches have needles that are a little frayed on the ends- it makes the tree look more natural, I think, and at night, it almost has a frosted feel. We kept ornaments off again, which is strange, I know, but I just love this bare, simple look.
Once again, ivory colored cableknit stockings and tree skirt provide a comfy spot to store gifts. Bobo the Christmas Cow is in his usual spot, protecting the tree from invaders and keeping an eye on the fireplace for Santa, I assume. I brought out our giant check pillow again for the sofa, but replaced our usual shiny velvet one with a fur and cable-knit version.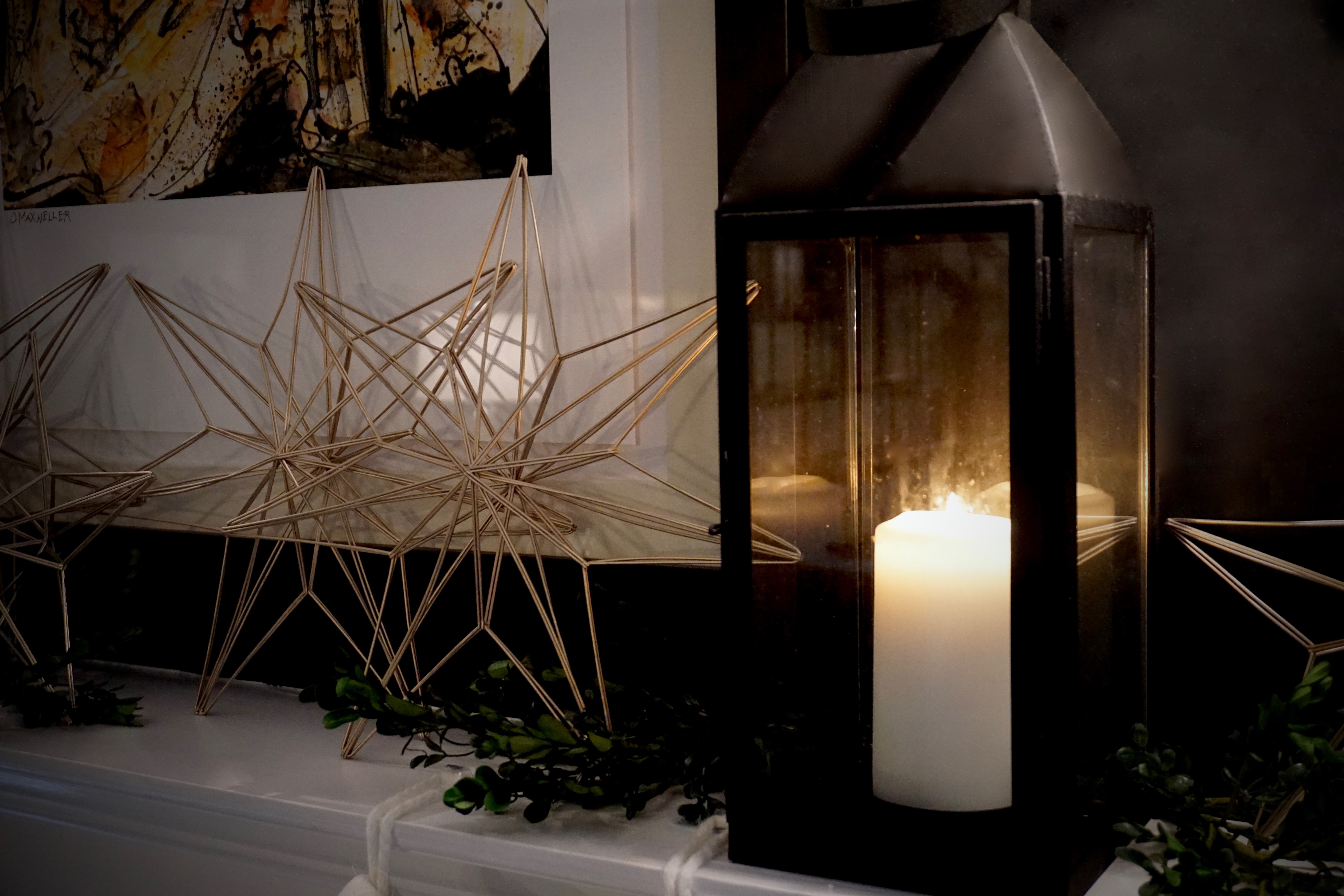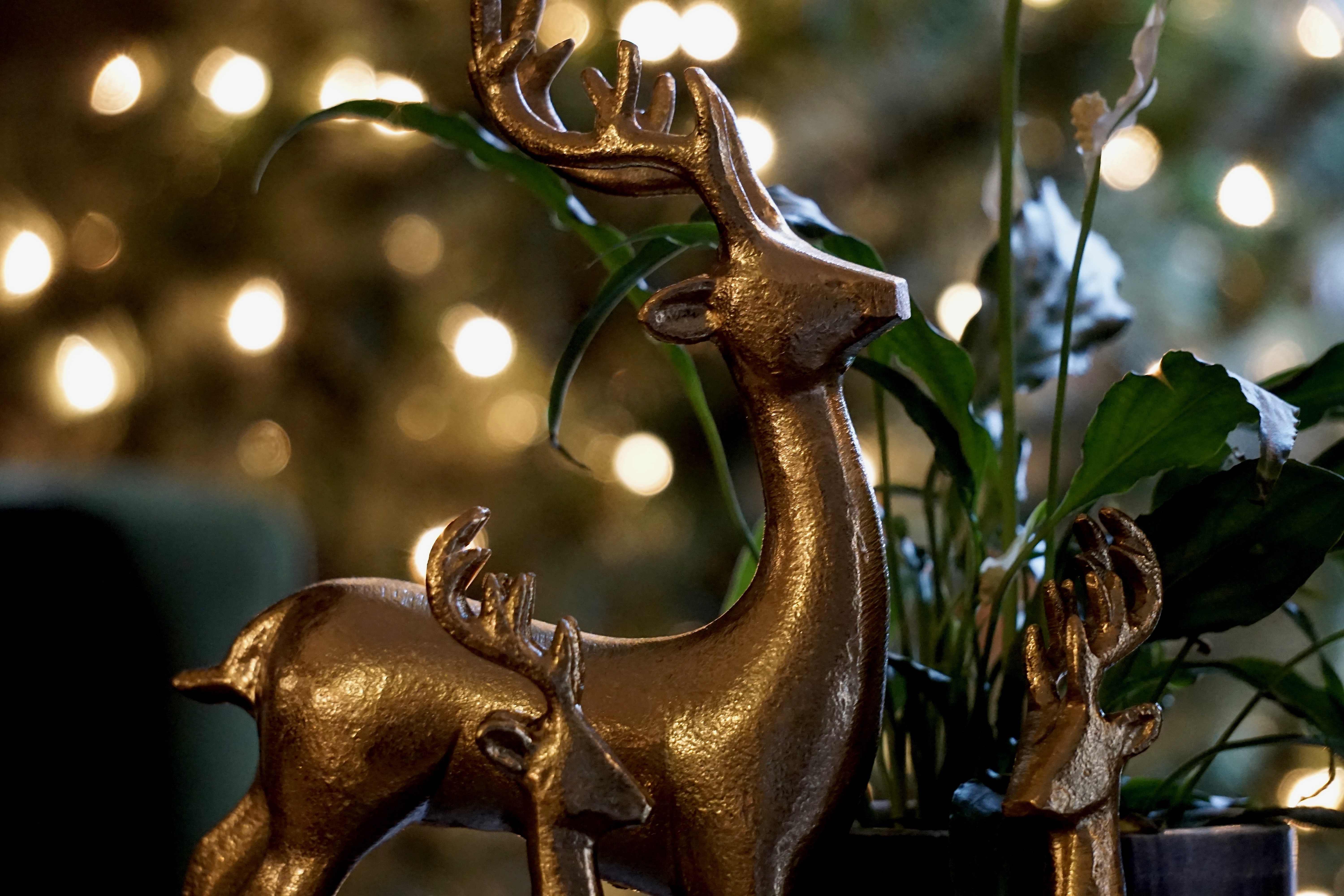 Up on the mantle, the lanterns we used on our Halloween porch reappeared, with boxwood picks tucked in around. The gold metal stars I bought at Mahonia last year gathered in the center, adding a little sparkle. The giant fleece blanket that lived on the green armchair last year is tucked into our guest room upstairs, replaced instead by a soft, black cashmere throw. On the back of my wingback, a new, more appropriately-sized buffalo check throw hangs out, waiting to be curled up with to read a good book. White and silver ceramic trees are tucked in to the side tables, and on the coffee table, our silver stone tray from Scout holds the most darling little peace lily (that I'm hoping to keep alive), while three gold deer figurines prance alongside.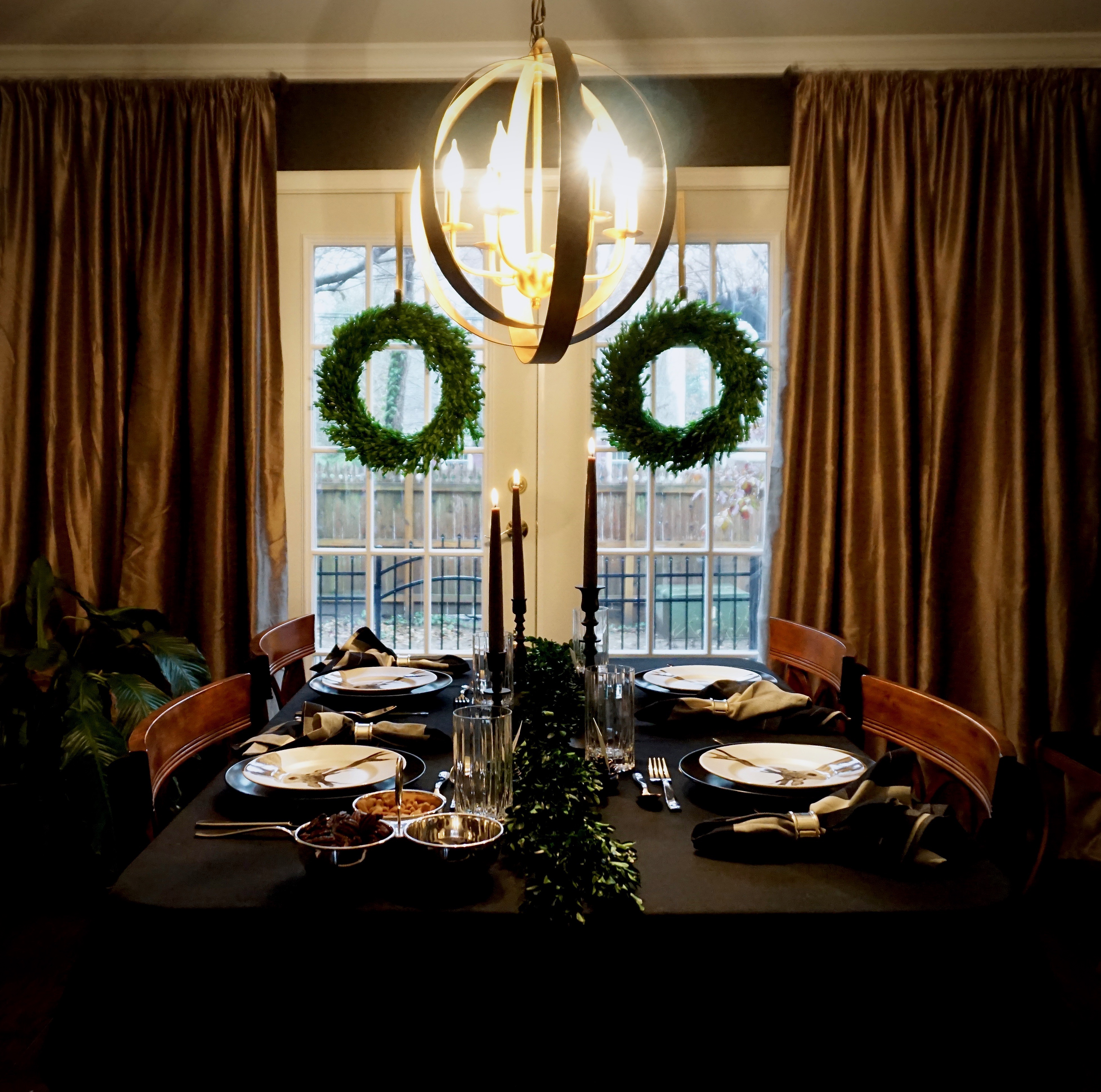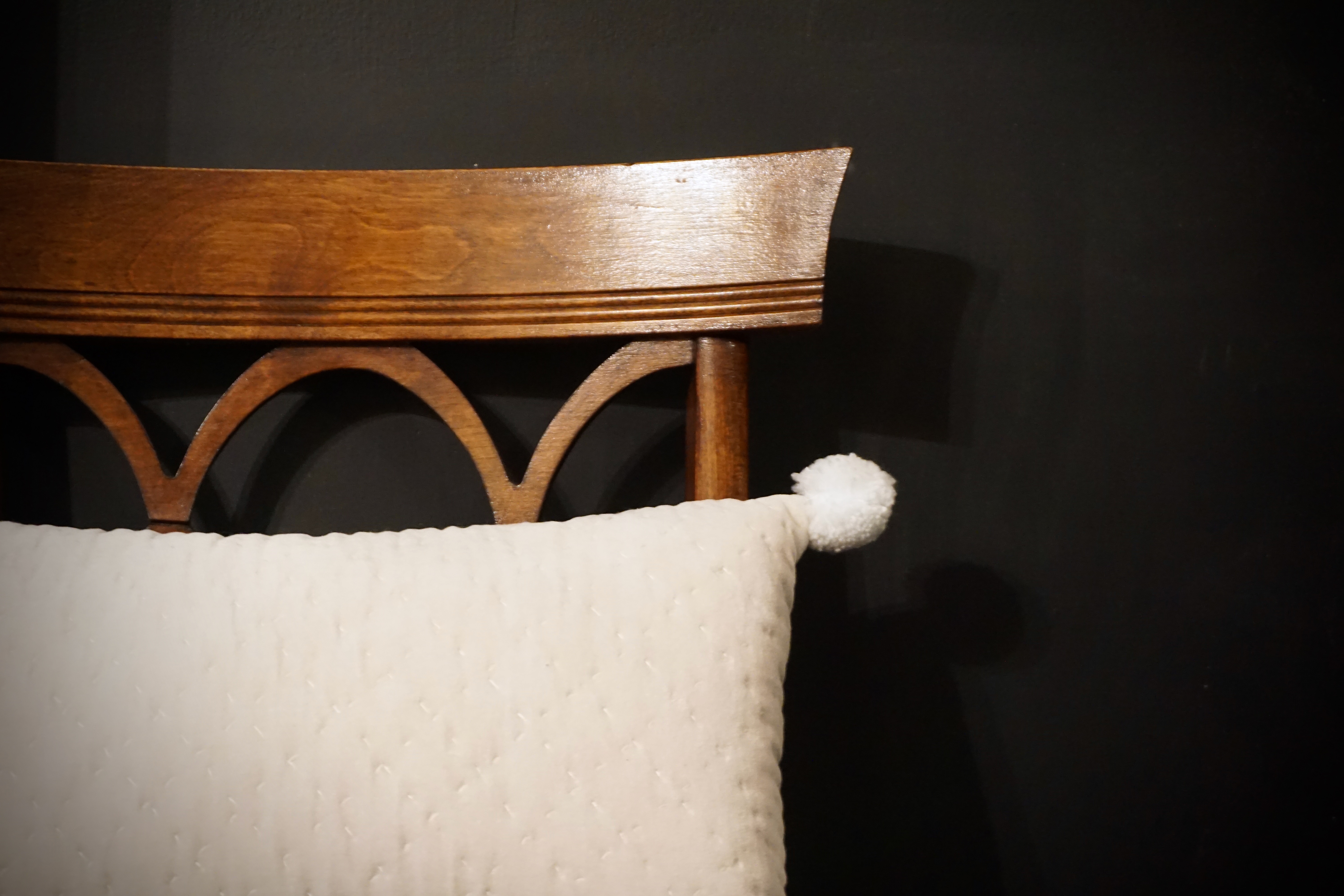 Our dining table is a little darker this year, more rustic, and a little less girly… More detail on it next week. I took the upcoming holidays and the inevitable visitors as an opportunity to clean out my overstuffed china cabinet, moving more preserved boxwood picks inside to peek out around the champagne coupes and the coffee service. The wreaths on the rear doors were left plain, though the gold hangers lend a nice shine to the room. Here, too, I replaced our normal pillows- animal print from Arianna Belle- with more wintery-looking ivory velvet numbers. I had wished they were a little more holiday-y, so I stitched pompom gift tags on the corners, and- poof!– instant holiday vibes.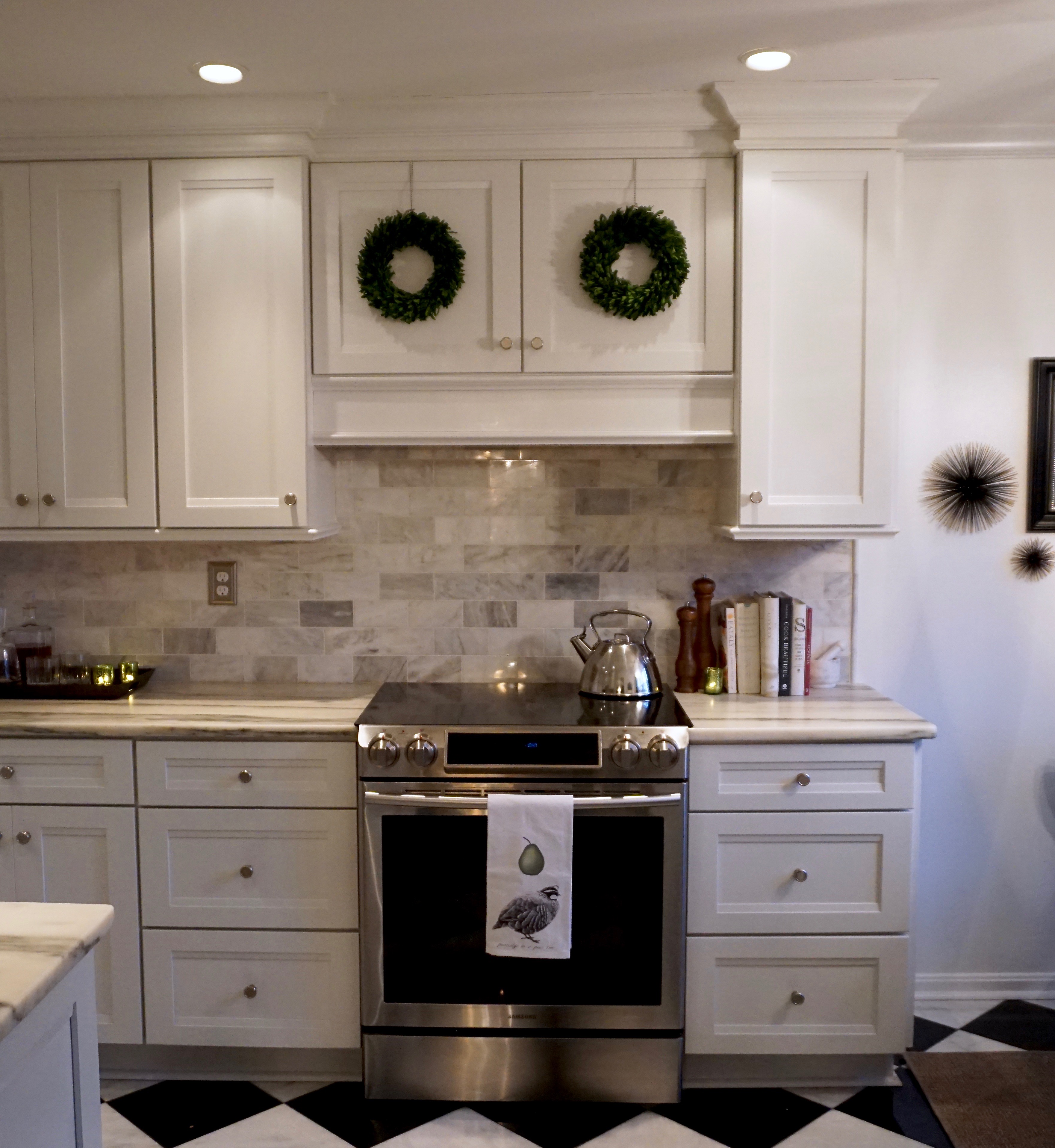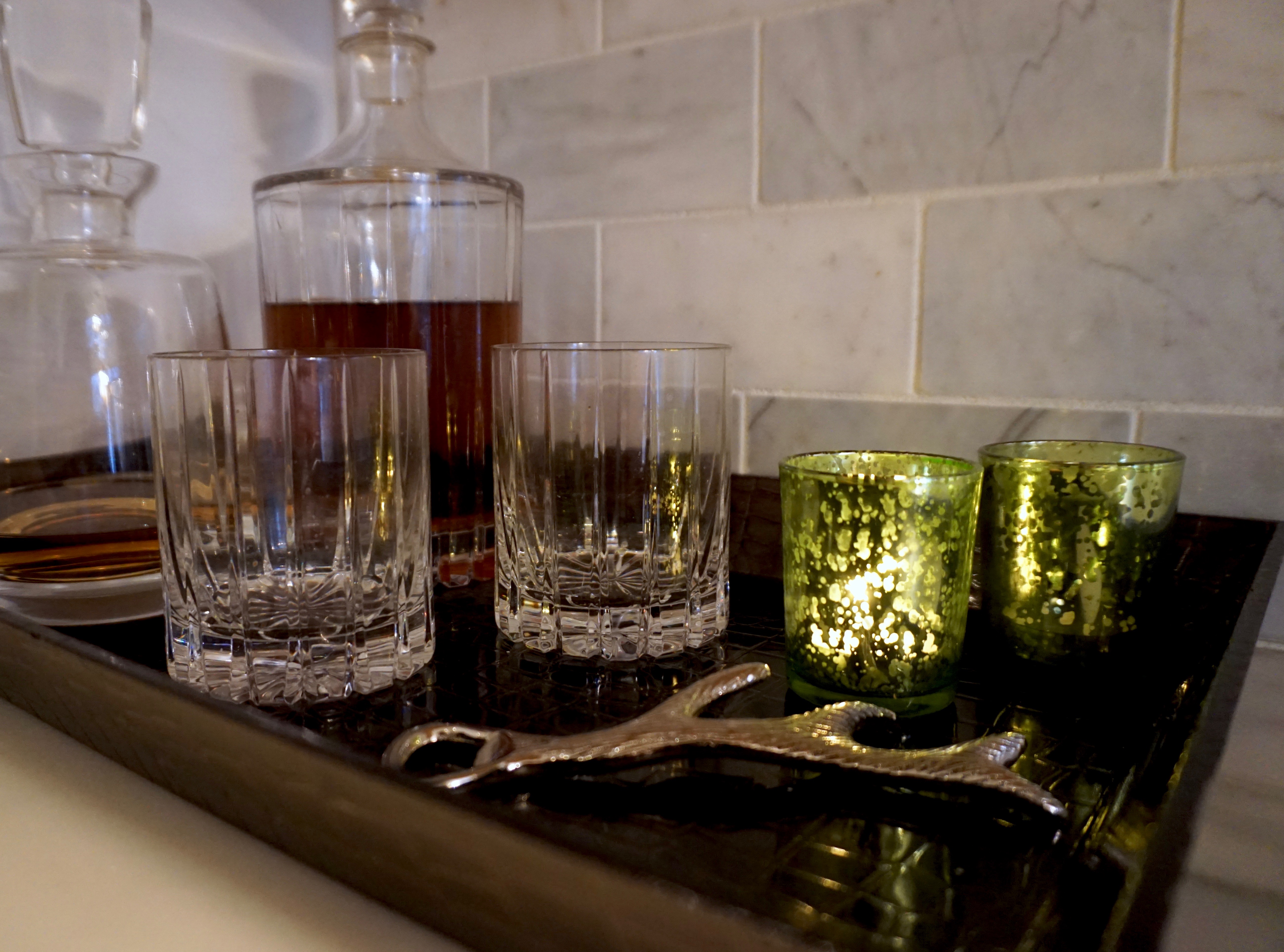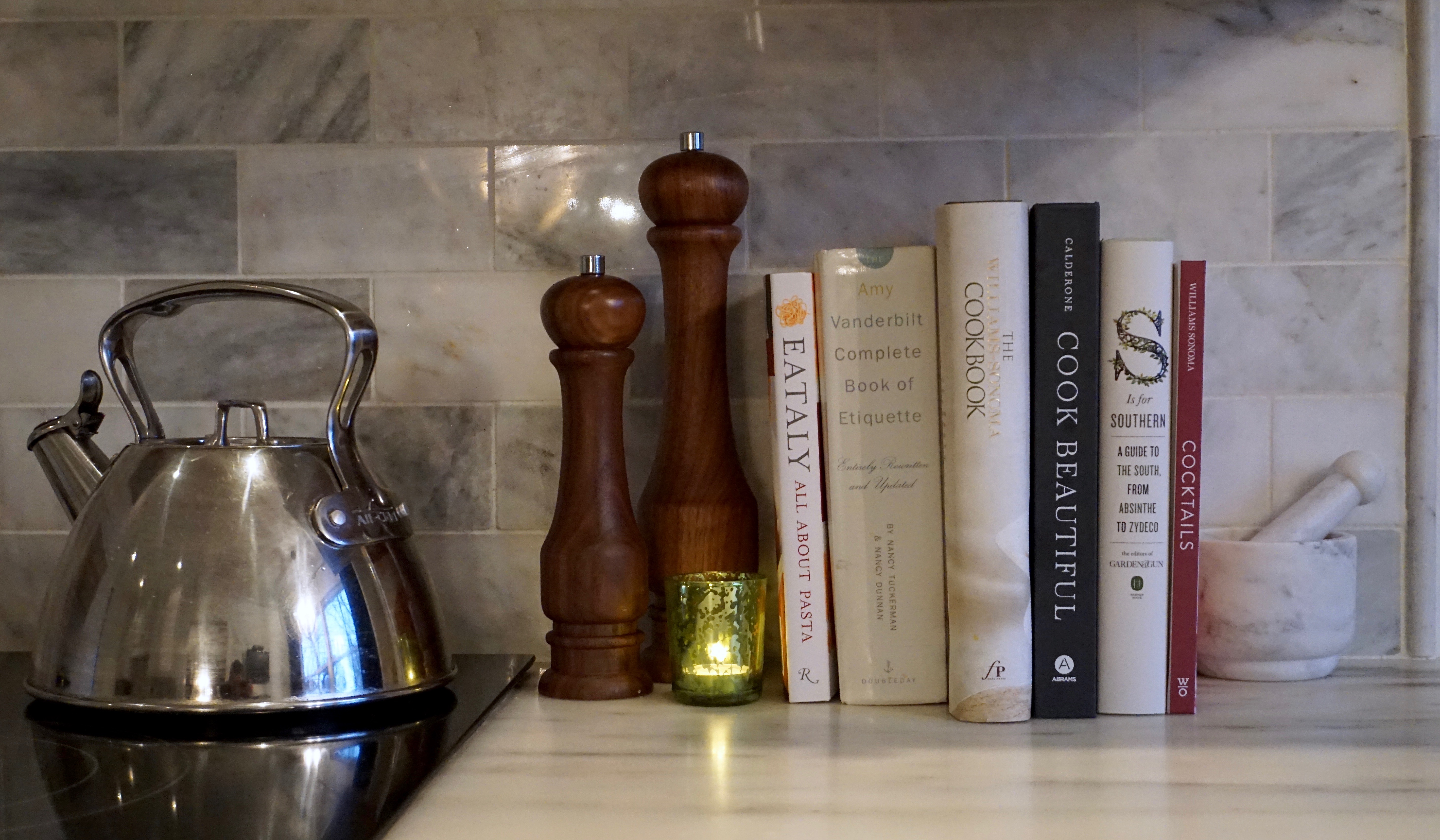 In the kitchen, smaller wreaths hang from black and white twine over the stove, while tea lights in green mercury glass holders are scattered among the cookbooks and the bar tray. A cute, silver antler bottle opener was a fun find at Mahonia, and is perfect for cracking any Great Lakes Christmas Ale from Cleveland that may make an appearance… it tastes like home for the holidays in a bottle.
Any fun new decorations for you this year? Favorite Christmas or holiday traditions? Leave a note in the comments!
** this post is not sponsored in any way. all thoughts and opinions are my own **
** photos by Kyle Lueken **
Get all the Holiday Feels