I look for any excuse to grab some room service in feetie pajamas, cuddle up with a couple of books and unplug. I'm a textbook introvert. I may be an extroverted introvert- I can turn on the charm and the funny when I need to, but at my core, I recharge from being home, no matter where home is. Sometimes, that means pulling into Chicago and seeing the expanse of Lake Michigan as we lay on the beach. Sometimes, it's hiding in the peace and quiet poolside at the Parker in Palm Springs. Most days, it's cuddling on my chair at home, flicking on the fire, and just breathing in the familiar scent of our house.
The difference, I believe in introverts and extroverts, is how we see vacation. Either it's "VACAY AND ROSE' ALL DAY!!!" or it's a whispered "getaway." It's party people or quiet escapes. I'm a quiet escape person.
It made sense, then, that when the Bryan and I had to leave our house for a few days last month to make way for newly stained floors, we decided a staycation was the perfect option. We would stay here in town, head to work as normal, but after hours, escape to the quiet, the art, and the freshly pressed linens at 21c Museum Hotel.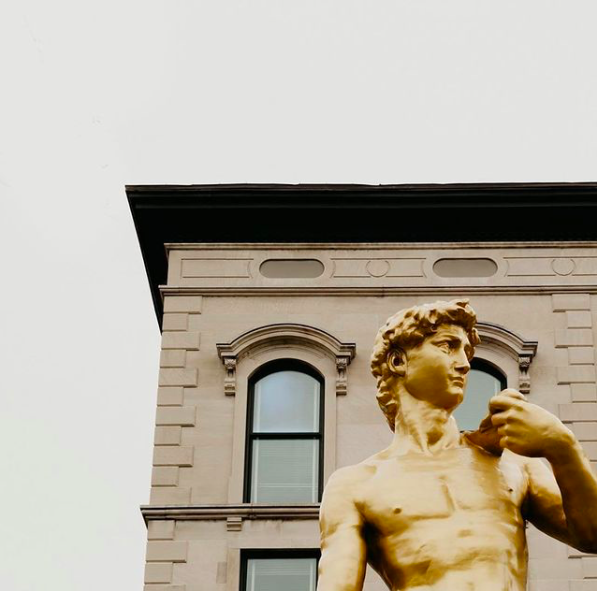 I truly believe that Steve Wilson and Laura Lee Brown, owners, changed the face of what a hotel could be when they opened the first 21c here in Louisville 15 years ago. Now, I say that as a gal who grew up on a farm and never visited the Waldorf Astoria, and had family vacations at a motel in Branson, Missouri, but I had read enough from Conde Nast Traveller and watched enough movies that even at 22 in 2006, when I first visited 21c, I knew I had walked into someplace special. Here was the first space I'd been that somehow happily mixed modern art with historic architecture, and threw in incredibly good food and comfy hotel rooms for good measure.
Our room- a Luxury King- was on one of the top floors and overlooked 7th Street (I could see Jimmy Can't Dance from my window), and it was expansive for a mid-priced hotel room. At over 400 square feet, I felt like Bryan and I could stretch out, and I could happily sit by the window in the morning to read without disturbing him while he slept in. The bathroom had a massive walk-in shower and options for bright or black light (which made for an easy and unusual nightlight).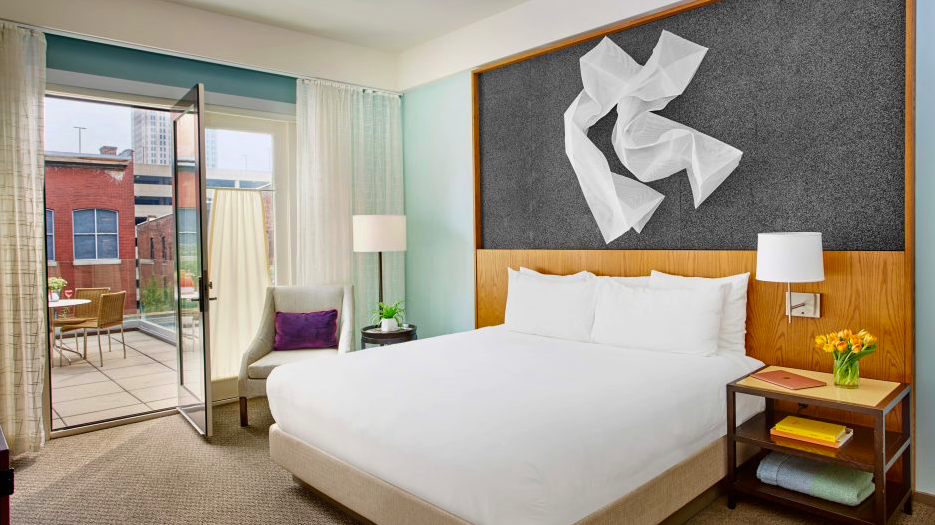 On Friday, we made our way down to the hotel restaurant, Proof on Main, for dinner. Since we were staying Valentine's Day weekend (by accident), there was a pri fixe menu, but it did not at all disappoint. We went through Carrot soup, mushroom risotto, and olive oil cake while the beverages kept coming. Saturday, after heading back to the hotel from dinner at Garage Bar, we decided that the best dessert we could have would be served to the room. Room service arrived on a large tray with silver-topped plates and glasses of bubbly. Sunday morning, we found our way back to Proof for Brunch, which, in my opinion, is one of the better "fancy breakfasts" in town! Eggs Benedict with country ham on a biscuit, a ridiculously large cinnamon roll and mimosas fueled us up for our 15 minute drive home.
While the weekend was slightly stressful (we had to leave our home due to construction), 21c definitely made it easier with such large rooms and quiet hallways, and we've talked about re-visiting Proof for dinner more regularly (a recent change in chef has resulted in phenomenal results!). Right now, the 21c family is running a "stay close" special- one night free for every night's stay- at certain destinations, including here in Louisville, and, trust me, an extra night may be just what the doctor ordered!
** this post is not sponsored in any way. all thoughts and opinions are my own **