Each Summer's end for several years now, the Hubbo and I head to Southern California to completely unplug for 10 days. My obsession with Palm Springs started with a perusing of Slim Aarons photos and stories on the Kaufmann Desert House, so we finally planned our first trip out several years ago. It seemed logical that while we were making the trip cross-country, we should spend Labor Day weekend in the quiet mountain town of Sierra Madre, with friends who had just moved back to the area from Louisville.
Not wanting to intrude on their space and crash on their couch, and not wanting to resign to the Holiday Inn in the area, we began looking for a small spot to call home for the weekend, and the closer it was to their house, the better. It could be the best of both worlds; our own spot to sleep and relax, while still being only a couple of blocks away, making morning bagel runs and Sunday night dinners together super easy.
Not surprisingly, a town of only 10,000 people wasn't booming with Airbnb's, but when we stumbled upon this one, we thought we had struck gold.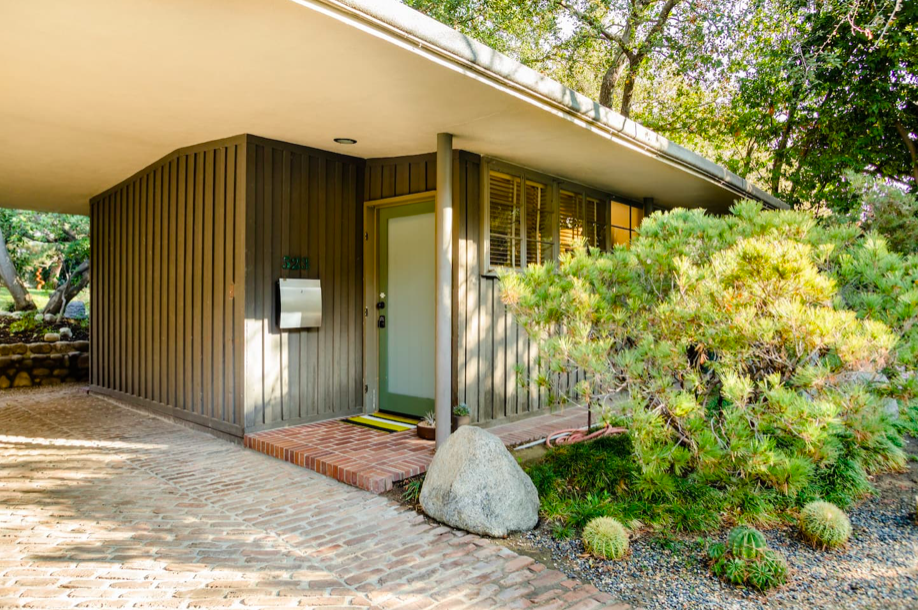 We pulled up the first year here to a sprawling, olive green mid-century beauty of a home, with this detached guest house happily located on the other side of a wide carport and brick driveway. Just behind the guest quarters, mother mountain loomed beautifully, and a gently sloping green lawn was available just for guests to use. It's here that every morning, while I'm adjusting to California time, I sit with a cup of coffee, a book, and knock out morning meditation while birds chirp all around me. It's quiet. It's lovely. It's perfect.
Inside, the guest house is laid out as a studio space, with a comfy queen bed, a seating area, a small kitchenette (that can be hidden behind a folding wall), and a well-appointed bathroom. It was here, in the shower our first year, that I discovered Byrd brand body wash and shampoo. The scent is now one I connect with our stays here.
In many ways, we've come to view our small spot here as a second home. There's a familiarity when we walk in the door, see the owner for the first time, greeting us with a smile from his porch. Isn't that what travel should be? A sense of home, a sense of belonging, and mostly, a sense of peace.
** this post is not sponsored in any way. all thoughts and opinions are my own **
** photo via Airbnb **