My grandma was the queen of a tuna noodle casserole. I know that at one point, Hamburger Helper had a distant cousin called Tuna Helper, and for a while in the 80's, for the dollar or so a box of the meal helper cost you, you could make yourself a cheesy, egg noodle soup thing with a can of tuna in it. My grandma, on the other hand, would make it from scratch- extra wide egg noodles, a homemade roux, homemade veggie broth (which was always in her basement freezer), shredded Velveeta or cheddar cheese, tuna, and some sort of crunchy topping made from whatever she had on hand. Some days, it was crunched up Ritz or Saltine crackers. Other days, there were Ruffles potato chips, salty and golden brown on top, and that was, by far, my favorite. This was what she'd take to neighbors when they'd had a loss, or what she'd pop in the oven on colder days that were meant for nothing more than listening to records and playing canasta.
For Thanksgiving leftovers this year, I put together a spin on Mamaw's tuna noodle casserole, with what remained of our turkey, her base with leftover turkey stock, and the remnants of a few veggies that survived the weekend. Rather than the Ritz and Ruffles of my childhood, I made a breadcrumb topping that will stay extra crunchy.
Both Bryan and the pups approve.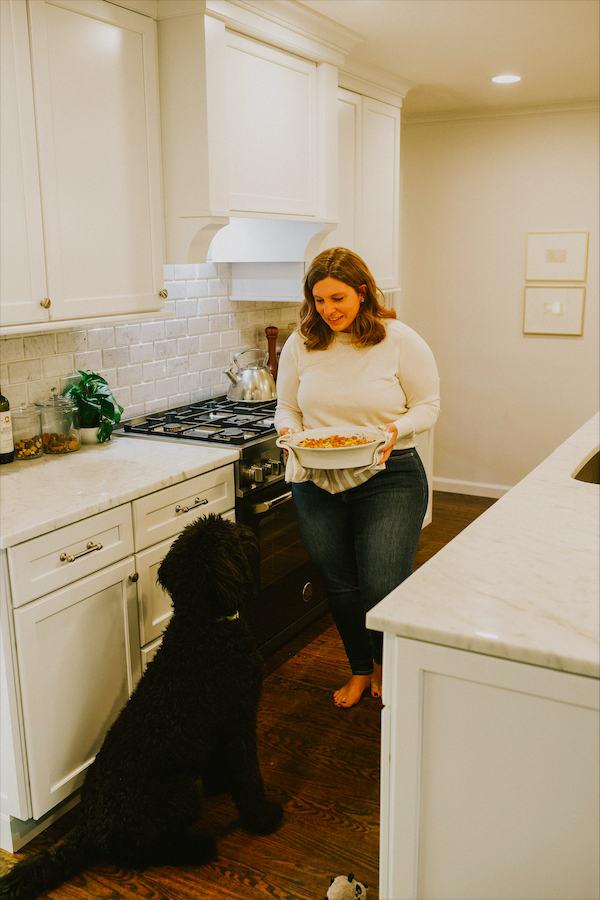 Turkey noodle casserole:
1/2 pound extra wide egg noodles
one pound leftover turkey chopped into bite-sized pieces (white or dark meat)
one cup each of up to 3 veggies: chopped potatoes, carrots, green peas, green beans, mushrooms, etc.
3 Tablespoons butter (not margarine)
3 Tablespoons all-purpose flour
1 cup of whole milk
1 cup shredded cheese of your choice (I always like Gruyere with turkey. Havarti is a great choice as well.)
1 Tablespoon fresh Thyme leaves
1.5 teaspoons fresh minced Sage and/or fresh minced Rosemary
2 Tablespoons melted butter
1/4 cup Italian seasoned breadcrumbs
Butter a casserole dish (I have the old oval version of this one), and preheat the oven to 400.
Cook the noodles in any leftover stock from Thanksgiving day (or in turkey or chicken stock or broth). Drain, but set aside a cup or so of the stock.
Use the same pot to melt the butter over low heat, then whisk in the flour in to make a roux. It will bubble and foam- this is normal! SLOWLY (and I mean slowly…) drizzle in the cup of stock (like, count to 30 in your head while pouring in the cup), whisking the whole time, then SLOWLY (again… count to 30) drizzle in the whole milk, whisking the whole time. You should end up with a smooth, gravy-like texture. Season with salt and pepper to taste (I always oversalt a bit if the turkey is all white meat), and stir in the herbs and the cheese.
Remove from the heat, then stir in the veggies, turkey, and noodles, then pour the entire mixture into the casserole dish, leveling the top as much as possible without squishing everything down.
Mix the melted butter and breadcrumbs, then sprinkle evenly over the top. Bake for 20-30 minutes, until the filling is bubbly, and the breadcrumbs are golden.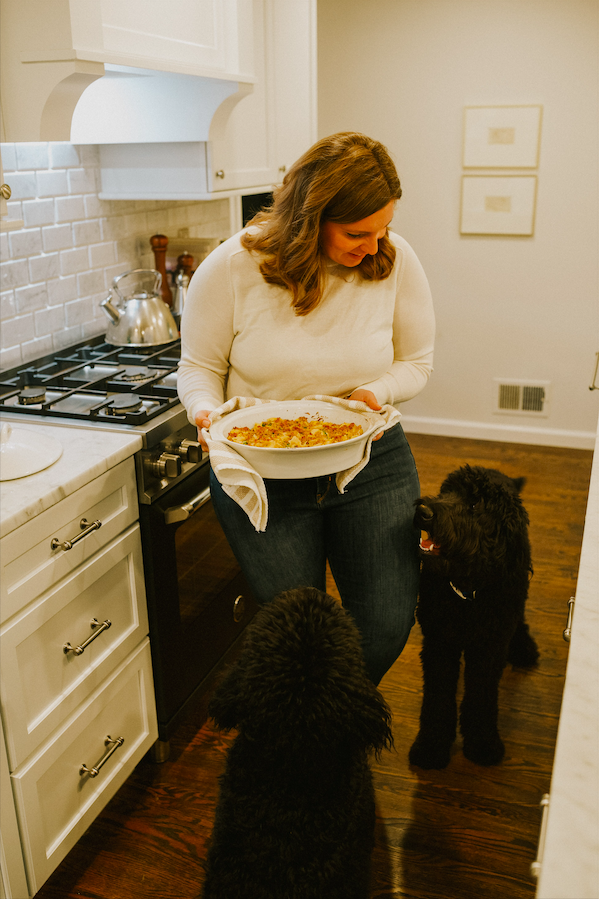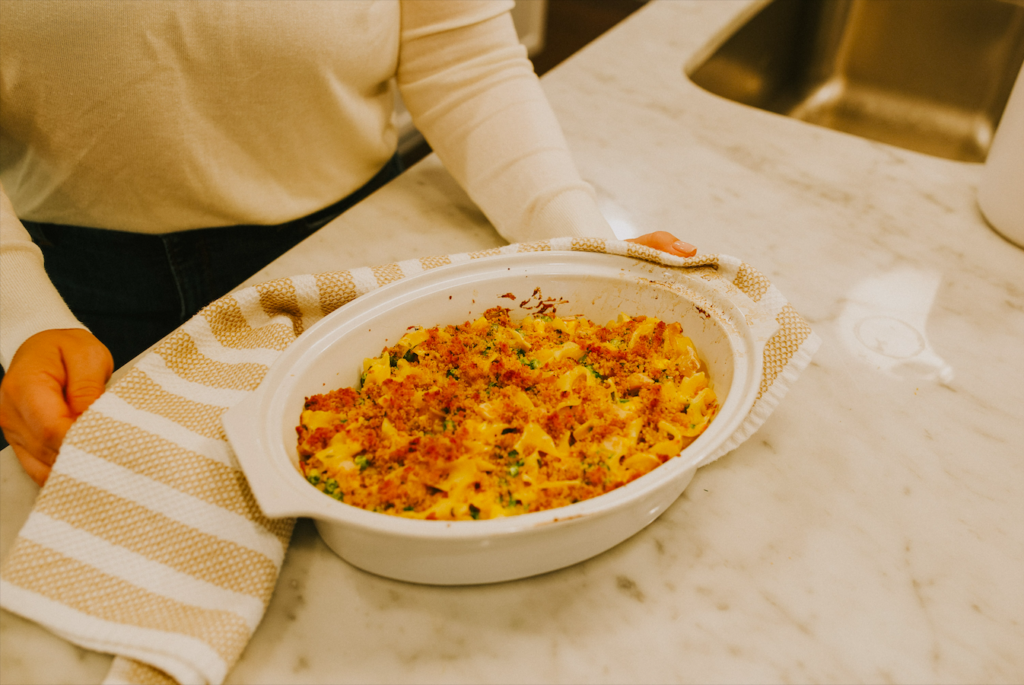 ** photos by Morgan Bagby Photography **