Fates and Furies
Lauren Groff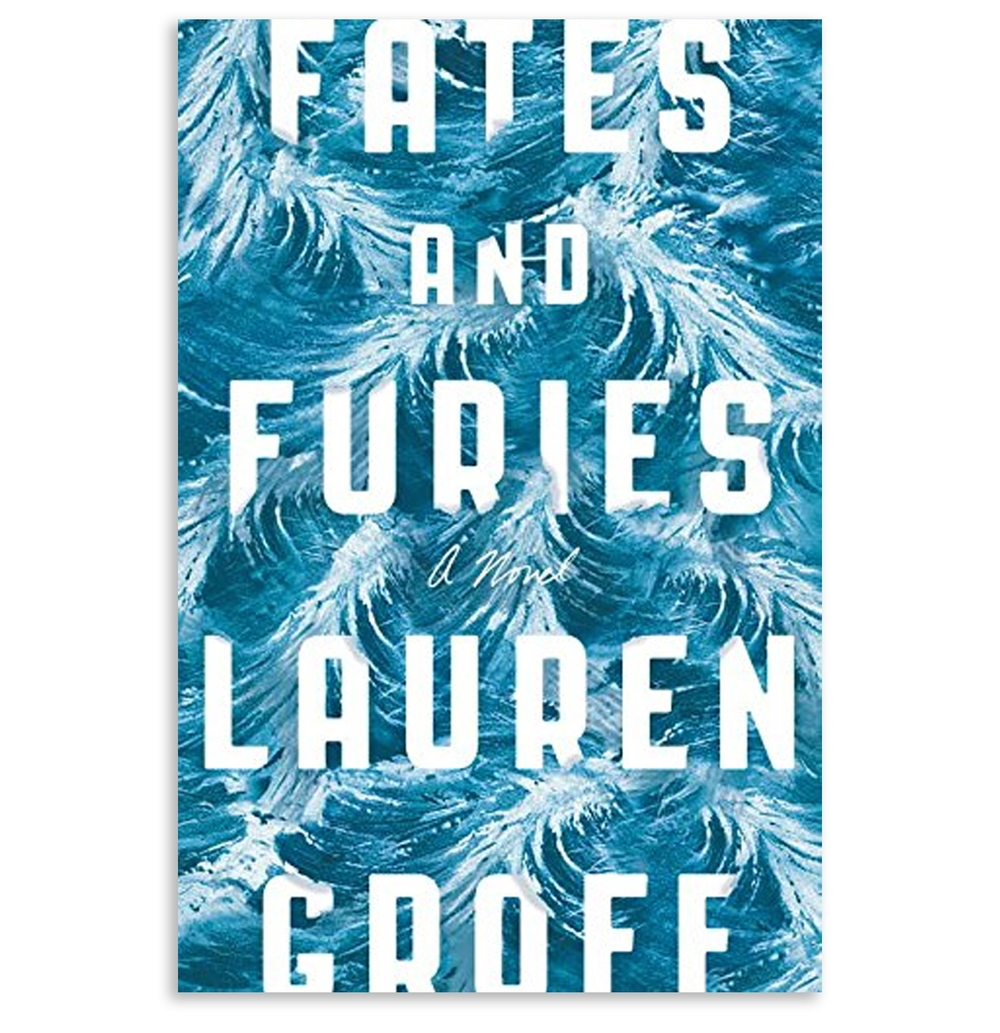 Its rare that I find myself so affected by a book that I have to stop in between paragraphs to take a few deep breaths, or step away so that I can regain hold on the world around me, versus the world I'm reading about. Fates and Furies is one that I had to put down on several occasions to keep from crying, or take a break long enough to remember that I was reading about someone else's life, not my own.
We read of a marriage from each side. Characters Lotto and Mathilde have found one another in college, after each experiences the heartbreaks and confusion of growing up. I feel that's as simply as I can describe the plot without going too deeply.
Because I feel like I needed someone to hold my hand through most of this (Incredible! Poignant! Surprising!) novel, I've invited my friend Niki, now a Reference Librarian at Mississippi College, to join with me in conversation about our expectations and reactions. Niki's responses are in italics.
***
Let's start easy: What did you think of the book? Is it one you'll want to read again? Or, if you're like me, do you feel you need to go back and re-read it?
I really enjoyed this book, and in many ways it challenged me. I'm not one to re-read very many books and I think more than anything I feel inspired to read more of Groff's writing. She has a mastery of metaphor and description that brings scenes to life, and I'll admit that I had to look up the meaning of more than one word. In that way, the first part of the book took a while to get through, but I meandered through it happily and willingly. Also, I appreciate how Goff did not reveal her hand and provided several surprises in the narrative… I loved that!
I'm glad I wasn't the only one that had to read through this book with an iPhone at the ready! There were a few times I had to refresh myself on a particular Shakespearean play or the translation of a Latin word or phrase. Ms. Groff splits this book into two parts- Fates, and Furies. Each of these sections is associated with describing one half of the marriage; the background of that half's protagonist, their thoughts and feelings and experiences, as well as the story of the marriage from that side. I found myself completely surprised- and, truth be told, appalled- when I first entered the second half. Apparently, things weren't always what we, the reader, expected. Did you find yourself caught off guard?
I was certainly shocked and rendered uncomfortable with the direction of the narrative in the second part. Based on my reading of the synopsis before starting the book I was certainly anticipating some intrigue, but not quite at the level that was delivered! This was Groff's ace in the hole.
Perhaps that was a huge part of what struck me- I had become so used to the descriptions of life, and of arguments, and of seeing everything from only Lotto's side, that as soon as Mathilde became the focus, I felt almost slapped in the face. Recollections of events and the overall mood shifted so drastically that I was caught off guard.
I don't want to wander too far from the story here, or to read too much into anything, but you have to think about the Fates and Furies of Greek Mythology (side note: Niki and I went to high school together, and we had a literature teacher that was OBSESSED with Greek Myths. Most of my semester with her was watching The Oddessey, reading Bullfinch…). The Fates were weavers of life. They controlled every movement and action from birth to death. The Furies were Goddesses of vengeance. Its almost obvious that Ms. Groff has named the book's sections to coincide with the feelings and attitudes of the character within. How do you feel that the mythological Fates and Furies are connected to Lotto and Mathilde?
Lotto is a compelling character who possesses a weight of significance that draws others to him and his motion. Even when his professional ambition seems rudderless, he possesses a buoyancy that is magnetic. Like the Fates, he is very much the force that defines the path that he and his wife take. As we learn, Mathilde is both protective and jealous for Lotto's happiness. Like the Furies, her mission is to set aright the injustices of her world, particularly as they threaten the pure happiness she sees in Lotto.
I'm interested to know how your feelings toward Lotto and Mathilde may have changed through the course of the story.
Magnetic… In the beginning, yes. That's how I saw Lotto. He's written to almost seem ageless, so when we find him a few years post-college living in NYC, still the heart of the party, even when he's not, he comes across as a man I'd love to know. He comes across as sexy, and fun, and ambitious. One can see how there were a parade of lovers, and a parade of wanting-to-be-lovers even after he married. As much as I think I fell in love with him as a character, and stayed in love with him throughout the second half of the book, I started to pity him. Not because he was worthless, but because we start to see how he really wasn't the shining star we thought he was. Things didn't just "work out" for him because he was charmed- Mathilde was there every step of the way, tweaking their life in ways he never knew (SPOILER!!) through editing his plays and confronting his mother.
It just dawned on me that perhaps Mathilde is the Fate and the Fury- she was, as you say, protecting her world with this anger and tenacity, but she was also marionetting his strings, making his decisions for them both. In that way, I almost hate the control she has over their lives, but at the same time, it's hard to remain angry at her. It's Mathilde's wherewithal throughout their many years together that allowed them to have the life they both needed and wanted. It's hard to hate someone who protects someone you love.
I am also conflicted about Mathilde, but primarily I get her. She loved Lotto, but what I think she loved more than him was what he possessed: happiness and love, which she never had in her youth. She coveted that experience so much that she did whatever it took to maintain that for the person whose life experience hadn't been poisoned as hers had been.
Do you think she was maintaining that life for Lotto so that he could continue to have this near-perfect existence, or do you think she was trying to maintain that life for him so that she could, in turn, benefit from him? Was it purely a selfish thing more than a protective one?
I think it's a little of both. When both individuals benefit from one party's actions, it's tough to suss out a pure motive, don't you think? It's clear that Mathilde is a survivor, and all her energy does seem to point to her self-preservation. Yet there's a particular scene in the book (spoiler!) when she eavesdrops on her husband's private performance and she is overwhelmed by his happiness. It's a very tender moment that points to her desire to preserve him for his own sake.
I had forgotten about that. See? This is why I need to re-read.
Given your thoughts on her motive (or motives, or lack thereof), I guess this question may be moot, but did you feel betrayed at all by her, once we found out how diligently she was working behind the scenes?
I wasn't surprised that she was pulling some strings, but I was surprised by the extent to which she maneuvered Lotto's success. I think there was certainly a betrayal involved, but given how poorly Lotto handled criticism (for example, a single dissenting voice among the critics), I at least understand why she would have wanted to propagate his perception of reality. I'm not one to promote dishonesty, but I'm willing to swim in the tides of relativity that Groff insists upon with this book, you know? I think she has skillfully demonstrated that there can be many truths in the secrets we carry.
Well said. Is there anything you would want a new reader to know before they read Fates and Furies?
I would recommend any reader to enjoy the story and be patient. I don't consider the story long, but I found myself impatient to start seeing things from Mathilde's perspective. The journey is a fascinating one!
Thanks, Niki!