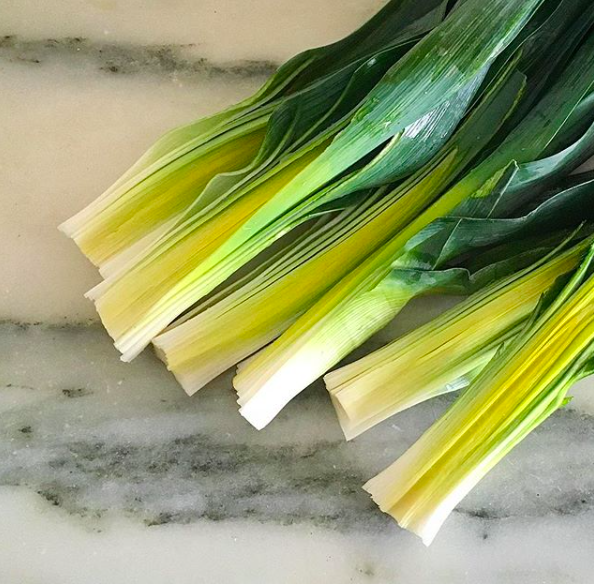 If I'm being honest here, I've not always been a fan of vegetables. I grew up on a farm, and had way too many forced feedings of turnips and cabbage cooked down within an inch of their life. I loved the sweet corn though, and green beans when they were cooked just enough to still be snappy. I was never so obsessed with green onions that I could just pull them out of the ground, rinse them, and crunch into them, like my dad was. Still, as I've gotten older, I find myself obsessed with caramelized onions, roasted beets, leeks cooked down in butter.
This weekend, I decided that to beckon colder weather to come our way, I'd throw together a pot of soup, using a recipe that I dog-eared more than a year ago: Potato-Leek Soup from the Williams-Sonoma cookbook. I think I'd been dreading making it, as I hadn't cooked a leek in almost three years.
Super Bowl Sunday 2016, February 7th, Bryan and I had planned on some sort of dinner with leeks, prompting me to Instagram the above photo with the above title, witty as I am. "Sprung a Leek." I have no idea what I was cooking, and I'm not sure we ever finished dinner, as we had to rush to Elizabethtown during the 4th quarter. Daddy called. He could hear his heart beating in his ears, he said. He thought he was having another heart attack, but it didn't quite feel the same.
There was no heart attack, as it turned out. Instead, there were tumors everywhere… They were fast-growing, difficult to identify, and they were in his gut, his pancreas, wrapped around his spine. It was the beginning of the longest two weeks of my life, waiting for a diagnosis, a cure, trying hard to see Daddy's side of things when 10 days later, the cancer was eating through his stomach, had taken over the lower half of his lungs, and had reached his spinal cord, shooting everywhere it hadn't hit yet. Less than two weeks after the big game, Daddy was gone, peacefully, thankfully, but I suppose I've harbored some resentment toward this vegetable whose presence in my Instagram timeline marked the beginning of the worst time in my life.
I was a ball of emotion last night as I sliced through three large leeks, wilting them down in butter, adding diced potatoes, chicken stock. It's odd how the funniest things can spark our memories- good or bad. As I cooked, and listened to the soup boiling down, I thought of all the times I shared with Daddy in the kitchen. His potato soup was a poor man's version (his words, not mine)- just potatoes in water, mixed with cream, salt and pepper. He'd probably think my version was ridiculous- organic stock, pepper from a grinder, pureeing batches in the Vitamix.
It was delicious, though, and had a savory flavor, thanks to the stock, I'm sure, but I believe more of the flavor came from the leeks, buttery, simple, and perfect, and I realized how silly I'd been over the last three years. The sadness of losing someone is only as strong as you allow it to be… and, if you're very lucky, there are good memories, lovely experiences that come hand in hand with the pain.
I was flooded with pain and tears, but I remembered as well the nights that Daddy would hum his way through the kitchen, singing to himself as he made batches of beef stew, canned sweet pickles, and somewhere along the way, instilled in me the love of leeks.
Williams-Sonoma Potato-Leek Soup:
4 Tbsp unsalted butter
3 large leeks, white and pale green parts, rinsed, halved lengthwise, and thinly sliced
3 green onions, tender green parts and white parts chopped separately
3 russet potatoes, about 1 1/2 pounds total weight, peeled and diced
5 cups Chicken Stock
Salt and freshly ground pepper
Sour cream for garnish
In a large, heavy pot, melt 3 Tbsp of the butter over medium-high heat. Add 4 cups of the leeks and the green onion white parts and saute until the leeks are wilted, about 4 minutes (do not let them brown). Add the potatoes and stir for one minute to coat.
Add the stock to the pot and bring to a boil. Reduce the heat to medium-low, cover, and simmer until the potatoes are very tender, about 25 minutes. Remove from the heat.
Ladle out three cups of the soup (both solids and liquid) and puree in batches in a blender until smooth. Return the puree to the pot and season to taste with salt and pepper.
To make a topping for the soup, in a small, heavy frying pan, melt the remaining 1 Tbsp butter over medium-low heat. Add the remaining leeks and 2 Tbsp of the green onion green parts. Saute until the leeks are wilted, about 4 minutes. Season to taste with salt and pepper.
Ladle the soup into warmed bowls and garnish each serving with a dollop of sour cream, if desired. Sprinkle with lee and onion topping and serve at once.