Last night I had the opportunity to attend a soft opening of Repeal Louisville, a new steakhouse parked in historic Whiskey Row.
Housed in the old J.T.S. Brown and Sons bottling building, the developers of the incredibly chic new space found a way to marry interior features like granite tabletops, industrial steel beams, glass ceilings, and modern light fixtures with the historically-protected facade of the original building. Dark, charcoal-colored wainscoting lined the walls, while deep wingback leather chairs flanked tables for two along the front windows. A brick-lined barrel ceiling stretched above the "barrel room," a private dining area surrounded by Bourbon barrels.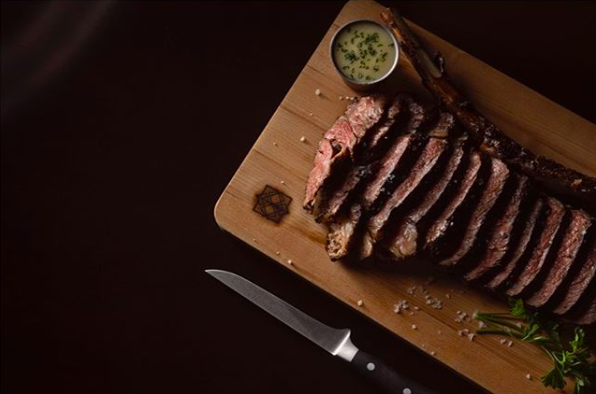 The happy mix of old and new, along with the very sexy interior reminded me so much of Somerset restaurant at Viceroy Chicago. They, too, had to protect the original facade of their Gold Coast building while erecting a new, modern structure. Even the colors here at Repeal- deep gray-blues, limed wood, and gold hardware and lighting- brings back memories of that gorgeous, Windy City space, and I found myself thinking as we were seated that Louisville all of a sudden seems like it's competing with the big boys in terms of eating and staying… Lord knows we've been way ahead of the cocktail game for a long time.
As test dummies for the menu at Repeal, our table had a few rules we had to follow (no ordering two of the same entree, for instance, and please, don't get so schnockered drunk that you can't offer constructive feedback), but we found that the 4 of us were happy to taste test steaks and seafood, crab cakes, and asparagus.
We began with shrimp cocktail and crab cake, divided amongst the four of us. We all agreed that the shrimp- huge and tender- were pretty perfect. The crab cake, however, was incredible. Meaty, not overly full of filler like breading, it fell apart on the plate. It was served with a homemade remoulade that was just acidy enough to add a kick to the tender crabmeat. I mentioned aloud that this crab cake, with a cup of soup or a salad could be a perfect bar-side supper during happy hour.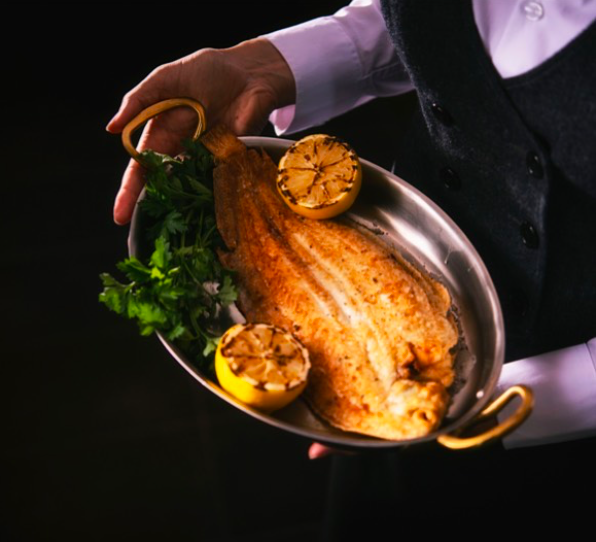 For our mains, I went with the petite filet, which at 8 ounces was more than enough. Medium rare, it was done incredibly well, with a seared exterior, and beautifully red center. Bryan happily ordered a 20 ounce bone-in ribeye, which he completely cleaned, and seemed to be very happy with. One of our dinner mates decided on the scallops, which were served on a bed of creamed spinach with sautéed mushrooms. They looked beautiful, but all three of my friends agreed that they were slightly overcooked. Our fourth friend- and the one who invited us along- went with the salmon, served on a bed of rice. It too, was slightly overdone for her (she also prefers salmon medium rare. I do not.) but the flavor- light and lemony- was lovely.
We split two sides at the table. The Mac and cheese was incredibly creamy, with a layer of toasted breadcrumbs on top. At one point, one of us commented that he'd consider going swimming in it! It really was that good. The asparagus wasn't done quite enough for two of us, yet I thought the remaining snap was just fine. The flavor, however, was one that we couldn't put our finger on. There was a balsamic glaze atop the thick spears, but there was something else there, too, that I'm unsure of. All of us agreed that out of everything we had, the asparagus was our least favorite.
The dessert menu was hefty, offering everything from Bourbon Bread Pudding to scoops of sorbet. We went with the cheesecake, light and lightly sweet, with a crumbly almost salty-sweet crust. It was topped with either macerated blueberries or luxardo cherries… I couldn't really tell which, and at that point in the night, after we'd gone through a couple of bottles of wine, I didn't really care which. I only knew that it was delicious, and there was not a crumb left on the plate.
After dinner, we headed upstairs to the rooftop bar. Overlooking the buildings of Main Street, while peeping through the century-old facade and the new steel and glass of the building, I found myself in awe of our little city. We've grown so much in the 15 years or so I've lived here, seeing our downtown make a rallying attempt at becoming a buzzing spot again. The areas along East Market and Main down to 4th Street's missing Galleria took a while to find themselves again after the 90's. Now, with the addition of Kentucky- and Louisville-centered eateries like Doc Crows and Rye on Market, and locally-owned shops like Scout and Mahonia, I see our downtown slowly becoming an area that doesn't sleep on the weekends. It becomes alive! And, with spots like Repeal, that feel as if they've come from somewhere bigger and brighter, I see Louisville continuing to find it's foothold as a real destination city in the South.
** this post was not sponsored, however, we were guests of the restaurant. all thoughts and opinions are my own **
** photos from Repeal Louisville's instagram **