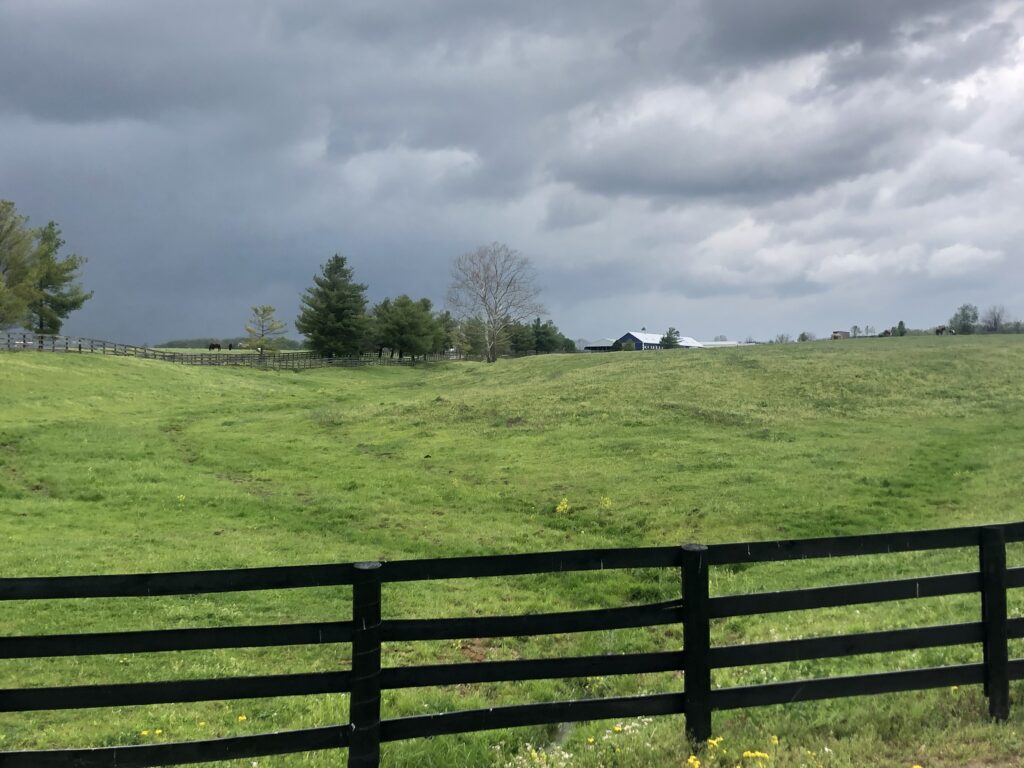 Wednesday, I took the opportunity to deliver some homemade Bourbon Balls to several of my agents throughout the Louisville area. My morning took me from the inset of our neighborhood in St. Matthews, out past Goshen and into Pleasureville. As is often common of Spring in Kentucky, the weather varied from cloudy and overcast to sunny and 70 degrees, to beating, heavy downpours. There was a moment, though, when the rain stopped, and although heavy, gray clouds still hung in the sky, the sun began to beam down.
It was in those couple of moments, with black equestrian fences on either side of the country road I was driving, that I finally began to mourn- really mourn- the loss of the Kentucky Derby this season. The sunlight in those minutes breathed life into the green trees and the blue grass that are so symbolic of life here in the Bluegrass State.
As much as I love the hats, and hot browns for lunch and champagne for breakfast, I love the tradition and the pride that come along with the Derby. For years, I've watched as our city cleaned up, restaurants released new menus and festive cocktails, hotels hosted rooftop parties, and distilleries polished themselves up to throw a heck of a gathering. Historic Homes opened their yards and front doors for biscuits and bubbly to be served on their front yard Derby morning. Museums hosted all-night galas, and women learned very quickly to carry foldable flip-flops in their tiny purses. There's a sense of pride and hospitality that shows up here like any other. "Y'all" becomes a little more pronounced and drawls drag out even further.
The days at the track themselves are a mess of beauty and debauchery. While upstairs in the clubhouse and grandstand at Churchill, lashes bat beneath wide hat brims and mint tickles cheeks, in the infield, makeshift slip-n-slides, keg stands, and muddy fun rule the day… neither option is a bad one. I've always preferred being upstairs, in our usual section, tucked beneath the cover in case of rain, and there's almost always rain.
Derby weekend dinners seem a little more special, with tents set up on patios of locally-owned restaurants, the smells of roasting turkey for hot browns and beef wellington mingle with a sticky sweetness of Derby pie and Bourbon-laced desserts. Days stretch into evenings as carpools drop friends at their houses for quick changes before meeting up again at some hidden upstairs bar for an insiders-only party that goes well until sunrise.
I miss it. I'm missing it now as I sit here typing, almost crying at my desk. This weekend is the reason I boast about being a Kentuckian, and it's usually the time that my friendships seem stronger, with some flying in from across the country to crash on a couch and eat homemade cinnamon rolls with a Kentucky mimosa for a hungover breakfast, while repeated lines of inside jokes make us burst into fits of laughter.
It may not be here now, I know, but it's coming back… the sense of Derby season. Tomorrow, I'm making hot browns myself, and donning a hat for brunch. I'm making juleps and toasting my friends via Zoom, and hoping beyond hope that next year, we do it bigger than ever before.