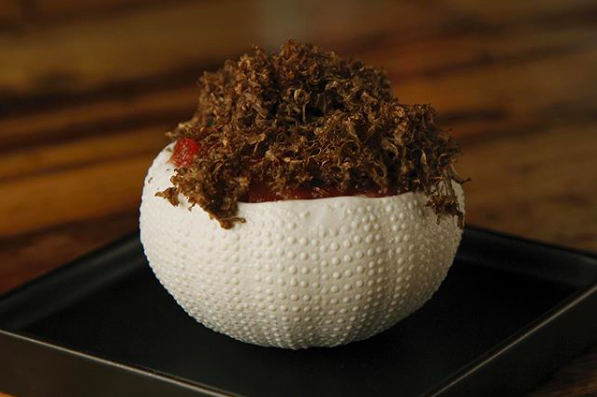 Bryan and I decided that with the time we had in Palm Springs this year, as well as the 15 days or so we've spent there in the past, we would make it a mission to try at least one or two new restaurants when we trekked out this fall.
Enter Sandfish Sushi and Whiskey. A fan of whiskey, due to our life in the South, and a fan of sushi, because… who isn't, we chose Sandfish for our Wednesday night meal. We were seated outside on the narrow patio, with views of the mountains across the street, and our waiter, Scotty, arrived with a smile I could see even behind his mask and a plate of the spicy tuna tostada, assuring us that it was his priority to make our honeymoon the best time ever. I commented on how everyone we've ever met in Palm Springs was ridiculously happy. Scotty laughed, and shrugged. "It's all the sun," he said.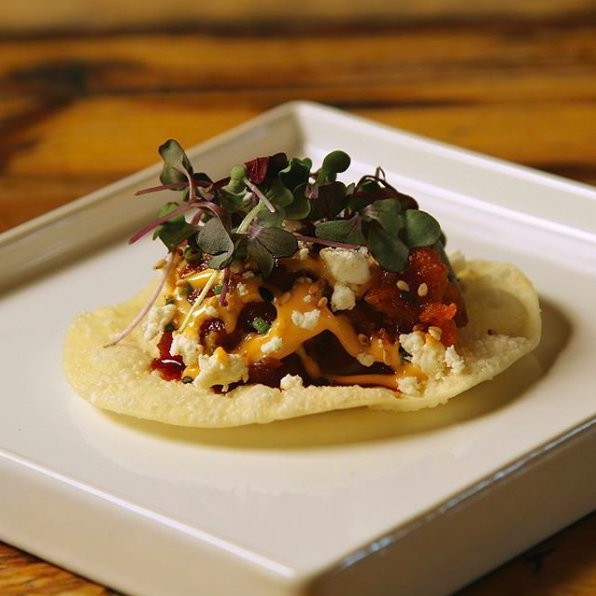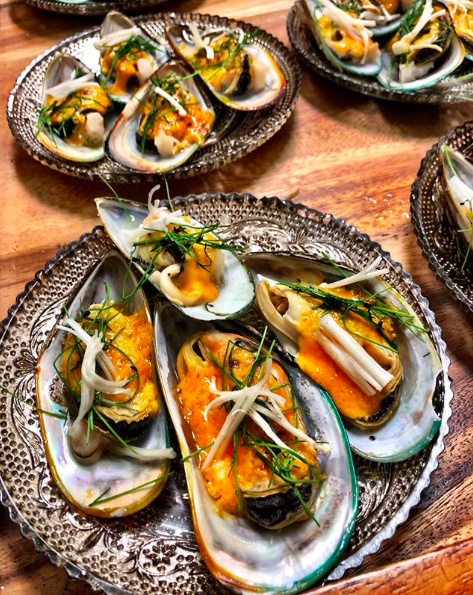 Unable to choose for ourselves from the extensive menu of rolls created by chef Engin Onural, we relied on Scotty to make the right decisions. Soon after placing orders for drinks, the signature Sandfish Roll- Spicy crab and tuna, avocado, and an interesting surprise- shaved black truffles. Soon after, the Steak roll followed. Seared strips of paper thin steak settled atop a roll of shrimp tempura, arranged next to an arugula salad that Bryan just loved.
Two more rolls followed. The California Dreamin' roll was spicy crab and avocado topped with strips of spicy tuna and a spicy aioli. The star of the show, however, was the Baby Langustine roll… arriving on our table was a plate of what looked like fried bits of meat. Chopped baby lobster, deep fried, buttery and perfect buried a roll full of crab meat and micro greens.
We settled back into our chairs, sipping rifs of an Old Fashioned made with Japanese whiskey and watching the sky around the mountains turn deep blue. With fish as light and clean as I've ever tasted, and a truly beautiful and creative cocktail list, B and I are already planning a return trip to Sandfish. We hope Scotty is still there, and while we aren't selfishly hoping for the Covid restrictions to lift so that we can sit inside at the bar, we're really hoping we can sit inside at the bar to watch chef at work. Given the extensive whiskey list, I'm sure we could keep ourselves occupied for quite a while.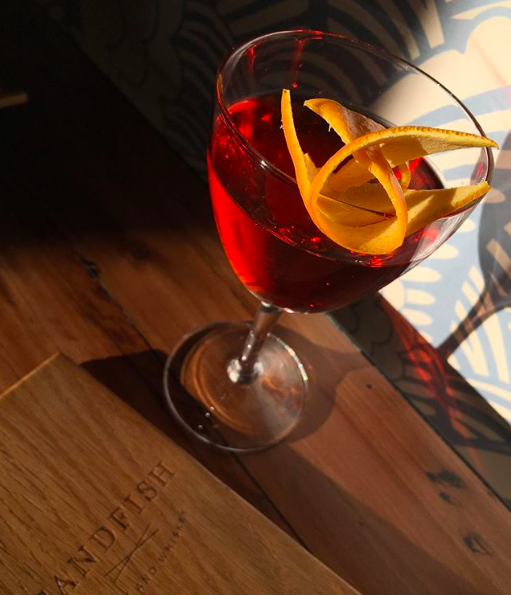 ** this post is not sponsored in any way. all thoughts and opinions are my own **
** photos via Sandfish's Instagram **