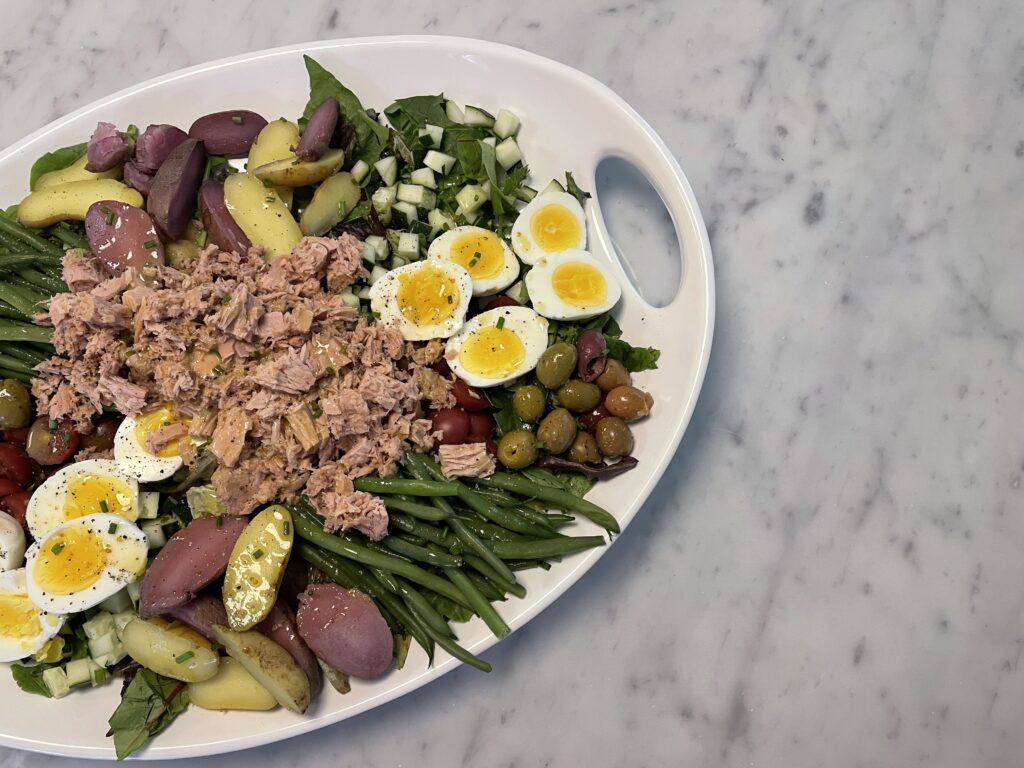 Y'all, it's hot. I'm surprised at how mild of a summer we've had so far, but over the weekend, it seems like a soggy, humid heatwave has hit. The last thing I want to do when it seems like I'm swimming through the air is cook, so sometimes, it's a salad for dinner. In the case of yesterday, it was a salad Nicoise that we grazed on from 3pm through the end of the night (and leftovers came with me for lunch today!).
For a day when you're happy to just boil a few things and assemble on a plate, this is the perfect not-too-heavy but will fill you up meal. My recipe is below;
One small package of mixed spring greens
Half of a cucumber, chopped
1.5 cups of cherry tomatoes, halved
1 cup pitted olives in oil
4-6 soft or hard boiled eggs
2 cups boiled and halved fingerling potatoes (boiled in salted water)
1 large handful French green beans, blanched
2 cans of chunk light tuna in oil, drained
Lemon Vinagrette
For the vinaigrette, I mix about a quarter cup lemon juice and a quarter cup olive oil with a teaspoon of honey, a teaspoon of coarse ground dijon mustard, and plenty of salt and pepper.
Spread the rinsed greens on a platter, and arrange all of the ingredients on top in a pretty manner. This is a salad meant for sharing and grazing, so it should be arranged so all the goodies are easily accessible. Drizzle the vinaigrette on top, and top with a quick few cranks of fresh pepper and flaky sea salt. Enjoy!