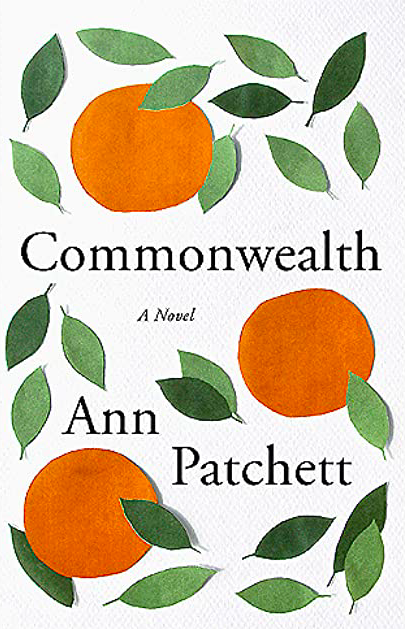 Sophomores by Sean Desmond: This one was a little all over the place. From the perspectives of a high school sophomore (hence the title), his mom and his dad, we live through a year as the son finally wakes up and starts wanting to learn when he encounters an English teacher that lights a fire in him. Mom, a quiet, religious woman, begins to question her existence and the decisions she's made when she's selected as a juror in a murder case. Dad battles a diagnoses of MS and his growing alcoholism, both of which cost him his job.
Tickled Pick by Rita Rudner: Taken from Rudner's own experience as a showgirl turned comic, Tickled Pink explored two girls growing into adults together in New York (and LA). There is a slightly evil German supermodel mom, a friend's death. An unplanned pregnancy. Through it all the two gals realize how much they depend on each other, and on their friendships. Cute and funny, and one I've read several times over.
Commonwealth by Anne Patchett: The first Ann Patchett novel I ever read. To be 100% honest, it was the lovely dustcover that caught my attention. We start with a baby's Christening, where too much gin in the summer sun leads to an affair, resulting in a mixed family that grows up together over the years. One summer, however, one of the brothers pass, and each sibling holds onto a little resentment of the others for letting it happen. While drifting apart, the siblings find themselves brought back together when it matters.
The Secret of Terror Castle by Robert Arthur and The Mystery of the Stuttering Parrot by Robert Arthur: When I was a kid, I remember reading almost all of the Alfred Hitchcock Three Investigator series. I still remember exactly where they were in the Hardin County Public Library (and still remember the smell). These were volumes one and two. I got a wild hair up my behind to start reading them again, and while they're considered children's/young adult books, I love the Hardy Boys types of adventures mixed with a little Hitchcock spookiness.
A random trilogy that I'm not even going to talk about, but trust me, they were here.
Fight Club by Chuck Palahniuk: As many times as I've watched the movie, I'd never read Fight Club until this summer. Turns out, the movie follows the book pretty darn closely. (spoilers) Our poor Narrator slips deep into his personality as Tyler to create first a Fight Club, then a gang? Group? Religion? as the leader of Project Mayhem. Marla appears, sucking the life out of our Narrarator's one way to calm his nerves, and bringing him to life in so many other ways. If you haven't read it, read it. If you haven't watched it, watch it.
Valley of the Dolls by Jacqueline Susann: A cult classic, and one I hadn't read for a few years. Set in the 1940's, three women chase their dreams. One, striving for "perfect," falls the hardest at the news that she no longer is. One, a ragamuffin to me, stumbles into a stage and film career that turns her to a monster. And one, who really just wants a quiet life, but is dragged along with the other two, becoming a millionaire in her own right along the way. Through the decade here, all three become so reliant on little "dolls." Uppers, downers, booze, sex… It's more than anything, a commentary on addiction.
Sea Creatures by Susanna Daniel: The second time I've read this one, I believe. A family relocates to Florida from Chicago after the husband suffers a not-so-great sleepwalking incident. The mother and her selectively mute young son get a job in the swamplands as assistant to a quiet and mysterious artist, at which point, her son begins to speak. When the little boy falls from the artist's balcony and the entire family takes refuge in his hospital during a hurricane, the worst possible happens. A great read for those who like quiet, and not one for those with sleep disorders.
Island of the Sequined Love Nun by Christopher Moore: Christopher Moore's books are always fun reads! This one begins with a really dumb plane crash in a "Mary Kay" -like cosmetic queen's fleet, leading to the pilot being stripped of his US licensure. He gets hired instead by an island-living surgeon and his exotic dancer turned wife, who have created and nourished quite the religious following amongst the natives. No Moore novel would be complete without quirk, so be prepared for a cross-dresser and his English-speaking pet bat, the ghost of a World War pilot, Mary Kay saving the day, and a really, really crooked way of making money.
** this post is not sponsored in any way. all thoughts and opinions are my own **