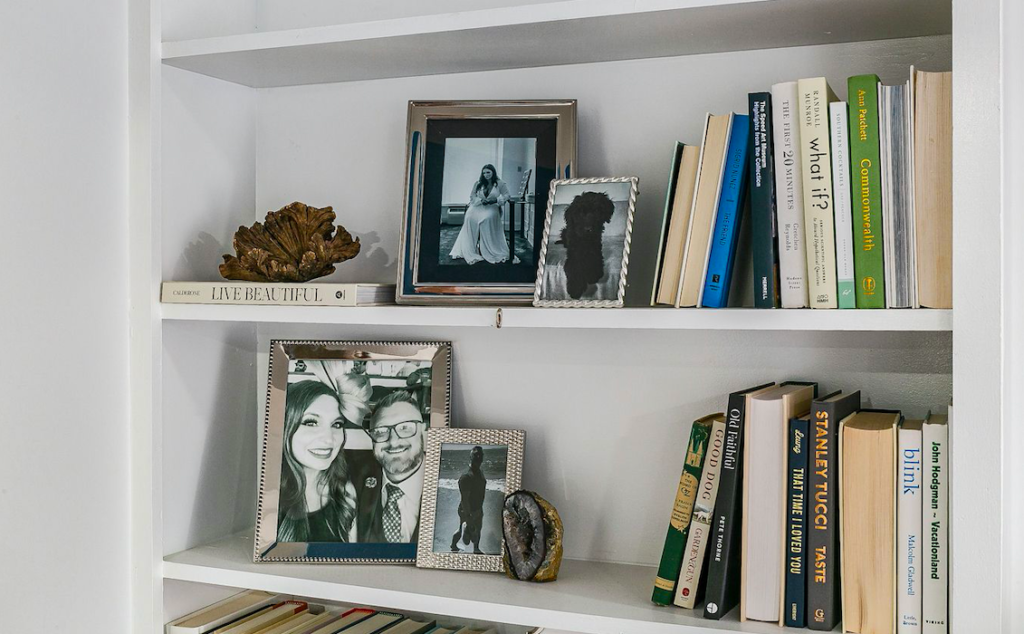 I'm going to sub-title this: Stylish Shelves, Part 1… because we have a long way to go.
We are slowly, and I mean slowwwwwwly making our way into the accessorizing phase of new home ownership and decorating. In our old old house- one situated on 4th Street in Old Louisville- we had a legitimate library. Huge bookshelves flanked a century-old fireplace, and I had zero idea what to do with them. I started just filling them. Old volumes of books bought at estate sales, any sort of vase or weird object I could find. It looked jumbled. It looked messy.
Fast forward 13 years and we're here again. This time, a den instead of a library, with smaller shelves, proved to be a great spot for some of our book storage, but also for some easy displaying.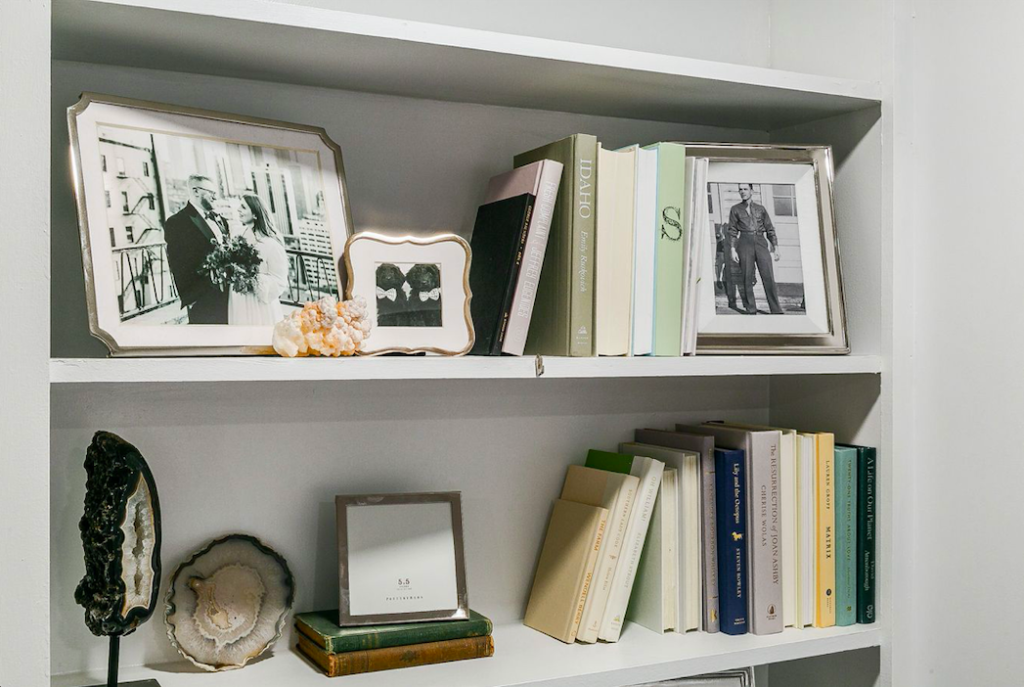 We're still working on filling some frames and I need to get a stand for one of my grandfather's collected agates. I have two top shelves that are just empty (I'm thinking long and lean bowls of some sort), and I think I'd love to drop in a textured wallpaper of some sort on the back of the shelves, so it's slow going. This time, I feel like it's been a thoughtful process, whereas years ago, it was just the feeling of "I need to fill these."
I took a page out of the books of so many design blogs and influencers, turning some of my books around so that the neutral white and ivory of the pages showed to the room. I removed all the dust covers of my hardcovers, and weeded through them so that shades of neutral faced the room, with shades of green and blue, and the occasional dark gray or black tossed in. The majority of our books are stored in a room in our basement, where they're stacked on huge shelves, but these are some that I read or re-read on a regular basis.
Then, I tried to figure out what photos I wanted to look at on a daily basis. Things like Bryan walking on the beach, my wedding portrait, my grandpa in uniform, and a baby Oscar on the couch make me so happy. A friend said that there should never be a photo unimportant enough not to frame, so a very large order from Pottery Barn's website resulted in silver frames of all shapes and sizes. Even small moments, like selfies from the Derby feel special now.
I started adding in objects that are beautiful. My grandpa's collected crystals, old volumes of physiology books that Bryan has collected, and these fabulous wooden flowers (that are actually tree growths) that I found from a company I saw on Instagram.
As I said, we have a ways to go, but for now, this is a pretty great start.
** this post is not sponsored in any way. all thoughts and opinions are my own **
** photos by Don Lehman **