I've mentioned before that I made a huge mistake in our Old Louisville home so many years ago when I relied only on overhead lighting. I was a young 20-something, on a budget, and had minimal experience dressing a house. Excuses aside, it just didn't look "finished" in there at all.
When we moved to the townhouse, I took things little slower when it came to finishing spaces, and trusted friends with a better eye than me to help out when it came to wall lighting, lamp placement… It felt better, more complete, dressier. Now, being in a huge Colonial, we have even more opportunity to spread our wings and find what fits. It's a little crazy to me how much more space we have in this home compared to our old place, which, in this case, means more nooks and crannies to tuck in lighting options.
Realize how harsh overhead lights can be. We actually removed the ceiling lights from the primary bedrooms here, and I was thrilled that there wasn't anything overhead in the formal living room. It gives us the opportunity to create a softer look overall, and to create intimate spaces lit in their own way.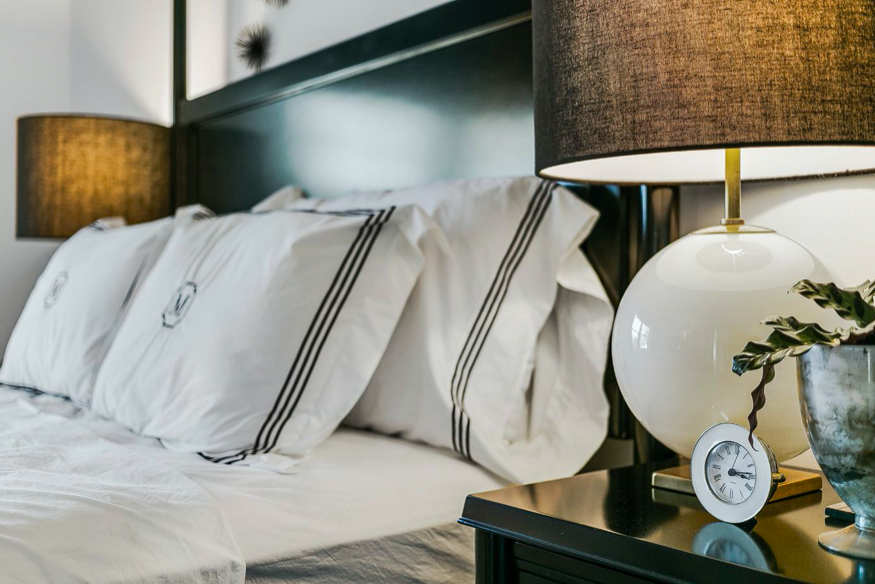 In our guest room, the Elsie lamps from Kate Spade for Visual Comfort were a fun black and white option. We paired them with a tiny glass cylinder lamp from Target for the top of the desk.
In our bedroom, on the nightstands, we have quatrefoil glass lamps from Williams-Sonoma, but a squatty little mercury glass number on the dresser, as well as a cantilevered floor lamp by a reading chair illuminate different spots in the room, making my reading corner feel like it's own space, and- when the nightstand lamps are on- creating a romantic glow on either side of the bed.
We're on the hunt now for a few more lighting options: I need something between our new wingbacks in the living room, and we're hoping to finish the den sometime this year, which will require new end tables and table lamps, to couple with new floor lamps from Pottery Barn that are flanking a sofa.
I've stumbled upon a few lately that just make me happy, and make me want to find a spot in my house to place them;
** This little number, from Visual Comfort, are dotted along the bar in Butchertown Bakery downtown, and they're just the cutest darn things I've ever seen.
** From Kelly Wearstler, this dotty little dude looks really funky at first glance, but take a look at the photos of it in it's different spaces! I feel like it could work in almost any room. And that black porcelain version… Gah!!!
** I LOVE this floor lamp from Aerin. If we don't add a table lamp between our armchairs in the living room, I may prop this beauty in a corner!
** These leggy guys from Pottery Barn are what are currently in our den, and they're possibly the most versatile I've ever seen.
** These. My goodness, these. If yours most sincerely were to ever birth a child, you could bet a dollar to a donut these would be in the nursery. They may also eventually go into my absurd vision of a walk-in closet… On top of floral wallpaper.
** For Bryan's eventual basement bar/pool room, these masculine beauties!
** You know what they would pair well with? This sconce version of those Pottery Barn floor lamps.
** These blue ceramic twins from Target look more expensive than they are, and would be lovely on end tables!
** this post was not sponsored in any way. all thoughts and opinions are my own **
** photo by Don Lehman **