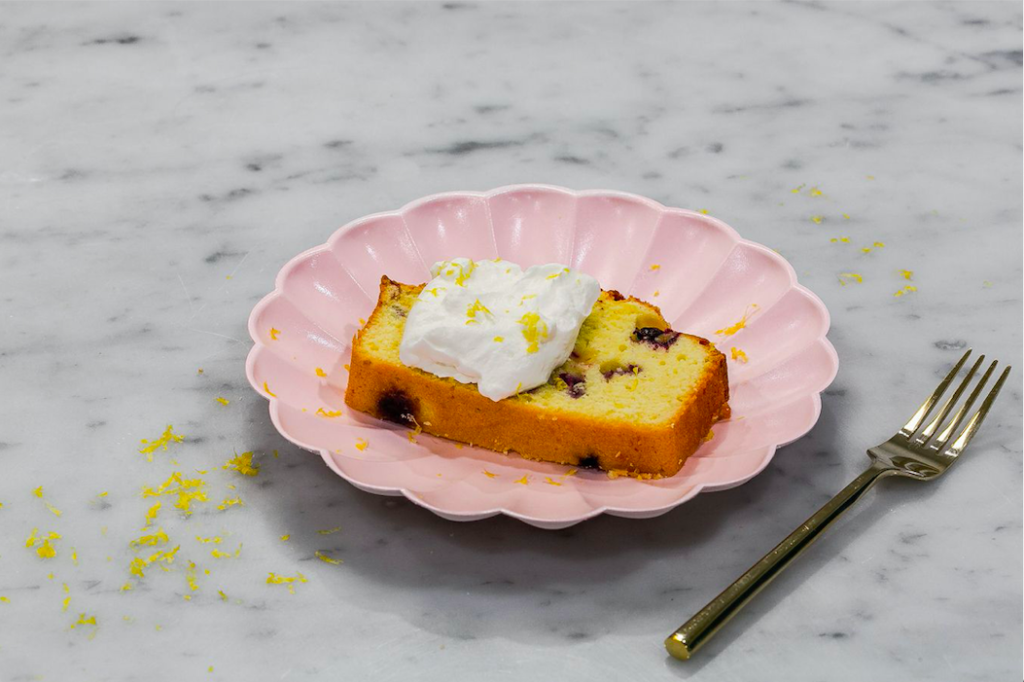 I'm a total sucker for a pound cake. No judgement here, please, but those frozen Sara Lee butter pound cake numbers? My god, I could eat the entire thing without even thinking about it! Those are what my grandma would use for the base of her strawberry short cakes, and I still run out and grab one every summer to this day, for that same purpose.
Every once in a while, though, I need to make one from scratch, and for Easter dessert or for a sweeter breakfast that morning, this blueberry-filled version with whipped cream and zingy lemon zest is just the ticket. Recipe from Martha Stewart.
3 1/4 cups all purpose flour, plus two tablespoons
1 tablespoon coarse salt
3 sticks softened butter
1/2 cup sour cream
2 cups sugar
1 teaspoon pure vanilla extract
9 large eggs, at room temperature
2 cups blueberries
2 tablespoons sanding sugar
Pre-heat oven to 325, butter two 5×9 loaf pans, and mix the salt and 3 1/4 flour together in a bowl.
Cream butter, sour cream, and sugar together until pale and fluffy, 8 minutes. Scrape down the sides of the bowl, and add vanilla. Mix again on medium speed.
Lightly beat eggs, and add to mixer in 4 additions, mixing thoroughly after each addition, being sure to scrape down sides. Reduce speed to low, and add flour in 4 additions, mixing just until incorporated. Toss blueberries in remaining 2 tablespoons of flour, and fold into batter. Divide batter into two pans, tap on counter to distribute, smoothing tops. Sprinkle with sanding sugar and bake until a toothpick comes out clean, about 65 minutes.
Top with sweetened whipped cream and a fresh grating of lemon zest, and enjoy!
Original recipe here.
** this post is not sponsored in any way. all thoughts and opinions are my own **
** photo by Don Lehman **