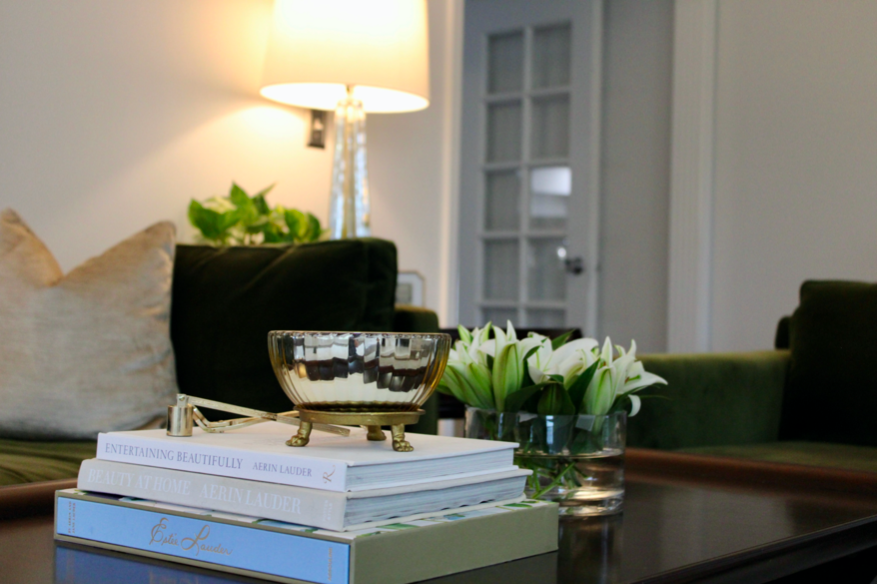 ** The Harry Potter Series by J.K. Rowling: All 7 of them. I- like so many others around my age- tuned in for the 20th anniversary special, and it immediately sparked a desire to read the books again. I'm admittedly the WORST when it comes to try and watch a movie objectively after reading a book, because the books just cause us to see so much more than what's on screen. Whether I'm upset because the Hogwarts house elves are completely left out of the movies, that Bellatrix and Voldemort both just *poof* vanished when killed, or I'm still steaming over the forever infamous "HARRY! DID YOU PUT YOUR NAME IN THE GOBLET OF FIRE?!" I needed a fresh reminder of just how great the books were. I'm not ashamed to admit that I zipped through all 7 books within 3 weeks. All 4,000-some pages.
** Beauty at Home by Aerin Lauder: I have a space in my house that I'm just stuck on. I can close my eyes and kind of imagine what I want in there, but I'm having a little difficulty making it a reality. Any time I need some sort of interior inspiration (or beauty, or style…) I always turn to Aerin Lauder. Her homes have such a feeling of peace and glamour, old mixed with new. I'd want to walk right in, plop on the couch, and exclaim how beautiful everything is. Her first book details her homes in New York and the Hamptons, the years of collections that fill each, and her thoughts on making a space her own.
** Entertaining Beautifully by Aerin Lauder: Of course, as soon as I finished her first, I picked up her second. So much about how we live in a house is how we make others feel welcome, and that's what Entertaining Beautifully is about. From intimate, formal dinners, to her idea of hosting a meal in her garden, poolside, or moving a table into her foyer, Ms. Lauder is the walking epitome of hospitality. Peruse this one for ideas on turning a cocktail gathering into a full night (offer drinks and salty snacks, then order pizza when the night gets going… which reminds me so much of my friend Jennifer), and for some truly gorgeous tabletops!
** Quiet: The Power of Introverts in a World that Can't Stop Talking by Susan Cain: I'm someone who struggles with being called an introvert, but I know that I am. This book is full of examples of the strengths of being on the quieter side when it comes to success in business and in life. It's a great read if you feel like your wall-flower-ness may be holding you back.
** this post is not sponsored in any way. all thoughts and opinions are my own **
** photo by Lana Carrroll **