Hear me out… I love a julep. Well. I love a julep when it's done well. This is rare. Ask most how to make a mint julep, and they'll tell you to muddle mint (which makes it bitter, in my opinion) with some sugar, toss in some bourbon and water it down. Yuck.
I have a julep recipe from the now closed St. Charles Exchange which is lovely. Rittenhouse Rye and Applejack or apple brandy and simple syrup. It's simple, and it's pretty perfect. The problem, though, is that even in a season where Kentucky rules supreme and thoroughbreds run wild, there are some that just don't enjoy Bourbon.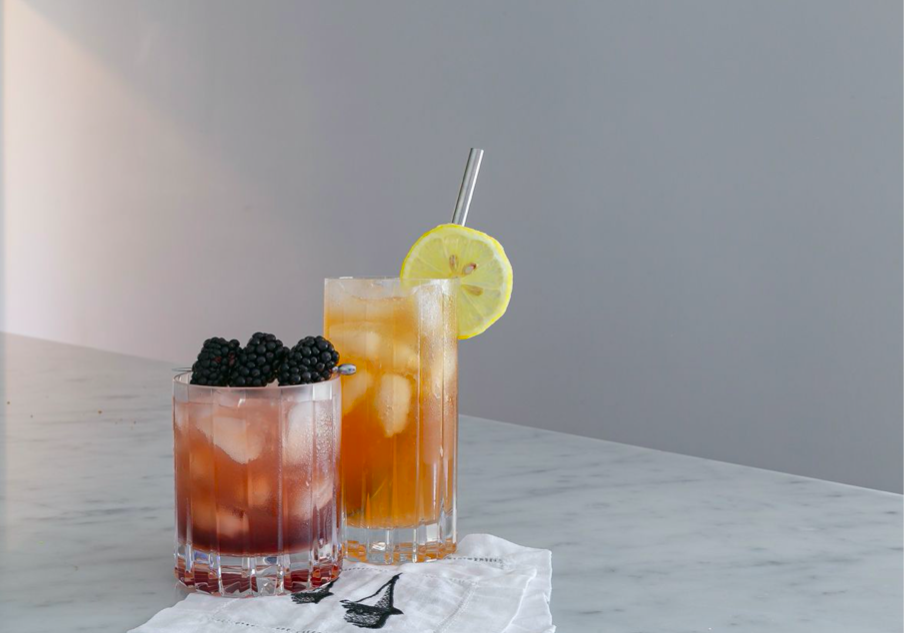 If there's one thing we're taught in the genteel South, especially in a holiday season when entertaining guests, it's to always be prepared as a gracious host. Have something available that fits the season's bill for festive beverages while appealing to all tastes. Enter the two beauties pictured above!
The tall pretty boy in the back is a spiked Arnold Palmer. It's so simple to make! Grab your favorite sweet iced tea and your favorite lemonade. Fill a tall glass with ice, then add two parts tea, two parts lemonade, and one part vodka. Stir and garnish with a lemon wheel. Can you also make this with Bourbon instead of vodka? Absolutely! Then, it becomes a cocktail called a Back Nine, and while incredibly tasty (especially when the sweat tea is made with honey rather than white sugar) it defeats the purpose of having something available for those who don't drink Bourbon, but it's still a nice treat in the warmer months.
The berry-bedecked little guy in front is a favorite of mine, and certainly packs a punch! Meet the Blackberry Bramble, a mix of gin, simple syrup, lemon juice, and blackberry liqueur. I found the recipe on Honestly Yum a few years ago, and it's become a Spring staple in our house.
Happy sipping, friends!
** this post is not sponsored in any way. all thoughts and opinions are my own **
** photo by Don Lehman **