You may have noticed in the reveal of our entryway that there was a cute little Buddha hanging out by our family photos.
My dad was a child of the 50's and 60's, turning 18 slap in the middle of the Vietnam War. He was drafted after high school, and took off to Fort Benning, Georgia, then to Vietnam for 18 months. I was always in awe of my daddy. He was as conservative and Southern and as Republican as they came, but he was also kind of an art nerd. Years later, he'd go on and on to me about the beauty of Vietnam; he loved seeing the mountains and the rice fields. He described to me so many times a cucumber sandwich he remembered having and loving (it was after he died that I figured out he was talking about Bahn Mi). He somehow managed to buy art from street vendors and shipped it back home.
Among these random packages received at my granny's house was a small, black, wooden Buddha statue, smiling and peaceful and beautiful and perfect.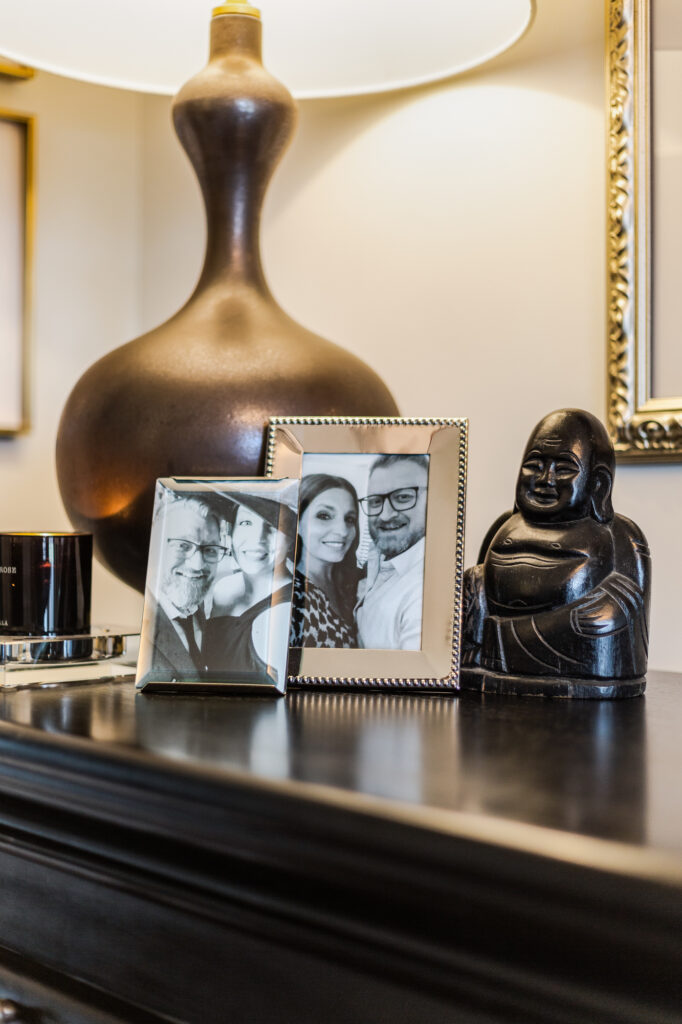 In 2007, my parents were putting things together for an estate sale after my grandma passed. It was my dad's job to set up some flat bed trailers in the front yard, hauling out big items like furniture and my old piano, while mom was tossing things into boxes from our house that she thought we no longer needed, or that would fetch some money. It was in one of these boxes, among cheap faux florals and old throw pillows that I spotted the Buddha.
I'm not 100% sure why he ended up in a box of discards, but I quickly snatched him out of the box, claiming him as my own. After so many years buried in the basement, I wonder if Daddy had forgotten he existed, and I know that my mom didn't want him displayed because he didn't flow well with her Christian values. He must have sat in storage for decades before finally reappearing that day.
He was such an odd item that I asked my dad where he came from, which is where I got the story above. How neat that this little guy travelled halfway across the globe before finally resting in my hands, and- eventually- in the entry of every house we've owned.
He overlooks the front door, always, I imagine bestowing well wishes and love on anyone who enters our home. He also makes me think of Daddy first thing every morning, which is probably the best gift of all.
** this post is not sponsored in any way. all thoughts and opinions are my own **
** photos by Don Lehman **