Kentucky had what was considered to be a relatively mild summer. Only one or two weeks did the temperatures creep above the mid-80's, and humidity generally went by the wayside. Happy to avoid the usually swamp-like conditions we have July through September, Bryan and I spent a lot of our weekend dinners outside on the patio. Quite a few of those weekends, we invited friends to join us, sat a lovely table, and served meals family-style.
As a household, we usually dine alone or alone, together. I'm awake and moving in the morning far before the hubs has even approached his alarm time, and at night, its usually the two of us, post-gym, grabbing prepped meals from pyrex and popping it in the microwave. On the weekends, when we do go out to eat, 99% of the time, it's just us. But… during the workday, I'm surrounded by my colleagues, and almost every day, at around 10 o'clock, there's a group text asking where we're heading for lunch. Those meal times together are fun, and I crave that same community sometimes in the evening. This is why we've started pulling out our good recipes, and asking people over.
When I hear the phrase "dinner party," I often think of the dinner around the world scene in Mad Men. Everyone dressed to the nines, a housekeeper ready to bring out every course, and furniture that had been polished until it shines. We don't all live like that. At least- we definitely don't. We do, however, have a few places to sit, and own some dishes.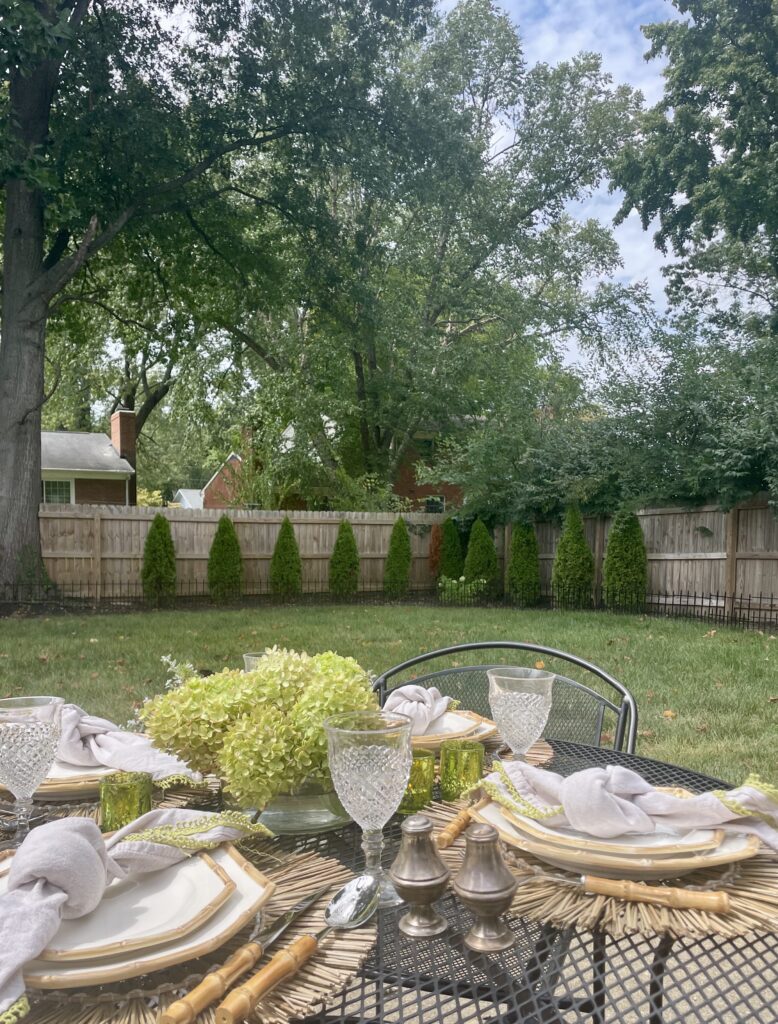 There's research showing that dining with friends can have incredible effects on your health. Aside from the more obvious, like higher levels of overall happiness and stronger friendships, there's proof that when we share a meal with friends, we tend to be a little more adventurous with our food choices, but we also tend to slow down, allowing us to fully digest, and allowing us to be more alert of when we feel "full."
To get a little more practical about it, having a meal with folks outside of our norm often encourages us to pull out the dishes, vases, heirlooms, and linens that just gather dust throughout most of the year. Using those items that we often hide away allows us to feel more fulfilled and less wasteful.
As our summer season draws to a close, I hope you start thinking about breaking out the grill, having folks over to tailgate, or cooking a quiet dinner for a friend that you want to spend time with. Trust me- It'll do you good!
** this post is not sponsored in any way. all thoughts and opinions are my own **
** photos by Don Lehman **